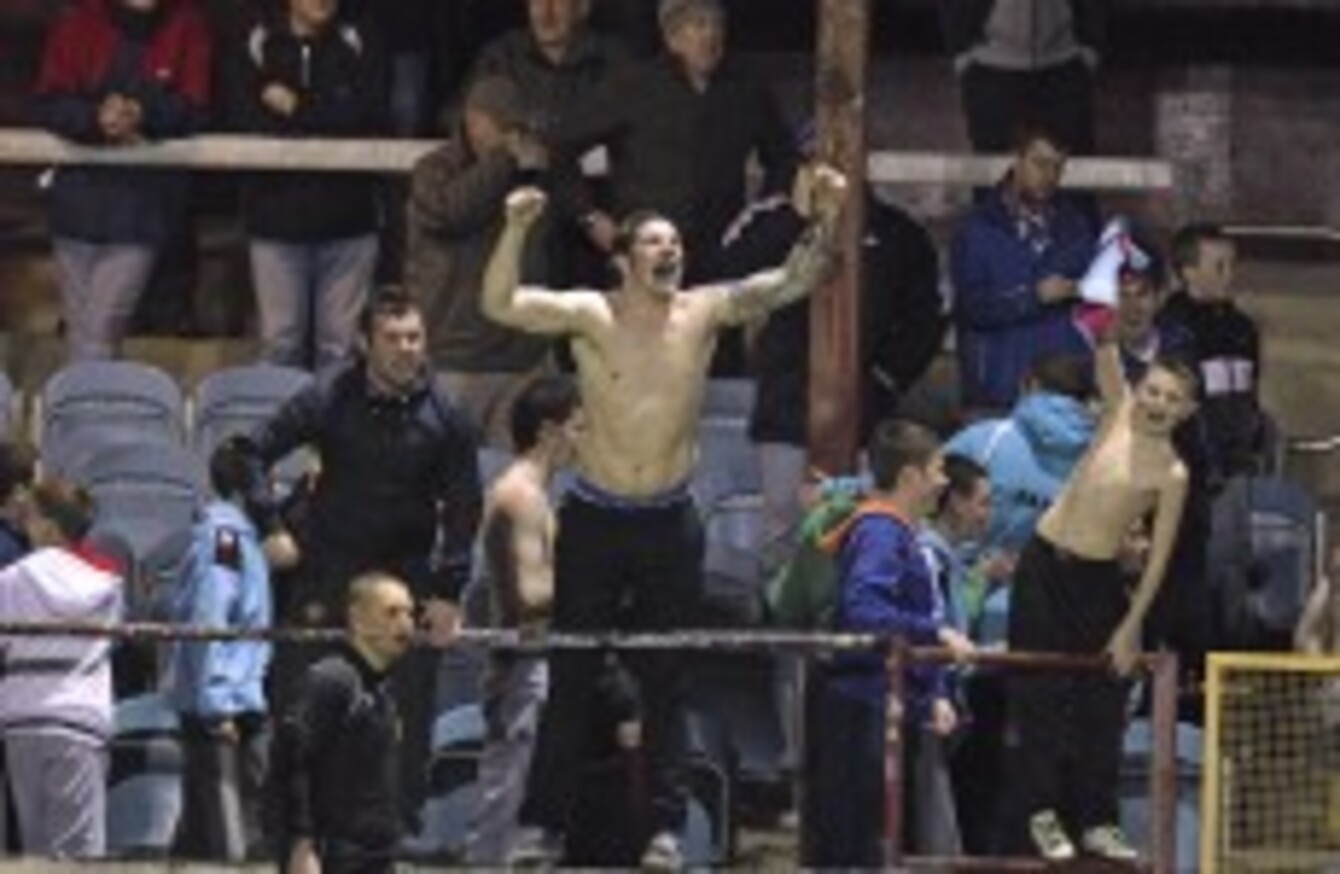 Local heroes: Drogheda fans roar on their side from the United Park terraces.
Image: ©INPHO/Morgan Treacy
Local heroes: Drogheda fans roar on their side from the United Park terraces.
Image: ©INPHO/Morgan Treacy
AS IRELAND'S EURO 2012 adventure limped to an end against Italy on Monday night, the 30,000-strong green legion — "the best fans in the world" — knocked back the last of the Poznan beer and readied themselves for the journey home.
Where to now, lads?
For most, the answer is unlikely to be one of the country's Airtricity League grounds. When the 2012 season kicked off back in March, the combined attendance for all Premier Division and First Division games stood at just over 12,500. Something doesn't quite add up.
Domestic football's many trials and tribulations are no secret but the bleak reality was hammered home again on Monday when, as Europe fawned over Trap's Army, Monaghan United announced their decision to withdraw from the league for financial reasons.
The timing was not lost on those who love the League of Ireland and once more unto the breach, they dusted off and took up their cross to begin another stirring, passionate defense.
On Tuesday, an open letter written by Catherine O'Mahony landed in TheScore's inbox. After thanking the Irish fans "for doing the country proud off the pitch in Poland in the absence of pride on it," it continued:
Sadly, Ireland are out and I'm sure you'll all be returning home tired and hungover. But you'll still have that buzz, that feeling of belonging. That sense of collective identity and excitement that only live football can bring. There is live football happening every week in your national league and it desperately needs your support.
Shelbourne winger Paddy Kavanagh didn't mince his words when asked if crowd numbers at last night's Dublin derby might suffer because of a clash with Portugal and the Czech Republic's Euro 2012 quarter-final.
Anyone who starts choosing European games over their own homegrown teams would want to have a look at themselves. It's our league and it's our country.

The quality of games in the league is always improving and this year it's better again. Why not come out and watch and support them and have a great night instead of sitting in front of a TV listening to some clown talking crap about foreign players?
It should be possible, though, to have a constructive discussion about the League of Ireland without it descending into some pseudo-nationalist debate between Irish patriots and West Brit barstoolers. Trying to ram the league down reluctant throats will never work. It's human nature to rebel against a sense of obligation, not least when that obligation is going to lead you to a wet and windy terrace for a game that you're not that interested in.
For fans, the frustration mounts when the domestic game is dismissed as "shite" out of hand, often by people who would close the curtains if there was Airtricity League match on in their front garden: "Why would I watch that muck when I can sit in on a Saturday night and watch Xavi and Iniesta?"
For all of the league's faults — and God knows that's no short list — nothing will ever get better without support. Not the standard, not the grounds, not the facilities, nothing. And in this day and age, the most basic and direct means of support is with bums on seats.
It shouldn't be a chore. Why would it be? After all, 30,000 spared no expense to trek to Poland and cheer on a rather average group of players who were prepared to live and die by the honesty and intensity of their effort.
The dual blows of Gdansk and Gortakeegan are more closely linked than many care to admit. It's only one small part of a big picture but if we ever want to make something of ourselves on the international stage — if we ever want to win more than the party — we have to truly value what's on our doorstep.
Airtricity League fixtures (all Friday, 7.45pm)
Premier Division:
Cork City v Derry City
Drogheda United v Bray Wanderers
St Patrick's Athletic v Bohemian FC
UCD v Dundalk
First Division:
Athlone Town v Waterford United
Finn Harps v Longford Town
Limerick FC v Wexford Youths
Mervue United v SD Galway