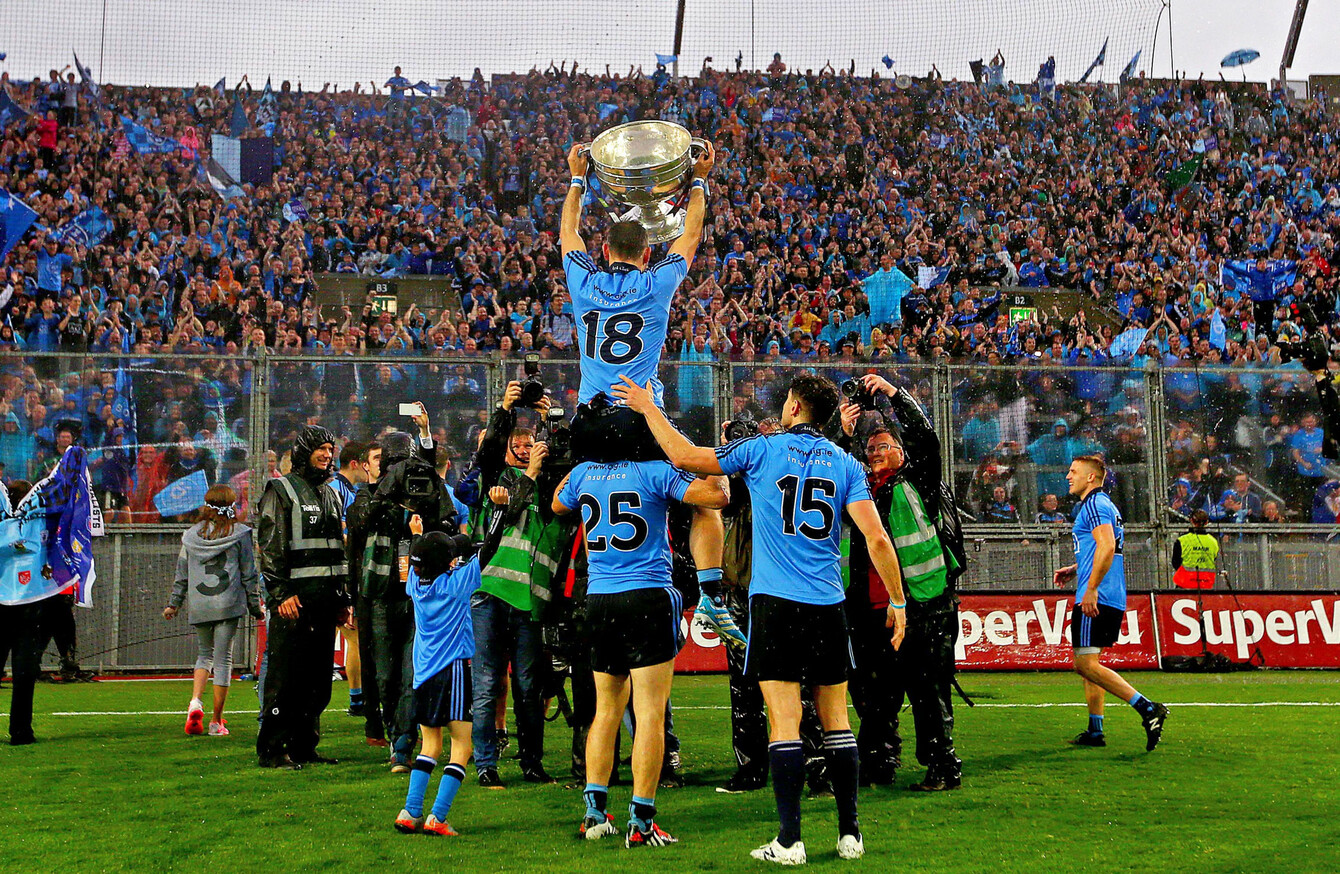 Image: Donall Farmer/INPHO
Image: Donall Farmer/INPHO
ALAN BROGAN WOULD hate to see Dublin split into two teams in a future Championship, but believes there might be merit to the proposal should they continue to dominate Gaelic football for a sustained period of time.
Speaking at the launch of Family SportFest at the National Sports Campus, the three-time All-Ireland winner suggested the Dubs might not quite the indomitable force that many perceive them to be, and Brogan reckons Sunday week's opponents, Mayo, have the right tools to test Jim Gavin's men for the first time since the league final.
"I think they're the team coming in with the momentum now," Brogan said of Mayo, "having played whatever they've played – nine or 10 games. You learn a lot of lessons through nine or 10 games, and I think that's the problem with Dublin: none of the cracks that might be there have been exposed yet, and you can be sure Mayo have the artillery, particularly around the half-back line, and probably up front with Andy Moran now. Jason Doherty has the artillery that might expose some of those cracks that we haven't seen so far with Dublin."
The former All Star continued: "Like, against Kildare for example, I thought Kildare got through easy down the middle for a few goal chances. Daniel Flynn's goal chance – if that had went in, what might have happened that day?
"So there is a couple of little things that might just be simmering under the surface that nobody's managed to expose yet, and that's what Stephen Rochford and Mayo will look to do, is try and expose those few cracks, try to get guys one-on-one that maybe aren't that comfortable being one-on-one.
"Against Tyrone, none of the Dublin defenders were really tested one-on-one, so that's what Stephen Rochford will try to do: try to get Andy Moran one-on-one with whoever he's marking, try to get Jason Doherty one-on-one and see if the Dublin defenders are as good as they're being made out to be."
In truth, for all Tyrone's flaws, we probably haven't seen a Dublin defender isolated in quite some time.
Brogan, however, is adamant that Mayo's management will have detected chinks in the champions' armour, and that the westerners will be the first side to have the bottle to look to properly exploit them in a rematch of last year's final.
"I think it'll happen the next day because of the way Mayo play. Mayo are probably the only team – maybe Kerry to a certain extent – but Mayo are probably the only team that are brave enough to really, really push up on Dublin.
I think having seen Stephen Rochford and the way he's played in the last couple of games, obviously they'll drop a defender back at certain stages – [Keith] Higgins or [Colm] Boyle will drop back, or whoever's there – but I think, all in all, they'll press up on the kick-outs, and I think they are going to be brave going after trying to win this game.
"That will test Dublin in a way they haven't been tested before because they mightn't be able to drop Cian O'Sullivan off as easy as they have been in previous games and give that protection to the back three.
"So it will be a much different test from what they experienced the last day or in any of their games where they could have two or three men back there roaming loose with nobody to mark."
But if Mayo are to expose cracks in Dublin's defence, Brogan is of the opinion that Aidan O'Shea won't be involved in their doing so – at least not in the full-forward line.
However, given Dublin's lack of aerial presence – Eoghan O'Gara notwithstanding – the Oliver Plunketts centre forward believes there's only one place for O'Shea if he's to be named in Stephen Rochford's starting XV on 17 September.
He's not going to play him full-back anyway. I think he's seen enough at this stage not to put him back in the full-forward line. I think the form of Andy Moran and Jason Doherty, it's no coincidence that Aidan isn't in there. I'm not saying he's not good enough to play in there, but I think his movement just doesn't suit the two guys that are in there with him; he seems to be clogging up a bit of space in there.
"I think they'll probably have to play him at midfield or maybe centre-forward. I think midfield is probably the best spot for him. I think putting him in full back against Donaghy was a brave move. I think it was brave to stick with it for the second day as well. I actually called it that he should stick with him in there."
Of course, should Dublin complete the three-in-a-row, and particularly if do so in dominant fashion, the calls for the county to be split into two teams will likely grow louder in the immediate aftermath.
Brogan has mixed feelings on the proposal; if Dublin win two-thirds of the All-Irelands for the foreseeable future, he believes there may be merit to it.
However, the 35-year-old maintains that the top priority should be for the chasing pack to gain relative parity of their own volition – an notion which he acknowledges will likely initially require investment from the GAA.
"I don't at the moment see merit in it because we're not sure if it's cyclical yet," Brogan said. "It's only six years since Dublin won their first All-Ireland in 15 or 16 years.
"I think if it's the same in 10 years and Dublin are winning two out of every three All-Irelands, then maybe it's something to be looked at. But at the moment I think what has to happen is other counties have to get their underage structures' house in order. And let's see what happens in the next five or six years as those development squads come through.
Why not use Dublin's blueprint? I'm sure it's out there for everybody to see, use that blueprint. Obviously the GAA have to resource other counties but let's do that and see can we bring the overall level up rather than punish Dublin for having their house in order for the last ten or 15 years and having the talent coming through.
"Maybe in an O'Byrne Cup or a National League there might be merit for a second team," Brogan added, "but I'd hate in championship football to see two Dublin teams. At the end of the day, in Dublin we don't make any difference between the northside and the southside lads so no, I don't think so at the moment. It's important to wait to see if it is cyclical."
The inaugural Family SportFest will be taking place at the Sport Ireland National Sports Campus, Abbotstown, on 1 October.
Subscribe to The42 podcasts here: