ALAN KELLY IS pretty relaxed.
It's a balmy, beautiful evening in late June and we meet in the referees' room in Toronto's BMO Field, where the city's Major League Soccer side, TFC, play their home games. He's here to take charge of a spicy-looking fixture – a Canadian derby between the local team and fellow east-coast outfit Montreal Impact. But despite the high-profile nature of the game, the Corkman is very calm as we shoot the breeze and briefly catch-up.
It's my first time ever in a referees' room and it's a small, narrow space. It's sleek and modern and all four guys have their individual lockers. On a nearby table, there's a variety of drinks and snacks but other than that, there's a distinct lack of luxury. No massage tables. No warm-up space. No ice baths. And as I cramp in a corner and observe them chatting casually and exchanging jokes, the environment says much. In contrast to the players, the officials so easily slink into the background. Minor characters in the drama.
Except, of course, when they make mistakes. Referees are defined by the errors, crucified for the wrong decisions. Praise is rare, abuse expected, inevitable and usually unrelenting.
But I'm here to learn more, to gain a better understanding of the life of a football referee.
Alan Kelly Alan Kelly, centre, alongside other MLS officials Matthew Nelson and Rob Sibiga. Alan Kelly
Within minutes of arriving, I'm walking the pitch with Kelly and his team –  Brian Dunn, Matthew Nelson and fourth official Robert Sibiga. The first thing Kelly does is bend down and feel the turf.
"Rock", he says.
"What do you mean?" I ask. Will that impact how you'll referee the game?"
"No. It will impact what footwear I'll wear! I'll never call them 'cleats', like everyone over here does. They'll always be mouldies to me."
Culture clash.
As the sun beams overhead, we amble around the field and chat about how his game-day has been so far.
"On the morning of a game, I'd normally wake at about 8/8.30am and head for breakfast at 9. Breakfast content is typically eggs, granola, fruit and juice, etc – most of us will get the protein fix in on each meal", he says.
"Each referee will have their own game-day routine. I'll generally just head to the gym at about 11am to do some light resistance work (weight exercises) and stretching to get the body prepped for game time and that lasts for about 45 minutes.
Lunchtime is dependent on when the game kicks off later that evening but will take place anywhere from 12.30-1.30pm. Typically, lunch will be a chicken/pasta dish (protein and carbohydrates) in preparation for the physical demands of the game. I generally grab an hour or two of sleep post-lunch. Some guys will do that, others might take a walk instead and stretch the legs. Again, it's very about individual routine."
And taking charge of a derby, are there certain things to research? Past history between players? How previous fixtures may have been overshadowed by certain incidents?
"There's a bit of research but I don't go into very specific details – you don't want to be over-familiar. I watched a replay of their last MLS game against each other in the last game of the 2014 regular season. There were three red cards but it wasn't a nasty game – they were all isolated incidents.
"I watched Montreal's last game against Orlando and their two previous away games against New York City FC and Columbus Crew – just to see how they lined up tactically and to get an idea of their style of play. I was the fourth official last week in Toronto's game and I've watched their two previous games against DC and San Jose too.
So in terms of 'homework', there's been a lot of soccer watched due to the fact that this is my first time refereeing both teams this season."
Kelly engages with players during games. If they question a decision, he'll interact. He's not one to merely put his finger to his lips and run the other way.
"I think that's one of the core competencies of being a referee – you have to have the ability to communicate. You can show some empathy towards players if you interact with them but you never cross the line of over-familiarity. You get their trust to a degree and that's reciprocated a little bit. So, I communicate but at the same time, I'm there to do a job. I'm not patting them on the back and looking for plaudits so it's about finding a proper balance in terms of what's right and what not."
The42 Video / YouTube
Back in the dressing room, I notice the tools of Kelly's trade laid out neatly on a table. The cards, the whistles, the watches and the communication devices. And pencils. Always pencils.
They fit into shorts' pockets much easier, it's just a personal preference."
Even referees have their quirky superstitions.
Eoin O'Callaghan Kelly's all-important tools - note the two pencils. Eoin O'Callaghan
Moments later, there's a knock on the door. Members of the Toronto and Montreal technical staff enter, hand over some papers for inspection and hold up the kits both teams will be wearing for the game. Kelly runs his eyes over everything.
"Montreal are wearing all white, Toronto are in all red. That's fine – no clashes", he says.
And then it's the inspection of the team-sheets.
"It's just making sure there's no duplication of names or numbers", Kelly explains.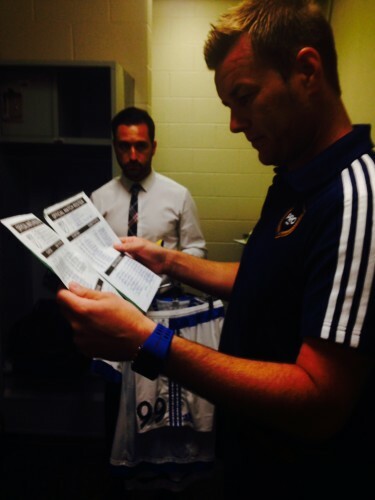 Eoin O'Callaghan Alan Kelly checks the team line-ups before the Toronto FC v Montreal game and also inspects the kits both teams will wear. Eoin O'Callaghan
He has a look at the players selected, to gain an insight into how the teams will set up tactically and if he can guess the type of approach they'll take – a counter-attack, high press, etc. It's the little details. A quick glance before the game and Kelly has a good idea of how it may ebb and flow.
As Kelly and his team take in their pre-game warm-up, I spot the fancy, bright-blue watch on his wrist. It's not just for show. It's a reflection on how data, analytics and number-crunching are crucial elements in a referee's professional life now.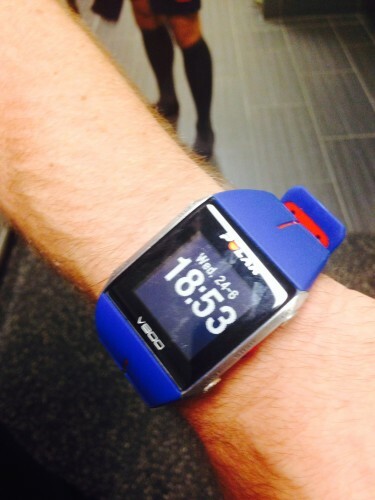 Eoin O'Callaghan The fitness of Kelly and other MLS officials is consistently monitored by their employers - the Professional Referees Organization (PRO). Eoin O'Callaghan
"For every training session and for every game, we wear a heart-rate monitor. The data is downloaded to a central system that our sports science department have. And they can monitor it all: the distance we've run, the types of running that we do – walking, jogging, sprinting. And that's broken down into different categories; the speed you've run, changes of direction, whether you've gone from a standing start to a sprinting start or whether it's from a jog to a sprint – it's very technical. It's very high-tech. Each player wears something similar – GPS and things like that."
The distance that we cover is correlated with that of the top-performing player on either team and it's compared then. There's not a huge level of disparity – maybe the amount of times a player sprints will be more than a referee. But generally, we cover the same distance and sometimes even more."
Kelly takes out his phone. He shows me an app that's got various numbers and colours and graphs and diagrams.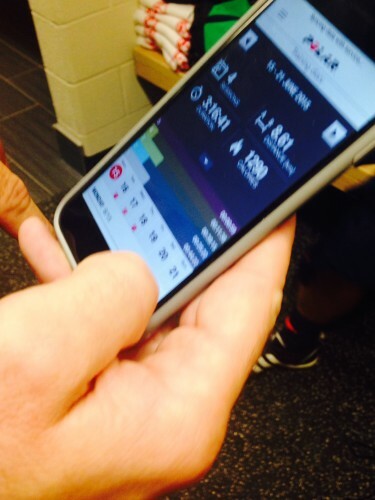 Eoin O'Callaghan Technology plays a huge role in the life of a MLS referee. Eoin O'Callaghan
"It gives you an idea of what we've done in our training sessions, our averages – whether it's running or resistance work in the gym. The sports science department has access to all of this and they monitor how quickly we can recover – all that kind of stuff."
Every single morning we're required to take our resting heart-rate where we attach a monitor to ourselves. We look a little bit like a mad scientist with all the wires but it lasts about three or four minutes, it takes your reading and that's fed back to our sports science team. There are days, especially after a hard game and a long flight, when the info on the app could be red – which means 'no work today'. If you're fatigued, the sports science guys will see that and your next work-out will be altered to reflect the levels of tiredness."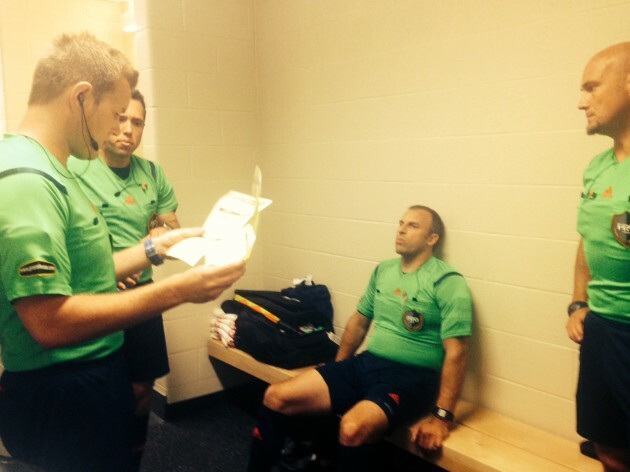 Eoin O'Callaghan Alan Kelly and his team go over some last-minute details before taking the field for Toronto v Montreal. Eoin O'Callaghan
After their stretching and light jog, it's down to business. The kick-off is approaching and it's time for Kelly to give his pep-talk to the team. I'm allowed stay but asked not to record the conversation. In that broad lilt (occasionally there are very slight North American inflections) Kelly is forensic with what he wants. The chat is brief but very specific. And conversational too, with his assistants chiming in with questions or suggestions. It's calm and composed but to-the-point. Clear and concise.
And then, within minutes, it's game time.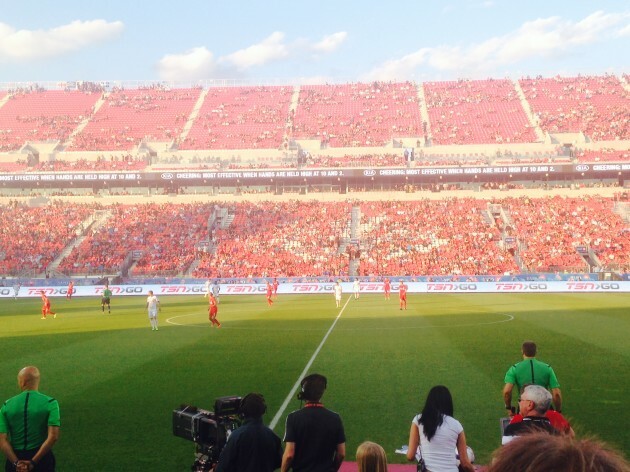 Eoin O'Callaghan After all the preparation, it's time for the hard work. Eoin O'Callaghan
I'm seated on the half-way line, settled in between hardcore Toronto supporters. For the entire game, every one of them has an opinion on Kelly and his decisions. Well, those decisions that go against the home side. They scream and swear and never take a break. And as I sit there, I begin to think. Regardless of where you are in the world, a football referee is always the bad guy. Everyone always has a problem with him. It's the universal rule of football fans everywhere.
The game itself passes without much incident. Toronto go behind after twenty minutes but quickly equalise before adding two more goals in the second-half. Kelly's influence is minimal. He books two players and awards the hosts a 82nd-minute penalty after a blatant foul. There are no flare-ups and the players behave themselves.
Afterwards, back in the dressing-room, the team is happy with how it all went.
I ask Kelly about the opening few minutes of the game. Early on, he called over one of the Montreal players, clearly unhappy with something he had said. There was a firm lecture but no booking.
You use different communication tools in each game – you know when to talk, you know what to say and, more importantly, you know what not to say", he says.
"Tactically, you always know a coach will have one player out there to get in the referee's ear. That's part and parcel of the game. But at the same time, you can flip that and you use a player who you get on well with to get a message across to somebody who's maybe towing the line a little bit. And I think that's appreciated."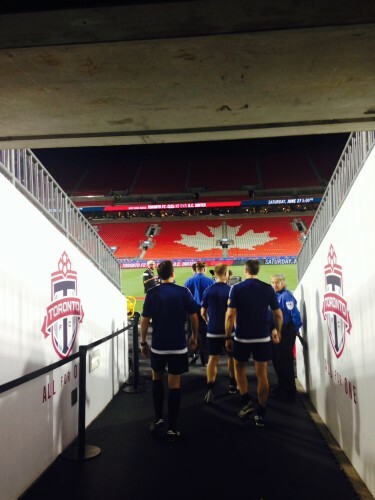 Eoin O'Callaghan Following the game, Kelly and his team head for their warm-down at Toronto's BMO Field. Eoin O'Callaghan
And what about when the managers get a little hot and bothered? What's the protocol for a touchline outburst?
"You understand that there will be times when a coach will be frustrated. But from his point of view, it's about managing that frustration. We all have to let off some steam but once a boundary is crossed into unacceptable behaviour, we'll take some action. We'll let them have their ten seconds and let them vent but as long as they do it in the proper manner."
After a cool-down, Kelly and his team return to the dressing room and have something small to eat. The game is hardly mentioned again. It's very business-like, almost coach-like. What has happened tonight is in the past. No decision can be reversed. Any errors will be analysed and learned from but for now, attention immediately turns to the next assignment.
As we say our goodbyes, I walk towards the bright lights of downtown Toronto. Kelly and his crew hop in a waiting car and head in the opposite direction. Forever, it seems, destined for the shadows.
With thanks to the following for their assistance:
Alan Kelly, Brian Dunn, Matthew Nelson, Robert Sibiga.
Michael Kennedy, Peter Walton and all at the Professional Referees' Organization
Mike Masaro and staff at Toronto FC.