IT'S APRIL 3RD when we contact Louise Galvin. Her 27th birthday, coincidentally, but a day she's hoping passes as quickly as possible.
Life's been like that for the Kerry player since her boyfriend Alan Feeley passed away at just 28 years of age on November 13th last year, two days after collapsing during a gym workout at University of Limerick.
Alan, tragically, had suffered a catastrophic brain haemorrhage and never regained consciousness. The grief suffered by Louise, her family and Alan's family was unimaginable in the days and weeks that followed.
But the people who loved Alan most were determined that his spirit and memory would live on and so it does. Louise and Alan's family agreed that his organs would be donated so that others could have a second chance at life, a chance that Alan was not granted.
When we speak, Louise is preparing for a gym session of her own at UL. It's her way of dealing with things. Better to face grief and loss head on and ever since Alan's untimely death, she has endeavoured to ensure that he will never, ever be forgotten.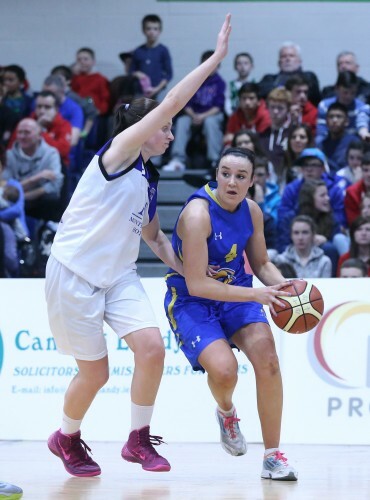 Cathal Noonan / INPHO Louise Galvin in action for UL Huskies in the Women's National Cup final last January. Cathal Noonan / INPHO / INPHO
"It's sensitive and difficult but as I say to people, we wouldn't be speaking out if we weren't comfortable with it and able to do it," Louise explains.
"The more exposure for this, the better. It's 20 weeks since Alan collapsed, 20 weeks tomorrow since he was buried. It's still very tough, very difficult. There are good days and bad days but I just keep busy, try to keep distracted.
"Since Christmas, I've been back playing football and playing basketball with UL Huskies. The (basketball) season just finished but for the first eight weeks, I wasn't able to concentrate. Since then, sport is one of the main things helping me through it all. It's such an outlet, being part of a team, something very special as well.
"Teammates are a whole other group of people and friends, besides my own family and Alan's friends and family, to talk you through it. It will be hard for a long time."
Louise added: "Alan would have been very fit and healthy. He was only 28 and very into sports, a PE teacher. Organ donation was something he would have discussed randomly six months prior to his passing. It was never even really a debate – we were always going to donate his organs."
A month after the funeral, Louise and those affected were trying to make sense of it all, trying to come to terms with Alan's passing.
And then they decided that it was time to take action.
"We were trying to grasp onto something to alleviate the suffering a little bit. To find some solace, some sort of a sense that Alan's death wasn't in vain.
"He had helped to save the lives of five others and we were very proud of that so we set up a committee to keep Alan's memory alive. Life is so fragile but he left the world in a better place."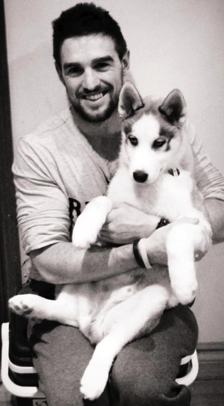 The late Alan Feeley with his dog Noosa.
And so 'Alan's sports extravaganza' will take place at University of Limerick on August 2nd, in memory of the popular Claremorris man.
When speaking to Louise, we are doing so during organ donation week and she explained: "We've been doing a lot of work with the Irish Kidney Association and there has been a big jump in the number of people speaking to family and next of kin about wanting to be organ donors, by carrying organ donor cards or via mobile phone apps.
"Anyone that I know has signed up and discussed it. A lot of them would have gone and looked it up a bit more. Some of them were squeamish and studied the ins and outs of it.
"But it doesn't delay burial or anything like that and when people are talking about it, it creates more pressure on Government and the HSE to allow more funding. The HSE has allocated €2.9m on the back of campaigns like Joe Brolly's 'Opt for Life' as well.
"After organ donor awareness week, we will continue to promote being a donor but we are going to push the physical activity side of things."
Louise, a physiotherapist, is now busy planning Alan's sports extravaganza' and it promises to be a day to remember.
A specially designed website, alanfeeley.com, details the wide range of events taking place on the day.
"We'll have tag rugby for 40 teams, at all levels. There will be various stalls and stands, for strength, flexibility, functional movement screening, and various exercise classes such as kettle bells, boxercise, and aerobics.
"We'll also have obstacle courses, skydiving, fun activities such as trampoline runs and bunjee runs, for all shapes and sizes and all ages. Come with a pair of shorts and get ready to get fit, active and moving.
"The Irish Kidney Association will be there with their stands, for any information that you want. And we will also welcome World Transplant games participants from Team Ireland, who will be in Krakow for the games two weeks later.
"That night, a gala ball will take place at the South Court Hotel in Limerick, with prizegiving speeches and videos. Micheál Ó'Muircheartaigh is our MC for the night and we will also have ambassadors Jacqui Hurley from RTÉ, a friend of mine from basketball days in UL, plus Tommy O'Donnell and John Hayes from Munster rugby.
"Our twitter tag line is livelifegivelife because Alan lived life to the max. He had so much done, a true adrenaline junkie who travelled the world."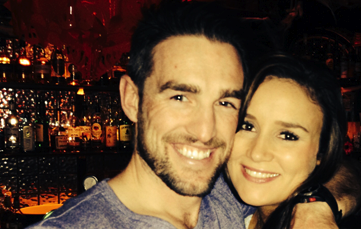 Louise Galvin: 'Alan lived life to the max'
For Louise, her family and Alan's family, the primary message is organ donor awareness and 'Alan's sports extravaganza' will reinforce this.
"So many people of our age are not aware of organ donation and so many people waiting for organs unfortunately pass away. The way I think about it, Alan suffered a massive haemorrhage, it wasn't operable, it was instant and his death wasn't really preventable.
"But someone on a waiting list can be saved. And from the physical activity side of things, as a group of PE teachers and physios on the UL campus, some of us also play a lot of competitive sport.
"We are fit and active and even when I couldn't train with the team, physical activity was more a benefit in terms of mental health. Alan was health-conscious and athletic and through all of this, we are remembering Alan and the great person that he was.
"People seem a bit shocked that we're speaking so soon about this but we're keeping his memory alive and we're very proud of him. And we'll keep on going."
As she prepares for her workout, Louise reflects: "I work in the hospital (Limerick Regional) where Alan was transferred to and I'm going to the Arena now, the gym where Alan collapsed. I've been there hundreds of times since; it's where the basketball court is.
"There's no running away from anything. I had to face up to it straight away. I was back to work within two weeks. It was horrific for a spell, I hated it around January time but I viewed my work place as not the place that Alan died but where his organs were taken.
"That was good. Now it's more of a work place again. And I work with so many great people and get so much support. It was in the middle of the basketball season when it happened. Alan passed away on November 13th and I played a game in December.
"That was extremely difficult but when I came back in January, I was more determined and found a sport more of a help at that stage, to try and take your mind off it and to find new focus.
"I couldn't speak highly enough of being part of a team. It's a real leveller. People are feeling sorry for you because they know the situation and they're aware of it but when you play a match, it doesn't matter what happened. Opponents want to beat you and you want to beat them."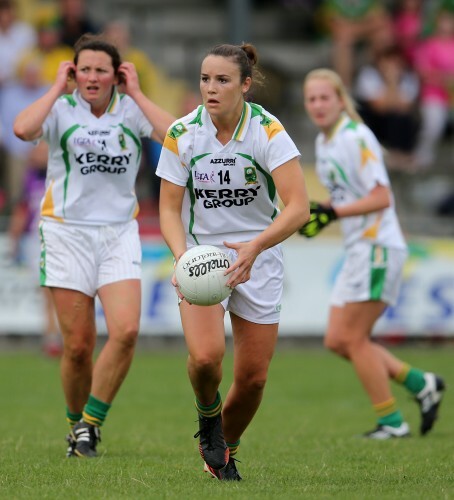 Cathal Noonan / INPHO Louise Galvin: 'It's time to deliver now on the bigger stages' Cathal Noonan / INPHO / INPHO
With the basketball season concluded, Louise's sporting focus is now with the Kerry ladies team. Kerry are reigning Munster champions, having dethroned Cork last year, but the Brendan Martin Cup and All-Ireland glory is the one they want.
"The panel is the strongest that it has been in years – and we have one or two long-term to come back. William O'Sullivan is doing as well as ever with Alan O'Neill and Seamus O'Shea.
"We're looking forward to the Munster championship and hopefully getting back to Croke Park again. We have been knocking on the door but we want to get in the door at this stage. We have experience built up and while we have lost that surprise factor, that's a good thing in a way. It's time to deliver now on the bigger stages."
Kerry managed to beat Cork not once, but twice, in last year's Munster championship but when the sides met again in the All-Ireland semi-final, the Rebelettes gained sweet revenge before going on to lift the TG4 title once again.
Louise rejects the suggestion that it was a psychological problem for Kerry on the day.
"I honestly think that we didn't adapt to Cork's tactics. We didn't have plan B. It wasn't a psychological thing that we couldn't beat Cork, not at all, because we had that monkey off our backs.
"They were tactically better than us on the day and we didn't adapt on the pitch. We didn't change our tactics quick enough and paid the ultimate price.
"They ground out a tough enough victory against Monaghan in the final but this year, four or five teams can win it. It's really competitive and great for the sport."
******
This article has been reproduced with the kind permission of Louise Galvin, the Ladies Gaelic Football Association and author Jackie Cahill.
It appears in the latest edition of the 'Peil Magazine' which can be read here.
For more information on 'Alan's Sports Extravaganza', visit alanfeeley.com