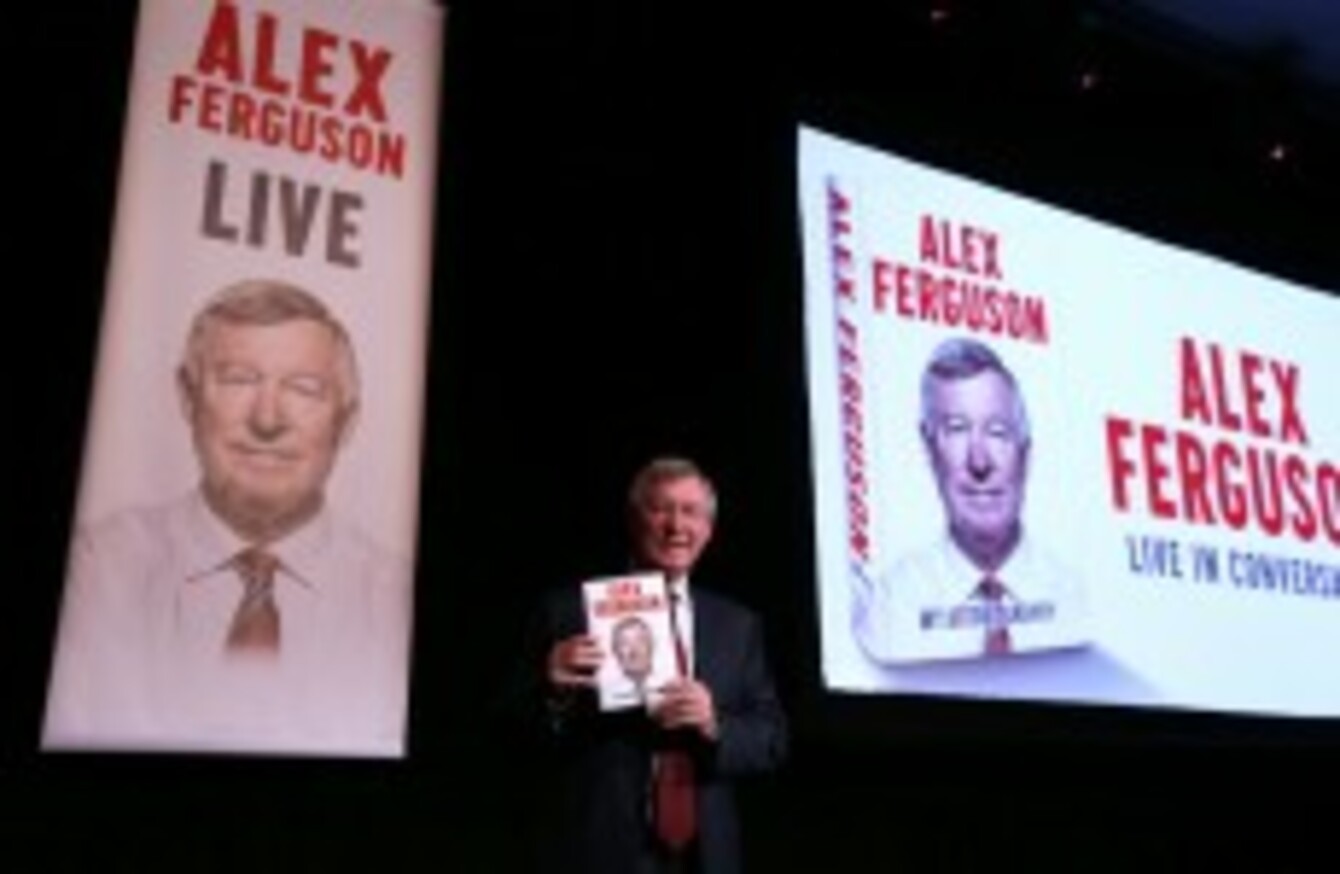 Ferguson in Dublin tonight.
Image: INPHO/Cathal Noonan
Ferguson in Dublin tonight.
Image: INPHO/Cathal Noonan
ALEX FERGUSON WAS FULL of praise for Ireland's new management team on Friday night.
The Scot was at Dublin's Convention Centre to promote his recently-released autobiography and, when asked by host Eamonn Holmes about the FAI's decision to hire Martin O'Neill, the former Manchester United boss spoke glowingly about a man he came up against numerous times down through the years.
"I think it's terrific," Ferguson said. "I admired Trapattoni because in his seventies, he takes on a job when he can't speak English.
"It didn't work out for him and the results tell you that. The enthusiasm and the desire to still do the job in his seventies takes a lot of admiration.
"The appointment of Martin is a different thing. We're talking about a guy who has had fantastic success as a manager. A European final with Celtic, three league titles in a row.
"So he brings that fantastic experience. And also personality. He has got a good personality."
The infamous fallout between Ferguson and Keane ended with the United captain being booted out of the club after criticising his team-mates in an MUTV interview which never aired back in 2005.
Ferguson retold the story from his book about Keane being unhappy with a Portuguese training camp that was organised by the assistant Carlos Queiroz and pinpointed it as the beginning of the end.
It was only in the last year (that things went wrong)," Ferguson explained. "For ten years he was a fantastic captain and player. Unbelievable player. You talk about all the greatest Manchester United players, Roy is in there.
"The thing that changed was when we went to Portugal. Carlos Queiroz had set us up with a training camp. It was really terrific. Roy was just not having it. We tried it with a few houses but he didn't like them.
"I don't think he appreciated Carlos and there was something there. I challenged him on it and said 'look, this is ridiculous. You've got to be one of the boys'. That was the starting point that summer.
"Then he criticised the team and there was no way back from that. My job as Manchester United manager for 26 years was to create a stability and I was expected to make tough decisions. That was the toughest.
"It was a tough, tough call. I had to let players know that you can't go criticising your team-mates the way he was doing. There was no other way.
"When he went to Sunderland, I was sat in the office with Carlos and one of the staff said that Roy Keane was here to see me. I didn't expect it but he came in and apologised.
"When he was at Sunderland there was no one who helped Roy more than Alex Ferguson. I gave him three players on loan – (Danny) Simpson, (Johnny) Evans and (Phil) Bardsley.
"I did my best to help him to get a start. The tough decision had to be made and it was the correct thing to do."
O'Neill is set to officially start his new role after a press conference on Saturday afternoon while Roy Keane will attend games in England over the weekend and join up for training on Monday.
And Ferguson insists that, whatever happens, he will improve as a manager because of it.
I think it is terrific about Roy. He had some bad experiences as a manager but he is young. He went straight from playing with us, to Celtic, to manager. It's hard that.
"Now he has got the experience of Martin O'Neill which he can lean on and learn by. And if he does come back into club football, he has got that advantage now. That is better preparation for him."
Alex Ferguson: My Autobiography is currently on sale in Eason stores nationwide and online at www.easons.com