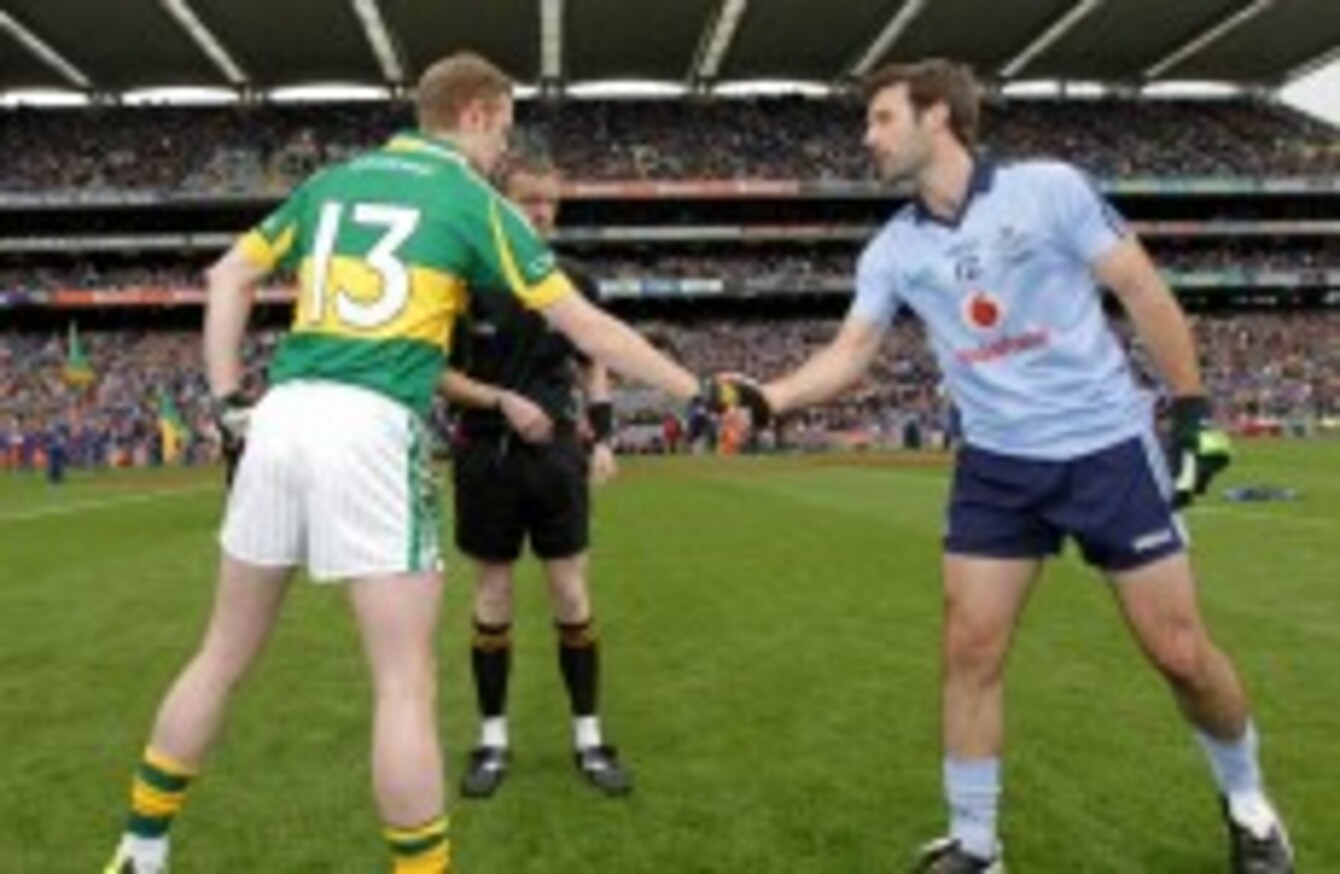 Dublin and Kerry face off once again on Saturday.
Image: ©INPHO/Donall Farmer
Dublin and Kerry face off once again on Saturday.
Image: ©INPHO/Donall Farmer
Saturday
Laois v Mayo
Laois enjoyed a fruitful league campaign last year and gained promotion from Division Two but followed that up with a disappointing championship. The O'Moore men went out in the first round of the O'Byrne Cup to UCD but made amends by securing the O'Byrne Shield.
They welcome Mayo to the Midlands, who proved their worth in 2011 with a Connacht title and an All-Ireland semi-final appearance. Even without Trevor Mortimer, who won't return until after the first two games, manager James Horan has chosen a team which should be strong enough to win out here.
Laois: Culliton, Healy ,Lillis, O'Leary, Strong, Julian, Boyle, Quigley, O'Loughlin, Munnelly, Meaney, Begley, Cahillane, Clancy, Conway.

Mayo: D Clarke, L Keegan, G Cafferkey, K Higgins, P Gardiner, D Vaughan, R Feeney, S O'Shea, P Harte, K McLoughlin, A Freeman, A Dillon, C Mortimer, B Moran, A Moran.
Down v Donegal
Jim McGuinness received a fair amount of criticism for his ultra-defensive tactics last year but Donegal have no plans to change their style of play after winning their first Ulster title in two decades and losing out to eventual champions in the All-Ireland semi-final. Kevin Cassidy is dropped while McGuinness has been outspoken about his dispute over the availability of college players for the McKenna Cup.
Rivals Down will look to bounce back from a forgettable campaign in the league and championship last year but a relegation battle could well be on the cards if they fail to get some points on the board early on. Martin Clarke has returned to Aussie Rules, while Paul McComiskey is still on the mend and Anton McArdle will be absent through suspension.
Down: (TBA)
Donegal: (TBA)
Dublin v Kerry
The second part of Saturday evening's double header at Croker sees a replay of last September's All-Ireland final in the biggest game of the weekend. Dublin boss Pat Gilroy has been attempting to move on from a first Sam Maguire in 16 years with an arduous training schedule over the month of January and has included Craig Dias of Kilmacud Crokes in the backs.
Kerry will no doubt be out for revenge and although Jack O'Connor has to do without his Dr Crokes clubmen, the backbone of the team includes players who featured in the All-Ireland final defeat.
Dublin: S Cluxton, M Fitzsimons, R O'Carroll, P McMahon, J McCarthy, G Brennan, C Dias; R McConnell, M Dara Macauley, P Brogan, K McManamon, B Cullen, D Connolly, E O'Gara, T Quinn.
Kerry: Brendan Kealy, Shane Enright, M Ó Sé, P Crowley, TÓ Sé, K Young, B Maguire, S Scanlon, B Sheehan, P Galvin, D O'Sullivan, S O'Sullivan, J O'Donoghue, K Donaghy.
Kildare v Tyrone
Tyrone became McKenna Cup champions last weekend following a convincing win over Derry and make two changes for tomorrow's match with Kildare as Joe McMahon and Pascal Connell come in for Colm Cavanagh and John Devine.
Kildare stick with the same team that knocked Dublin out of that competition and whoever wins here will make a statement of intent for promotion from Division 2.
Kildare: S Connolly, P Kelly, C Fitzpatrick, O Lyons, B Flanagan, T O'Neill, E O'Flaherty, D Flynn, R Sweeney, T Moolick, M Conway, P O'Neill, J Kavanagh, T O'Connor, A Smith.

Tyrone: P McConnell, A McCrory, Justin McMahon, PJ Quinn, C McCarron, P Harte, D Carlin, M Murphy, Joe McMahon, Matthew Donnelly, P Hughes, M Penrose, O Mulligan, M Donnelly, S O'Neill.
Meath v Monaghan
Meath go into a tough Division 2 on the back of a O'Byrne Cup defeat to DCU and unless the Royals can show significent signs of progress over the next few months, the pressure on manager Seamus McEnaney's shoulders will begin to strain.
He faces his native Monaghan in Pairc Tailteann tomorrow, who return to the second tier this year and, the fact that former Meath boss Eamonn O'Brien is now working in their back-room staff will only add to the sense of rivalry.
Meath: (TBA)
Monaghan: Keogh, D Morgan, D Hughes, C Walshe, D Mone, V Corey, D Hughes; E Lennon, J Turley, N McAdam, E Duffy, M Downey, P Finlay, K Hughes, C McGuinness.
Antrim v Sligo
Antrim manager Liam Bradley has reshuffled the pack for the visit of Sligo and has made a number of positional switches as well as six changes. In the backs, Patrick Gallagher and Tony Scullions take the place of Ryan Daly and Paddy McBride while Conal Kelly and Conor Murray are the midfield pairing and Kevin Brady and Michael Arstrong come into the attack.
Galway put four goals past Sligo two weeks ago and only one back, Shane McManus, survives from that drubbing.
Antrim: C Kerr, P Gallagher, D O'Hagan, M McAleese, T Scullion, J Crozier, J Loughrey, C Murray, C Kelly, T McCann, K Brady, M Armstrong, B Neeson, M Sweeney, P Cunnigham.
Sligo: V Cadden, C Harrison, J Martyn, R Donovan, J Davey, S McManus, P McGovern, B Egan, E Mullen, M Breheny, A Costello, P Hughes, S Coen, A Marren, N Murphy.
Longford v Offaly
Longford play two debutants in Aussie Rules player Michael Quinn and Robbie Smyth for their Division 3 meeting with Offaly at the newly-branded Glennon Brothers Pearse Park. They haven't got Brian Kavanagh and Francis McGee due to injury but both could be back within a month.
Offaly, meanwhile, make seven changes from the team who lost to Kildare in the O'Byrne quarter-finals as new manager Gerry Cooney looks to get off to a winning start.
Longford: D Sheridan, P Foy, B Gilleran, D Reilly, S Mulligan, M Quinn, C Smyth, B McElvaney, J Keegan, D Barden, P Barden, P Kelly, R Smyth, S McCormack, J.J. Matthews.
Offaly: K Meehan, J Gallagher, P McCOnway, S Pender, B Darby, S Sullivan, L Hiney, B Hanamy, N Smith, A Keenaghan, D Currams, A Sullivan, B Allen, A Mulhall, N Dunne.
Longford's David Barden
Credit: ©INPHO/Donall Farmer
Sunday
Armagh v Cork
Cork will field a strong team against Armagh on Sunday, who contrastingly have several absentees on the day. Conor Counihan had his earliest exit from the championship last year having beaten Dublin in the league final and the Cork boss will look to emulate the form in Division 1 by seeing off Ulster opponents Armagh, Down and Donegal in the coming weeks.
Armagh can't call upon any of their Crossmaglen Rangers contingent, who play in the AIB All-Ireland Club final on St Patrick's Day, while Ronan Clarke and Steven McDonnell are unavailable.
Armagh: N Geoghan; A Mallon, B Donaghy, D McKenna, P Duffy, C McKeever, F Moriarty; C Vernon, J Kingham, C Watters, K Dyas, A Duffy, P Carville, M Mackin, E McVerry.
Cork: K O'Halloran; R Carey, M Shields, E Cadogan, N O'Leary, G Canty, P Kissane, A O'Connor, P O'Neill; F Goold, P Kelly, C O'Driscoll, C O'Neill, D O'Connor, P Kerrigan.
Derry v Galway
Galway manager Alan Mulholland has gone with four league debutants in an experimental side for Sunday's game against Derry at Celtic Park. Martin Brethnach in goal, corner back Keith Kelly, Mark Hehir and Michael Martin all feature for the first time in the competition and Mulholland has emphasised the fact that the Tribesmen are in a transitional period.
Derry lost out to Tyrone in the McKenna Cup final last weekend but will take solace from their appearance in that fixture and will see this game as one they should be winning.
Derry: (TBA)
Galway: Manus Breathnach; Colin Forde, Finian Hanley (capt), Keith Kelly; Garreth Bradshaw, Johnny Duane, Gary O'Donnell; Thomas Flynn, Fintan Curran; Jonathan Ryan, Paul Conroy, Mark Hehir; Michael Martin, Cormac Bane, Danny Cummins
Louth v Westmeath
Both teams involved here will find it extremely difficult to make a big impact on Division 2 this year with the likes of Kildare, Tyrone, Meath and Derry all pushing for promotion.  The importance of an early win cannot be understated therefore and the Wee County have a slight upper hand at Haggardstown Park despite being without a host of their regulars.
Westmeath boss Paul Flanagan has got injury problems of his own and has stated that there is plenty of rebuilding to be done in near future.
Louth: N Gallagher, G Hoey, D Finnegan, R Greene; R Finnegan, D Crilly, L Shevlin, P Keenan, B Donnelly; J McEneaney, R Carroll, A Reid, D Maguire, J Califf, D Clarke.
Westmeath: (TBA)
Wexford v Cavan
Wexford are the bookies' favourites to win Division 3 having just missed out on promotion last year. Manager Jason Ryan has spoken of the importance to win their home matches in what he has called a 'very competitive', so Sunday's fixture with Cavan has been targeted.
Much of the past few weeks have seen Cavan's name mentioned for off-field matters as the proposed transfer of Seanie Johnston rumbles on.
Wexford:(TBA)
Cavan: (TBA)
Roscommon v Tipperary
Des Newton was brought in as the new manager of Roscommon after Fergal O'Donnell's departure in October and had a patchy FBD League run. He hasn't had a full deck to play with however, as his players from St Brigid's have been unavailable.
Tipp, meanwhile, went down to Cork in the McGrath Cup on Sunday and manager John Evans has stated that this weekend's game, which has been moved from Dr Hyde Park to Kiltoom, will be just as tough.
Roscommon: G Claffey, S McDermott, N Collins, S Ormsby, C Dineen, N Daly, S Purcell, M Finneran, K Higgins, D Keenan, D Shine, J Rogers, D McDermott, C Devanney, G Heneghan.
Tipperary: M O'Donnell, R Costigan, P Codd, C McDonald, R Kiely, T Ryan, A Morrissey, B Jones, E Ryan, H Coghlan, D Butler, P Acheson, C Sweeney, P Austin, B Grogan.