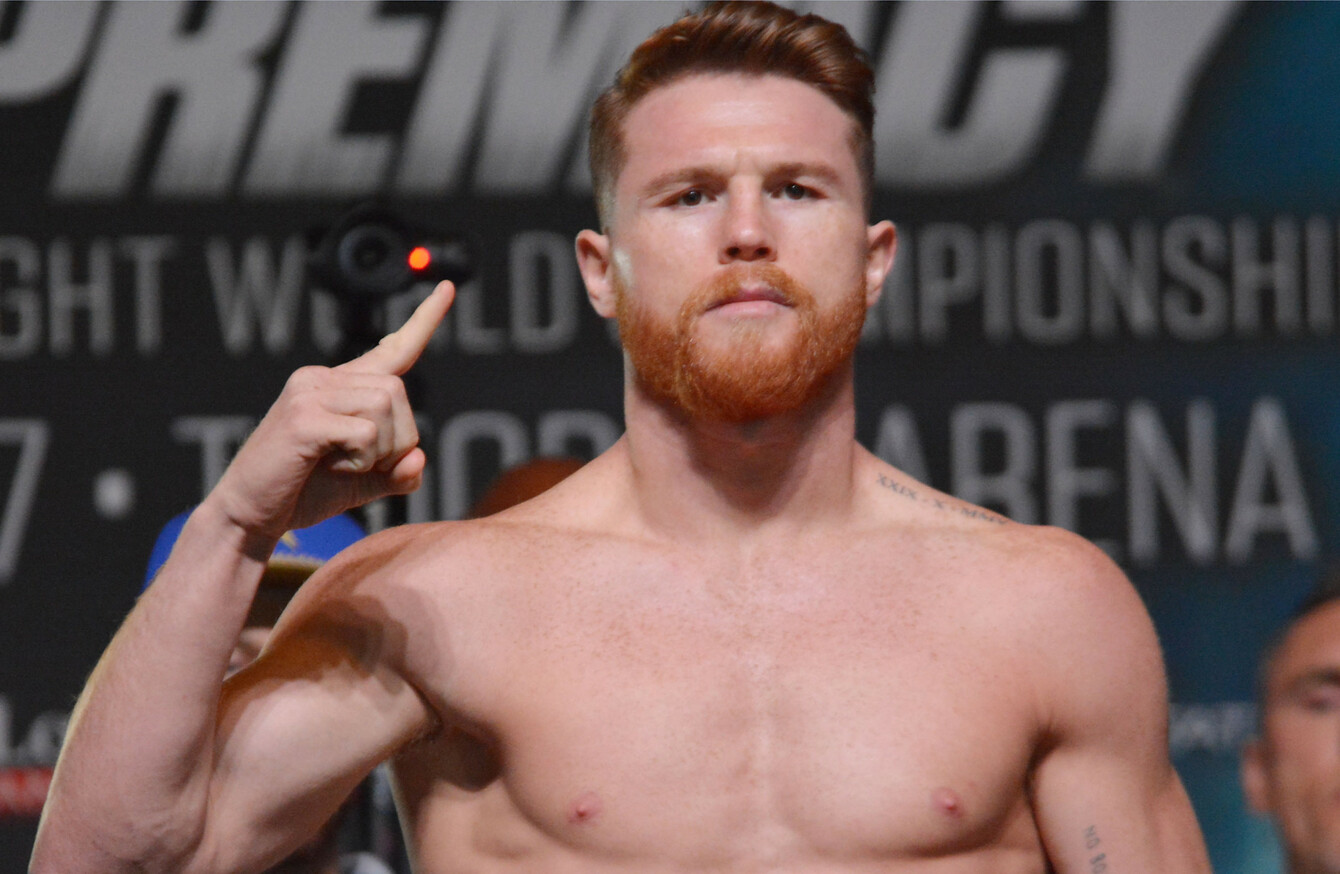 Canelo Alvarez (file pic).
Image: Marcel Thomas
Canelo Alvarez (file pic).
Image: Marcel Thomas
MEXICAN MIDDLEWEIGHT SAUL "Canelo" Alvarez was handed a six-month ban by the Nevada State Athletic Commission on Wednesday over the failed drug test, which forced his rematch with Gennady Golovkin to be cancelled.
At a hearing in Las Vegas, the commission unanimously approved a deal that will see Alvarez suspended for six months from the date of his failed test on 17 February.
The ruling means Alvarez, who did not attend the hearing, will be free to fight again in August — raising the possibility of a rescheduled Golovkin fight in September.
Alvarez tested positive for Clenbuterol twice, on 17 February and 20 February, during voluntary out-of-competitions tests as he prepared for his 5 May rematch with Golovkin.
He later blamed the tests on eating contaminated meat in his native Mexico, where several athletes across different sports have encountered similar problems in recent years.
The 27-year-old risked a one-year ban over the failed test, but Nevada authorities said he had been given a six-month suspension citing his co-operation with authorities.
At a news conference in Los Angeles earlier this month, Alvarez insisted he was the victim of a mistake, hitting back at claims from Golovkin that he was dope cheat.
I am truly shocked about what has happened, and for those who have doubts and suspicions about my integrity I have always been and always will be a clean fighter," Alvarez said. "I respect this sport. I will always be a clean fighter."
Alvarez and Golovkin fought to a controversial draw in their first meeting in Las Vegas last September, a fight most neutrals believed unified champion Golovkin had won.
Their rematch at the T-Mobile Arena next month was expected to be one of the biggest fights of 2018 but was thrown into uncertainty after news of Alvarez's drug test emerged.
Golovkin has dismissed Alvarez's claims that he ingested the Clenbuterol inadvertently, telling reporters last month at his training camp in Big Bear, east of Los Angeles, that he believed the Mexican was guilty of doping.
"Forget Mexican meat," Golovkin said. "Come on. I told you. This is not Mexican meat. Ask him. Ask his team, his promotion. Everything.
Canelo's cheating. They're using these drugs and everybody's trying to pretend it's not happening."
The unbeaten 35-year-old will now fight Vanes Martirosyan on 5 May in an open-air bout at Los Angeles' StubHub Center.