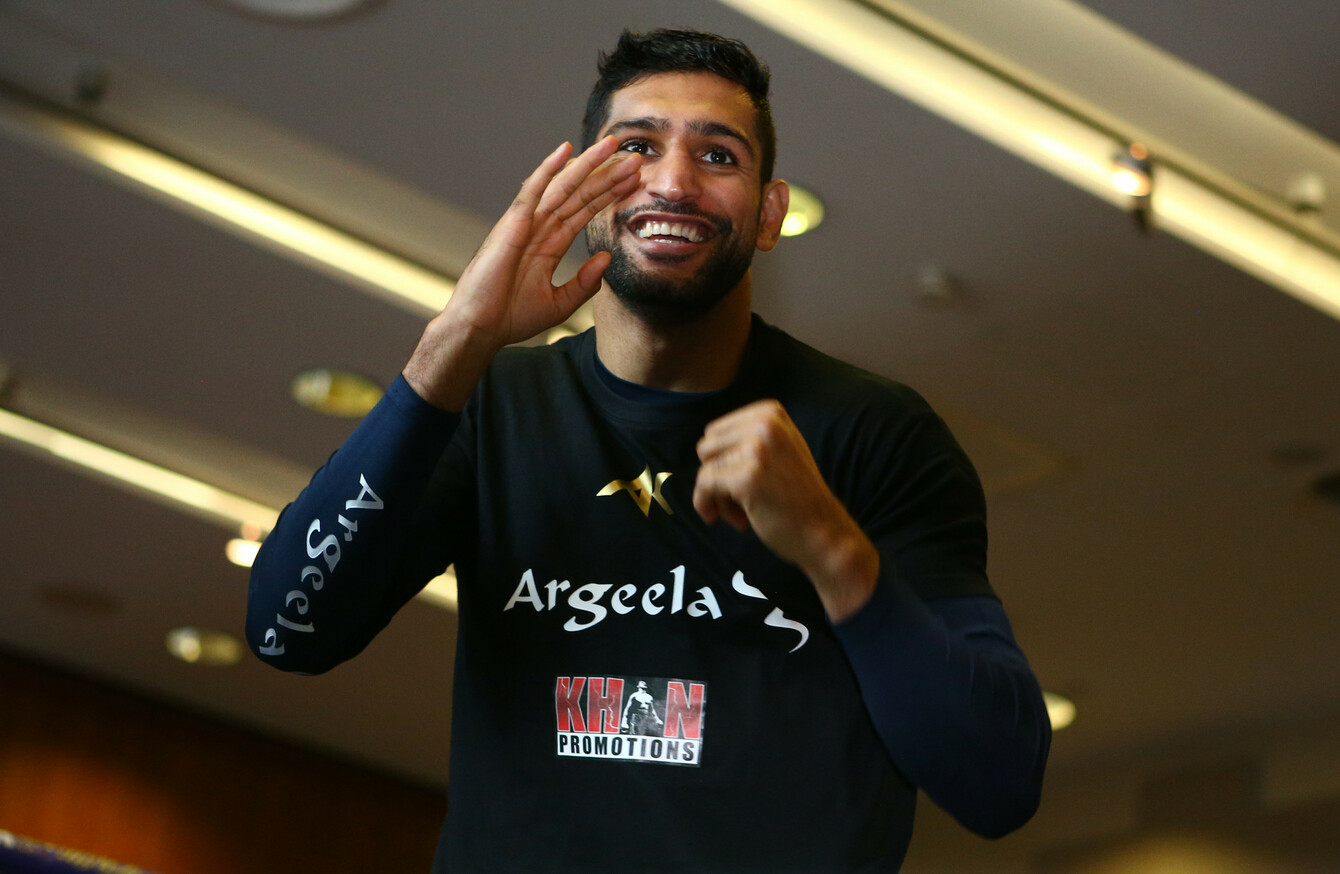 Image: Dave Thompson
Image: Dave Thompson
AMIR KHAN INSISTS his best is yet to come as he prepares to return to the ring this weekend following a two-year absence.
The former light-welterweight world champion, 31-4 (19KOs), will fight on home soil for the first time in five years when he squares off with unfancied Canadian Phil Lo Greco, 28-3 (15KOs), at Liverpool's Echo Arena on Saturday night.
Khan hasn't stepped through the ropes since he was almost blasted back through them by the currently-suspended Saul 'Canelo' Alvarez in May of 2016. Versus 'The Italian Sensation', the Bolton native will make his debut at light-middleweight – a division which currently boasts among its ranks Khan's cross-Pennines nemesis Kell Brook.
A showdown years in the making with Sheffield's 'Special K' seems likely to occur in the next 12 months considering both pugilists are now promoted by Eddie Hearn's Matchroom, but Khan must first prove himself a major player once more.
He maintains that won't be a problem. Speaking at today's press conference ahead of Saturday's litmus test in front of a sell-out crowd, the 31-year-old claimed to be in career-best shape up at 154 pounds:
"There will be a lot of people putting me down, saying I've not got anything left," said Khan.
"I'm 31 – I feel better than I did when I was 28. I still train like a 25-year-old. I just can't wait to get back into the ring – it's been a long time. That's what I do best.
"I really feel in better shape now than I did for the Canelo fight. Time will tell come Saturday."
Saturday's opponent, though, wasn't so convinced by the prospect of a Khanaissance on Merseyside.
Lo Greco revealed that he had first met Khan in 2004, and that he was 'a fan' of the entertaining Briton. But the Canadian followed these pleasantries with a matter-of-factly-delivered barb:
"A lot of fighters always think, 'I've got one more,'" he said.
I'm a student of the game. I've studied your career, your boxing, and I honestly think your best years are done. I think your best years were 2010 to 2013. It's going to show on Saturday night.
"I'm here to win. I'm willing to get knocked out to knock him out."
Alluding to Khan's ring absence since his spectacular defeat to Canelo Alvarez, Lo Greco added: "I've been inactive in my career. It really puts a lot of hurt in your career, especially with the last fight [Khan vs Canelo] and how it ended.
"I know it's been on his mind for a long time."
While Khan remains the heavy favourite to get back on track live on Sky Sports this Saturday night, his preparation for Lo Greco took a diversion by way of an illness which befell regular trainer Virgil Hunter.
The former unified world champion consequentially turned to Joe Goosen, who has previously coached Joel Casamayor, Diego Corrales and Shane Mosley to name but three fistic standouts.
But in conversation with Jim White on Talksport earlier today, the American replacement trainer suggested he had added an extra string to Khan's bow rather than attempt to reinvent the ring savvy Hunter had already implemented in the 2004 Olympic silver medalist.
"I bring a different style," he said. "It's new to Amir, but it's not foreign to him and he has adapted to it quite readily. It brings another dimension to his style rather than takes away from his style which is never a bad thing.
"In California I grew up with more of a Mexican style of inside fighting and aggressiveness, shorter punching and sitting in the pocket where you're comfortable. You can do a lot of damage in close.
"Sometimes being in the eye of a tornado is a lot more calm than being on the outside of that tornado where you get swept away.
"This is not meant to be his mainstay. What I have done though is make it more comfortable on the inside for him when the action takes him there."
Eddie Hearn has previously indicated that Khan will fight again this summer before a potential stadium grudge match with Kell Brook in December.
Both are at delicate career junctures, though Brook responded to his two consecutive – and only – defeats last month by destroying Sergey Rabchenko on his own 154-pound debut.
A win for Khan this Saturday will see their paths realign once more.
Khan v Lo Greco will be broadcast live on Sky Sports Action from 19:00 this Saturday, and on Sky Sports Main Event from 21:45.