LOST SOMEWHERE IN the hoopla that surrounded Roy Keane's now infamous press conference in Malahide yesterday morning was an interesting – and unexpected – contribution from the floor.
As described by Emmet Malone in the Irish Times:
"Keane looked taken aback at the interruption at first but then actually seemed quite taken by the cheek of it and broke into a warm smile as he realised what it was about."
The interjection was from Simon Baker, chairman and founder of the Irish Amputee Football Association, who was trying to raise awareness that Ireland are taking part in the World Cup in Mexico this month.
"To be honest, I was a bit pissed off," Baker told TheScore.ie.
"We were originally supposed to have a training session with Roy Keane that had been planned for weeks. Once their training was finished, Roy was supposed to come up with a few of the players and go through some drills for 20 minutes or so.
"But because of the weather and a lack of pitches, it didn't happen and we ended up going down to the beach.
"Peter Sherrard [the FAI Director of Communications] asked me if I wanted to sit in on the press conference and I told him 'I'm not a groupie, I don't want to hang around waiting for a photo opportunity' but I went because I thought there might be some way of getting my press release about the World Cup into the hands of the media.
"When I looked around and saw that none of the journalists were picking up the press release, I felt I had to do something so I stood up and had my say in the hope that people would write about the team and what a fantastic good news story it is to have an Ireland side playing in a World Cup."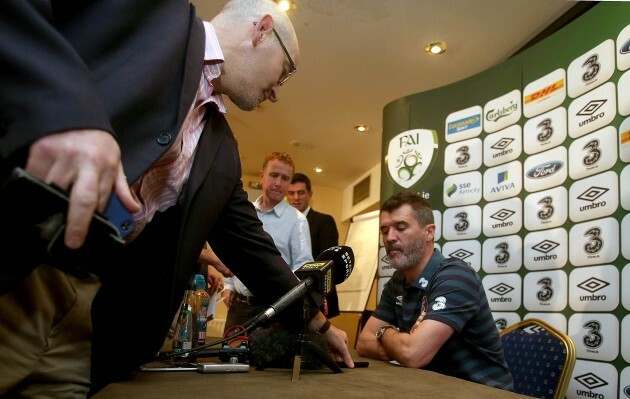 Donall Farmer / INPHO Roy Keane before yesterday's press conference. Donall Farmer / INPHO / INPHO
And while Baker admits his tactics took the Ireland assistant by surprise, Keane had no grudges afterwards.
"I suppose I did kind of hijack the press conference in a way. I didn't want to just ask 'What do you think of the Irish amputee team?' so I just had my say.
"Afterwards he said to me – after I apologised for interrupting – that it was nice to get the break from the questioning.
"He talked to the team for about 55  minutes in private and answered any question they asked him, football or personal. He was great, you can sense his passion for the country and his job, his love of football.
"As a Chelsea fan, I would never have been a fan of him as a player but you could see some of the lads were in awe of him, of the information he has to pass on.
"He's played for two of the greats of the game in Clough and Ferguson and he told us that Cloughie always said 'why over complicate it, there's only one football out there so just go and get it.'
"At the end of it he wished us luck and told us to take pride in playing for Ireland but that's something we've always done. We know that when we pull on the jersey we're the same as Robbie Keane or Damien Duff, we're representing Ireland."
As for the World Cup itself, Baker is under no illusions as to Ireland's chances of winning the tournament having been drawn in the so-called 'group of death' but he does believe they can cause more than their fair share of surprises.
"We've got a really tough group, not only for our first World Cup but any tournament.
"Not only are we facing the three-time world champions Uzbekistan but we've also got Brazil and Ukraine.
"But you know what? The lads are relishing it. When they go on Facebook and see the good will messages, that makes a massive difference. You really don't realise how much the fans can mean to a team until you're playing for your country.
"That's why we need the Irish public to get behind the team. We've had enough bad news in this country and we're good news. Paddy Power – who gave us over €20,000 for our flights to and from the World Cup – have also given us a charity bet on whether or not we can get out of the group. If we do, all the money will go to the Cappagh Hosptial Trust.
"The FAI have been great too so all that's left is for the country to get behind us and have a bit of craic.
"We're not going to win the tournament but we're going to be Cameroon in 1990 and upset the odds. We will come out of the group, I promise you that."
The Amputee Football World Cup kicks off in Mexico in 13 days. Ireland will play in Group A alongside Uzbekistan (Reigning World Champions), Brazil (Copa America Champions 2013), and Ukraine (Ranked 8th in World). You can find more information on the Ireland team here.