THERE WAS SOMETHING in John Muldoon's celebration of the try scored by James Connolly in the 26th minute at the Sportsground on Friday night.
Clearly, the Connacht captain was thrilled to see his fellow back row dot down on the end of a scintillating passage of attack that had originated just outside the westerners' 22 only 30 seconds before.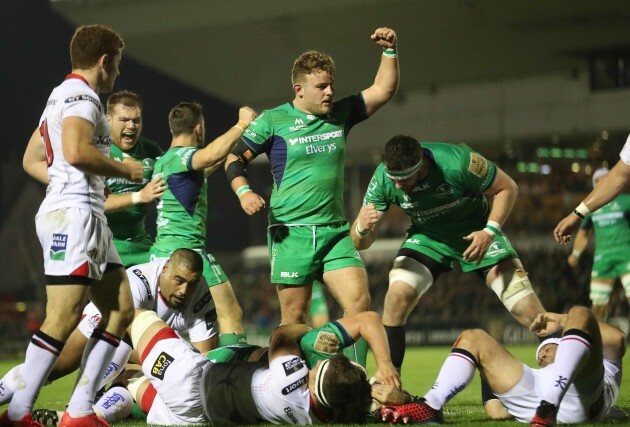 Billy Stickland / INPHO Connolly crossed in the first half. Billy Stickland / INPHO / INPHO
Getting back to his feet as Connolly burst through Ulster's Robbie Diack and Rodney Ah You to finish, Muldoon thrust his right arm into the air in delight, then turned to the Clan Terrace and pumped a second celebratory fist forward. Perhaps there was relief too.
As most people in the Sportsground and watching on television thought, 'Connacht are back!' you sensed that Muldoon was feeling something very similar out on the pitch.
After a rough start to the season, Pat Lam's men have now won twice in a row, looking a lot more like the Guinness Pro12-winning side they were in 2015/16.
Connolly's try – directly from the restart following Cian Kelleher's score – summed up much of what is effective about this Connacht team in attack. 75 metres with ball in hand, five passes, three offloads, two rucks; Ulster couldn't get a handle on it.
It would have been easy for Connacht's confidence to be utterly rocked by their heavy defeats to Glasgow and the Ospreys last month, but Lam's players retained belief in how they go about the business of rugby.
There certainly would have been some doubts – these are human beings after all – and the 30-second passage that ended with Connolly scoring his first senior try for Connacht would have been all the sweeter for that reason.
There remains major work ahead for the western province, who haven't been helped by an injury list that continues to be barely believable, but their response to adversity early this season has been encouraging.
Breakout
At their best, Connacht can strike from anywhere on the pitch. Their desire to play out from deep inside their own half with ball in hand is famous, and they didn't need to be asked twice against Ulster after a lucky bounce.
Initially, Connacht deal with the restart poorly but the instinctive Jake Heenan reacts well to gather the bouncing ball and offload just as Roger Wilson begins to drag him to ground.
It's a little slice of fortune for Connacht with the bouncing ball and they take the opportunity presented to them as Kelleher receives from Heenan.
The former St. Michael's man has long been an outstanding prospect and his performance on Friday once again underlined his attacking ability. Kelleher's left-footed step is certain to become a crowd favourite in Galway.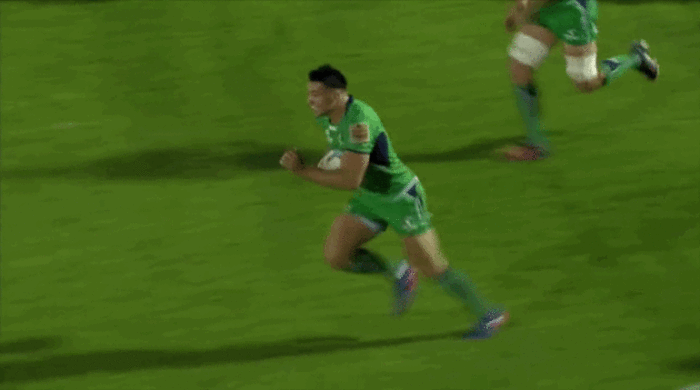 Support
While the carriers all do fine work, the most impressive aspect of this attack from Connacht is how they organise themselves off the ball.
Lam and his coaches constantly stress the importance of work rate 'out of shot' and, after a sluggish start to the season, that aspect of Connacht's play has improved immensely.
It's worth looking at the starting positions of a few of the key players in this passage, just as Kelleher [11] has gathered the ball.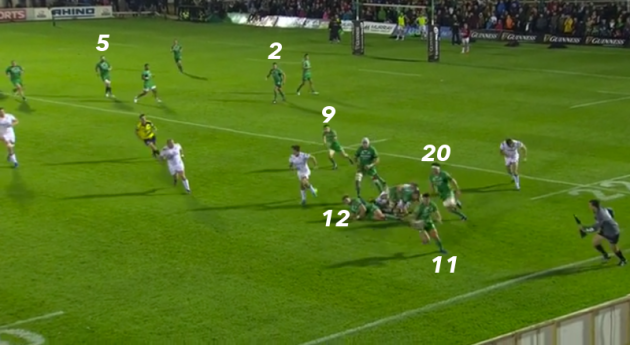 Connolly [20] is in close proximity and reacts rapidly, but others further away from the ball have more ground to make up.
Caolin Blade [9] will be next in the chain of passes after Connolly gets the ball from Kelleher's sharp offload. Back in the 22, hooker Dave Heffernan [2] is going to have to work hard to get upfield and accept a pass from Blade to power towards Ulster's 22.
Involved in that breakdown after Heffernan's carry are Andrew Browne [5] and Craig Ronaldson [12], who is actually on the ground in the snapshot above.
As well as that hard work Connacht put in to support the life of the ball through offloads, passes and resourcing the first breakdown, they are diligent in ensuring they have width to follow up with after Heffernan carries.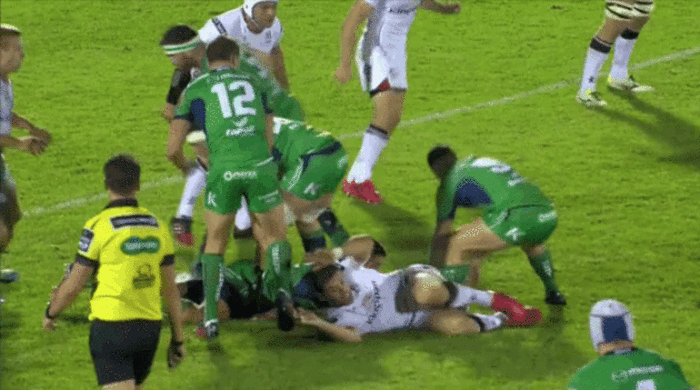 Connacht have a seven-on-four situation against the frontline Ulster defence thanks to their efforts to maintain width, rather than completely honey-potting towards the ball.
While Bundee Aki and Tiernan O'Halloran play the prominent roles in exploiting the space on the outside edge, the presence of tighthead Conor Carey, loosehead Finlay Bealham and number eight Muldoon is important in stretching Ulster.
Width
We've written about Connacht's attacking shape before, and we get a glimpse of the value of it again here. Even in what might have been a completely unstructured situation, Lam's men apply further pressure by finding their shape.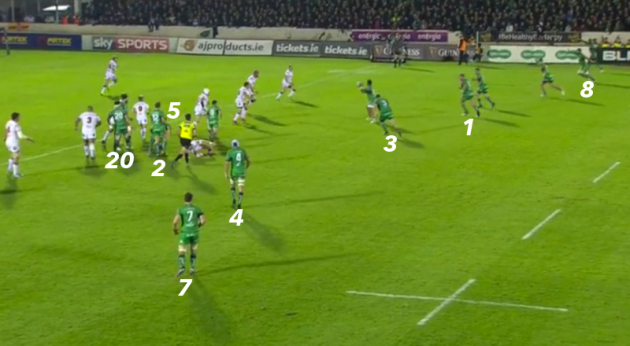 Ultan Dillane [4] and Heenan [7] hold some of the Ulster defenders to the left of the ruck, even if they are not quite out in the 15-metre channel.
John Muldoon [8] is wide on the right, although the fact that Connolly has been involved close to the ball means there is not a second forward in this channel for Connacht.
Carey [3] and Bealham [1] set themselves up either side of first receiver Aki, having not been needed to hit the breakdown in the middle of the pitch.
The fact that Connacht have generated so much width – through their simple structure – for this second phase means Ulster are utterly stretched in defence and left wing Craig Gilroy decides he needs to shoot up hard and close off the outside edge for Connacht.
Aki, however, backs himself to have the power to push his pass in front of Gilroy and finds Tiernan O'Halloran hammering into clear space. That front-foot momentum allows the fullback to draw Jared Payne and offload to the supporting Muldoon.
Tempo
Jack Carty is perhaps fortunate not to be penalised for going straight off his feet after Muldoon is grounded, but we then see another typical element of Connacht at their best in attack.
Lam's men are always desperate to keep the tempo of their attack high, with Bealham stepping in as scrum-half in this instance in order to ensure that happens.
The speed of the ball means Ulster's defence is not set and Connolly can thunder onto Bealham's pass at pace, picking out the hole between Diack and Ah You to finish muscularly.
Clearly, the passing, running and offloading skills are at the centre of this Connacht score, but Lam and his coaching staff are likely to be most pleased with the off the ball work of their players.
 Variety
Connacht work hard to maintain the width in their attack as often as possible, and do love to hit the 15-metre channels, but the early games of this season occasionally saw them lose focus on the need for variety.
Too often, passes were simply being shipped out the line at the expense of bringing a directness in attack. There is obviously a balance here, and Connacht are increasingly finding it.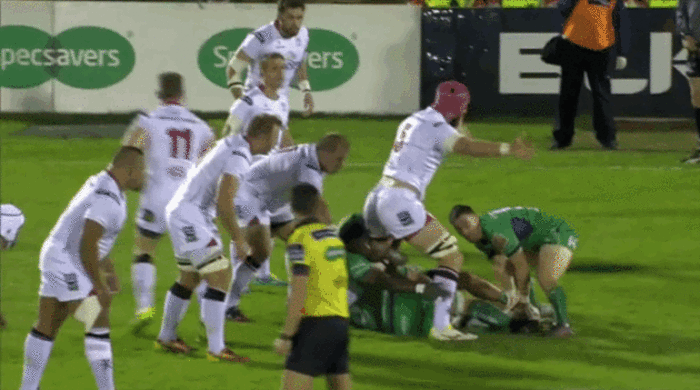 Above, Heffernan provides an example of the benefits of adopting an aggressive, direct mindset at times.
As the hooker receives the ball from Blade, there is a genuine option of going out the back door to out-half Carty [red below] and allowing Connacht to shift the ball, testing Ulster out wide.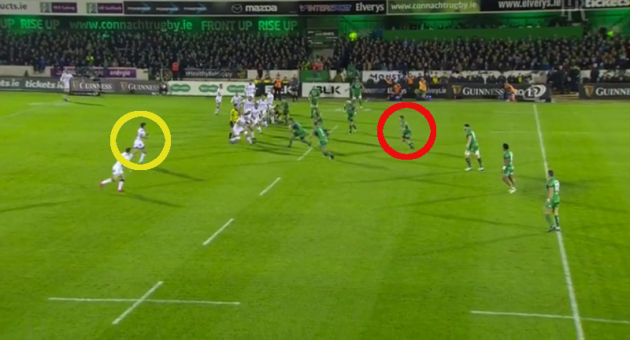 But Heffernan is intelligent enough to realise that doesn't have to be the option every time. Instead, he identifies that Louis Ludik [yellow] hasn't come forward with the Ulster defence.
It means there's space for Heffernan to attack with ball in hand if he can get to the outside of Diack, which he does with a good fend.
Even in instances where there isn't a glaring gap in the opposition defence, Connacht must continue to bring direct carries in their phase play, providing that all-important variety that checks and stretches defences.
While Connacht's wide attack can be sensationally effective, the westerners will continue to acknowledge that bringing aggressive carries – using good footwork, body tilt and leg drive – closer to the ruck have real value.
Wrinkles
Looking again at Connacht's shape in attack, it's positive for Lam to see them thinking their way through the process and constantly looking to challenge the defence by painting a different picture within what is a familiar overall structure.
Again, Heffernan's involvements on Friday night allow us to highlight an example of that.
Last season, Connacht's middle pod of four forwards often lined up relatively flat to one another, allowing them the option of tipping on not just one short pass close to the defensive line, but a chain of them.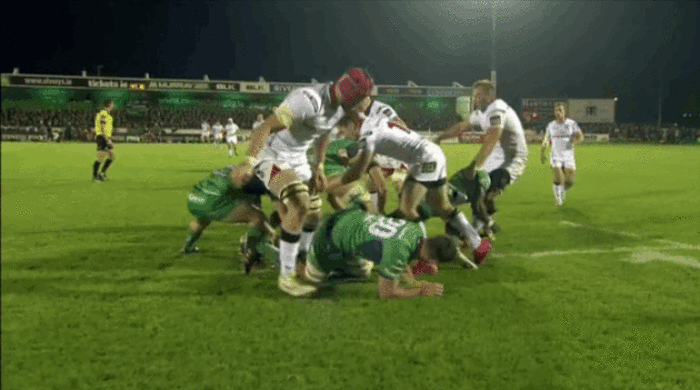 We see that somewhat familiar alignment in the clip above, with Heffernan relatively flat and tight to Bealham as the loosehead pulls the ball back to Ronaldson.
Each of the four Connacht forwards in this grouping are viable options to carry the ball or accept a tip-on pass. Heffernan is used as a decoy instead, with Bealham pulling the ball back to Ronaldson.
That's a somewhat common pattern in Connacht's play, but Heffernan and the other hookers don't always perform that function.
In the example below, we instead see Heffernan align deeper and apart from the three other forwards, ensuring a different picture for the defence.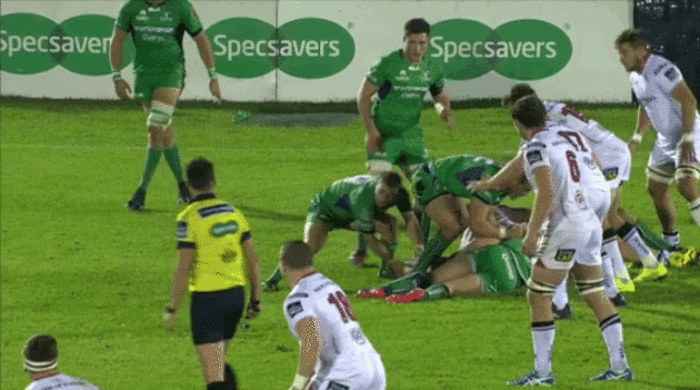 Browne's pass in midfield goes behind replacement prop Ronan Loughney to Aki hovering in behind, and this time Heffernan bursts forward from a wider, deeper position.
He's still within the two 15-metre lines and loosely remains part of the four-forward midfield grouping, but his role this time is different.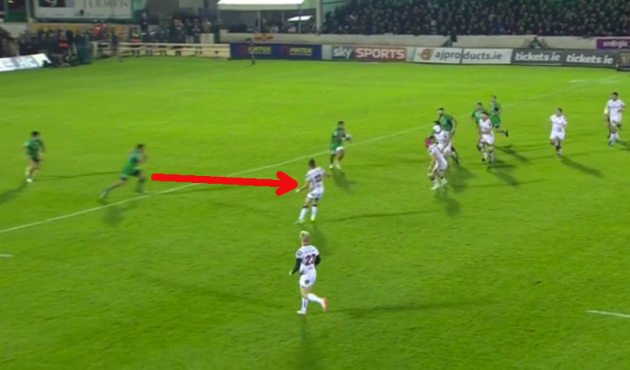 Heffernan is tasked with running a hard unders line outside Aki. Ideally, that will either see Heffernan running into a space for a short pass from Aki, or it will see Ludik bite down on Heffernan and leave space for Aki to fire a pass wide to Tiernan O'Halloran.
Ludik does initially bite in on Heffernan's line and O'Halloran is frustrated as the pass fails to come from Aki, who opts to carry himself instead.
Whatever about the decision-making process, it's encouraging for Lam and assistant coach Conor McPhillips to see their players embracing the wrinkles in their shape in this manner.
Every additional detail is another potential threat to the opposition defence.
- Updated at 20.33.
The42 is on Snapchat! Tap the button below on your phone to add!