BUNDEE AKI HASN'T quite set the Six Nations alight just yet but he has been a key performer for Ireland in an often unglamorous role.
His display against Scotland was typical.
In a game that had a high ball-in-play time of 44:06, there was plenty of drama and even if he wasn't making the headlines, Aki was invariably close to the action.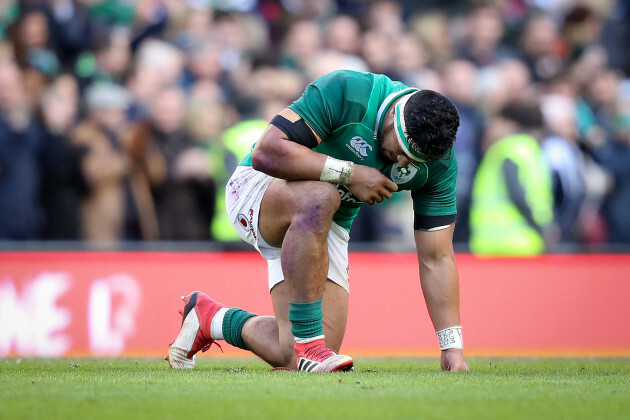 Oisin Keniry / INPHO Aki at the final whistle on Saturday. Oisin Keniry / INPHO / INPHO
The Connacht centre worked hard for an average of 1.9 metres per carry across 12 surges for Joe Schmidt's side, while he completed 100% of his nine tackle attempts and also passed the ball nine times.
There were many subtleties to his game too, including his late latch onto Conor Murray to help drive the scrum-half over for his important second-half try.
But it was Aki's ruck work, which has been outstanding throughout this Six Nations, that impressed most against the Scots.
With Ireland having more than 25 minutes of possession last Saturday, there were plenty of rucks to be hit and in such a central position, Aki was called upon time and time again.
Aki has topped the ruck stats charts for Ireland's backs throughout this championship, but his total of 33 ruck contributions against the Scots was by some distance the highest from any Irish back so far in this Six Nations.
The 27-year-old was almost like an openside flanker as he led the first arrival list for Ireland with 16, eight of which were effective. He even muscled up defensively, providing a turnover assist and slowing the Scottish ball on another occasion.

While Aki would probably love to be making more linebreaks of the type we saw when he set up Keith Earls for a try against Italy, this kind of work around the ruck area is as valuable, particularly to a team coached by Schmidt.
Aki has grown into this Six Nations and his head coach will hope that the best is yet to come against England this weekend.
* Check out our ruck analysis from Ireland's opening game of the Six Nations against France for more information on the system The42 uses to rate rucking performances.
Captain leads the pack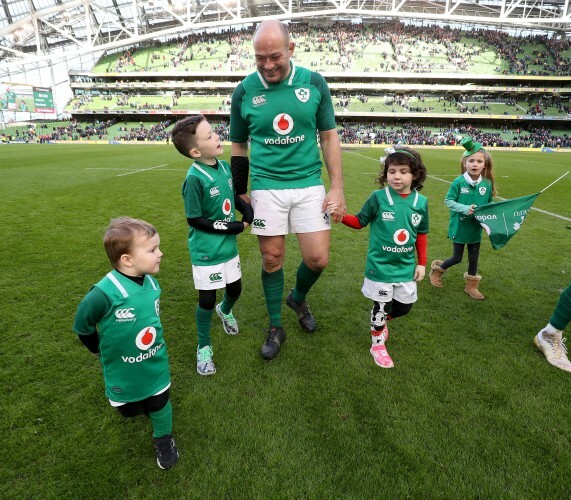 Dan Sheridan / INPHO Best with his children after Saturday's win. Dan Sheridan / INPHO / INPHO
Watching Ireland games live, it can be difficult to note what captain Rory Best actually does on the pitch apart from talking to the referees.
That's not meant in a derogatory way, but the Ulsterman often does very little ball-carrying for Ireland – he had five carries against the Scots – and he's generally not a huge hitter in the defence either.
His set-piece work is more visible of course, particularly his lineout throwing and that was not perfect against the Scots as Ireland missed a key five-metre chance early in the game.
But Best is almost always busy at ruck time and last weekend's win was a prime example, as he led the rucking charts for Ireland with a total of 41 contributions, including 16 effective hits to clear defenders away and help Ireland to quick ball.
His energy was similar to that of loosehead prop Cian Healy, although the 30-year-old doesn't exactly need encouragement to get stuck into the contact.
Healy was Ireland's busiest player in terms of ruck actions per minute of game time at 0.66 and, again, he was effective more often than not in his clearouts.
The Leinster man worked notably hard in defensive rucks, earning three slowing and two present markings as Ireland looked to make life difficult for the Scots post-tackle.
Healy's return towards his very peak this season has been a huge positive for Ireland and his form has kept the superb Jack McGrath in reserve, aside from the Italy game, which saw the provincial colleagues rotate.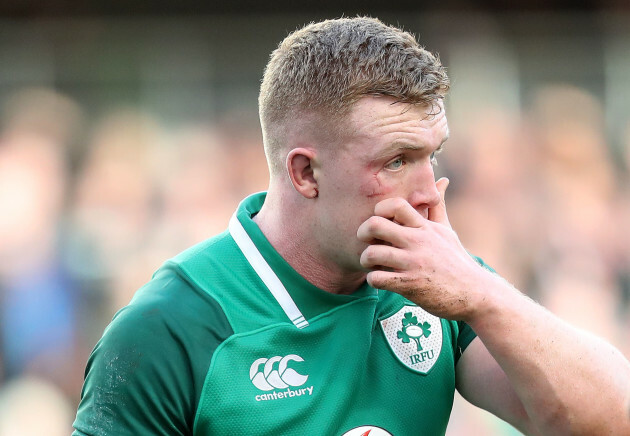 Oisin Keniry / INPHO Leavy was busy once again. Oisin Keniry / INPHO / INPHO
Dan Leavy was another member of the Irish pack who was in fine form at ruck time against Scotland last weekend, with his 37 contributions ensuring he finished the game level with second row James Ryan in terms of the raw total figure.
Naturally enough, Leavy was first arrival on 15 occasions, second only to Aki, and he had 16 effective markings, as well as a turnover in an impressive defensive ruck performance.
Ryan's contributions underline again how impressive the 21-year-old has been in a physical sense in his first Six Nations. Schmidt and Ireland must be excited about what he can achieve in the game as he continues to learn and develop.
Bench impact
Jordi Murphy (0.54) and Andrew Porter (0.53) were both in Ireland's top five for ruck actions per minute of game time, underlining the impact that Schmidt's bench managed to make in this game.
Finishing out the final quarter had been an issue for Ireland in this championship, but the likes of Murphy, Porter and McGrath – who had 14 ruck contributions – all helped Schmidt's side to remedy that issue.
Murphy's ball carrying was excellent as he eked out an average of 3.2 metres per carry – the highest of any Irish forward on the day – while sub hooker Sean Cronin scored Ireland's crucial bonus-point try.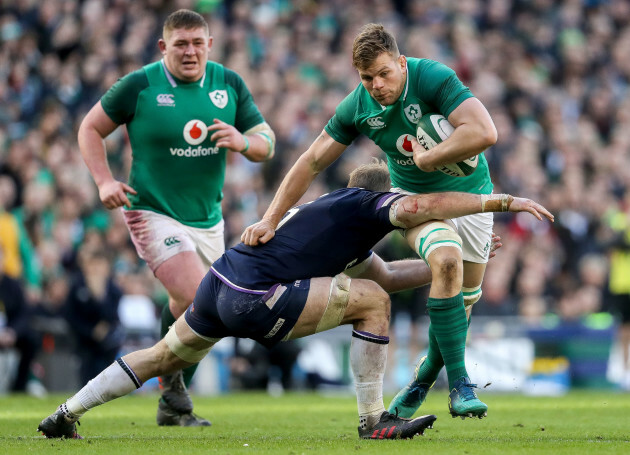 Tommy Dickson / INPHO Jordi Murphy was excellent off Ireland's bench. Tommy Dickson / INPHO / INPHO
While Jordan Larmour didn't have a huge amount to do when he came on for the closing six minutes, two effective clearouts and a guard marking will have pleased Schmidt
Iain Henderson also provided 10 actions at ruck time as he looked to make his presence felt after missing out to Toner and Ryan in the second row.
With Joey Carbery providing a fine clearing kick to touch and Kieran Marmion being involved in two rucks, Schmidt will have been pleased with his bench's impact overall.
Targeting England's weakness
Ireland have a clear target against England on Saturday – the breakdown.
Eddie Jones' side have been incredibly poor in this area over the last two games, and Ireland's performance against Scotland bodes particularly well for the challenge of disrupting the English once again.
While Schmidt's men were very selective in attacking the breakdown defensively in the early stages of this Six Nations, they consistently looked to spoil Scottish possession on Saturday, with a total of 44 defensive actions across their matchday 23 – their highest total in this championship.
While they did only earn three turnovers - one from Leavy and two from O'Mahony [strongly assisted by Jacob Stockdale and CJ Stander] – Ireland managed to slow Scotland's possession at crucial times.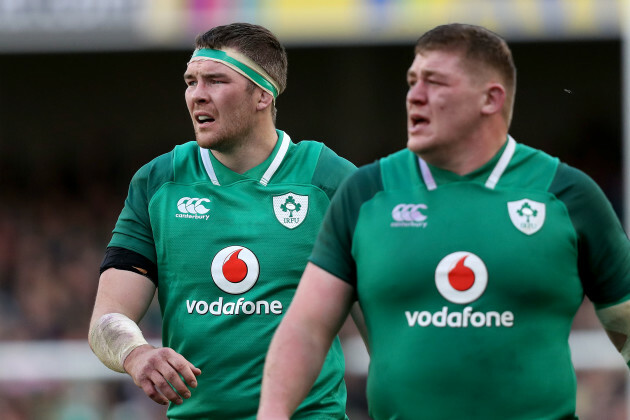 Oisin Keniry / INPHO O'Mahony was busy at the defensive breakdown. Oisin Keniry / INPHO / INPHO
Most interestingly, there was a real variety in terms of where they challenged the Scottish rucks and through which players.
Keith Earls and Stockdale had five and three defensive actions, respectively, as Ireland were not afraid to attempt to cause hassle in Scotland's rucks out on the edges.
O'Mahony, Leavy, CJ Stander, Healy and Murphy were also prominent as Ireland shared the workload.
With England currently in disarray at the breakdown, Ireland are likely to challenge ferociously again this weekend.
Total ruck contributions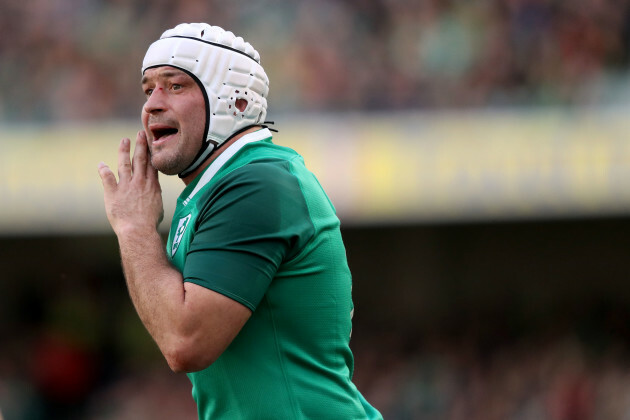 Oisin Keniry / INPHO Oisin Keniry / INPHO / INPHO
41 Rory Best (12 first, 18 second, 8 third, 3 defensive)
37 Dan Leavy (15 first, 12 second, 3 third, 2 fourth, 5 defensive)
37 James Ryan (12 first, 21 second, 4 third)
35 CJ Stander (7 first, 15 second, 7 third, 2 fourth, 4 defensive)
33 Bundee Aki (16 first, 8 second, 6 third, 3 defensive)
33 Cian Healy (6 first, 6 second, 12 third, 4 fourth, 5 defensive)
32 Devin Toner (10 first, 14 second, 8 third)
23 Peter O'Mahony (9 first, 4 second, 5 third, 5 defensive)
22 Tadhg Furlong (11 first, 6 second, 2 third, 2 fourth, 1 defensive)
18 Garry Ringrose (9 first, 6 second, 2 third, 1 fourth)
15 Keith Earls (4 first, 5 second, 1 third, 5 defensive)
15 Rob Kearney (7 first, 4 second, 3 third, 1 defensive)
14 Jack McGrath (6 first, 3 second, 3 fourth, 2 defensive)
14 Jordi Murphy (5 first, 5 second, 4 defensive)
12 Jacob Stockdale (5 first, 2 second, 1 third, 1 fourth, 3 defensive)
10 Andrew Porter (5 first, 5 second)
10 Iain Henderson (7 first, 3 second)
4 Johnny Sexton (3 first, 1 second)
3 Jordan Larmour (2 first, 1 second)
3 Sean Cronin (1 first, 2 second)
3 Conor Murray (1 first, 2 defensive)
2 Kieran Marmion (1 first, 1 defensive)
First arrival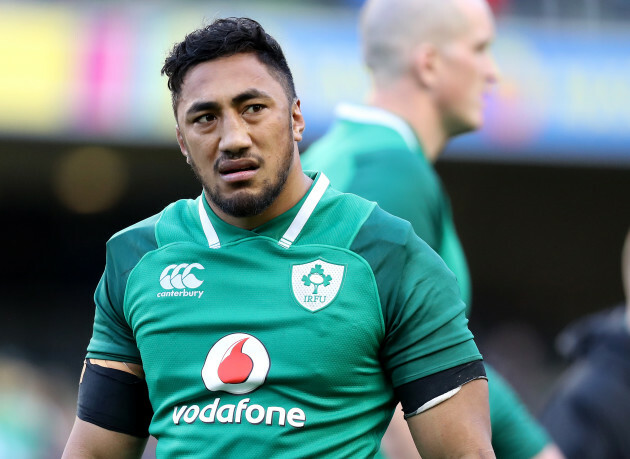 Oisin Keniry / INPHO Oisin Keniry / INPHO / INPHO
16 Bundee Aki (8 effective, 7 guard, 1 ineffective)
15 Dan Leavy (12 effective, 2 guard, 1 ineffective)
12 James Ryan (7 effective, 4 guard, 1 dominant)
12 Rory Best (7 effective, 5 guard)
11 Tadhg Furlong (8 effective, 3 guard)
10 Devin Toner (8 effective, 1 guard, 1 ineffective)
9 Peter O'Mahony (1 dominant, 4 effective, 4 guard)
9 Garry Ringrose (7 effective, 2 ineffective)
7 Iain Henderson (1 dominant, 2 effective, 4 guard)
7 CJ Stander (6 effective, 1 guard)
7 Rob Kearney (3 effective, 2 guard, 1 ineffective)
6 Jack McGrath (1 dominant, 3 effective, 2 guard)
6 Cian Healy (5 effective, 1 guard)
5 Jordi Murphy (4 effective, 1 guard)
5 Andrew Porter (4 effective, 1 guard)
5 Jacob Stockdale (3 effective, 2 guard)
4 Keith Earls (4 effective)
3 Johnny Sexton (2 effective, 1 guard)
2 Jordan Larmour (1 effective, 1 guard)
1 Conor Murray (1 effective)
1 Sean Cronin (1 guard)
1 Kieran Marmion (1 guard)
Second arrival
Oisin Keniry / INPHO Oisin Keniry / INPHO / INPHO
21 James Ryan (6 effective, 14 guard, 1 ineffective)
18 Rory Best (9 effective, 8 guard, 1 ineffective)
15 CJ Stander (6 effective, 9 guard)
14 Devin Toner (5 effective, 8 guard, 1 ineffective)
12 Dan Leavy (3 effective, 8 guard, 1 ineffective)
8 Bundee Aki (5 effective, 3 guard)
6 Tadhg Furlong (3 effective, 3 guard)
6 Cian Healy (2 effective, 4 guard)
6 Garry Ringrose (2 effective, 3 guard, 1 ineffective)
5 Andrew Porter (4 effective, 1 guard)
5 Keith Earls (2 effective, 3 guard)
4 Jordi Murphy (1 effective, 3 guard)
4 Rob Kearney (4 guard)
4 Peter O'Mahony (3 guard, 1 ineffective)
3 Jack McGrath (2 effective, 1 guard)
3 Iain Henderson (3 guard)
2 Sean Cronin (1 effective, 1 guard)
2 Jacob Stockdale (2 guard)
1 Johnny Sexton (1 effective)
1 Jordan Larmour (1 effective)
Defensive actions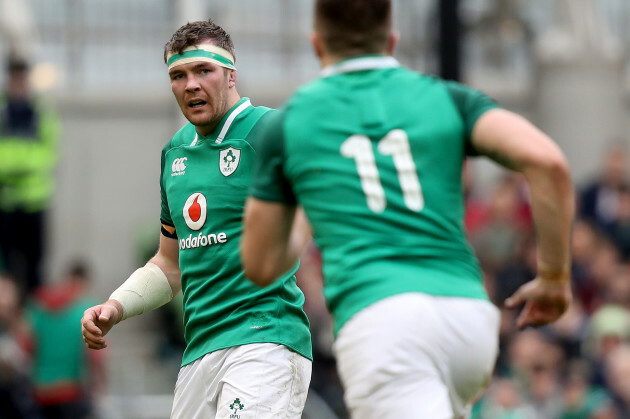 Oisin Keniry / INPHO Oisin Keniry / INPHO / INPHO
5 Peter O'Mahony (2 turnovers, 3 present)
5 Dan Leavy (1 turnover, 1 slowing, 3 present)
5 Cian Healy (3 slowing, 2 present)
5 Keith Earls (5 present)
4 CJ Stander (1 turnover assist, 1 slowing, 2 present)
4 Jordi Murphy (4 present)
3 Jacob Stockdale (1 turnover assist, 2 slowing)
3 Bundee Aki (1 turnover assist, 1 slowing, 1 present)
3 Rory Best (3 present)
2 Jack McGrath (2 present)
2 Conor Murray (2 present)
1 Rob Kearney (1 slowing)
1 Tadhg Furlong (1 present)
1 Kieran Marmion (1 present)
Rucking actions per minute of game time
Bryan Keane / INPHO Bryan Keane / INPHO / INPHO
0.66 Cian Healy
0.63 Rory Best
0.59 Devin Toner
0.54 Jordi Murphy
0.53 Andrew Porter
0.50 Jordan Larmour
0.47 Jack McGrath
0.46 Dan Leavy
0.46 James Ryan
0.44 CJ Stander
0.43 Peter O'Mahony
0.41 Bundee Aki
0.38 Iain Henderson
0.36 Tadhg Furlong
0.22 Garry Ringrose
0.20 Sean Cronin
0.20 Kieran Marmion
0.19 Keith Earls
0.19 Rob Kearney
0.05 Johnny Sexton
0.04 Conor Murray