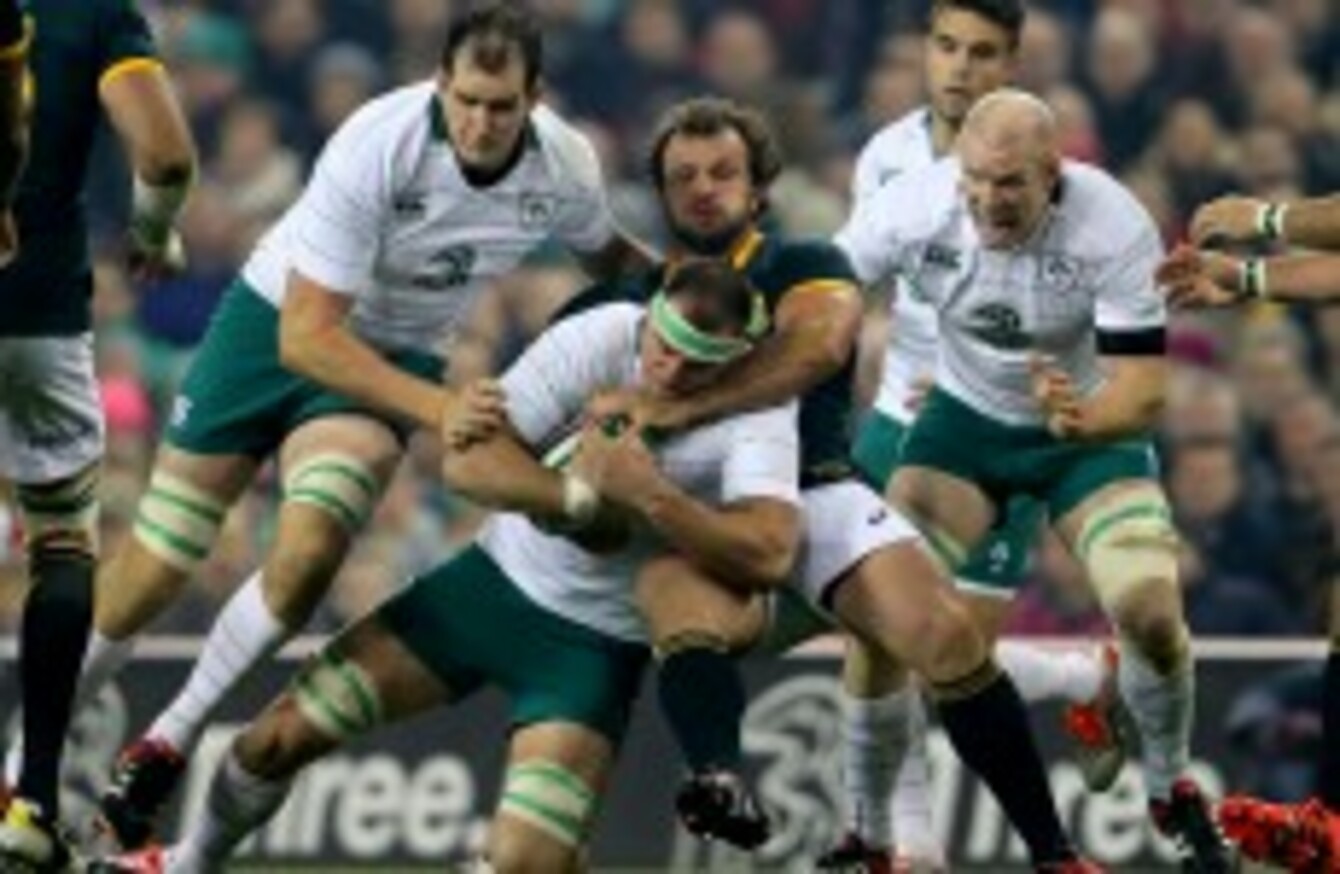 Paul O'Connell and Devin Toner prepare to clear some South African bodies.
Image: Cathal Noonan/INPHO
Paul O'Connell and Devin Toner prepare to clear some South African bodies.
Image: Cathal Noonan/INPHO
GIVEN THAT JOE Schmidt's coaching philosophy is strongly founded on winning the breakdown and ruck, it makes sense to analyse his Ireland team more deeply in that area of the game than others.
The Kiwi places great demands on his players in those post-tackle situations, as do most coaches in the world. Losing the breakdown battle very often leads to losing matches, so it makes sense that Schmidt focuses intently on that contest.
Before we go any further, we would like to point out that the following article is heavily inspired by the magnificent 'Ruck Marks' articles done by the excellent Digging Like a Demented Mole blog.
Similarly to that work by the Demented Mole, this piece is based around an in-depth examination of every breakdown and ruck in Ireland's meeting with South Africa last weekend.
We have studied this area of the game both when Ireland had the ball and when they were not in possession but competing to get it back. Every action by every Irish player at the breakdown and ruck has been accounted for* and the results underline the importance of certain figures.
*This analysis of the Ireland v South Africa match was undertaken through one set of eyes and over the course of a stop-start viewing of the game. If there are any minor inaccuracies, for that we apologise.
Habits reinforced
From a team point of view, Ireland's performance at ruck time in Saturday's game certainly reinforced the habits of last season's Six Nations triumph. Schmidt simply isn't a fan of having his players attempt to offload the ball in contact.
Against South Africa, Irish players didn't offload the ball even once. There were examples of offloads last season, notably from Brian O'Driscoll, but overall Schmidt's has been a no-offload manifesto, one that appears set to continue in the high-profile games at least.
Chris Henry explained to TheScore.ie last season that Schmidt simply prefers his players to have a clear understanding of who is carrying the ball, and who is going to ruck. Supporting players are less inclined to stand off waiting for a potential offload, and more likely to hammer directly over the ball, thus producing secure, quick ball to attack from.
It was the same story against the Boks last weekend, as Ireland placed huge emphasis on securing their ball, sending in three or four players to the ruck when that was required.
Such a dedication of numbers to the ruck also took into account the threat of South Africa defensively, with the likes of Duane Vermeulen, Bismarck du Plessis and Marcel Coetzee always major turnover dangers.
Ireland limited them to just a single turnover at the breakdown at the Aviva Stadium, hammering bodies into contact in order to prevent the Boks from getting their hands on the ball after the tackle.
The numbers
Before we go any further, let's just underline exactly what it is we have taken into account.
The following number and analysis relate entirely to the actions of Irish players at the breakdown and ruck after a tackle has been completed. We have not included incidences of mauls breaking down, unless there has been a clear detachment from the maul and then a tackle.
When we refer to the 'breakdown' here, we mean the situation in the split second after a tackle has been made and no ruck has formed. The term 'ruck' signifies the meeting of at least one player from each team over the tackle in a contest for the ball.
The numbers we have compiled are not only for attack, but also from an Irish defensive point of view.
Any time a Irish player who was not the tackler competed for the ball, either by getting their hands on it before a ruck had formed or by contesting in the ruck, we took that into account too.
While that generally doesn't include the tackling player, there were occasions on which the tackler bounced back to his feet to compete and therefore became part of the ruck, meaning their actions were recorded.
All in all, we are dealing with a total of 116 rucks, but there were 256 individual player actions within those scenarios [taking into account multiple players clearing an attacking ruck or multiple Irish defenders contesting South Africa possession].
Quality of the effort
When looking at Ireland's rucking in attack, we have marked players in terms of their arrival to the ruck. That is, was the player first on the scene post-tackle, second, third, or even fourth to arrive?
It's great to know who was first to the breakdown in attack most often, but we also need to account for the quality of each player's rucking effort too. Otherwise, we're just left with a pile of relatively meaningless numbers.
Rhys Ruddock was the first man to arrive on eight occasions, but how effective was he once in position?
In order to attribute quality to each rucking effort, we've gone for five degrees of competence - dominant, effective, guard, present and ineffective.

A dominant act of rucking signifies a moment where we actively think 'wow, what a high-quality clear-out.' These incidences are obviously quite rare, and involve cleaning a defensive player out extremely swiftly, ensuring optimal quick ball. Removal of a major turnover threat would also generally qualify as dominant.
An effective rucking action is any one which effectively clears out a defensive player, in a less breathtaking way than the dominant category. It generally involves moving a body that is not a major turnover threat.
A guard action signifies a player who does not actually engage a defensive player, but is present at the ruck to guard the ball, discouraging the defence from attempting to make a steal.
The present marker is used to note any player who is involved in the ruck, but has no major effect on it either positively or negatively.
Finally, an ineffective marking indicates poor rucking from a player, whereby they perhaps failed to clear a turnover danger or were very slow to do so.
As with so many other aspects of the game, rucking is a very complex and nuanced element. A brilliant clear-out can come in the form of smashing a defender off his feet as he looks to poach the ball, or using a tin-opener technique to roll them away when that is more ideal.
A poor rucking effort could see the attacking player allow a defender into position for a turnover, slide up their back and beyond them, or fall off their feet too easily, to cite a few examples.
That means that every dominant [or effective or ineffective] rucking effort is not of the same type. In that regard, you're going to have to trust our judgement on these actions, or go back and watch the game in full yourself.
Defensively, we've gone with three categories to indicate the quality of the effort. A turnover means the player has won possession from the opposition, while a turnover assist signifies that another player may not have won the turnover without the assistance of that assisting action.

Slowing indicates that the defensive player has clearly done that to the opposition's possession, while the present category is for a player that needed to be cleared away even though they were not involved in completing the tackle.
Here are some of the things we found in Ireland's meeting with South Africa.
O'Connell the leader
It will come as little surprise to those who viewed the game that captain Paul O'Connell was the leading figure for Ireland in terms of involvements in the rucks. The Limerick native had 36 involvements for Ireland on both sides of possession.
In terms of attack, the lock was first to the breakdown on no less than seven occasions.
Six of those saw him carry out an effective rucking actions, while he was guard on the seventh occasion. The 35-year-old is technically excellent in clearing out, and his aggression levels aid those skills in shifting defensive bodies away.
O'Connell was second man into the ruck seven times too, being ineffective just twice and effective in his clearing out on four of the other occasions. The Munster second row was fourth on the scene on a further six occasions.
O'Connell has often spoken of his position being one centrally built on work rate, and that's exactly what he gives Ireland at ruck time in attack. His body language always demonstrate hunger to hit rucks, while his technical strength is undeniable.
Defensively, O'Connell was also supreme for Ireland, leading the individual involvements with eight. He managed to slow the South Africa possession three times, and also came up with a turnover assist for Jack McGrath.
Again, it's a combination of mindset and technique for O'Connell in frustrating the opposition at the breakdown. He's never afraid to stick his head in, and for a man who is 6ft 6ins tall, gets into some impressive jackal positions over the ball.
Add in a tackle count of 17, as well as a handful of carries, his line-out calling and mental skills and it's clear how vital O'Connell is to Ireland.
Ruddock adapts his game
Having been a late call-up to the starting team in place of Chris Henry, Ruddock was positioned in the somewhat unfamiliar openside flanker position. His 27 rucking involvements indicate how well he adapted to the task.
The Leinster man led the way for Ireland with eight first arrivals, although the fact that three of those were ineffective does perhaps show that he was not in his most natural of rucking positions.

From second entries [five], third entries [five], and fourth arrivals [three], Ruddock had just one further ineffective rucking action. Overall, his attacking efforts were of a high-quality and of major importance to Ireland.
Like any good openside, Ruddock was also highly evident at defensive rucks, racking up seven involvements. He had one turnover assist, as well as clearly slowing the ball once and being a present body to clear out five times.
Henry will likely remain ahead of Ruddock in the pecking order for the number seven shirt longer-term, while Tommy O'Donnell may get an audition this weekend. However, Ruddock has demonstrated that his abilities can transfer over to the openside, even if he prefers lining out at six.
McGrath gets busy
One of the perceived advantages of having Jack McGrath in the team at loosehead prop in place of the injured Cian Healy is that he brings more to the ruck area.
Healy is no slouch when it comes to rucking efforts, but McGrath does tend to get through a mountain of excellent work around the pitch. That much was evident again in the clash with South Africa.
McGrath was first to arrive three times, each time providing an effective clear-out. He was second in on seven occasions, only once proving ineffective. The prop had a total of eight incidents where he was third or fourth man in, the majority of which were either guard or present actions.
Defensively, he had one superb turnover and slowed the Boks' possession once too.
At 6ft 1ins, McGrath's centre of gravity is low enough to allow him to shift into good positions swiftly, and he uses his 120kg+ bulk expertly. With good upper body strength, he can clear bodies away with a dip and drive with his arms, while McGrath is also sharp enough to realise when he's in a poor position and change tactic in time.
An excellent rucking player for Ireland.
The backs get their duties done
Generally, the Irish backs were the first or second players into the rucks in attack when they were involved, usually explained by the fact that they are closer to the action when the ball is moved into slightly wider positions.
In that regard, Tommy Bowe's four first arrivals were all from strike moves, while Simon Zebo was called upon as second man six times, mainly as he popped up off his left wing and got involved in the action.
Encouragingly for Zebo, there was only one incident across his total of 10 rucking involvements that was borderline ineffective. That work off the ball is something Schmidt has called on him to improve, and that certainly looks to be an area where the Munster wide man has worked hard.
On the other wing, Bowe was ineffective on two of his first arrivals on his return to international rugby after a year-long absence. While he was busy with 12 total involvements, including two on defence, the 30-year-old will strive for a little more accuracy.
In the centres, Robbie Henshaw and Jared Payne shared nine first arrivals between them, most often in supporting each other.
It was also interesting to note Payne's defensive effort. The outside centre was involved four times for Ireland, slowing the ball once. While he was frustrated by the refereeing on two other occasions, he did look to get his hands on the ball to poach.
Given that Brian O'Driscoll made an art form of stealing and competing at the breakdown in defence, it bodes well that Payne was at least hungry to try his hand in that area.
Ireland's halfback pairing of Johnny Sexton and Conor Murray had just six rucking involvements between them in the game, being more occupied with running Ireland's game plan.
Similarly, fullback Rob Kearney was understandly on the periphary as he was involed just seven times in total. That said, he did slow the ball twice in defence.
Mike Ross' bits and pieces
34-year-old tighthead prop Ross got through a 73-minute shift a month after his last game, and proved to be busy around the rucks. Being predominantly a set-piece player, he had only two first arrivals, both of which were effective.
He was second man in eight times, largely with success, while there were eight occasions on which Ross was the fourth man into the ruck. Oftentimes, the ball was already won when the prop got to the scene, whereafter he would tie up the loose ends by lifting a leg off the ball or standing as a shield in front of Murray.
Schmidt might look at several of Ross' present involvements as unnecessary, or even as ineffective but there is also sometimes safety in the fact that Ross is there in case of emergency.
Business as usual for Toner, Heaslip and O'Mahony
Peter O'Mahony was one of Ireland's key contributors around the rucks, being involved on 23 occasions and racking up a team-leading two dominant impacts. His arrivals were divided mainly between first [seven] and second [seven], while his defensive breakdown competition was as stifling as ever.
Heaslip was perhaps a little quiet by his standards in this sector of the game, totalling 18 involvements. He did have two turnovers of possession, however, and had zero ineffective involvements.
Devin Toner has become a key player for Schmidt in the second row, and his rucking has improved immensely in the last two years. Here, he was effective with 10 of his 18 attacking involvements, while he got his awkward frame into annoying defensive positions on a number of occasions, slowing the ball once.
Richardt Strauss impression
Ireland's replacement hooker had a strong 23-minute outing after taking over from Sean Cronin, impressing with his handful of ruck contributions, particularly in defence.
Strauss was involved four times when Ireland didn't have the ball, making one turnover, as well as slowing the Boks' possession once. In attack, there were only three involvements, but those were done effectively too.
Cronin's running skills were not called upon by Ireland in the game plan used against South Africa, meaning the match was one of his quieter ones. If Schmidt is to play in a similar style against the Wallabies, there may be some consideration for starting Strauss.
It's also worth highlighting that substitute fullback Felix Jones had only one ruck involvement, a late turnover, perhaps illustrating exactly why Schmidt is such a fan of the Munster man.
Top of the Pops
While we have yet to figure out the best way to present these final stats, we have outlined the top ten performaners in each area below.
First arrivals
8 Rhys Ruddock – 4 effective, 1 guard, 3 ineffective
7  Paul O'Connell – 6 effective, 1 guard
7 Peter O'Mahony – 5 effective, 1 present, 1 ineffective
6 Devin Toner – 4 effective, 2 ineffective
5 Jared Payne – 1 dominant, 3 effective, 1 ineffective
4 Robbie Henshaw – 1 dominant, 2 effective, 1 guard
4 Tommy Bowe – 2 effective, 2 ineffective
3 Jamie Heaslip – 1 dominant, 2 effective
3 Jack McGrath – 2 effective
3 Sean Cronin – 1 dominant, 1 effective, 1 ineffective
Second arrivals
8 Mike Ross – 1 dominant, 5 effective, 2 guards
7 Paul O'Connell – 4 effective, 1 present, 2 ineffective
7 Peter O'Mahony – 1 dominant, 3 guard, 1 present, 2 ineffective
7 Jack McGrath – 5 effective, 1 guard, 1 ineffective
6 Jamie Heaslip – 2 effective, 2 guard, 2 present
6 Simon Zebo – 6 effective
5 Rhys Ruddock – 3 effective, 1 guard, 1 ineffective
2 Robbie Henshaw – 2 effective
2 Tommy Bowe – 1 effective, 1 ineffective
2 Rob Kearney – 1 guard, 1 ineffective
Third arrivals
8 Paul O'Connell – 1 effective, 7 guard
6 Mike Ross – 4 effective, 2 guard
5 Rhys Ruddock – 2 effect, 3 present
4 Devin Toner – 2 effective, 2 guard
4 Tommy Bowe – 1 dominant, 2 guard, 1 present
4 Jack McGrath – 2 guard, 1 present, 1 ineffective
3 Simon Zebo – 2 effective, 1 guard
3 Jamie Heaslip – 1 effective, 2 guard
3 Robbie Henshaw – 1 effective, 2 guard
2 Peter O'Mahony – 1 dominant, 1 guard
Defensive efforts
8 Paul O'Connell – 1 turnover assist, 3 slowing, 4 present
7 Peter O'Mahony – 4 slowing, 3 present
7 Rhys Ruddock – 1 turnover assist, 1 slowing, 5 present
5 Jamie Heaslip – 2 turnover, 1 slowing, 2 present
5 Devin Toner – 2 slowing, 3 present
4 Jared Payne – 1 slowing, 3 present
4 Jack McGrath – 1 turnover, 1 slowing, 2 present
3 Sean Cronin – 1 slowing, 2 present
2 Robbie Henshaw – 1 slowing, 1 present
2 Rob Kearney – 2 slowing
This article is the first of what we hope will be a developing series, whereby we figure out smoother ways of compiling and sharing the numbers and findings. Any suggestions in that regard are more than welcome.
- First published at 20.00 on 12 November, updated 10.28 on 13 November.