Updated at 8.35am.
JOE SCHMIDT'S ABILITY to create clever set-piece plays for Ireland's attack is one of their key advantages over opposition teams.
The Ireland head coach has shown a sustained ability to design and coach intelligent first-phase strike moves from lineouts and scrums, as well as his famous 'power plays' – which involve Ireland carrying out two, three, four or sometimes even more phases of pre-called attack.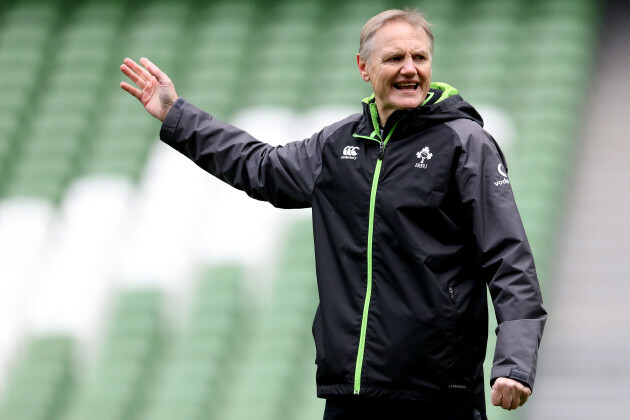 Bryan Keane / INPHO This man has watched more rugby games than you've had hot dinners, cold lunches and rushed breakfasts. Bryan Keane / INPHO / INPHO
Even when these plays don't lead directly to linebreaks or tries, even when the execution is sloppy, they give us real insight into Schmidt's detailed and creative rugby brain.
Schmidt's skill in this area will be important in Twickenham on Saturday as Ireland look to seal a Grand Slam – expect England to ferociously attack the scrum and lineout in a bid to prevent Ireland getting a platform – but we saw fresh evidence of his quality against Scotland last weekend.
When Bundee Aki was held up over the tryline just before half-time following some excellent attacking play from Ireland further out the pitch, Schmidt's side were left with one final five-metre scrum before the break.
Leading 7-3 at that point, it was the perfect time for Ireland to strike and open up some scoreboard breathing space, as well as land a major psychological blow against the Scots.
Ireland didn't disappoint as one of Schmidt's detailed power plays produced a lovely try for Jacob Stockdale.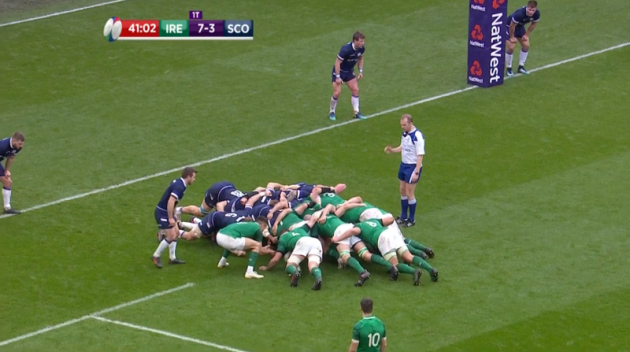 It all starts with the scrum above, this being an area of the game where Ireland have been very strong under Greg Feek in recent years.
Schmidt places a huge demand on his side's scrum to provide clean attacking possession – rather than chasing penalties – and this is a fine example of their solidity.
This Six Nations has seen referees re-enforcing the requirement for a genuine strike from hookers in the scrum and that has created opportunities for the defensive teams, as we see here.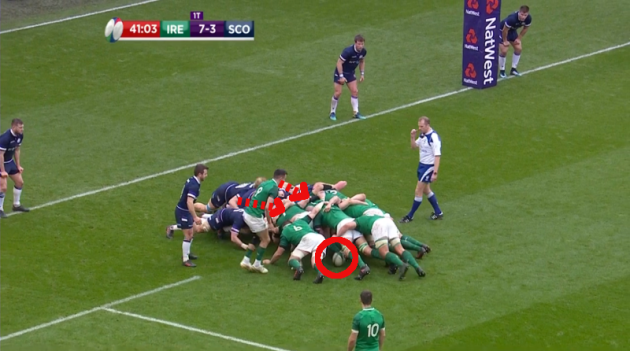 Rory Best has lifted his leg to hook the ball [red above] after Conor Murray's feed and Scotland have timed their drive for exactly the moment that Best's leg comes off the ground – a moment in which Ireland's traction is naturally reduced.
The Scots' coordinated shunt wins them a step or two forward but Ireland recover superbly as the ball moves to the back of their scrum, with their second row of Devin Toner and James Ryan – scrummaging at tighthead lock at the age of 21! – working hard and flankers Peter O'Mahony and Dan Leavy also lending their weight.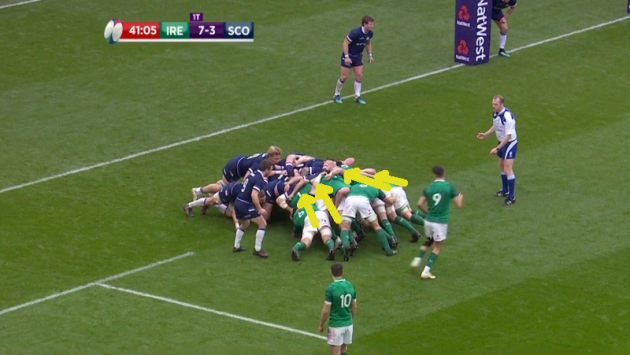 There is real fight in Ireland's pack to ensure their backline is going to be playing off a clean platform. The cohesive drive from behind them is vital, but Ireland's front row does an excellent job.
Cian Healy has been driven back by Simon Berghan on that Scottish shunt and his left shoulder dips in, while we Toner's left shoulder slip up off Healy's buttocks and onto his lower back, but the Irish pack does enough to lock out and ensure that number eight CJ Stander can scoop up clean ball at the base of the scrum.
The initial attacking phase from Ireland is relatively simple, with Stander popping to Murray [white below] and the scrum-half firing a skip pass to Garry Ringrose [red] coming on a hard, flat line.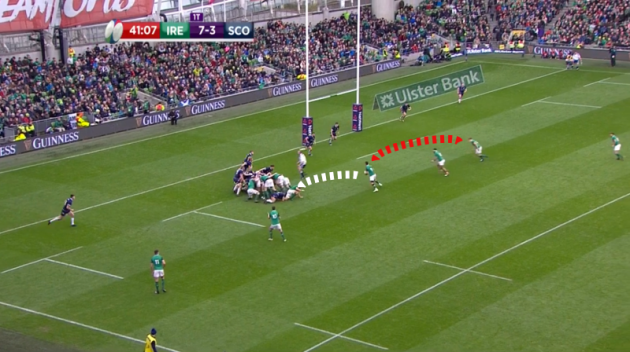 Ringrose's running line takes him back onto the inside shoulder of opposite number Huw Jones and directly into Scotland inside centre Peter Horne.
Designated to hit that ruck – whether Scotland contest or not – are Aki [13 below] as the 'right barrel', Dan Leavy [7] as the 'left barrel' and Stander [8] as the 'guard'.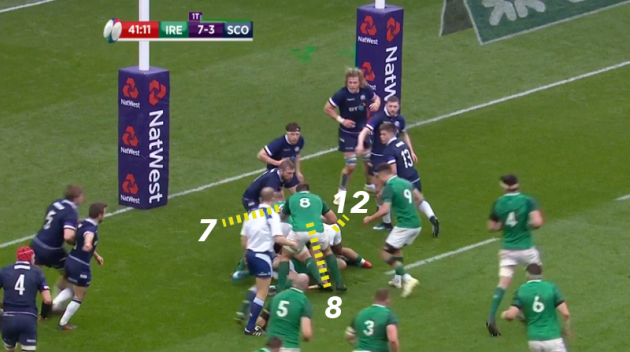 As it is, Scotland don't contest and Ireland have rapid ball to play off for their second phase, which involves lock Ryan [red below] coming around the corner to carry off scrum-half Murray.
The Leinster second row makes a dynamic carry into Huw Jones and Dave Denton, eking out another metre of momentum for Ireland.
O'Mahony is the key player for Ireland at this second ruck, arriving to first deal with Denton in front of the tackle, as indicated by our red circle below.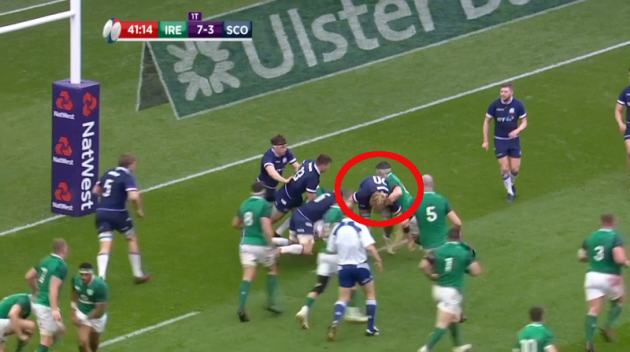 O'Mahony drives Denton to the ground and then looks to pin tackler Jones down into the ruck [red below].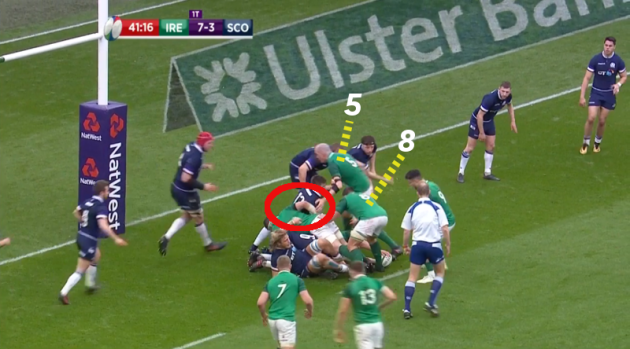 Toner [5] and Stander [8] have arrived to resource this second ruck too, but again it's clean and quick possession for Ireland – perfect for them to strike off for the scoring third phase.
As we can see below, props Healy and Furlong have worked around the corner for this third phase, with out-half Johnny Sexton in behind them [the three of them are circled in white].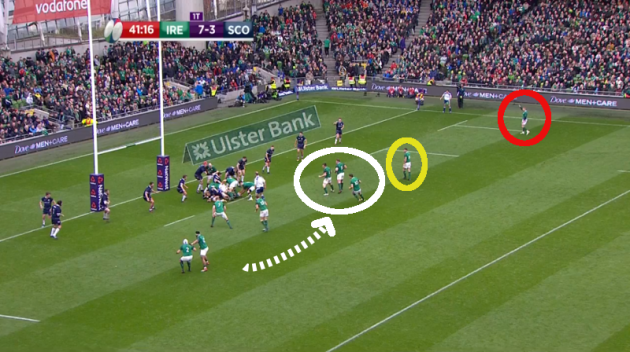 Ireland want to 'sell' this picture to Scotland, luring the defence into believing that the attack will continue around the corner towards Healy, Furlong and Sexton.
They have fullback Rob Kearney [yellow above] outside them, while all the way over on the right wing, Keith Earls [red] has his hand up waving for the ball.
Though Earls knows he is not getting the ball barring any last-second overriding call, this little bit of 'animation' to attract defenders' attention will have pleased Schmidt.
Even as O'Mahony is hitting the ruck following Ryan's carry, we are already getting a strong hint as to what Ireland really intend to do.
As indicated in red below, scrum-half Murray is glancing back to his left as he approaches the ruck.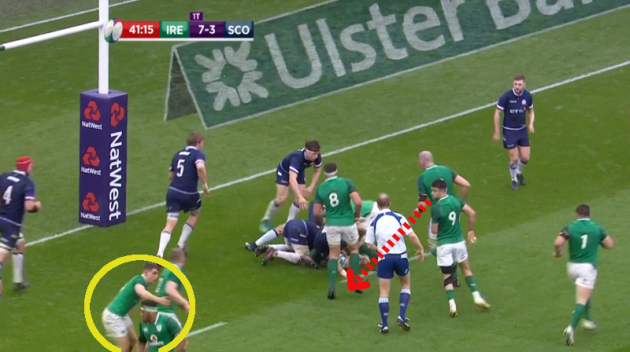 The scrum-half is checking that the players back on that left side of the ruck are getting ready for Ireland's clever tactic of bouncing back against the grain.
We can see that Ringrose and Aki [in yellow above] are positively scrambling back into position, understanding that they need to be prepared for Murray coming back to them on the left.
Leavy is back on his feet after the first ruck too, ready to offer some distraction closer in to Murray.
As the scrum-half gets to the ruck and turns back to his left, taking Scotland by surprise, we can see exactly why this play makes so much sense from Ireland's point of view.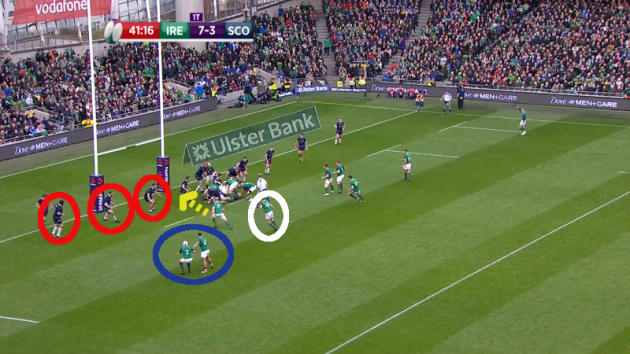 Back on this left side of the ruck, we can see that Scotland's entire front row [the three of them are circled in red] are lined up alongside each other in the defensive line, having come up out of the original scrum.
Front rows are generally the least mobile defenders on the pitch, and this is key to Schmidt's design of this play – luring so many of the more mobile Scotland defenders over the right or tying them into the final ruck before pouncing back at the front row.
There's more going on in the image above, of course, with Leavy beginning to run an flat line off Murray [yellow] as Ringrose [white] sets himself behind the openside flanker.
We can also see Aki pushing Best to get into a wider starting position [blue above], knowing that the hooker will need to come on an angle outside him when Ringrose runs a loop play around Aki.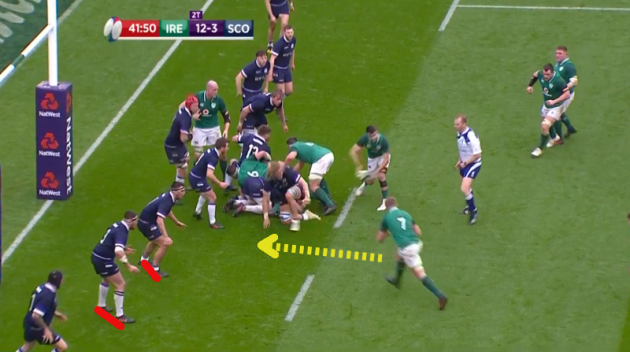 We see another view of Leavy's run above, a better illustration of what it does to the Scottish defence.
Leavy is highly audible on the ref mic as he makes his run, screaming something like 'Murray, now!' as the Ireland scrum-half looks to pass left.
The combination of that volume and the aggression in Leavy's run attracts Scotland hooker Stuart McInally and tighthead Berghan to the Ireland flanker, both of them settling very briefly on their heels, as indicated by the red lines above.
Schmidt tells his Ireland players that it's a natural human response to react to an aggressive perceived threat to you. That threat can be in the form of a sudden burst of pace on a decoy run.
An instantaneous, split-second reaction in defenders can be the difference in an attacking play succeeding, even if it is much further out the line.
Here, McInally and Berghan just have to delay on Leavy's threat for a split second, ensuring their drift out the line after the ball goes to Ringrose is delayed.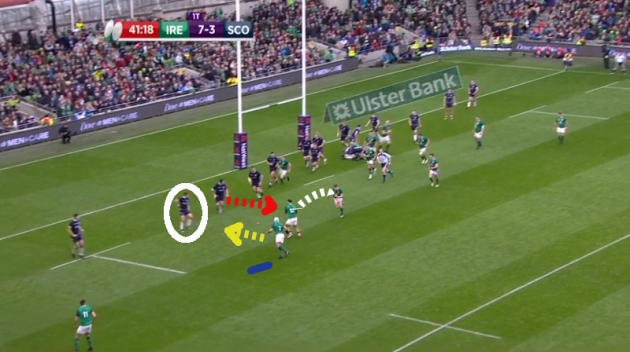 That means that as Ringrose receives the ball from Murray and hits Aki on his left [as indicated by the white line], loosehead prop Gordon Reid now has to mark up on Aki [red] and Ireland are beginning to create the opportunity wide on the left.
Best is to Aki's left and his job is to run the decoy line [yellow] that ties in Scotland's second-last defender, Horne [circled in white].
Best's starting position is not ideal and he might reflect that a wider starting point [perhaps where our blue line is] might have given him a better opportunity to target Horne's outside shoulder and hold him more convincingly.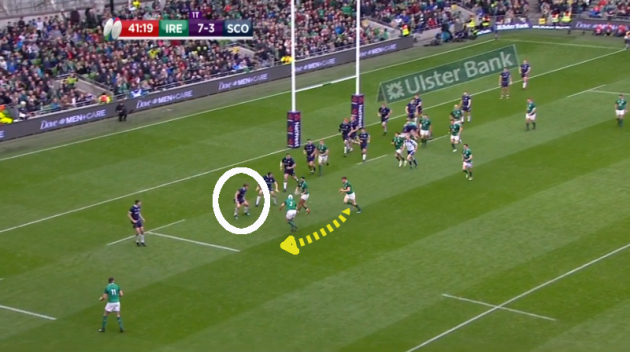 Even as it is, we can see above that Best's run has forced Horne to plant and sit back on his heels just as Aki is turning to pass out the back of the Ireland hooker to Ringrose arriving around on the looping line.
As Ringrose receives the ball, we can see below that Horne is now struggling desperately to recover [white].
Best sticks out his left arm in a subtle effort to impede Horne – understanding that Schmidt won't be too pleased if Bes's role is responsible for the failing of the power play – and with Horne having planted his feet, he is always going to struggle to get to Ringrose.
The Ireland outside centre can see Horne looking to recover and he opts to pass just as Horne dives.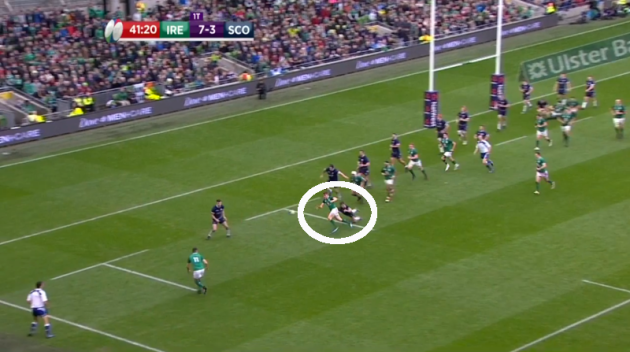 This Irish power play appears to have been designed to get Ringrose running at the last Scottish defender upon receiving the ball on the loop, but the outside centre doesn't take any chances and instead gets his pass away to Stockdale nice and early.
While 100% perfect execution from Ireland might have allowed an unmarked Stockdale to stroll across the line, he still gets a one-on-one against Blair Kinghorn with the kind of space either side that is a real rarity in Six Nations rugby.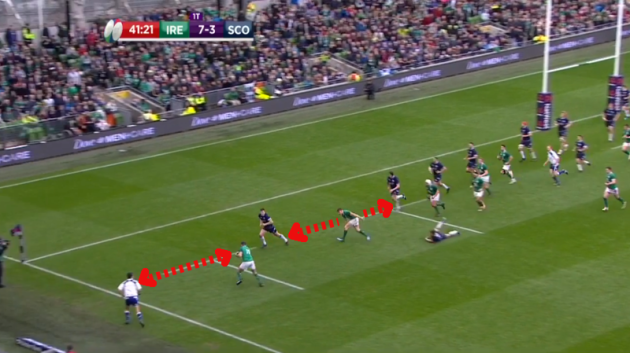 Stockdale has time to make his decision on whether to fix Kinghorn's inside shoulder and then burst back out to the touchline, fending to score, or shaping for the corner first and then stepping back inside off his left foot into the clear space on Kinghorn's inside.
With the immobile Scottish front row having been delayed by Ireland's interior attack and Horne on the ground, there is no realistic tackler hunting across on Kinghorn's inside shoulder.
That's exactly where Stockdale opts to go, stepping sharply off his left foot…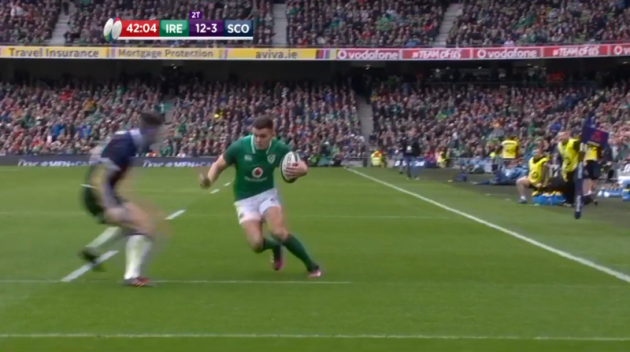 … to beat Kinghorn with a swipe of his right arm…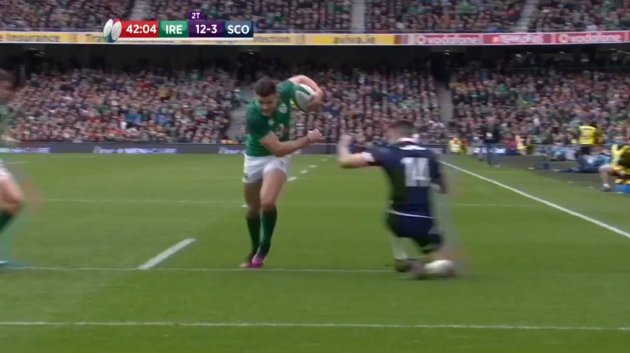 … and dot down his second try of the game.
Standing beyond the left touchline, the expression on Scotland doctor James 'Robbo' Robson's face says it all.
The Scots have been totally flummoxed by Ireland's intelligent three-phase power play.
It takes Ireland just 21 seconds from scrum feed to Stockdale's finish to sell the Scots with their around-the-corner distraction, target their front row by bouncing back against the grain, further stress them with decoy lines and execute sharply through Ringrose, Aki and Stockdale.
The power play underlines to us, once again, the brain power Schmidt possesses and the sheer level of detail he coaches to his players. It also highlights how good Ireland's players are at fulfilling their 'roles' effectively.
With a Grand Slam on the line on Saturday, Schmidt's ability to produce these plays for his team, and his players' ability to execute them, are among the reasons to believe that Ireland can make history.