LEINSTER HAD A target last weekend and it was blue.
Tadhg Beirne is distinctive in his blue scrum cap and many teams in recent seasons, Leinster included, have been sickened by the sight of him emerging from his jackal efforts with the ball or a turnover penalty.
Beirne had been the king of the breakdown turnover in Europe this season, with nine of his 16 total turnovers in the Champions Cup before last weekend earned through jackals – i.e. clamping over the ball after an opponent has been tackled.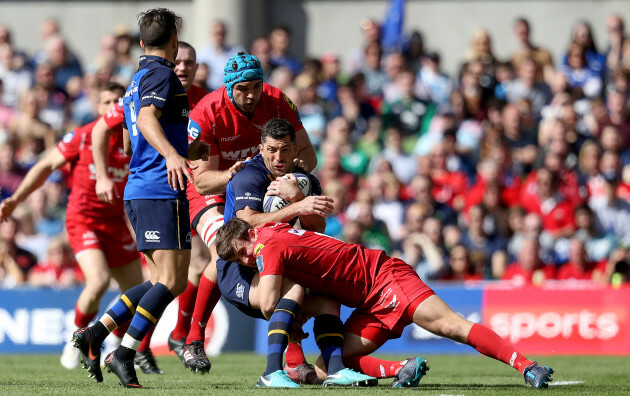 Tommy Dickson / INPHO Beirne hovers over Rob Kearney before attempting to steal Leinster's possession. Tommy Dickson / INPHO / INPHO
The manner in which Leinster denied Beirne his usual level of influence in this area of last weekend's semi-final was illustrative of their overall performance – full of aggression, intelligence, technical quality and work rate.
Leo Cullen and Stuart Lancaster's side won with a relatively simple game plan involving brilliant set-piece attacks, direct ball-carrying in phase play, savage and clever defence, and pressurising kicking.
Simple doesn't mean easy, of course, and the fashion in which Leinster frustrated Beirne at the breakdown highlights just how much goes into even a single area of a game plan like Leinster's on Saturday.
Here, we examine the 10 times Beirne attempted to turn over Leinster's possession at the breakdown, as well as two other occasions on which the Irish province dealt with him before he could even get into position to compete.
Beirne probably should have been rewarded with one turnover penalty but, otherwise, he was frustrated by the aggressive and adaptable Leinster rucking.
These examples are, of course, illustrative of Leinster's general rucking display, which allowed them to recycle the ball quickly and ask damaging questions of the Scarlets' defence.
06:54
After Beirne had reminded Leinster of his destructive defensive capability with a turnover in their opening maul of the game, they had to deal with his jackal threat early in the contest.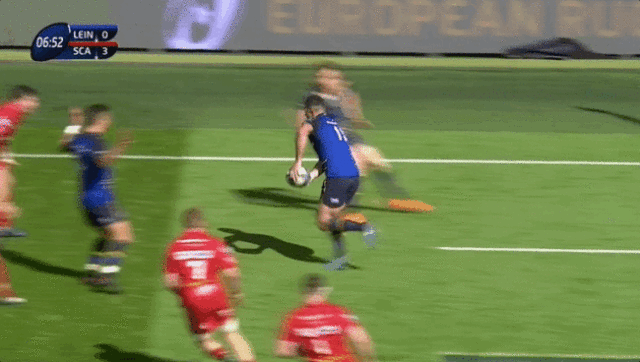 Click here if you cannot view the clip above
Rob Kearney is tackled as he runs at the Scarlets on kick return and we can see below how Beirne is hovering, having given a slight assist in the tackle before releasing and looking to steal the ball.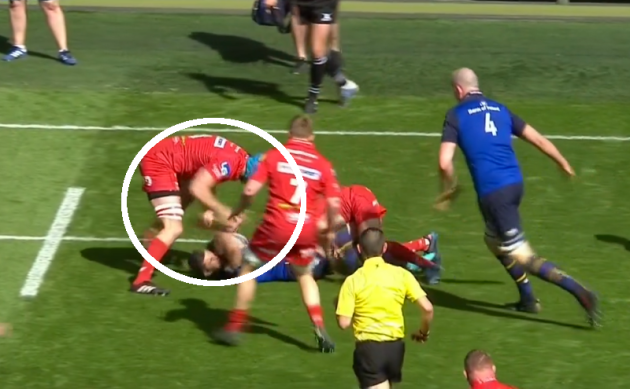 The ball is directly underneath Beirne's hands here, although still in Kearney's possession.
The Leinster fullback's work on the ground is going to be key in preventing Beirne from winning the turnover for Scarlets.
Kearney's initial reaction is to roll his body to the right touchline, bringing the ball in underneath his torso, buying first arrival Devin Toner time to hammer in on Beirne.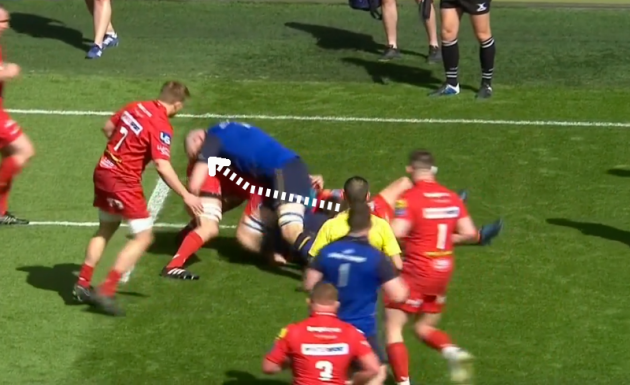 While Toner makes an impact on Beirne, wrapping his left arm in underneath the Scarlets lock's right leg and wrapping his right arm over Beirne's back, he doesn't manage to completely shift him away.
Second arrival Garry Ringrose is important in Leinster getting the job done here, as he hammers in low on Beirne's left arm just after Toner has rotated Beirne.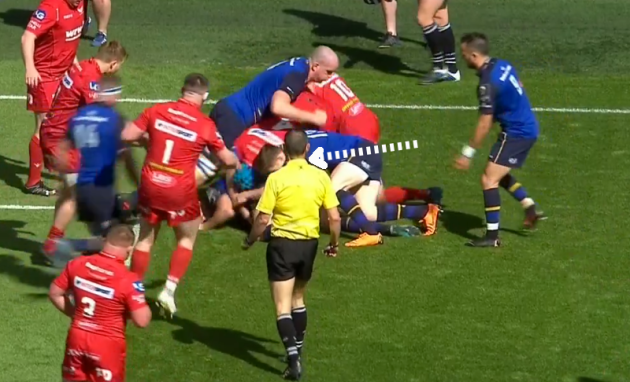 Ringrose's impact manages to finish the clearout of Beirne, removing his hands from the ball, and helping Toner to bring him to deck.
We can also see the completion of Kearney's fight on the ground here – the ball-carrier being as important as the players clearing out.
Having rolled his torso over on top of the ball to close off Beirne's direct access to it, Kearney then squeezes the ball down between his legs.
These actions make it very hard for Beirne to really convince the referee that he has actually got his hands on the ball for a turnover, and it's something both Leinster and Ireland are very good at.
Though Beirne is cleared away by Toner and Ringrose, Scarlets openside James Davies – another major threat at the breakdown – is sniffing around and Leinster wing Fergus McFadden slams in underneath his shoulders to dissuade him.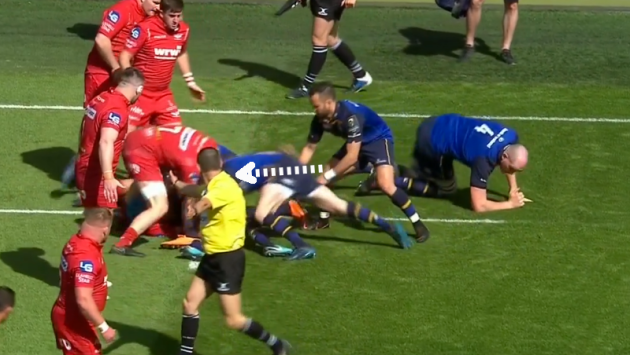 McFadden wins the 'shoulder battle' against Davies with his body height, while his aggression is typical of this Leinster performance.
13:14
Having gone 7-3 ahead through James Ryan's converted try, Leinster are building their next attack when Beirne senses an opportunity.
Ryan makes a carry off scrum-half Jamison Gibson-Park into the tackle of Aaron Shingler and Beirne looks to jackal.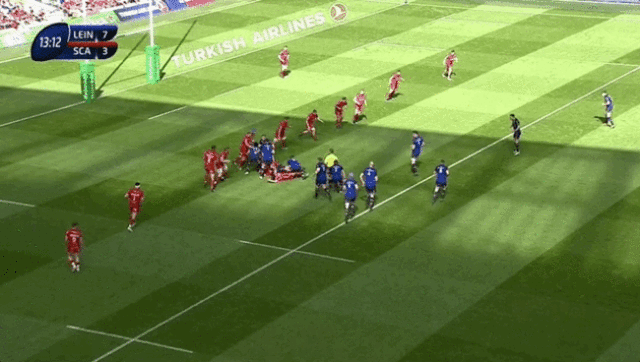 Click here if you cannot view the clip above
It's familiar stuff from Beirne, but Leinster are more aware of him than ever.
The Scarlets second row is hunting from the inside of the tackle and drops in behind the tackle to target the ball.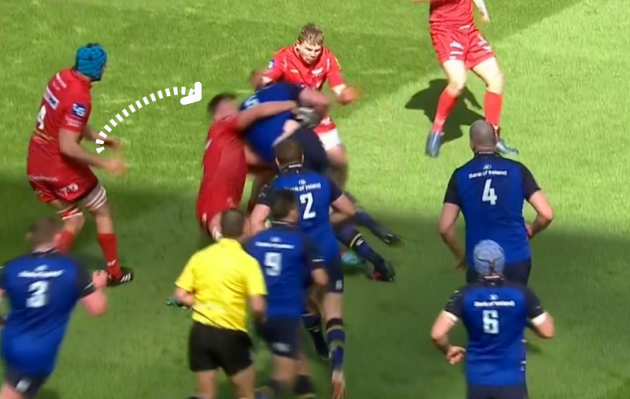 Leinster hooker Sean Cronin is highly accurate with his response, however.
The tackler, Shingler, is circled below and we can see how he is lying on the ground in front of the tackle – meaning Leinster will find it extremely hard to actually enter the breakdown through this channel.
Referees are understanding of that and generally accommodate rucking players coming slightly from the side if a tackler is blocking their access through 'the gate' in this manner.
Cronin adjusts his feet to avoid Shingler, then accelerates into Beirne from the Scarlets man's right and hammers him clean off the ball before he has got a grip on it.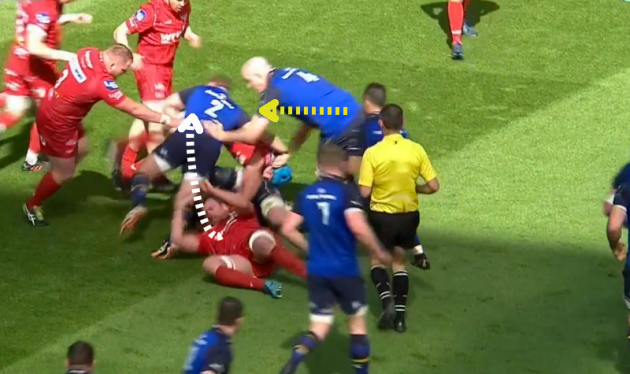 Toner arrives as the second rucking player just to make sure Beirne is pinned down and Leinster are able to play off lightning quick ball.
Again, the ball carrier plays a role with Ryan fighting to bring his upper body back downfield on Leinster's side in order to present the ball cleanly.
13:38
Just 24 seconds later, Beirne looks to steal Leinster possession as they continue to attack in the same passage of play.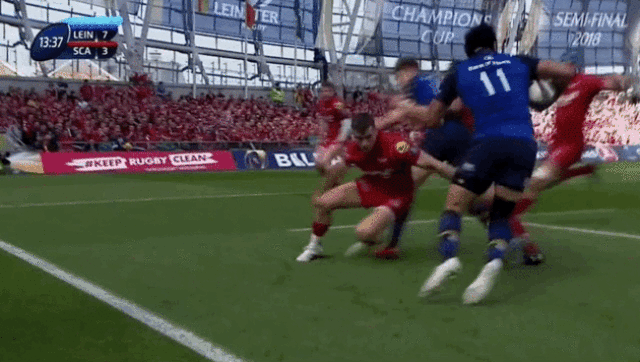 Click here if you cannot view the clip above
Beirne is involved in the tackle on Isa Nacewa as the Leinster wing steps in off the touchline, meaning he is off his feet.
The Kildare man looks to pop back off the ground instantly, but Scott Fardy has other ideas.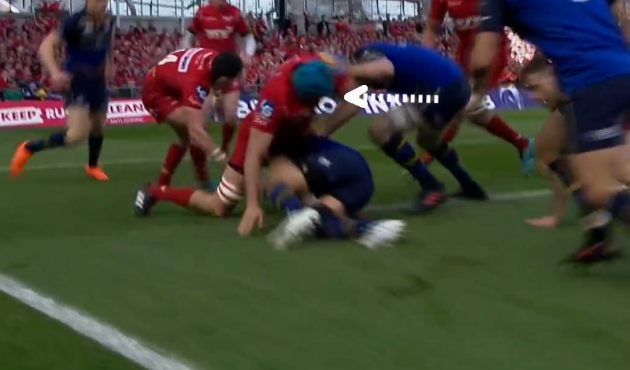 This is an obvious side entry and one Leinster are fortunate to get away with, but Fardy's impact is important and sums up their intent not to let Beirne have a sniff.
On the ground, Nacewa goes from this position, lying on his right shoulder immediately after the tackle…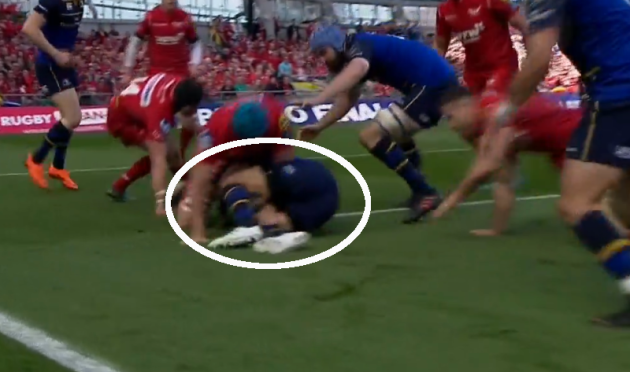 … to the below position, having rotated himself onto his left side in order to ensure Beirne doesn't get any grip on the ball.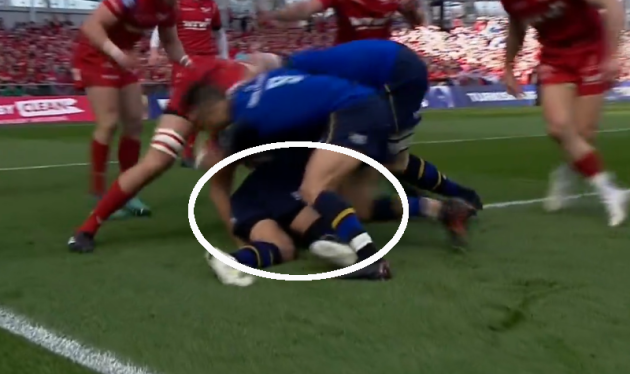 As Nacewa is working on the ground, scrum-half Gibson-Park arrives in to help to clear Beirne away, underlining how Leinster viewed this as a collective task.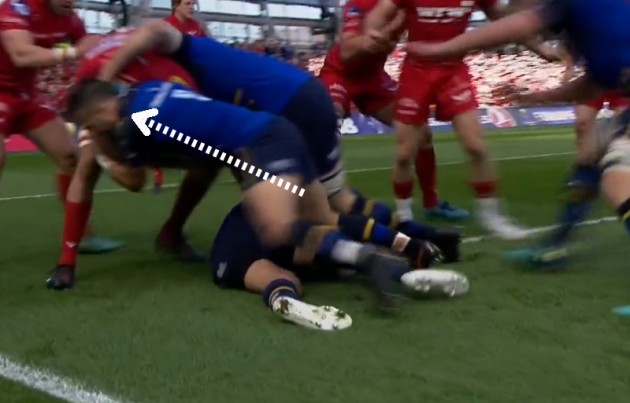 While the absence of their scrum-half does mean a slight delay as Leinster reorganise themselves, they have retained possession and almost build to a score under the posts only for the wily John Barclay to force a knock-on from Cian Healy.
16:15
During the build-up to Leinster earning the penalty that allows Johnny Sexton to kick them 10-3 in front, Beirne has his next effort.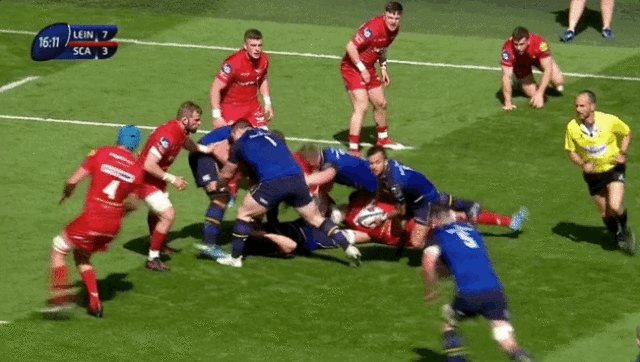 Click here if you cannot view the clip above
Ryan is the ball-carrier for Leinster again and even in this direct carry, we can see clever detail.
The Leinster second row has identified that Beirne has his back turned as he retreats into the Scarlets' defensive line, having rushed out of the line on the previous phase.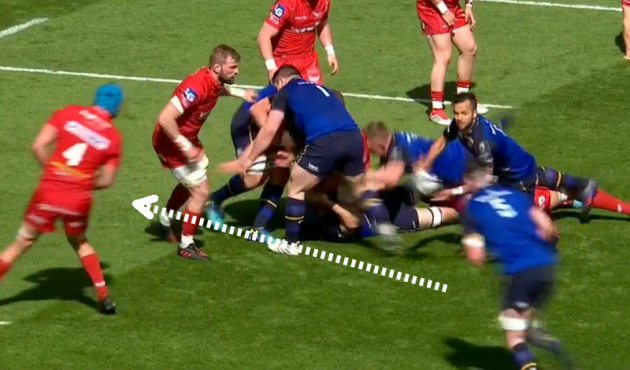 Ryan runs directly at Beirne's inside, into the space where Beirne is a little blind as he retreats.
Shingler and Barclay react well but it means more gainline for Leinster.
Beirne is also involved in the tackle, not fully committing as he is already thinking of the possible turnover, helping to drag Ryan to deck.
The Scarlets second row then pulls Ryan a little closer to himself in the same movement as propelling himself towards the ball.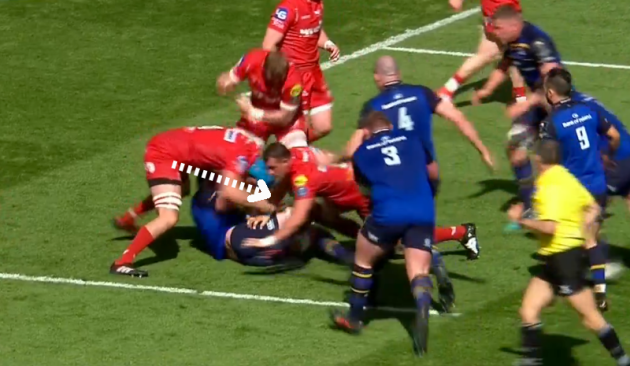 There isn't really a clear release here, but it leaves Beirne in a good position.
He's technically 'off his feet' for a split second but he appreciates that the arriving Leinster players will drive him back up onto his feet as they look to clear him away.
It's Toner who is first man in again and he must be decisive here.
Rather than attempting to dip underneath Beirne – a battle Toner is unlikely to win – he opts for the 'tin opener' rucking technique, whereby he looks to aggressively roll Beirne away to the side and off the ball.
Toner makes a decent initial impact but again the importance of the second arrival is clear as Tadhg Furlong hits into Beirne's right flank.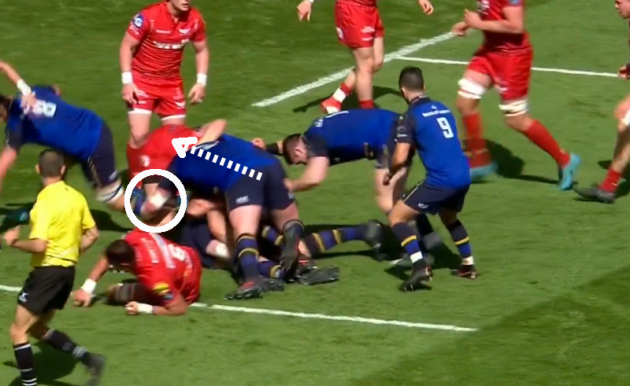 As is circled above, Furlong also wraps onto Beirne's left leg as he looks to destabilise him, and the combined efforts of Furlong and Toner take the Scarlets' turnover threat completely off his feet.
It's also worth quickly noting Jordi Murphy's actions just to the right of the ruck.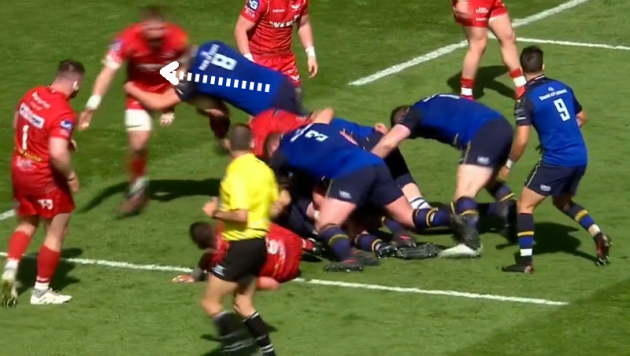 Barclay has been involved in the tackle and though he swiftly decides not to compete for the ball, Murphy smashes him away anyway.
The Scarlets captain justifiably complains about being taken deep beyond the ruck and off the ball, but it's another sign of Leinster's aggression and determination to deny the Scarlets any access to their possession.
23:04
Two phases before the brilliant hanging Sexton kick over Gareth Davies that allows McFadden to force a five-metre scrum, Leinster manage to deny Beirne for the fifth time at the breakdown.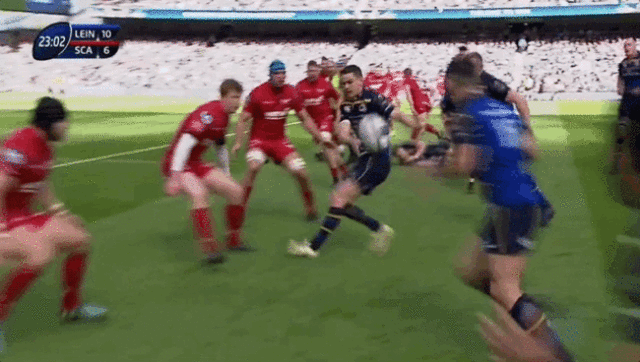 Click here if you cannot view the clip above
It's a familiar scenario, with Beirne hunting from the inside – twice making decisions not to engage with rucks in this same passage.
He arrives in a very threatening position over Leigh Halfpenny's tackle on Kearney.
Nacewa is slightly ahead of the ball, having hoped for a pass, and has to readjust to get in the gate, while Dan Leavy is also arriving from Leinster's inside of the tackle.
Beirne cleverly leans his knees into Halfpenny on the ground to give himself some stability, but he doesn't have instant access to the ball [his hands are circled in red below], instead leaning on the ground.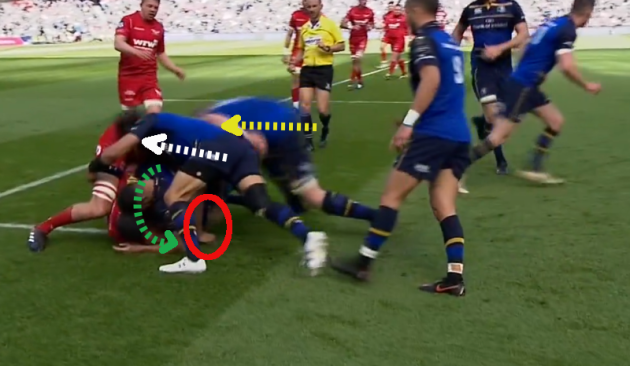 Again, that's partly because of the Leinster ball-carrier's work on the ground, with Kearney adding in an extra roll [green] even after Halfpenny has tackled him.
It buys Nacewa [white] and Leavy [yellow] enough time to engage Beirne before he is on the ball.
Again, taking out Beirne's legs is a key focus for both of Leinster's rucking players.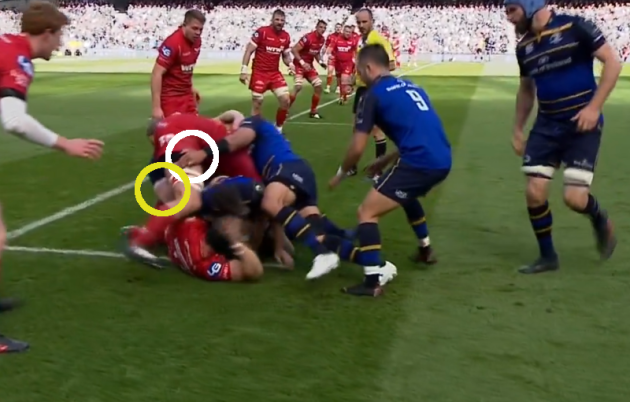 As ever, Beirne fights to stay in the contest but Leinster manage to take him off his feet.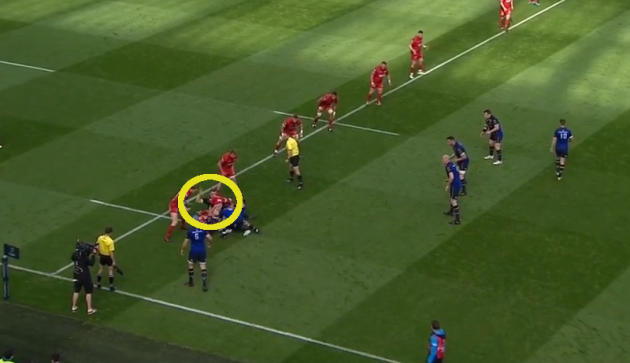 As highlighted above, Leavy then follows up by giving Beirne three powerful smacks on the arse in order to indicate to both Beirne and the match officials that Leinster have taken him out of the game.
38:38
While it's not a jackaling effort from Beirne, the incident below is worth noting.
The visitors were asking referee Romain Poite all afternoon about Leinster taking players out of the game illegally around and beyond the tackle area and Beirne felt aggrieved in this instance.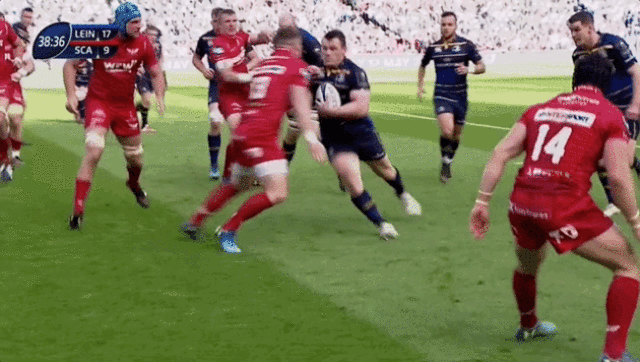 Click here if you cannot view the clip above
Beirne doesn't appear to have much interest in competing on this occasion but we get an insight into Leinster's mindset as Toner looks to clear him away regardless.
Beirne throws his hands in the air and falls to the ground in an attempt to draw the match officials' attention, but to no avail.
39:34
Just under a minute later and with Leinster still attacking in the same passage that ends with McFadden's try, Beirne should probably get a penalty reward for the Scarlets.
Click here if you cannot view the clip above
Healy carries for Leinster on the pick and jam, with Robbie Henshaw latching onto him.
As Hadleigh Parkes wrestles Healy to ground, aided by Ken Owens hitting into Henshaw, the window finally opens clearly for Beirne.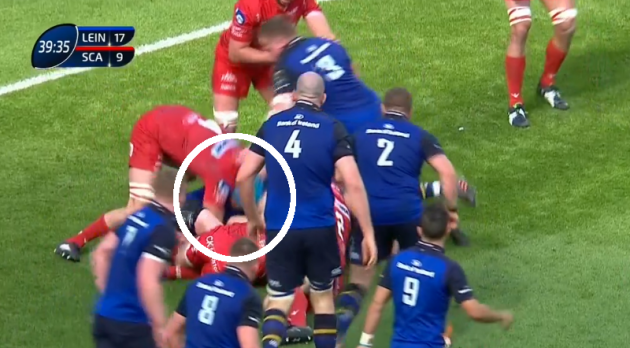 Having stood off the tackle, he now jackals directly onto the ball as Healy goes to ground and it looks like a turnover is imminent.
Furlong is the first arriving Leinster player but Henshaw on the ground is impeding him from getting a good hit onto Beirne and the impact doesn't shift the Scarlets man.
Henshaw attempts to drive up onto his feet and through Beirne but again there is little impact. Cronin also arrives but it's a messy breakdown and he can't get at Beirne.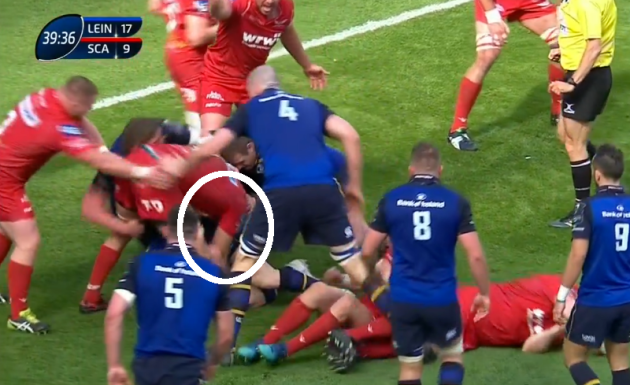 As we can see above, Beirne is still on the ball even with those three Leinster players looking to shift him, meaning two seconds clearly on the ball.
He can't complete the turnover because Healy is holding onto the ball after the tackle.
We can see below that Beirne's right hand is around the ball and, though it is hard to make out here, Healy's left hand is also clamped onto it.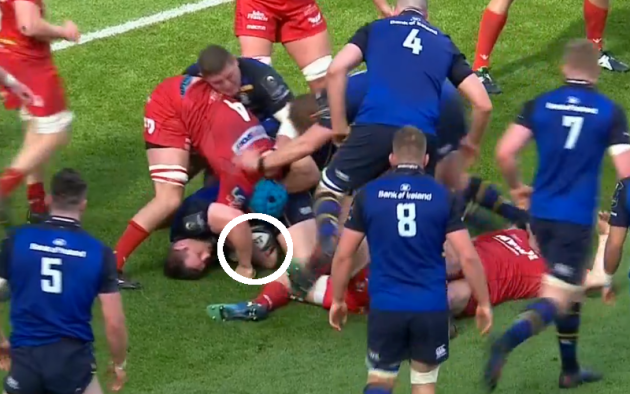 Healy also uses his legs, driving himself forward along the ground just a couple of inches, perhaps convincing referee Poite that Beirne isn't actually on the ball.
Whatever the thinking, Beirne can feel hard done by here.
It's Toner who finally gets rid of the Scarlets lock, driving in and getting a grip under Beirne's right shoulder to lift him clear of the ball.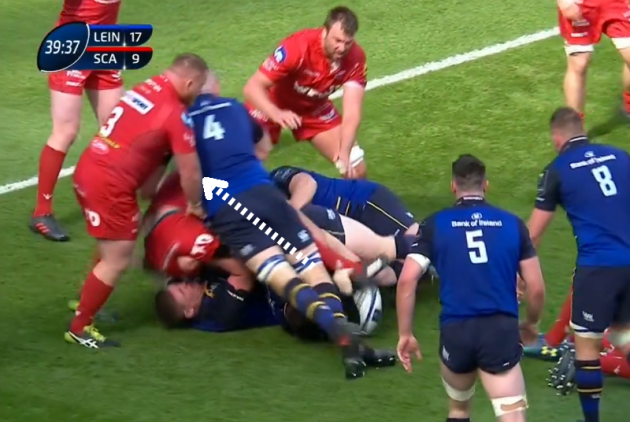 Beirne finally goes to ground, before screaming in sheer frustration at not getting the decision he feels he has earned.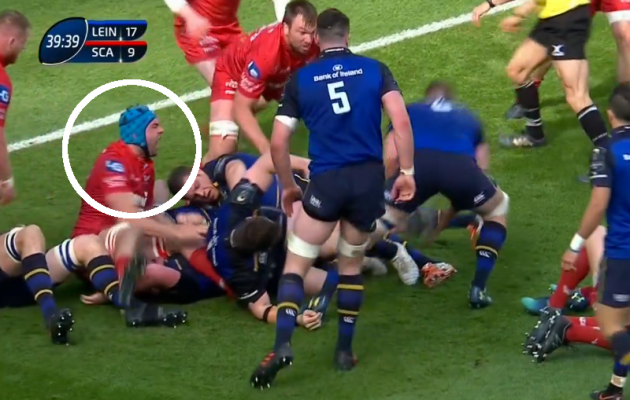 It's a very close call for Leinster but they survive thanks to Healy's crafty work on the ground and Toner's late intervention.
Two phases later, McFadden crosses out wide for a try that helps to send Leinster into the half-time break with a commanding 24-9 lead.
44:52
With Leinster pummeling the Scarlets' tryline early on in the second half, Beirne demonstrates his commitment by pouncing for another possible turnover, but the province's second-row pairing team up to lay down another physical marker.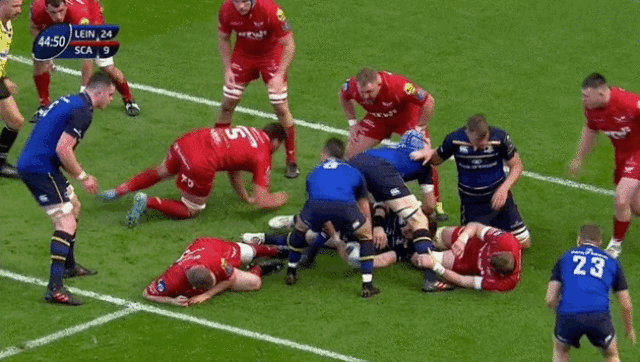 Click here if you cannot view the clip above
Shingler makes the tackle on Leavy and again Beirne is the player on the immediate inside, allowing him to arrive straight over the ball.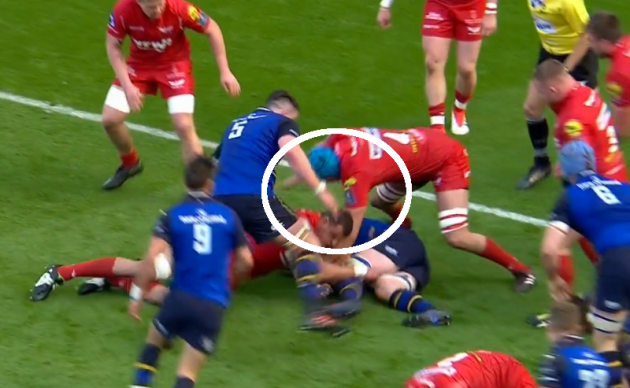 The threat is clear and as the first arriving Leinster player, Ryan understands he needs to be decisive.
The freakishly gifted 21-year-old dips low just before the contact, wraps his left arm up around Beirne's head, his right arm around Beirne's left leg, and drives up into his ribs with aggression.
Ryan makes an immediate impact in shifting Beirne away from the ball, allowing Leavy to present it, but Toner wants to make his presence felt too.
There is no real bind or wrap of the arms from Toner here, meaning he takes a risk, but he wants to hit Beirne with real venom.
He drives his right shoulder into Beirne's upper back, the intent being to send Beirne a message after the close call just before half-time: 'get the f**k off our ball.'
Ryan and Toner's actions ensure Leinster can play off clean ball once again.
49:48
Clearly, Beirne is having a frustrating time of it by now, being hammered by Leinster players every time he jackals and missing out on a refereeing decision when he felt he had earned the turnover before half-time.
It's interesting to note his error of judgement for the Fardy try that soon follows and it's quite possible that it's as a result of the frustration he must surely be feeling.
Click here if you cannot view the clip above
When Fardy thunders onto Ryan's superb offload, having popped to the second row himself, he is an immediate danger to the Scarlets' tryline.
It's the relatively diminutive Halfpenny in front of Fardy and though the Wales international is a fine tackler, he is outweighed here, particularly given Fardy's momentum.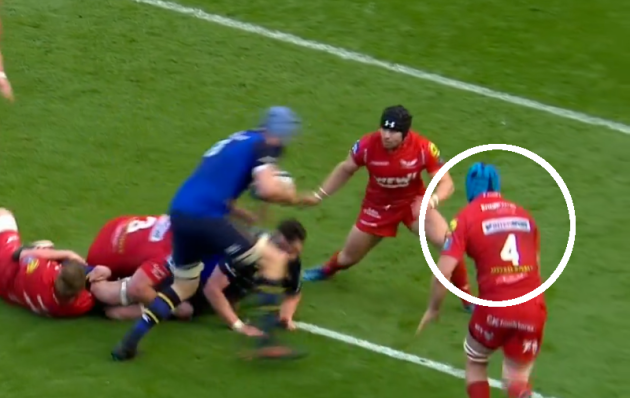 We can see above that Beirne is in the vicinity and his presence is required in the tackle on Fardy.
As we can see below, Beirne does get his hands to Fardy but he is slightly standing off and already thinking about the possibility of a turnover.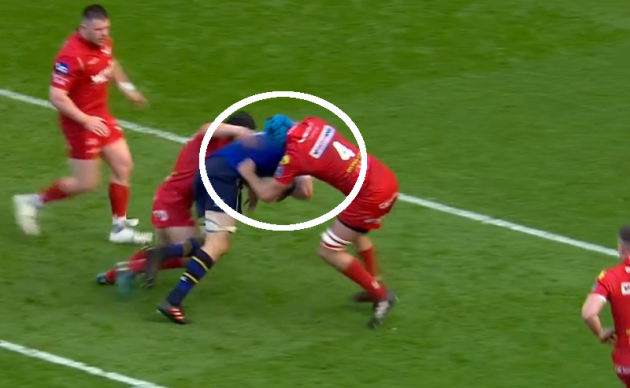 It's very easy to say this with the benefit of hindsight, as well as multiple replays, but Beirne should probably be looking to get in under the ball and wrap it up tightly at this point, just to be safe.
Instead, he stays up from the tackle as Fardy goes to ground, still hoping for the turnover on the isolated Leinster back row.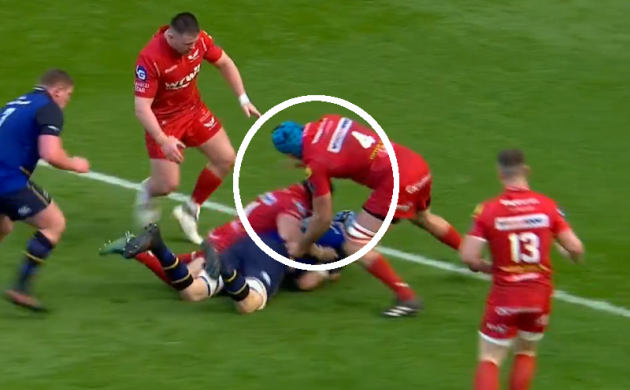 But by the time Beirne has actually got himself into a position with his feet behind the tackle and his body over Fardy, the Leinster man has reached out to score.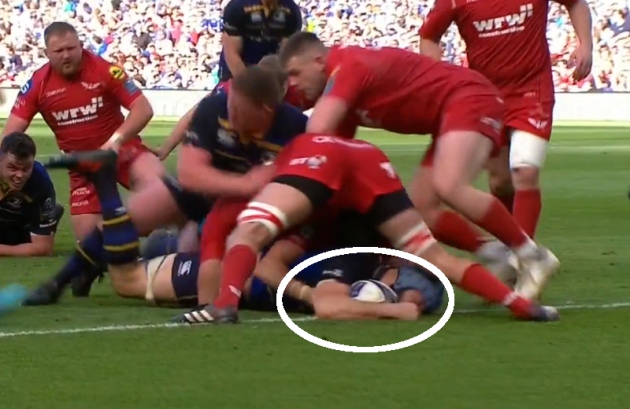 Beirne is left jackaling over a player who has already grounded the ball over the tryline.
Of course, Beirne has prevented opposition teams from scoring so often this season by stealing their possession but having been frustrated by Leinster in the first half, he makes what appears to be an error of judgement in this instance.
56:39
Still, Beirne keeps coming.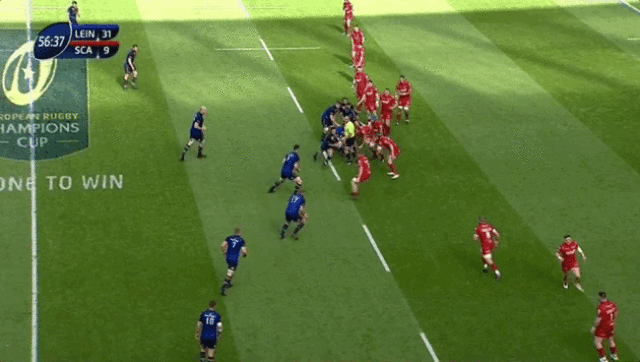 Click here if you cannot view the clip above
Gibson-Park is tackled by Scarlets replacement hooker Ryan Elias and this time there is a dual turnover threat for Leinster to deal with.
As we can see below, Beirne [yellow] is present again but Davies [white] adds another degree of danger.
Ryan is the first player on the scene for Leinster and initially drives into Davies, who is directly in front of him and the obvious player to deal with.
Ryan's first contact with Davies is indicated in green below.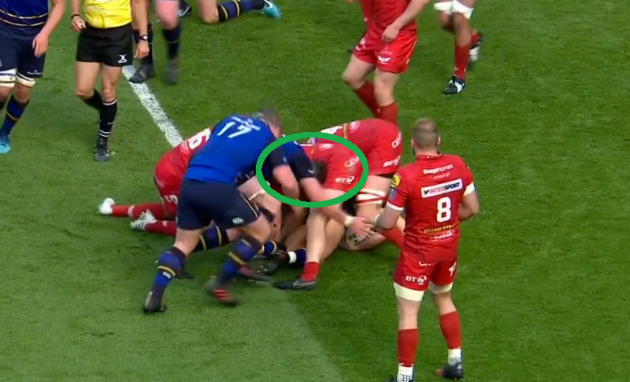 But Ryan, intelligent as well as athletic, swiftly realises that Beirne is actually the Scarlets player directly over the ball, and therefore the more genuine turnover threat.
Ryan reacts with impressive clarity of thought to disengage from Davies, lift his upper body over the Scarlets openside and instead wrap Beirne's upper body for that 'tin opener' style of clearout.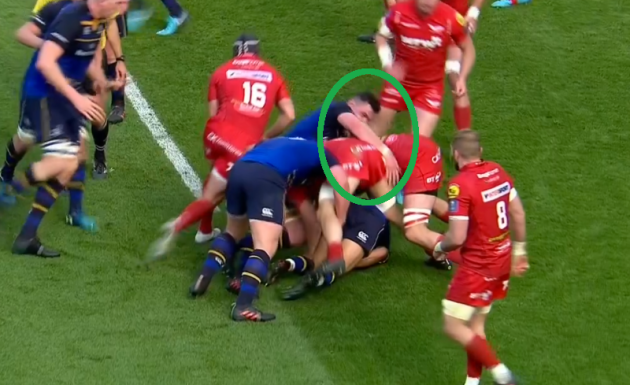 Ryan's quick thinking is rewarded by Jack McGrath backing him up with a powerful ruck hit on Davies, ensuring that both Scarlets players are cleared from the ball and off their feet.
This clearout underlines Leinster's aggression and power through McGrath's impact but also highlights their adaptability through Ryan's readjustment to deal with Beirne.
59:02
Beirne does force his second defensive turnover of the game with a huge hit on Toner soon after the incident above but his desire for a jackal turnover is ultimately going to be fruitless in this game.
The incident below, just before Sexton's try, again illustrates how focused Leinster remain on dealing with Beirne.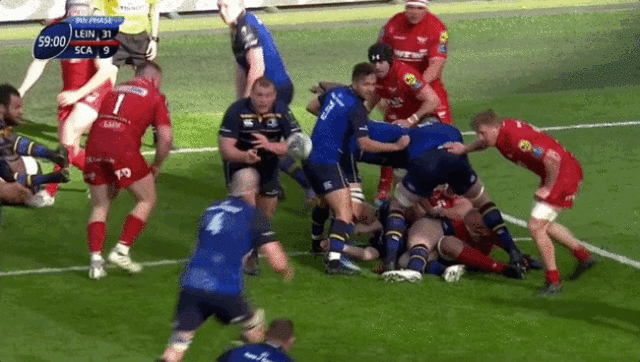 Click here if you cannot view the clip above
Beirne is never in a position to jackal here because Nacewa doesn't even allow him the option.
The Leinster wing arrives in early and at speed to shift Beirne away from the tackle area, driving him slightly beyond the ball.
To be fair to Nacewa, he does then release Beirne but the Scarlets lock falls to ground behind the ruck, again appealing for a penalty in vain.
Two phases later, Beirne and Scarlets are caught on the inside by Sexton as they look to fold around the corner and cover an overlap.
66:51
Joey Carbery's sharp dart out of his own 22 provides Beirne with his next opportunity to get over the ball, this kind of half-break usually being prime territory for the Scarlets man to pounce before the support arrives.
Click here if you cannot view the clip above
Ringrose does superbly for Leinster here and again there is intelligence in the technique.
The Leinster outside centre targets Beirne's arms again, one clever way of dealing with strong jackaling players.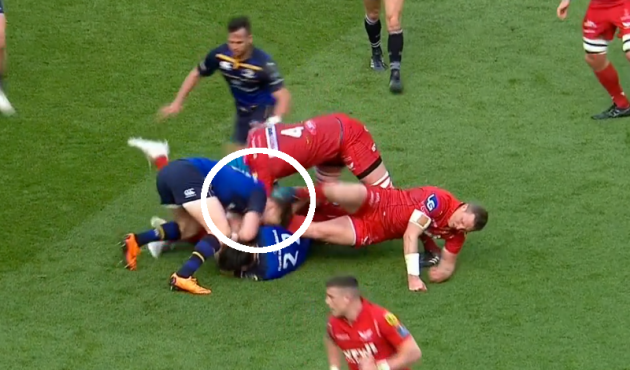 By taking out Beirne's arms, Ringrose is obviously depriving him of his key tool in turning the ball over.
Ringrose probably does enough for this to be a one-man clearout, but the second arrival – replacement tighthead prop Andrew Porter – can't resist making his impact felt.
We can see below that Ringrose is still bound on Beirne's left arm as Porter drives in from Beirne's right side.
The combined effect is that Beirne is driven all the way back from the tackle and onto the ground.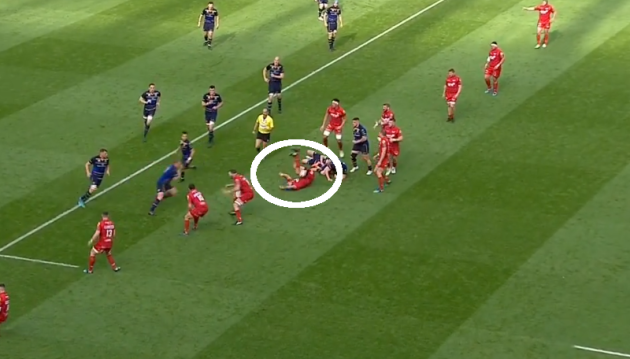 If it's getting exhausting reading this by now, just imagine how Beirne – who also scrummaged, cleared out the Scarlets' rucks, mauled, lifted, won a lineout, carried the ball 10 times, passed three times and made 12 tackles in this game – feels.
73:20
The frustration isn't over just yet for Beirne.
He has one more bite at Leinster's ball in the 74th minute as Leinster attack the Scarlets' tryline.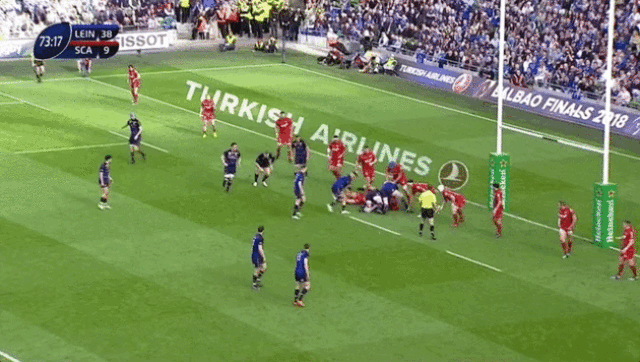 Click here if you cannot view the clip above
Porter picks and carries for Leinster but he is felled rapidly and Beirne instantly looks to get over the tackle.
He's not in the best position here, with his elbows on the ground supporting his bodyweight and his arms wrapped around Porter's legs, rather than the ball, but he still needs to be cleared for a swift recycle.
It's somewhat fitting – given that Leinster made it a 23-man task to negate Beirne's breakdown threat – that replacement scrum-half Nick McCarthy is the man to carry out the final clearout of Beirne's jackaling efforts.
With Beirne clamped over Porter, McCarthy opts for the tin opener and decisively rolls the Scarlets lock away to the right to ensure clean ball for Leinster.
Collective effort
As we have seen above, Leinster's efforts to deny Beirne the kind of turnovers he so often delivers involved most of their squad – not just the usual ruck experts.
To Beirne's credit, he continued to work hard in a bid to slow the pace of Leinster's ball and he ended the game by scoring a try, but it was a tough afternoon for him overall.
Leinster's tactics in this game were an intelligent response to the usual width in the Scarlets defence and also meant that they could afford to commit two players in against the threat of Beirne.
While it was only one element of this game, Leinster's management of the Scarlets second row highlighted their power, aggression, intelligence, technical strength, work rate, adaptability and accuracy.
As Leinster now look ahead to a Champions Cup final against Racing 92 in Bilbao on 12 May, there is major cause for confidence.
- Originally published at 11.30
The42 is on Instagram! Tap the button below on your phone to follow us!