Updated at 21.46
DURING HIS TIME as Manchester United manager, Alex Ferguson built arguably three great sides.
The teams in question peaked in the 1993-94 season, the 1998-99 campaign and in 2007-08.
Which of the three sides was best is the type of pub argument that older, hardcore Red Devils fans will debate endlessly.
Some people might baulk at the suggestion that the 1993-94 side was superior to all others. After all, they are the only one of the three teams in question that did not win the Champions League, nor did they ever come close.
There is a caveat, though. It was the era of the 'three foreigners rule,' limiting the number of players from abroad who could represent a team in Europe.
Even Irish players were considered foreign, so for instance, during the Champions League games in question, Alex Ferguson might have to choose between picking Denis Irwin or Roy Keane, or Eric Cantona over Peter Schmeichel.
United's team was seriously depleted as a result, so it is perhaps no surprise that they never fulfilled their potential in the Champions League during the reformatted competition's earliest years.
Arguing over what team is best, however, is perhaps somewhat redundant. Each side was basically perfect for the era in question.
The 1993-94 group was full of archetypal 'men's men' — the likes of Bryan Robson, Steve Bruce, Gary Pallister, Roy Keane, Mark Hughes and Paul Ince.
There was an abundance of the type of strong characters needed to win a league and cup double, especially given that English football was more physically demanding then, and not only because the Premier League required each of its teams to play 42 games.
Top-flight football was only in the early stages of developing into the commercial beast that it is today. Footballers were still widely perceived as just footballers, rather than prized components of a multi-million pound industry. The game was full of individuals who could be politely described as 'hatchet men'.
Even the most skillful, slight and technically gifted players were afforded little protection from referees. Challenges that were automatic red cards today might result in a booking back then. The only logical response to such an environment was to fight back, to tackle harder and to show no pain. As former Ireland and Leeds midfielder John Giles puts it, players needed to be able to 'look after themselves'.
But what distinguished that United side from the rest was that not only did it feature countless players who could take care of themselves, the team also possessed no shortage of flair.
Much of their creativity and attacking threat was provided from the flanks — Ryan Giggs on one wing, Andrei Kanchelskis on the other.
Of that great United side, nearly all of the players have remained firmly in the public eye in the two-plus decades since their phenomenal achievement. Keane, Bruce, Hughes, Ince, Robson and Giggs have all coached teams. Irwin and Schmeichel have gone down the punditry route. Cantona has become an actor and remains an influential commentator on the game. Even a less high-profile member of the squad such as Paul Parker pops up now and again to offer insights on the modern game.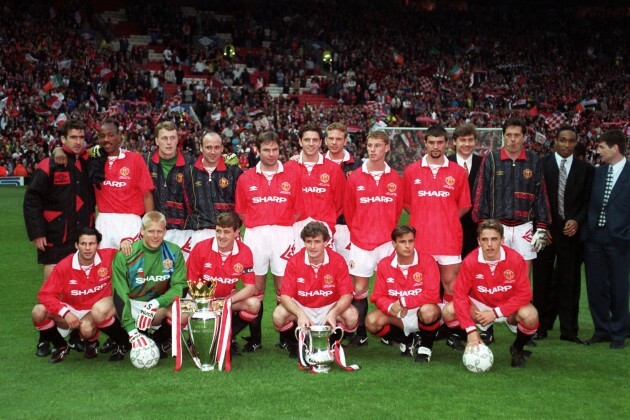 EMPICS Sport The Man United team pose with the FA Cup and Premier League trophy at the end of the 1993-94 season. EMPICS Sport
Yet of all the key players in question, Kanchelskis, probably more than anyone else, has slipped out of the view of the footballing public in recent years, at least from a British and Irish perspective. So what actually happened to him?
To understand why he left United, knowing how he got there in the first place is necessary for context. He signed for the Red Devils in March 1991, shortly after turning 22, for a fee of £650,000 — big money, in footballing terms, at the time.
Before then, he had spent two years at Dynamo Kyiv and one at Shakhtar Donetsk.
Regarded as the last great player to emerge from the Soviet Union, he was capped 23 times and scored the country's final goal in international football before its dissolution, finding the target against Cyprus in 1991.
Born in Kirovohrad, Ukraine, to Lithuanian parents, Kanchelskis ultimately opted to represent Russia after the break-up.
Despite seven goals in 59 caps, the one-time pacy winger will likely reflect on his international career with a sense of regret. In two tournaments he competed in — Euro '92 for CIS (a provisional national team of the Soviet Union) and Euro '96 for Russia, the respective sides finished bottom of their group on both occasions and failed to win a single game.
The Russians also qualified for the 1994 World Cup, but Kanchelskis was one of several players who boycotted the tournament, owing to a dissatisfaction with the methods of then-head coach Pavel Sadyrin.
It is his club career for which he will be best remembered and primarily, his glorious few years at Manchester United. His career in England began in less-than-ideal circumstances, however. Kanchelskis made his debut in the penultimate game of the 1990-91 campaign, when Alex Ferguson's men were beaten 3-0 by Crystal Palace at Selhurst Park.
The Red Devils would finish the season in sixth place. United's long wait for the title continued with Alex Ferguson under pressure to deliver on the demands of the club's increasingly impatient supporters. But this negative atmosphere was counteracted by a Cup Winners' Cup final defeat of Johann Cruyff's Barcelona — a young Kanchelskis was not involved as a Mark Hughes brace secured a 2-1 win and gave Fergie some breathing space.
But Kanchelskis was in the side a few months later, when they won the Super Cup, with Brian McClair scoring the only goal in a 1-0 victory over Red Star Belgrade.
RandomChannelUK / YouTube
There would be further evidence of the club's growing potential in the league, as United came second, just four points behind champions Leeds, with Kanchelskis establishing himself as a regular, playing 34 of the team's 42 games.
His quick transition is all the more impressive when you consider that it was an era of English football when foreigners were still relatively scarce. The infrastructure clubs can now provide in helping players from abroad adjust to their new lifestyle was not as sophisticated then as it is now.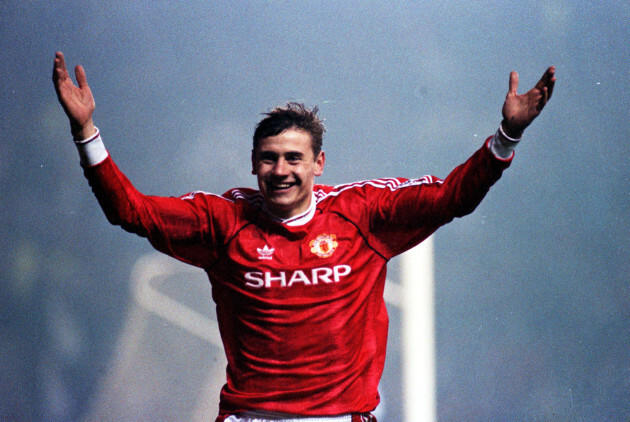 PA Archive / PA Images Kanchelskis celebrates a goal against Everton in 1992. PA Archive / PA Images / PA Images
And Kanchelskis admits that it wasn't always easy for a young lad with little English in unfamiliar surroundings. Manchester was a world like nothing he had ever experienced before. With no Google Maps or anything remotely as convenient back then, he would even get lost on his way to training sometimes.
"Everything different — mentality, food, cars on left, no speak English," he tells The42.
Yet his homesickness was helped by senior players like Bryan Robson and Steve Bruce, who helped him adapt and feel at home, as well as other foreign stars like Peter Schmeichel.
Of his burgeoning friendship with Robson, he recalls: "I didn't know his dad was a lorry driver as mine had been. He had taken me to his house and to Chester races and to a Paul Simon concert. I wouldn't say I had close friends at Manchester United but I used to hang out with Lee Sharpe and (my wife at the time) Inna was with me in Altrincham."
The players also taught Kanchelskis the 'correct' way in English to address Ferguson.
He remembers: "Almost the first time I came across Alex Ferguson in the corridors of the Cliff, he said to me, 'All right, Andrei, how's it going?'
I smiled at him and replied, 'Fuck off, Scottish bastard.'
"Ferguson stopped dead in his tracks and then began to smile as he heard laughter echoing down the corridor, while I stood there bewildered."
However, with a little help from his interpreter, George Scanlan, a professor of modern languages at what is now known as Liverpool John Moores University, Kanchelskis was ultimately able to communicate comfortably with his team-mates, even going on nights out and gradually settling into his new life.
By the 1992-93 season, he was competing with Giggs and Sharpe for a place out wide, featuring 27 times and scoring three goals as the club ended a 26-year wait for a league title.
He was a regular the following season, when the Red Devils won a league and cup double. They also narrowly missed out on an unprecedented domestic treble, losing 3-1 in the League Cup final against Aston Villa, with Kanchelskis sent off for a handball on the line late on — the one blotch on an otherwise brilliant season.
barbarian981 / YouTube
By now, United had developed into a truly top-class team. A certain Irishman, recently signed from Nottingham Forest, was key to their success.
I played with Roy Keane three years, it was an excellent time," Kanchelskis says. "I was very happy to play together with him. For me, he was one of the best midfielders — very strong, powerful, clever. Good tackles, strong man.
"He's nice person and a clear man. A lot of players can be two-faced, but he's very clear."
Another Corkonian and Irish international was also a key part of that side — Denis Irwin, who would often link up with Kanchelskis out wide.
"Very quiet," he says of Irwin. "Any game, he had an excellent record. Same game, same level. Stable. Some players play very good one game and one game, not good (but not him).
"Excellent player and also, nice person."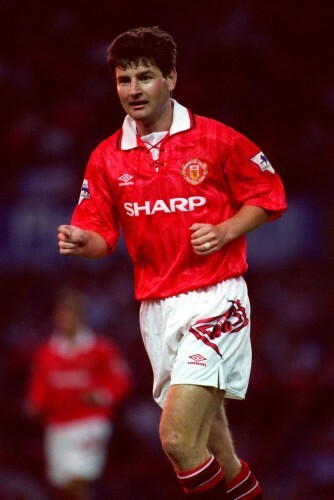 EMPICS Sport Kanchelskis played alongside former Ireland international Denis Irwin. EMPICS Sport
Nevertheless, that great United side fell just short of winning a third successive league title in the 1994-95 season, with a failure to beat West Ham on the final day of the campaign meaning Blackburn were crowned Premier League champions.
Ryan C / YouTube
Kanchelskis feels that the absence of star man Eric Cantona was the difference between success and failure. The Russian winger was the nearest player to the Frenchman on that infamous night at Crystal Palace when he kicked a fan, receiving a nine-month ban from professional football as a result.
"Eric is a nice person," he says. "He's quiet off the pitch. On the pitch, he's more aggressive. Some players would provoke Eric. If anyone touched him, it would spark him. This is probably why he was sent off against Crystal Palace. Too many players provoked him. After, he kicked the fan."
Kanchelskis describes the scene in the dressing afterwards, when the atmosphere was strangely subdued.
He recalls: "I went in expecting the place to explode but nothing happened. Alex Ferguson went through the usual end-of-match debrief but not about the attack on the fan.
Eric was treated differently to other members of that Manchester United side. Ferguson rarely shouted at him.
"I once heard him say in the dressing room, 'I was like you, Eric. I used to get a lot of cards.' He did not shout much at Roy Keane, either."
Despite the club's failure to retain the league that season, it had seemingly been a very good year for Kanchelskis personally. He finished the campaign as United's top scorer with 15 goals in 32 games, and was also named the supporters' player of the year, despite missing the final few weeks of the season owing to a hernia.
Without Kanchelskis, a 1-0 FA Cup final defeat to Everton added to United's woes as, for the first time in six years, they finished the season without a major trophy.
Then, mysteriously, despite his excellent form, Kanchelskis was placed on the transfer list and eventually sold to Everton for £5 million. Mark Hughes and Paul Ince left too during that summer of 1995, as Ferguson began a major rebuilding process.
Kanchelskis' departure was particularly surprising, given that he had signed a lucrative five-year contract the previous season that could have taken him up to the 1998-99 campaign and the treble-winning success if things had worked out differently.
The Russian star's Old Trafford exit has since acquired a degree of infamy. He had fallen out with Ferguson and the manager claimed in his autobiography that he was offered a £40,000 bribe to sell the winger, with the Scot's subsequent refusal allegedly leading to death threats directed at then-chairman Martin Edwards. However, there was no implication of wrongdoing on the part of Everton or Kanchelskis.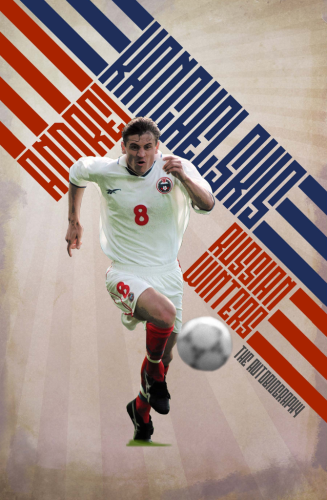 In his new book, 'Russian Winters,' Kanchelskis clarifies some of the details surrounding the controversial departure, dismissing rumours that the transfer was mafia-linked or that it had anything to do with too much money lost in Manchester's casinos.
Too many people spread stupid stories on why I left United, about gambling and the mafia," he says.
"I was a little bit disappointed (with how it panned out).
"But I had a good time with Everton. They were good lads, a good team, though a smaller team than Man United."
The initial argument at United was due to differing opinions on the seriousness of Kanchelskis' hernia, with the player unhappy with suggestions he simply wanted to avoid playing.
"You didn't believe me and I want to leave the club," he recalls saying at the time.
Kanchelskis says that Ferguson and Edwards ultimately apologised and tried to convince him to stay.
Yet there was pressure from the player's representative, Grigori Essaoulenko, on him to leave the club. Kanchelskis claims Essaoulenko was on a significant commission to force a transfer. The star's former club, Shakhtar Donetsk, he says, stood to earn between £500,000 and £1.5 million for any post-United transfer that materialised.
Ultimately, Kanchelskis, partially still hurting from the anger over the club's original reaction to his hernia problems, bowed to this pressure and agreed to leave — a move he regrets now.
"Looking back, it was a mistake on both sides," he explains.
As for the alleged bribe that Ferguson is understood to have been offered in August 1994, Kanchelskis writes: "Only two people, Essaoulenko and Ferguson, know why my agent should stop the manager of Manchester United, ask to meet him at a hotel at the airport and give him a box containing a samovar which in turn contained £40,000 in cash.
I wasn't the only player Essaoulenko represented but I was the only player he represented at Old Trafford. But he didn't tell me he was going to do it or ask me what the best way to get hold of Ferguson was."
Kanchelskis was just 26 when he left United, having played 145 times and scored 48 goals during an impressive four-year stint at the club. Though he never hit the heights of his time at Old Trafford again, he still enjoyed a decent career thereafter.
His first season at Everton was an unequivocal success. Despite an injury-interrupted start, he scored 16 goals in total, as the club finished sixth in the league — their highest position since 1990.
Yet both Kanchelskis and Everton struggled to replicate this form the following season and with the Toffees needing cash, they reluctantly accepted an offer of £8 million from Fiorentina for their star man midway through the season.
"I was sold for money and £8 million is good money," he says. "It was the same situation when Wayne Rooney went to Manchester United — big money for Everton.
"I was contracted to Everton and would have stayed at Everton no problem. It was just a bad situation for the club."
stevelina / YouTube
At the time, Serie A was the best league in the world. Kanchelskis' new team-mates included world stars like Gabriel Batistuta, Francesco Toldo and Stefan Schwarz, while he lined up against some of the greats of that era — (the Brazilian) Ronaldo, Zinedine Zidane, Paulo Maldini and Alessandro Del Piero among others.
While he was already used to the fast-paced attacking football in England with both Dynamo Kyiv and Shakhtar playing a similar style that included a 4-4-2 formation and wingers, Italian football was a different story.
"Different mentality, different football, more defensive play, no space," he says.
"In England, it was more open, more counter-attacking. If it was 2-0, there was a chance to win the game.
This is England. At 2-0, it's still aggressive, attacking play. But in Italy, at 2-0, everybody dropped back. It's a lost game. You've no chance to score three goals."
Yet his short stint in Serie A was dogged by persistent injury problems, and ultimately, Kanchelskis moved to Rangers in 1998. Despite winning two Scottish titles and three Scottish Cups, his time at Ibrox was not entirely satisfactory either. He struggled to recapture the form of his Man United days and was not always a first-team regular, partially owing to a failure to see eye to eye with coach Dick Advocaat for the latter's perceived arrogance and supposed tendency to give preferential treatment to footballers from his native Holland.
After eventually being deemed surplus to requirements at Rangers, Kanchelskis would return briefly to the Premier League, on loan at Man City, before joining Southampton permanently, but he failed to make a considerable impact on either occasion.
He next undertook an unorthodox route for a European footballer, moving to Saudi Arabian side Al Hilal, and playing "a dozen games" for them in 2003.
"Different mentality, different life," he recalls. "It's okay, it's a very hot country. You start life at six o'clock in the evening time. Before, it's not possible, because of the sunshine.
"It's difficult to go in the street (during the day), because the sunshine is very hot.
"For me, it was okay. I just played football and enjoyed it. This is my life, this is my job. I enjoyed my time there and we won a cup."
Kanchelskis says he might have stayed longer had terrorist group Al Qaeda not attacked one of the compounds near where he was living.
Any foreigner living in Saudi Arabia was now a legitimate target," he recalls of the shock at this occurring. "I packed my bags and flew back to Moscow the next morning."
By then 35, Kanchelskis spent the final few years of his career in Russia, away from eyes of most British football fans, playing with Saturn Moscow and then Krylia Sovetov for a season.
Now 48, since retiring in 2007, Kanchelskis has coached a number of teams mainly in the Russian Second Division (in addition to Latvian side Jurmala), including short stints at FC Torpedo-ZIL Moscow and FC Ufa. He blames impatient owners with unrealistic ambitions for his failure to last too long at any of the clubs in question.
His most recent managerial post was with FC Solyaris Moscow in 2016. In 2015, he was even linked with the vacant Derry City job. Did he apply for the role and would he consider managing in the League of Ireland if the opportunity arose?
Some newspapers say this," he says. "I'd be very happy to work here in Ireland. I understand it's not the highest level. But I'm just starting and looking at coaching abroad.
"If some club is interested in me, I am ready for the discussion about a job, no problem."
Legend HD / YouTube
Less charitable critics may reflect on Kanchelskis' career and come to the conclusion that he never totally fulfilled his potential.
But two Premier League titles and an FA Cup can hardly be considered a failure. On the contrary, these are the type of achievements that the vast majority of footballers can only dream of emulating.
Despite his acrimonious Old Trafford exit, he holds no ill will towards Man United, visiting the squad in 2008 when they were in Moscow for the Champions League final against Chelsea.
In his book, Kanchelskis also recalls coming across Alex Ferguson in his box at Old Trafford in November 2016, 21 years after the former player had left the club.
"He was holding court, drinking wine, when he spotted me. Someone said, 'Now there was a great player.'
I knew he was a great player," Ferguson said. "I paid £650,000 for him."
Kanchelskis continues: "I told him he should try Tuscan wine, the kind I drank when I played for Fiorentina. The subject of my departure came up as we talked and he said: "It wasn't your fault you left United, it was Essaoulenko's."
Russian Winters: The Story Of Andrei Kanchelskis is published by De Coubertin Books. More info here.
The42 has just published its first book, Behind The Lines, a collection of some of the year's best sports stories. Pick up your copy in Eason's, or order it here today (€10):