FEW PEOPLE THOUGHT Andrew Conway would be 25 before he got picked to go on a senior Ireland tour but so it has proved to be the case, with Joe Schmidt yesterday naming him in his 31-man group to visit the US and Japan this summer.
Now the Munster man is eager to make up for lost time, though not too eager.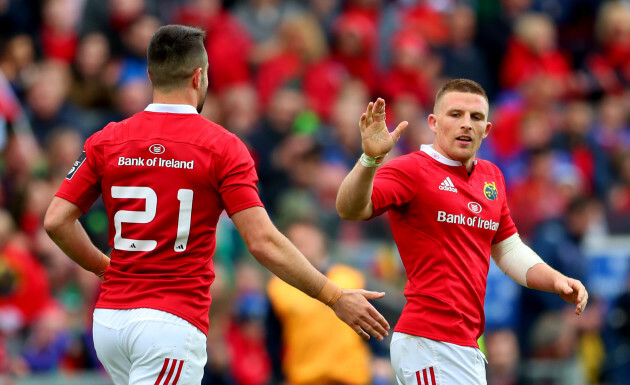 James Crombie / INPHO Conway is part of the Ireland squad for next month. James Crombie / INPHO / INPHO
Conway comes across as someone who is entirely comfortable in his own skin these days, content that he is putting in the kind of day-to-day hard work that brings about international honours and other rewards.
He won his first Ireland cap this year, coming off the bench against England as Joe Schmidt's side denied England a second consecutive Grand Slam.
He had expected that first taste of senior Test rugby to be a life-altering moment but the truth was that a first Ireland cap really wasn't quite the climax he had anticipated.
"I actually thought I would feel different after it because I had built it up as this monster in my head for so long, that I need to get capped and I needed to play for Ireland, I can't retire [without a cap]," says Conway. "You build these things up in your head.
It's great, don't get me wrong, I am delighted that I did play in that game and I obviously want to play in a lot more games coming up, but you're back to being a Munster player when you are at Munster.
"Then if you are lucky enough to be called in to Ireland camp to go on Ireland tours, then great, and you deal with that when you get out there."
Conway's maturity is striking as he considers the situation, underlining that while Ireland honours are huge for any player, he has come to the realisation that constantly filling his mind with that ambition is counter-productive.
That perhaps wasn't always the case for Conway, particularly having been such a star as an underage player.
Billy Stickland / INPHO Conway scores against Connacht two weekends ago. Billy Stickland / INPHO / INPHO
He was incredibly prolific over two years for the Ireland U20s and looked set for big things at a young age with Leinster, but competition and injuries stunted his progression and what had looked like certain Ireland senior caps at an early age didn't materialise.
"I did have that growing up, that that was the perception of where my career was going and it didn't go that way," says Conway.
"Lads that I was competing with did and went to play for Ireland and went on to play for the Lions, have numerous caps, have won Heineken Cups or whatever it may be.
"So, yeah, it definitely made it a bit more complicated in my head, asking questions as to 'Why am I not doing this?'
"But once you peel that back and really reflect on what the actual solutions were to get there, then… I'm probably ranting but it didn't make it harder, but that's all I knew when I was younger and then I wasn't kicking on."
Conway does admit that the first Ireland cap this year was a relief, but he returns to his point about his focus on Munster having been the most important thing in earning him the right to play at Test level.
With the southern province doing well this season, Conway's chances of impressing Schmidt naturally increased.
This is Conway's fourth season with Munster and it feels like it has been his best, impressing both on the wing and at fullback amidst strong competition in the back three. The arrival of Rassie Erasmus has had a highly positive impact on him too.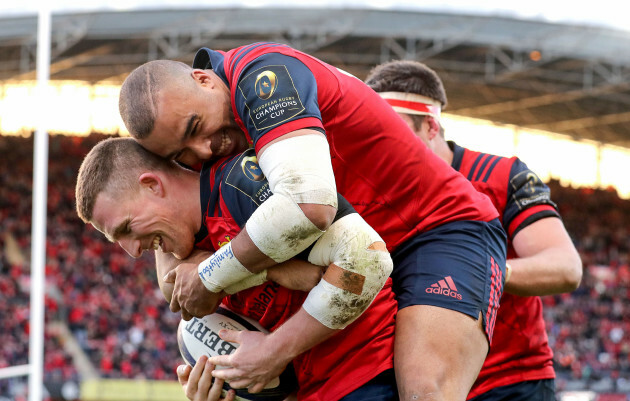 Dan Sheridan / INPHO Simon Zebo celebrates with Conway. Dan Sheridan / INPHO / INPHO
"I think the biggest thing he's done is he talks about this battle thing where if you go out there – battles are essentially involvements – so if you are looking at getting in 60-70 involvements in a game, whatever number it is… if you make a mistake, don't shirk away from those battles or involvements.
"He has driven from day one – that you throw yourself into the next involvement.
"There is no point thinking about the last thing that has gone negatively, because you have however long left in the game to have a few positive impacts.
"Maybe playing in years gone by, you'd make a mistake and think, 'Oh geez, that might cost me' and then, 'Oh, I might stay out of this one.' Not that you stay out, it's just now you throw yourself in there.
"Now, it's almost like you go, 'Grand, that is a mistake, I'm going hard into the next thing.' It's just a great way to think of it. For me, I'll keep writing that down before games – getting battles, getting battles, getting battles.
"That doesn't mean that they are all going to go great, it doesn't mean you're going to play great every time. But it is just a great cue to have, to be able to just leave that. As long as it is not an effort error, if it's a skill error it doesn't matter.
"If it is an effort error, they are going to rip your head off. But if it is a skill error under pressure, that's fine, just crack onto the next one. I think with him and Jacques and then Felix and Jerry, they have really driven that."
The42 is on Instagram! Tap the button below on your phone to follow us!