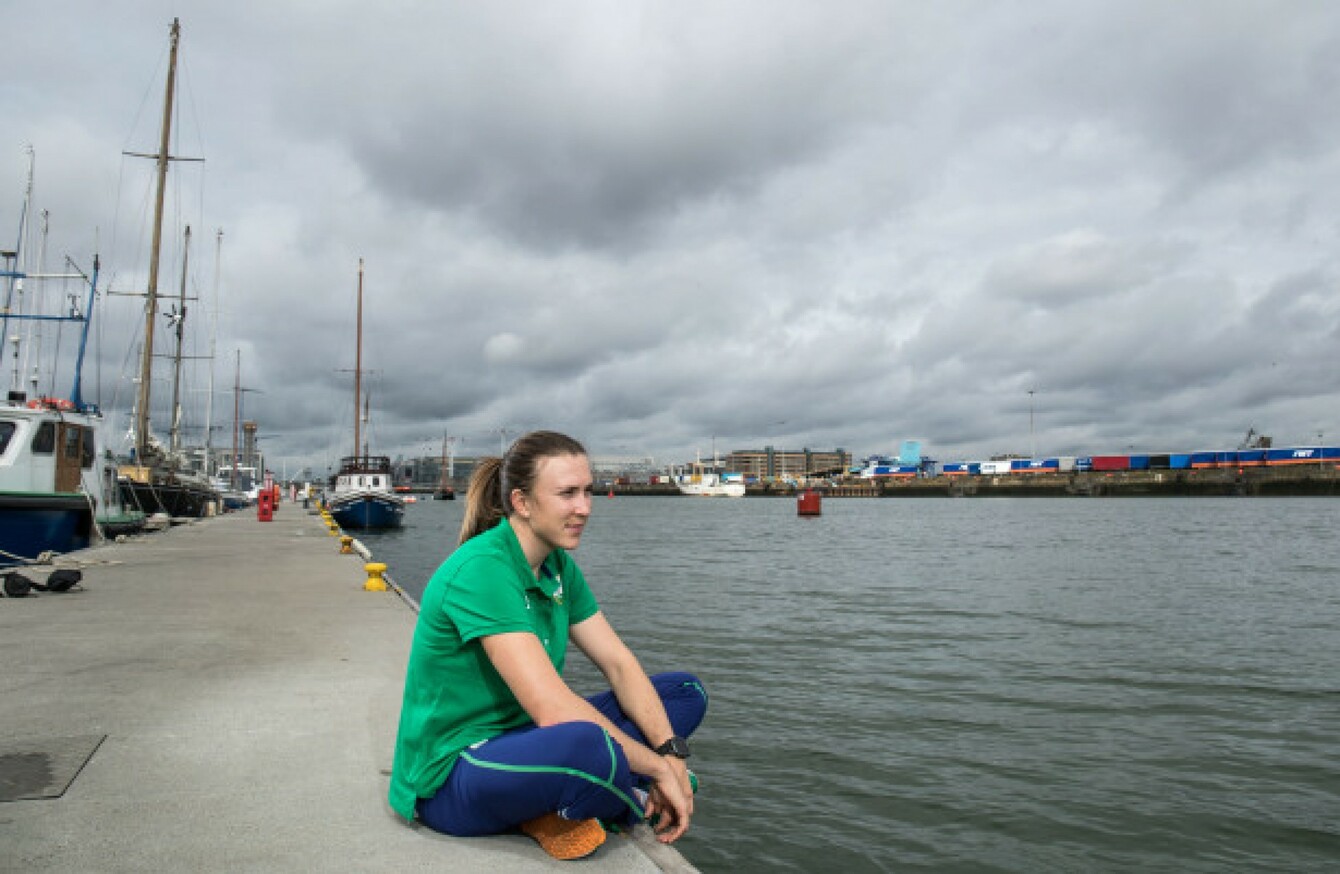 Annalise Murphy is optimistic she can fulfill her potential at the Rio 2016 Olympics.
Image: Dan Sheridan/INPHO
Annalise Murphy is optimistic she can fulfill her potential at the Rio 2016 Olympics.
Image: Dan Sheridan/INPHO
KATIE TAYLOR MAY have been the biggest story from an Irish perspective at the London Olympics four years ago, but Annalise Murphy was surely the most surprising one.
Outside of sailing circles, not many Irish sports fans were familiar with the then-22-year-old sailor.
Nevertheless, though she may have missed out on what would have been an unexpected medal success in heartbreaking circumstances, Murphy emerged from Weymouth a bonafide star.
The nation had been gripped by her nerve-racking medal race that ultimately saw her earn a fourth-place finish in the Games, having began the day in second position and led in the standings for much of the laser radial competition.
Moreover, the Rathfarnam native was now a household name, featuring on chat shows and generally receiving plenty of media attention.
In 2013, she recovered from her Olympics disappointment in emphatic fashion, claiming a historic gold at the European Championships in Dublin.
And speaking at the official Irish Olympic Sailing athletes announcement ahead of Rio 2016, Murphy is relaxed and philosophical when reflecting on her previous Olympics appearance.
I can't look back on 2012 and go, 'I sailed really badly, that's why I finished fourth.' I look back on 2012 and I felt like I sailed close to my best the entire regatta. It's really unfortunate that the other girls sailed close to their best and ended up just beating me in the end.
"That's probably the hardest — I was sailing really well and winning the Olympic regatta for such a long and then to lose out on the last day is (difficult). I wasn't prepared to be winning an Olympics either. I was aiming for an Olympic experience to get myself ready for 2016.
I was hoping to make the medal race and I knew if a few things went well, maybe I had a chance of being in the top five or medalling, but there wasn't any pressure on me to do that. I was basically just going to enjoy it.
"I still think: 'Wow, if I had a medal, what would have been different?' I still have great friends, great family and I'm really happy — it's about understanding.
When you make it that the medal is the be all and end all, you become unhappy with everything else you're doing, so I had to remember that I'm actually happy and really enjoying this and a medal isn't going to change that."
Murphy ultimately emerged from the harsh climax of London 2012 as a stronger person and better sailor, as evidenced by her superb form the following year — the highlight of which was her Euros triumph.
In 2013, I was a much better sailor, much more experienced. Certain situations, I knew how to deal with. I got very nervous when I was winning (at the 2012 Olympics), because I wasn't expecting to be winning the sailing regatta. It became a stressful time for me, because it was such a shock.
"I was young at the time. I remember dreaming about the 2012 Olympics and thinking: 'Wow, wouldn't it be great if I won all the races.' No sailor, even Ben Ainslie, thinks he's going to go and win all the races. But I went and started winning all the races — maybe it would have been better if I came second instead and I wouldn't have been so freaked out.
But this time around, I'm a much better sailor — tactics, strategy, understanding, and also my boat speed is so much better. I know how to make the boat go much faster, I've got really good technique, I just haven't had the years to develop.
"The last four years has been kind of fine tuning as opposed to making massive leaps and bounds, which I was doing in the lead up to the London Olympics. In 2008, I was coming 80th in the world, so I was moving up massive chunks."
Source: RTENewsNow/YouTube
Murphy knows that the field in the laser radial at this Olympics is more competitive than ever — she estimates that there are at least 10 athletes with a realistic chance of winning a medal.
The Dubliner knows that, among the Irish public, expectations will be higher than ever, given what she achieved four years previously. The 26-year-old star insists, however, that she can deal with the pressure.
There's no point in worrying what other people are going to think, because that's not going to give me a good performance," she says.
"Someone was telling me, Tiger Woods would finish a hole in golf, and by the time he walked to the next hole, he would have completely forgotten about the last hole.
It's the same with my races. You have a couple of minutes to digest what went well and what didn't, and then you completely forget and move on to the next one."
On a related note, Kate Kirby, Murphy's sports psychologist, will be helping her with the mental challenges that Rio will inevitably present over the coming weeks. The two have known each other since 2005.
"She made me write up a list of all the things that I had to do. I was 15 and really disorganised — I didn't know what was going on. I just remembered that I'd bought myself a pair of jeans and then I'd no money for food for the rest of the week. She was like: 'You need to make a list of all the things you're going to do and how you're going to organise yourself.'
When I stopped youth sailing, I thought: 'I don't need a sports psychologist.' But I started working with her again in 2011. That's when my results really turned around. I started performing really well against all the other international girls.
"It was just down to having processes and also visualising what I really wanted to do in races. Having a routine is really important, but also (it's important) that if something gets thrown from your routine, it doesn't mess you up for the day."
Routine will certainly be somewhat of a challenge to maintain in the coming weeks. Murphy says the unpredictable conditions in Rio can be tough, even though the Dubliner has spent plenty of time training in Brazil in the run up to the Games.
It's probably the most challenging place I've ever sailed in my life," she says. "There are so many variables. I'm starting to think that's why the Brazilians have so many good Olympic sailors. They're just learning to sail in this really complicated, difficult place.
"They get Atlantic Ocean swell, really strong tides from all different directions, they get flat water, they get choppy waves, they get shifty conditions. They get every possible condition you can imagine, sometimes all in the same day.
I'm kind of excited about that — tactical racing, trying to understand the strategy, trying to understand the race courses better than other people."
Yet it hasn't exactly been straightforward for Murphy and her sailing career of late. After a "fantastic" 2013, her form since then has been inconsistent at best. What does she attribute this recent slump to?
I didn't really take any time off after the London Olympics. I was meant to take time off, but I was bored, and I was like: 'I want to go back sailing'.
"(After 2013) I felt 'the next four years are going to be great, I'm just going to win everything.' But I kind of burnt myself out. I'd never taken a step back and I didn't have any balance in my life. I then got so worried about what I was going to do apart from sailing and was sailing all that I had."
The fact that Rio tends to beneficial to light-wind sailing specialists is a cause for concern, as such conditions do not suit the Dubliner, owing to a "weight disadvantage".
I'm six-foot-one and a lot of the girls are five-foot-four so it's difficult to be the same weight as they are," she explains. "I have to be really strict with my diet. What's important is that I can be as light as possible but still have strength and be as competitive as possible in all conditions.
"When it's light winds, I'm heavier, so the boat is lower in the water. I have to make less mistakes than other people to have good races.
Something I've had to learn is that in really light winds, I have to be smarter than everyone else to get good races. If I just sail the same as everyone else, I'm going to be in the middle of the pack. I need to do something special to do well in races.
"Before, I kept on thinking: 'In the light races, I'll try to be consistent and when it's windy, I'll have my good races.' But it's the light races where I need to perform at my best and then the windy races will be easy for me."
Yet after countless hours of hard work and deep frustration, Murphy finally feels confident and optimistic that she can potentially eclipse the bittersweet experience of four years ago.
I've been training with people who are light-wind specialists — they'll beat me over and over again. It's hard and frustrating, but I know it's what's going to make me better. But it's also difficult, so I've had an up and down last couple of years.
"Compared to the London Olympics, I haven't been racing as well (in the build-up), I've been a bit disappointed with my results. But all my competitions in Rio and training races in the last couple of months I've been sailing well at, so I think I'm in good form going into these Olympics and I feel like I've got a good chance of doing something special."
Notes on sailing ahead of Rio 2016:
Ireland will have six athletes competing in four of the 10 Olympic Sailing disciplines (380 athletes) at Rio 2016.
Only one boat per nation may compete following performance-based qualification criteria.
Each discipline sails a fleet series over several days to decide the top 10 athletes in each discipline.
The fleet series comprises two races per day (three for the skiff events).
The top 10 boats compete in a single medal race final to decide the podium places.
Up to five different course areas off Rio may be used alternately, each with its own challenges.
Racing is currently scheduled to begin at 1pm daily and be completed before sunset at 5.30pm (Rio/Ireland time diff -4 hours).
The sailors are in Dublin to support the Irish Sailing Association's 'Try Sailing' campaign, a new initative to attract newcomers to the sport. A network of 70 clubs and centres around Ireland are involved in providing taster events for both competitive and general boating activities.
A full list of 'Try Sailing' courses and opportunities are available on sailing.ie and profiles of the individual athletes as well as details of the Pathway and Academy sailors are available on isaperformance.ie
The42 is on Snapchat! Tap the button below on your phone to add!