A YEAR AGO, no one could have guessed that a French native who was playing in the Pro D2 only a season before that point would go on to have a transformative effect on Munster.
Leinster fans will point to Jason Jenkins' impact since switching from Munster, but the signing of Antoine Frisch is right up there as the best bit of business any of the Irish provinces did last summer.
The announcement of the impending addition of Frisch last April came as a surprise. He had impressed for Pat Lam's Bristol after joining the English club on a one-year deal but few people knew the classy centre was Irish-qualified.
As soon as it was flagged to them, Munster pounced. There was interest in Frisch from other English and French clubs, but a three-year contract with the lure of possible international rugby with Ireland was impossible to resist.
Frisch's mum's family are Healys from Dublin – some of them live in Tallaght – but he has strongly connected with the Munster from his early days in Limerick. The Red Army have appreciated Frisch's silky skills and raw energy right from the off.
With attack coach Mike Prendergast bringing in a more ambitious, higher-tempo mindset this season, Frisch has proven a perfect fit to the point that he is now one of Munster's key players.
Ben Brady / INPHO Frisch was missed last weekend. Ben Brady / INPHO / INPHO
While Munster's pack struggling was perhaps the biggest issue last weekend against Glasgow in the URC, the absence of Frisch was also influential. His creative touches in attack often give Munster momentum and cutting edge. To the relief of Graham Rowntree and co., Frisch is due to return from his leg injury for Saturday's Champions Cup round of 16 clash with the Sharks in Durban.
Frisch was an out-half throughout his youth and only moved to centre when he joined Tarbes in the Fédérale 1 – France's third-tier semi-professional division at that time – in 2017.
His history as a 10 is obvious, with the 26-year-old comfortable at first receiver or tucked in behind pods of Munster forwards. The passage below, against Ulster in January, illustrates as much.
As we join the action on the eighth phase of Munster's attack, Frisch is at first receiver and swings a pass out to Keith Earls.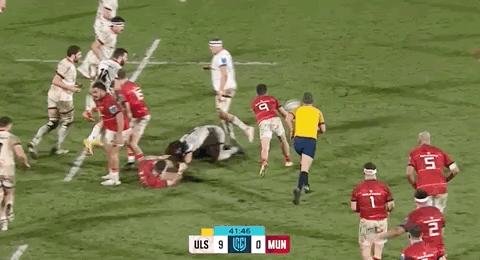 Frisch follows up initially to resource the breakdown…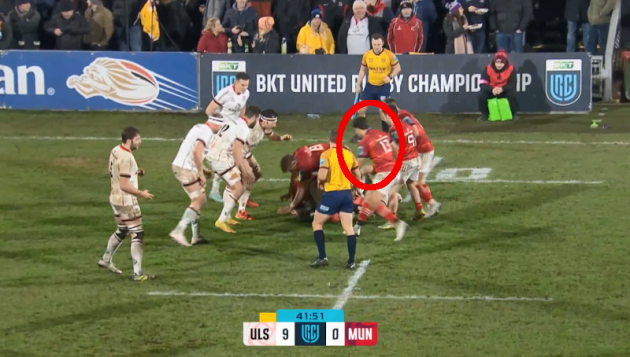 … but quickly realises that he's not needed there.
So he works away from the breakdown, stepping on the accelerator to get back in behind the pod of three Munster forwards set up to the left. 
Frisch's work-rate allows him to take a sweep pass out the back from tighthead prop Roman Salanoa and shift the ball on to hooker Niall Scannell in the next pod of Munster forwards.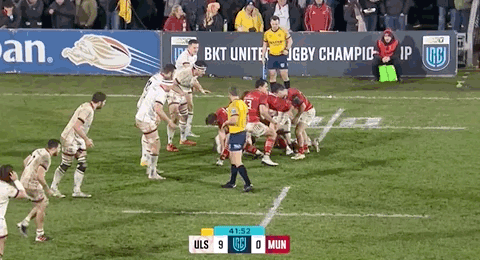 This kind of late arrival into position is something Prendergast has evidently encouraged from the Munster players, with examples now commonplace across their games.
Frisch is a player who doesn't need a huge amount of time to process his options. He's happy to do so on the move.
In this instance, he's tackled just as he releases the pass but he is typically quick back onto his feet as Munster play to their left again on the next phase.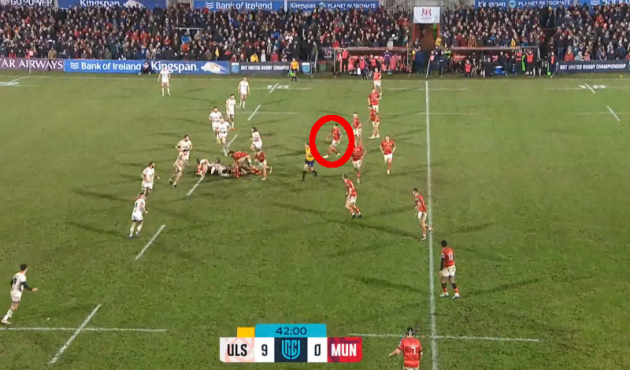 As fullback Mike Haley carries the ball from first receiver, Frisch is already organising and getting set for play to return to the right on the next phase. 
That means he's positioned in behind another pod of three Munster forwards when centre partner Malakai Fekitoa steps in as the scrum-half to keep the pace high.
Again, we see Frisch's comfort as a distributor as he accepts the sweep pass from Scannell and picks a lovely option in the next pod of three forwards, hitting Gavin Coombes on the edge of the pod.
This is one of Frisch's seven 'break passes' for Munster so far this season, which is more than any other player in the squad, according to Opta's data.
As we can see above, a break pass is a pass that results in a team-mate making a linebreak.
Frisch has actually thrown more of these passes than he has directly made linebreaks himself, with five of the latter in all competitions this season.
As well as illustrating his comfort as a distributor and organiser, the passage above highlights how Frisch is a player who is invariably in motion off the ball. This is one of his biggest strengths and if you're ever watching him live in the flesh, it's worth tracking his movement for a while.
In the example below against the Ospreys, Frisch's involvement begins with a carry on the left off Shane Daly's short pass.
We get a glimpse of Frisch's desire to offload – more on that later – but he has to bring the ball to ground and present it here as Munster attack to their right on the next phase.
As Munster carry in their pod of three forwards, we can see Frisch getting up off the ground.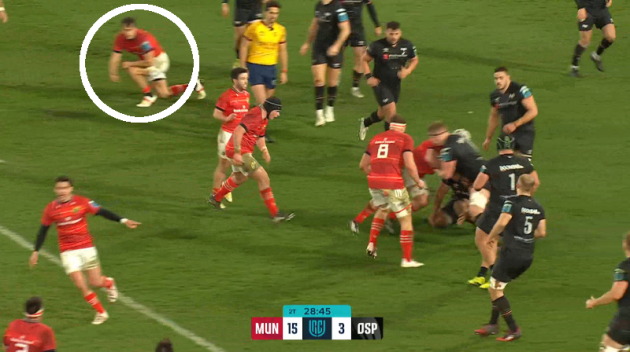 Rather than reloading in the shortside where Ospreys have plenty of defenders, Frisch immediately accelerates to get himself all the way across to the openside.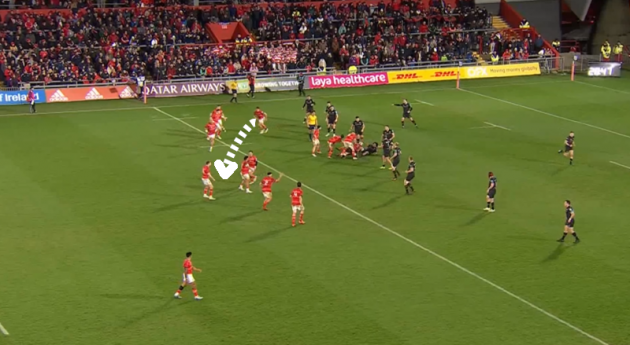 Munster have another pod of three forwards set up off the ruck, with out-half Joey Carbery already set up in behind, so Frisch continues to move wider and communicates while he's on the move.
In the moment below, Frisch [white] appears to be talking to Liam Coombes [red], telling him to set up to run a short front-door option for Carbery while Frisch sets up to swing behind Coombes.
As Munster carry through their pod of three forwards again, we can see that Frisch then communicates to Carbery as the out-half glances at the options outside him.
Frisch [white below] is seemingly indicating to Carbery that Coombes is going to run that front-door line while Frisch bounces out the back.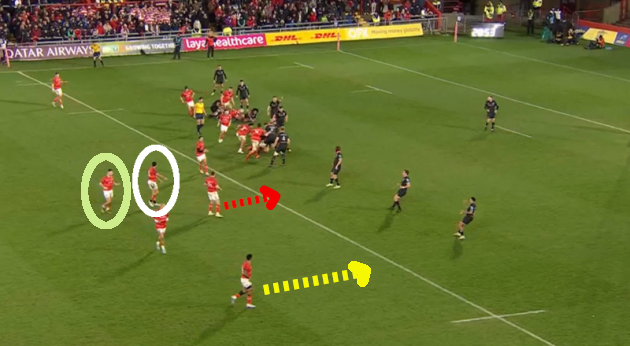 Before this next phase launches, there's one more bit of organising from Frisch.
As we see below, Frisch [white again] appears to be communicating to centre partner Fekitoa to run another front-door option [yellow], but off Frisch in the second wave of the attack. Frisch knows that fullback Daly can offer the pullback option behind Fekitoa.
The pieces fall into place as Carbery passes to Frisch out the back of Coombes, with Frisch then opting to hit Fekitoa at the front door.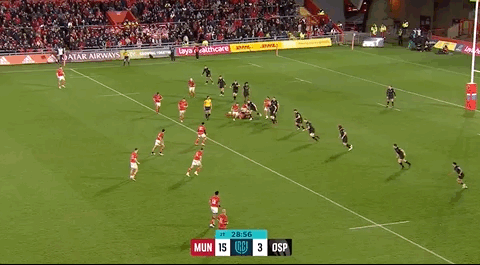 The Ospreys are aware of Daly in behind and they stand off committing more forcefully onto Fekitoa, meaning the powerful Fekitoa is able to dominate the collision.
We see here that Frisch is not only ambitious with his own offloading but that he also runs ambitious support lines to give his team-mates the chance to offload.
So rather than heading directly to hit the breakdown as Fekitoa is tackled, Frisch works hard to get to his centre partner's outside shoulder. 
Fekitoa gets his hands through the tackle and finds Frisch to send him over for his second Munster try.
And so, to Frisch's ability as an offloader.
It's a major point of difference for the Fontainebleau native. Unsurprisingly, he counts Yannick Jauzion – one of rugby's greatest offloaders ever – among the role models he looked up to as a youngster.
Frisch's 15 offloads in all competitions make him Munster's joint-top offloader alongside Fekitoa, with both players encouraged by Prendergast and head coach Graham Rowntree to bring these skills to the party.
Frisch has also beaten 20 defenders, with these stats underlining just how dangerous he is on the ball running at the defence. We get an example below against Scarlets as he frees Pa Campbell to score.
Frisch could possibly pass to Campbell first time here and Munster would make good gains but he backs himself to directly create the try instead.
He gets the ball into his outside arm and fends the first defender using his left arm, ensures he has drawn the last defender up and in, then just as the covering Scarlets defender from inside initiates the diving tackle, Frisch flicks away an accurate one-handed offload.
It's poor defence from the Scarlets but Frisch has a habit of making defenders look bad.
There is a mercurial streak to his play and Frisch is clearly an instinctive, creative player. These are attributes that Munster have encouraged, but the examples above also demonstrate that lots of his work in attack involves early work-rate and good communication.
There are still some raw elements to Frisch's play but Munster probably don't want to polish all of those things off. Unpredictability is part of Frisch's power. 
He is still learning all the time. This is his first season as a front-line centre for a top-tier team, so it's only natural that he has made errors along with the good stuff.
Defensively, there has been a fairly steep learning curve and Frisch remains a work-in-progress in that regard, but his intuitive game understanding means he makes lots of strong reads. He will be keen to improve a tackle completion rate of just under 70%, even if playing at outside centre means missed tackles are an occupational hazard.
There's also more to come from Frisch's kicking game, but he has helped to transform Munster's attack. His skills and Prendergast's philosophy have been an ideal marriage.
Frisch has combined superbly with Fekitoa recently after the latter had a tough start to life with Munster. That fed into the decision not to extend Fekitoa's contract beyond the end of this season, but there's an exciting new centre partner on the way for Frisch.
Chiefs midfielder Alex Nankivell is a similar-ish player to Frisch and he can also play 12 or 13. Below, we see Nankivell organising play for the Chiefs and then sending team-mate Emoni Narawa in for a score against the Waratahs last weekend.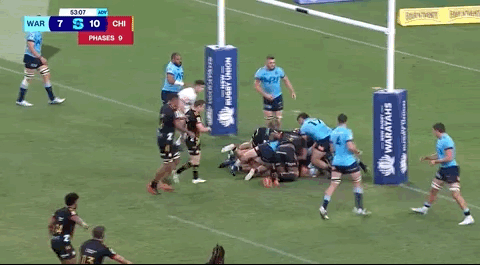 Note how number 13 Nankivell, initially at the bottom left of this clip, signals for the Chiefs number 19 to run a short, flat line close to the ruck to help create some separation in the defensive line.
Nankivell then steps back in off his right foot to evade the onrushing Waratahs defender from his outside, squaring up to fix the defender directly in front of him, before slipping the inside pass to Narawa. It's slick Frisch-esque work.
Nankivell and Frisch are intelligent, creative players who can offload accurately, but also offer a punch in the carry. Their combination promises to be intuitive and dangerous.
For now, though, the return of Frisch gives Munster a much greater cutting edge for Saturday's Champions Cup showdown with the Sharks.