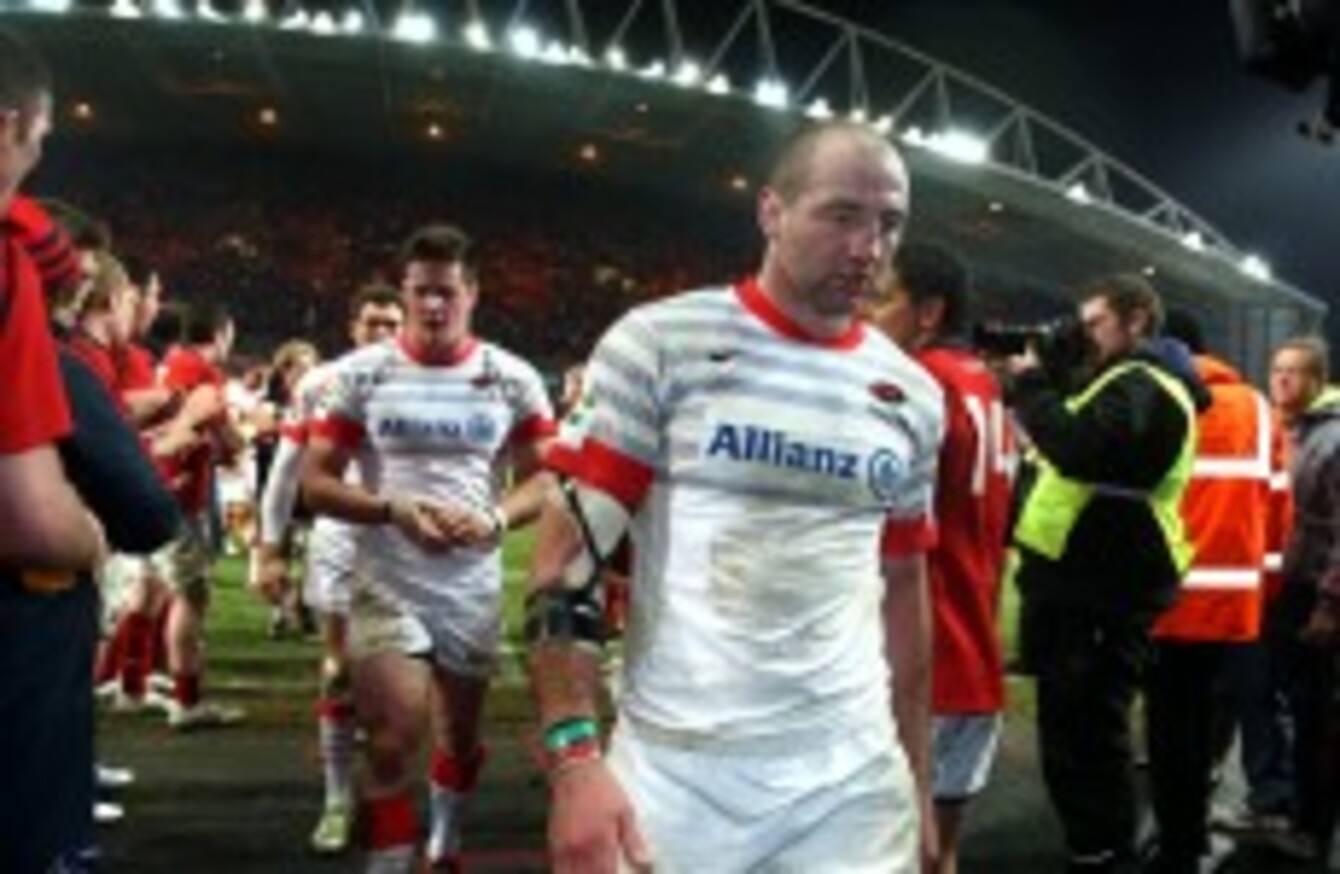 Steve Borthwick leaves the pitch at Thomond Park after his side's defeat.
Image: ©INPHO/Dan Sheridan
Steve Borthwick leaves the pitch at Thomond Park after his side's defeat.
Image: ©INPHO/Dan Sheridan
SARACENS CAPTAIN STEVE BORTHWICK believes the losing bonus point his team secured against Munster could ultimately prove crucial in the Heineken Cup.
Munster outplayed their English opponents for vast swathes of Saturday's Pool 1 tie but a late Owen Farrell penalty, making it 15-9, ensured they would not leave empty-handed.
"Those bonus points, the competition has show in the past, are very important," said Borthwick.
"Munster are, for example, a team that have always got something out of games."
He added. "I was very proud at how the Saracens player stuck it out at the end and got the bonus point. It could be very important."
Lineout woes
Borthwick praised Munster for the physical manner in which they imposed themselves on proceedings at Thomond Park.
"I thought their pack was excellent," he said. "They were excellent all-round so we know what we'll have to bring to the game next week.
"We need to be even better. I'm sure Munster are saying the same things but we need to be even better next week."
Munster coach Rob Penney mentioned after the match that Borthwick would be "spewing" over Saracens' loss of crucial lineouts on their own throw.
The Englishman's response was slightly more measured. He said:
Credit to Munster. I haven't watched the tape yet but we need to look at the quality of the work we did. My gut feeling is that it wasn't.
"We were trying to rectify it on the pitch. One of the huge positives was how we responded in the second half – the quality went up immeasurably."
Kicking inconsistencies
Boiling it down to kicks made or missed, Ronan O'Gara made five while Owen Farrell landed just three from eight attempts.
Borthwick said, "Discipline is a huge factor in these games, especially with someone like Ronan O'Gara kicking. He doesn't miss many does he?
"We'll need to look at the penalties we gave away and see where we could do better.
"Ronan kicked really well today and led his team up the field in a really impressive manner."
Referring to Farrell's less than impressive evening of kicking from the tee, the Saracens captain said:
Obviously, you want to kick your goals. There was a bit of a breeze there and we were playing into it in the first half. If a kick went over you don't know the impact it would have had on the game."
He added, "I have to credit the guys that have just come off international rugby. Many of them played a huge Test match [against New Zealand] on Saturday.
"Physically, mentally and emotionally it's a big challenge."
Munster will hope to exact more of the same at Vicarage Road next Sunday.