Good evening and welcome to The42′s live minute-by-minute coverage of a Group D clash that has an absolutely unmissable feel to it.
Argentina v Croatia kicks off at 7pm in Nizhny Novgorod and if you're not in front of a TV — and even if you are! — you can follow it all right here.
TEAM NEWS: First to Argentina — Jorge Sampaoli has made three changes to the side which drew 1-1 against Iceland last Saturday.
No Angel di Maria, who drops to the bench, and no Paulo Dybala who hasn't done enough to force his way in, apparently.
Argentina: Caballero, Salvio, Mercado, Otamendi, Tagliafico, Perez, Mascherano, Meza, Acuna, Messi, Aguero.
TEAM NEWS: One change to the Croatian side which beat Nigeria — Marcelo Brozovic comes in for Andrej Kramaric.
Croatia: Subasic, Vrsaljko, Lovren, Vida, Strinic, Brozovic, Rakitic, Rebic, Perisic, Modric, Mandzukic.
Can we just take a moment for this Argentinian bench, please? Banega, Di Maria, Dybala and Higuain — there's a quartet that would walk into most starting XIs.
Unless you've been living under a World Cup-resistant rock, you'll know that the build up to this game around the globe has been monopolised by a focus on Lionel Messi. After Saturday's missed penalty, the pressure on him to deliver tonight is incredible. Can he do it?
Moments to go now!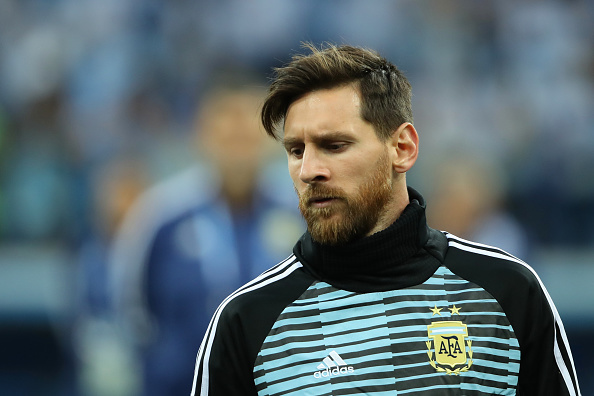 Matthew Ashton - AMA Matthew Ashton - AMA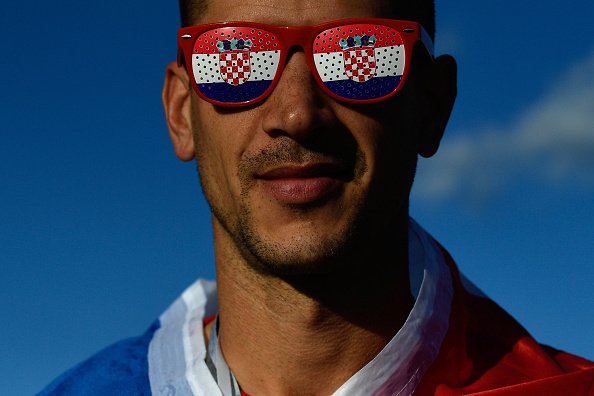 KICK-OFF: We're underway!
Jun 21st 2018, 7:05 PM
4'
A decent spell of early possession for the Argentines inside the opening four minutes. An early opportunity came and went as Nicolas Otamendi released Eduardo Salvio with Croatia at sixes and sevens at back. However the Man City defender's pass was slightly overhit and bobbled out harmlessly for a goal kick.
Jun 21st 2018, 7:06 PM
9'
Chance! Ooooof Croatia nearly break the deadlock out of no-where. Argentina exposed at the back as Inter Milan's Ivan Perisic snatches a shot which whisked ever so narrowly wide of the bottom corner. Wilfredo Caballero gets a touch to it, and it's a massive let-off for his side.
Jun 21st 2018, 7:11 PM
9'
Again! A lofted ball from the right boot of Ivan Rakitic causes all sorts of problems inside the box. He picks out right-back Sime Vrsaljko, who's volleyed cross is booted away at the very last second. Mario Mandzukic was lying in wait to prod that one home.
Jun 21st 2018, 7:13 PM
12'
Danijel Subasic is forced into a smart save at the other end. Enzo Perez pinged a pinpoint cross into the box, but the Croatia goalkeeper snatches the ball quickly — coming from his line as Lionel Messi and Maximiliano Meza stood completely unmarked waiting to strike.
Jun 21st 2018, 7:19 PM
17'
The game has really kicked into life now as it goes from end to end with high intensity. A late push on Enzo Perez causes all sorts of vocal jeers from the Argentine contingent, with the referee not deeming it not to be a foul. It's feisty.
Jun 21st 2018, 7:21 PM
21'
A massive let-off for Argentina as Mario Mandzukic is penalised for a challenge on Nicolas Tagliafico inside the box. The defender was completely disorganised, not seeing the Juventus forward creeping up behind him.
The referee said the striker illegally shoved the defender, but Tagliafico will breath a massive sigh of relief as Mandzukic was clean through on goal with the last line of defence completely breached.
Jun 21st 2018, 7:22 PM
21'
Jun 21st 2018, 7:25 PM
25'
Croatia will be much the happier of the two sides with the opening 25 minutes here. Argentina and in particular Nicolas Otamendi have looked very nervous trying to play the ball around at the back and have been let off on more than one occasion.
Lionel Messi has had a quiet opening spell, and has been forced to drop a lot deeper than usual to try and get possession in order to get his side moving in the final third.
Jun 21st 2018, 7:31 PM
31'
CHANCE! Oh, goodness. Enzo Perez capitalises on a mistake by Ante Rebic, who passed the ball across his own goal — but the Argentine midfielder misses an open goal.
A series of calamitous errors saw the ball fall on a plate for Perez six yards out from goal, however he just couldn't manage to steer it into the back of the net as he slips a side-footed effort wide of the post. It really, really should be 1-0.
Jun 21st 2018, 7:33 PM
33'
Two chances in quick succession! Firstly Lionel Messi capitalises on a poor kick-out from goalkeeper Danijel Subasic, who's distribution is poor, but the Barcelona star's long-range shot is caught.
At the other end Mario Mandzukic peels away from Javier Mascherano to get a free header off at the back post, but his diving effort flies agonisingly wide of the target.
Missed chances, missed chances everywhere!
Jun 21st 2018, 7:35 PM
35'
Nothing to separate the sides with ten minutes to go before half-time.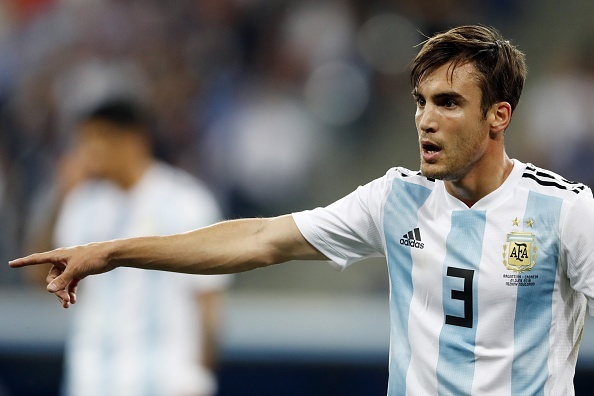 VI-Images via Getty Images VI-Images via Getty Images
Jun 21st 2018, 7:36 PM
36'
Jun 21st 2018, 7:40 PM
39'
The game's first yellow card is shown to Ante Rebic for a late, rash challenge just along the touchline.
Jun 21st 2018, 7:41 PM
41'
Rebic is the first in the book for a bad one on Salvio. Planted his studs onto his ankle & deservedly gets cautioned

— Peter Coates (@golazoargentino) June 21, 2018
Jun 21st 2018, 7:43 PM
42'
Sergio Aguero almost clean through on goal but for a last-ditch Sime Vrsaljko sliding interception. The almost-chance was made possible thanks to Messi, who threaded an excellent through ball from nothing.
Jun 21st 2018, 7:45 PM
45'
There will be just two minutes of additional time to come at the end of the first half.
Jun 21st 2018, 7:47 PM
45'+2
CHANCE! Oh dear me that wasn't great. Ante Rebic is played through on goal with a pass that split the Argentine defence in two. The midfielder's pace lets him down though, as he is forced to cut back inside on his right boot before curling a woeful effort flying over the bar and into the stratosphere.
Jun 21st 2018, 7:48 PM
45'+2
HALF-TIME: ARGENTINA 0-0 CROATIA
Jun 21st 2018, 7:49 PM
45'+2
Jun 21st 2018, 7:51 PM
45'+2
Well, what did we make of that then? It hasn't been great, let's be honest. Plenty of nasty challenges and bad defending, but very few moments of quality.
With three points secured in their opening game, you'd have to imagine Croatia would be happy to settle for a point tonight. Argentina, however, badly need a win. Lionel Messi has been quiet after 45 minutes, as has his team.
Tough and scrappy so far.
Jun 21st 2018, 8:01 PM
45'+2
Sampaoli's system has made Argentina hugely vulnerable down flanks - where it looks like any bad bounce will do them - taken Messi out of the game as a CF, and meant their least technically able players are on the ball most.

— Miguel Delaney (@MiguelDelaney) June 21, 2018
Jun 21st 2018, 8:03 PM
46'
Second-half: We're back underway for another 45 minutes!
Jun 21st 2018, 8:06 PM
48'
No changes from either side at the break. As the RTÉ panel keenly observed in their half-time analysis, there are plenty of quality players out there on the pitch — they just aren't doing a lot.
Jun 21st 2018, 8:08 PM
51'
A good time if ever to rewatch this brilliant if slightly bizarre pre-World Cup advertisement titled 'Vamos Argentina' which outlines the struggles of supporters following the national team.
Leafy Was Here / YouTube
Jun 21st 2018, 8:10 PM
53'
GOAL! ARGENTINA 0-1 CROTAIA (REBIC 53)
Jun 21st 2018, 8:14 PM
54'
DRAMA! Croatia storm into the lead and it's an absolute howler from Willy Caballero. The goalkeeper received a routine back pass but tried to be clever with it, attempting to pass the ball back to his defender with a lob.
Ante Rebic was on hand to capitalise on the mistake, executing a stunning volley from close range which flew over the goalkeeper's head and into the back of the net.
Wow!
Jun 21st 2018, 8:15 PM
58'
And in the midst of all that Argentina take off Sergio Aguero and bring Higuain on off the bench. They are under some serious, serious pressure now. If Lionel Messi's men were to lose tonight, an Iceland victory over Nigeria tomorrow would send them out of the World Cup.
Jun 21st 2018, 8:15 PM
58'
Jun 21st 2018, 8:19 PM
61'
Let the pictures tell you everything.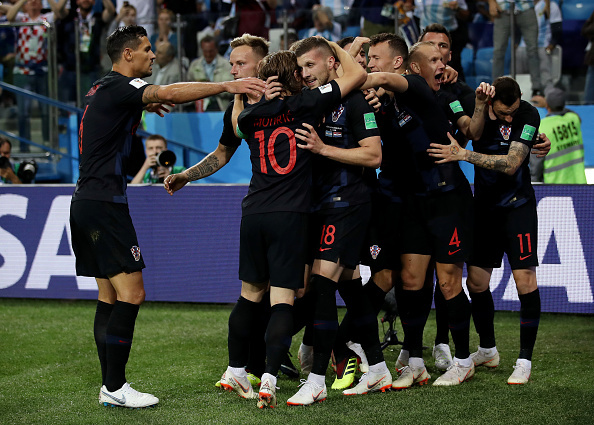 Clive Brunskill Clive Brunskill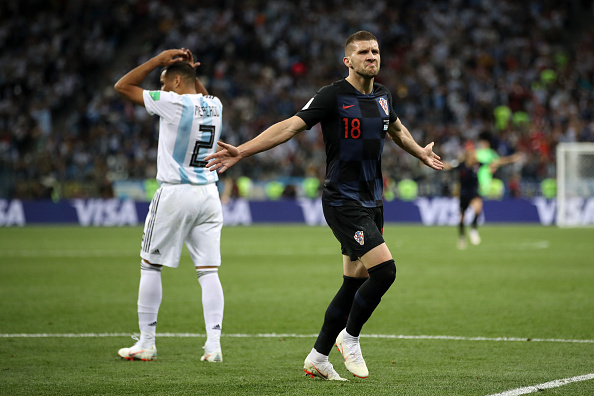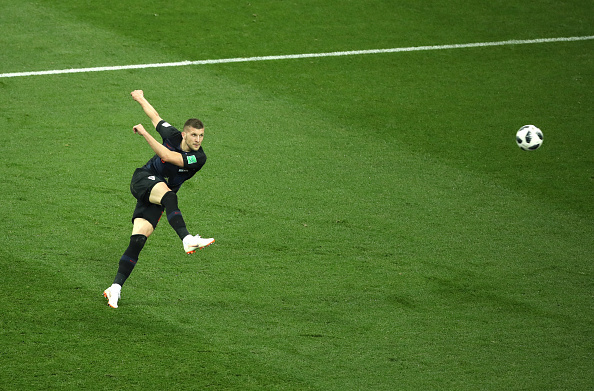 Jun 21st 2018, 8:20 PM
63'
Jun 21st 2018, 8:22 PM
64'
CHANCE! Two in quick succession for Argentina — Maximiliano Meza gets on the end of Higuain's cross at the front pot before Messi has a go, but goalkeeper Danijel Subasic managed to scoop both off the line in last ditch fashion. The tension is palpable!
Jun 21st 2018, 8:24 PM
67'
And another! This time it's at the other end as Croatia seek to double their lead. The right back Sime Vrsaljko picks out Mandzukic's untracked run inside the box — the Juventus man nicks a slight touch on the ball to force an effort on goal, but it only crashes into the side-netting. So very close.
Jun 21st 2018, 8:26 PM
68'
Jun 21st 2018, 8:27 PM
70'
Jun 21st 2018, 8:29 PM
71'
Dybala makes an immediate impact, but his strike from just inside the box curls over the crossbar. There has been a significant amount more urgency about Argentina since going behind, but they still don't look overly impressive. They seem almost desperate.
Jun 21st 2018, 8:32 PM
74'
At the other end Croatia very neatly do grab a second. Once again there is a massive gap at the back for Argentina, which Vrsaljko duly exposes with a threaded through ball down the right flank.
Mario Mandzukic tries to call for a cross in order to set up a header at the back post, but Caballero snatches possession to end the danger.
Jun 21st 2018, 8:34 PM
77'
Just 15 more minutes for Argentina to try and turn things around.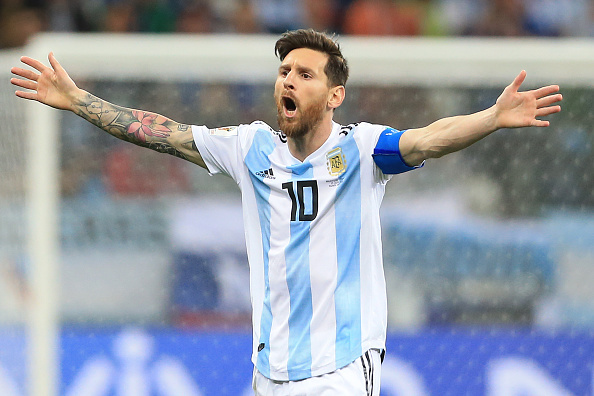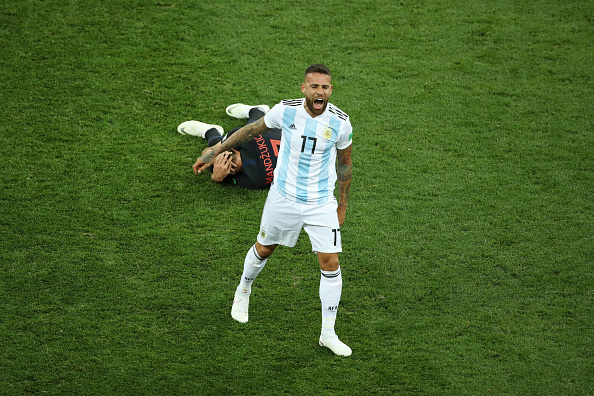 Jun 21st 2018, 8:37 PM
80'
Sampaoli's side are just sending cross after cross into the box, but there is just no cutting edge to their play in the final third at the moment. Croatia happy to play containment football with the clock running down.
Significantly, they almost look the more likely to score with a well-drilled defence and a promising counter-attack cutting Otamendi, Mercado and Tagliafico to pieces each and every time.
Jun 21st 2018, 8:38 PM
80'
GOAL! ARGENTINA 0-2 CROATIA (MODRIC 80)
Jun 21st 2018, 8:39 PM
82'
INCREDIBLE! Croatia have doubled their lead with ten minutes to go! Luka Modric twists and turns his marker 25 yards out before slamming a stunning effort flying into the back of the net. Lionel Messi looks distraught.
Jun 21st 2018, 8:41 PM
84'
A sublime strike from this man has Croatia two to the good.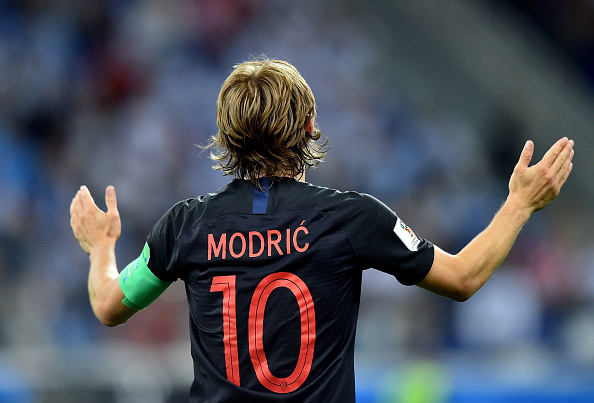 MB Media MB Media
Jun 21st 2018, 8:42 PM
85'
Argentina won't officially go out tonight even with a defeat, but if Iceland beat Nigeria tomorrow afternoon and things stay as they are here — Jorge Sampaoli's side are going home.
Jun 21st 2018, 8:44 PM
86'
CROSSBAR! Almost a third for Croatia as Ivan Rakitic curls a sublime free-kick from distance which crashes off the topmost corner of the woodwork before flying away. Goodness me.
Jun 21st 2018, 8:49 PM
91'
GOAL! ARGENTINA 0-3 CROATIA (RAKITIC 91)
Jun 21st 2018, 8:50 PM
90'+2
IT'S THREE! Croatia carve Argentina apart on the counter, Ivan Rakitic swaps possession with Mateo Kovacic before slipping the ball into an empty net as Messi's side fall apart. What an upset!
Jun 21st 2018, 8:54 PM
90'+3
FULL-TIME: ARGENTINA 0-3 CROATIA
The42 is on Instagram! Tap the button below on your phone to follow us!