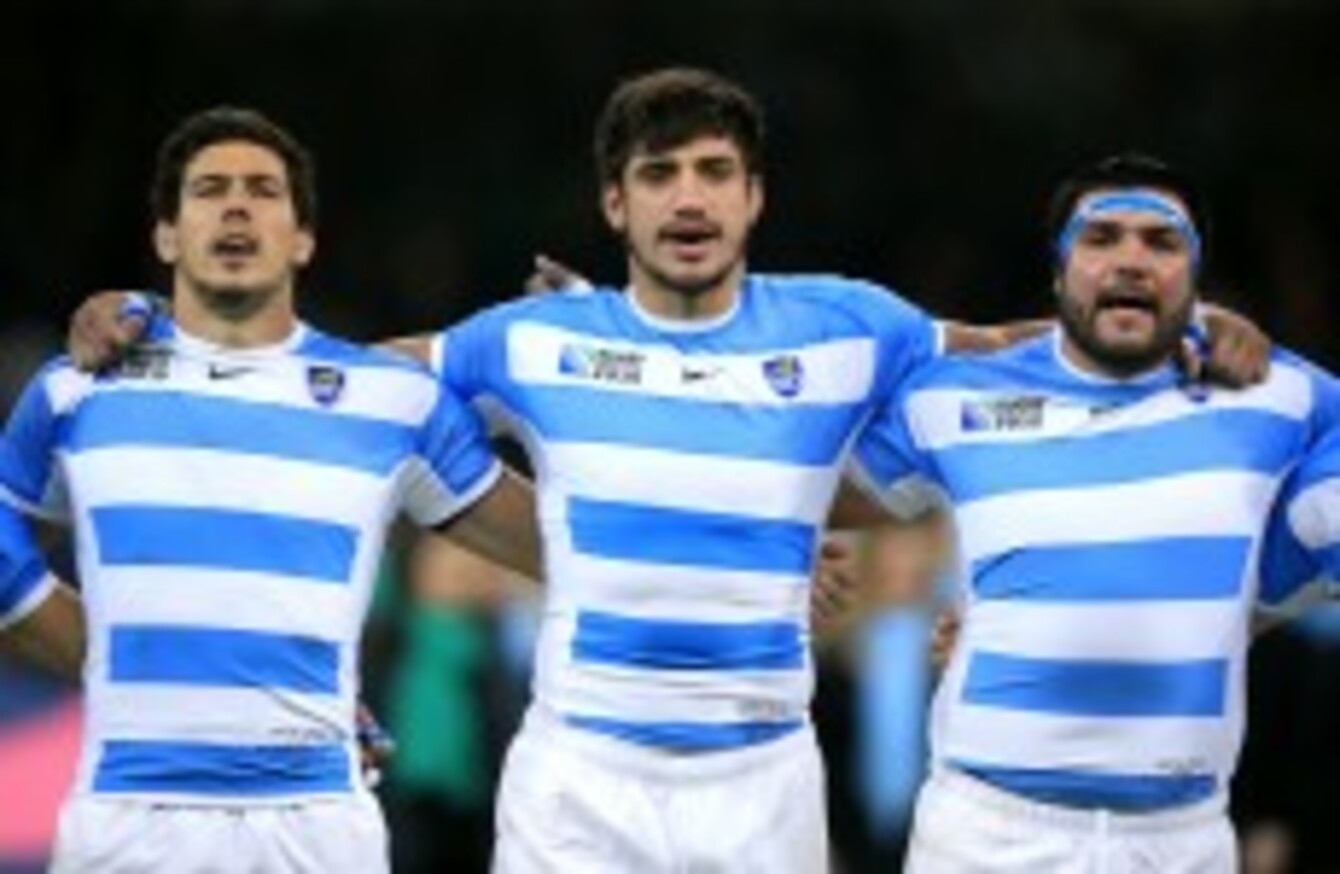 Argentina's Guido Petti, Tomas Lavanini and Ramiro Herrera.
Image: PA Archive/Press Association Images
Argentina's Guido Petti, Tomas Lavanini and Ramiro Herrera.
Image: PA Archive/Press Association Images
Rory Keane reports from Pennyhill Park
A NEW GENERATION of young and fearless Pumas have taken this World Cup by storm.
The likes of Santiago Cordero, Pablo Matera and Tomas Lavanini have provided a youthful exuberance throughout the tournament.
Coincidentally, they will all be playing for Argentina's landmark Super Rugby franchise based in Buenos Aires next summer. What a team that will be.
Lavanini and Guido Petti have formed a hugely effective locking combination for Argentina. Aged just 20 and 22 respectively, the duo look set to form the backbone of the Pumas pack for the next decade.
On Sunday, Petti, who powered over for a try during his side's 26-16 loss against the All Blacks in the pool stages, will be realising a childhood dream when he runs out at Twickenham.
When the legendary Pumas outfit of 2007 blazed a trail through the World Cup, Petti was a 13-year-old fan watching on from the stands.
The youngster watched on as Juan Martin Fernandez Lobbe, Mario Ledesma, Augustin Pichot, Felipe Contepomi and the mercurial Juan Martin Hernandez helped the Pumas secure third place during the showpiece in France.
Having marvelled at the efforts of Lobbe and Hernandez as a child, Petti is now standing side-by-side with his heroes.
"I went to that World Cup (in 2007), I was very young, I was 13 I think, so it was quite a big moment for Argentina," Petti explained.
Maybe in that moment rugby in Argentina started to have more prominence. So it was very good, very nice for us."
Petti's exponential rise through the Pumas ranks is yet another inspirational tale from this effervescent squad: "One month ago I found a photo I have from that moment in 2007, where I got a photo with Juan Martin, now I'm playing next to him.
"So we laugh a lot. It's very nice, time goes quickly, he said that to me, so it's very nice."
Argentina's attacking evolution has been fascinating to watch in recent years. Four seasons in the Rugby Championship, Graham Henry's early influence and head coach Daniel Hourcade's guidance have all been major factors.
Petti very much fits the mould of the modern Pumas lock. Like Lavanini, he retains the customary edge in the forward exchanges but the wide open areas of the rugby field hold no fear for this skilled second rower.
"It changed a lot again, maybe before we always had the defence, and maybe going forward we were very rustic," said Petti on the Puma's attacking philosophy.
"Maybe now we want the ball, we are all trying to attack with the ball, to play, play, play and be dynamic. That's how it changed a lot.
"Maybe before we were a great team in defence, but now we have more approaches with the ball and the defence stays as it was before."
Managing matters at the base of the scrum for the past few seasons has been the twin threat of Tomás Cubelli and Martin Landajo.
The talented scrum halves have similar styles on the pitch, but are very different off it. Landajo is a sparky and lively character while Cubelli is more introverted.
The pair share a great rivalry for the number nine jersey, but also a great friendship.
"I'm a little bit more serious, a bit more shy maybe," said Cubelli.
"We've played a lot of tournaments together, and even across a whole tournament we would play one game each.
It's a special rivalry for me. It's a pleasure to share and to look for a jersey with another player.
"It makes you sure that you are always at the top of your game, and that's very good.
"It's always up to the coach, this position.
"But it's great for me to compete with Martin."
Observing the Pumas during their national anthem at the Millennium Stadium last Sunday, the passion of this squad was clear to see.
For Cubelli, the emotion of the occasion proved too much prior to his side's clash with Ireland.
"It was the first time I cried," he admitted.
"It was a special moment for me, being there in the quarter-finals of the World Cup, with all the things we left behind to be part of this team.
"A lot of emotions surfaced at that moment.
"It was a special moment, a special day. I didn't control it. I hope you liked it!"
Having spent the last few weeks around the Pumas at their team bases in Cardiff and London, the contrast with some other teams competing at this tournament has been striking.
Spearheaded by their gregarious and accommodating media manager 'Rafa', access to players is never a problem. French, Spanish and English-speaking journalists are catered for at every press conference.
The whole set-up has been a breath of fresh air compared to the strict regimes of some other prominent nations at this World Cup.
It's a point not lost on Cubelli: "We are lucky to have great rugby players, but we are even more lucky to have great friends and great people.
"It maybe comes with the way we are educated in our clubs in Argentina.
Rugby in Argentina is amateur, first of all in most of the clubs you are educated as a good person, a good team-mate, and afterwards as a good player.
"Because sometimes we don't have the structures, all the coaches study the game of course but at some points we don't have the resources.
"We might not have fantastic resources but we have great human resources, that's what we have and we have to do that well.
"If we don't have that then we can't compete."
It has certainly held them in good stead at this World Cup.