YOU COULD SEE how much the win meant to him in the immediate aftermath.
With a jubilant Conor McGregor clung to his back, Artem Lobov beat his chest, punched the cage and bellowed: "You can't stop The Russian Hammer!"
The Russian-born fighter moved to within one win of a UFC debut earlier this week when he defeated Chris Gruetzemacher via KO in the second round of their quarter-final on the latest episode of The Ultimate Fighter.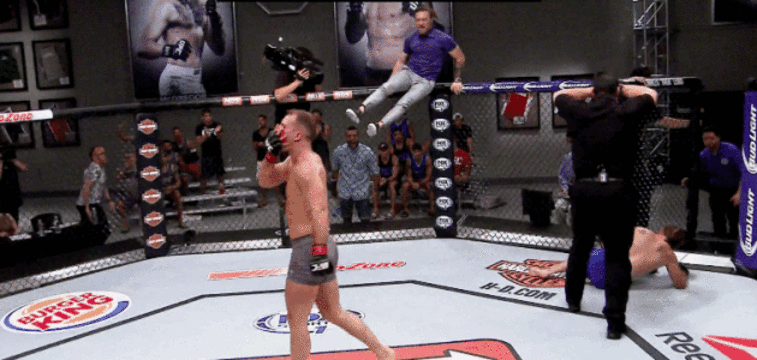 Ultimate Fighting Championship Ultimate Fighting Championship
His emotional celebration was an expression of joy, relief and pure satisfaction, but it was also a message to those watching — particularly the UFC. For a long time, Lobov has been trying to convince them that he's worthy of a place in MMA's leading organisation. Following two impressive stoppage wins on TUF 22, the message was clear: I told you so.
Lobov's name and face have become more recognisable to mixed martial arts fans around the world recently. Now, however, he's finally earning a reputation as more than just Conor McGregor's main sparring partner.
Having taken just over four minutes to dispose of James Jenkins in the previous round, Lobov has emerged as one of the favourites for a tournament which rewards the winner with a UFC contract.
His semi-final opponent has yet to be determined, but if he's victorious, Lobov will fight at the TUF 22 Finale — which will be headlined by Chad Mendes versus Frankie Edgar — at The Cosmopolitan in Las Vegas on 11 December — the night before Conor McGregor faces Jose Aldo down the road at the MGM Grand.
Finally competing in the UFC octagon would represent the culmination of a long journey for the 29-year-old, who has lived in Dublin for 12 years and now holds an Irish passport. There were times when he could have taken a shortcut but that was never an option.
"During that journey I never really knew if I was going to make it or not," Lobov told The42. "I just kept doing it because I love it. I still do. I love fighting and that's always been my primary reason for doing it. When I started in MMA, I never thought there would be a career in it."
Dolly Clew Artem Lobov Dolly Clew
Lobov had a good job with Bank of America and progressing along that path was his priority. With a masters degree in finance already to his name, he was in the process of doing his CFA (Chartered Financial Analyst) exams when the success of one of his team-mates convinced him to abandon his aspirations for a career in banking.

Conor McGregor counts Lobov as his main sparring partner and a key member of his team. McGregor's achievements in MMA have been unprecedented for an Irishman. When Lobov saw that earning a successful living in the sport had become tangible, he quit his job and followed in McGregor's footsteps. His friend and sparring partner helped him along the way.
"I could see the success Conor was having so I thought there may be an opportunity for me to make this my job," Lobov said. "To keep fighting, doing what I love, but do it for a living. That's when I started to take it a little bit more seriously. Up until then it was just a hobby."
The problem for Lobov at this point was that his record boasted an equal ratio of losses to wins. UFC matchmaker Sean Shelby was interested but the numbers on his resumé weren't attractive. Put together a win streak and we'll find a place for you, Lobov was told.
He could have polished up his record by taking easy fights against weak opponents but that went against Lobov's entire philosophy. What motivated him about the sport was the challenge. Other fighters may have been overtaking him by following the easy route, but to do so would have rendered Lobov a hypocrite.
"You always hear fighters saying the same things: 'I want to fight the best opponents, I'll fight anyone, I love to challenge myself'. But when you look at their records it's like, hold on a second, you say all those things but you never actually do that. You never challenge yourself by fighting a guy who could potentially beat you. You're not fighting the best guys out there," Lobov explained.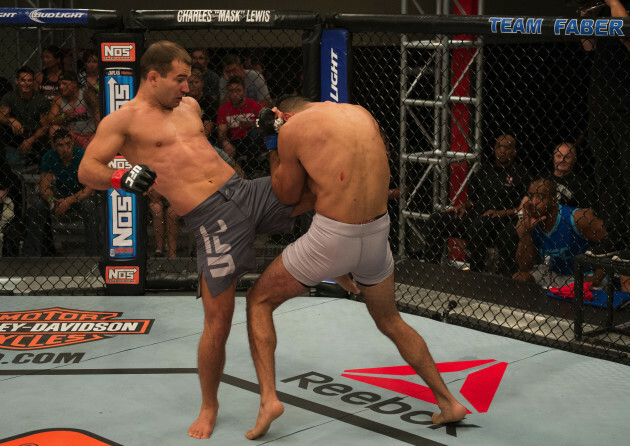 Ultimate Fighting Championship Artem Lobov lands a knee against Mehdi Baghdad during his opening bout on The Ultimate Fighter. Ultimate Fighting Championship
"Everybody says it but it seems that I was one of the few who actually did it. Because when I said it, I meant it. I wanted the challenge. I wanted to test myself. I wanted to see what fighting is really all about. When you step in there against somebody you know you're going to beat, that's not a fight. That's a beatdown. That's not why I love this sport."
Lobov accepted Sean Shelby's challenge but he did so on his own terms. He refused to abandon his 'anyone, anywhere, anytime' ethos. His head coach at Straight Blast Gym, John Kavanagh, was happy for Lobov to stay true to his values but his carefree and fearless approach to fighting still required some management.
Kavanagh: "He's had an incredible amount of fights in a very short period of time. I've lost count of the number of times he's approached me on random Mondays and said, 'Coach, I've taken a last-minute fight' and then a few days later he's off to Poland or somewhere and moving up two weight classes to fight some guy he knows nothing about.
"I'd keep asking him to let me plan that side of things but he's just a very unique character in that respect, so I've sort of allowed him to carve his own path like that.
"But unfortunately you're punished in this sport for that kind of attitude; if you take the toughest fights available and end up with a few close decision losses, you're overlooked in favour of guys who have been more selective about their opponents because the numbers on your record seem to be the UFC's priority in their selection criteria.
"If your record is 10-0, the calibre of guys you've beaten doesn't matter, because you're still going to get in ahead of a guy like Artem, who's 11-10. But look at who he's beaten and how he lost the fights he lost to get a clearer picture of the reality of the situation."
For fans whose interest in mixed martial arts doesn't extend beyond the UFC, some of the names on Lobov's record might not mean much. However, most of his opponents have been among the elite on the European circuit. Wins over the likes of Dave Hill, Shay Walsh and Martin Svensson will explain why, for a long time, Lobov was nicknamed 'The Prospect Killer'.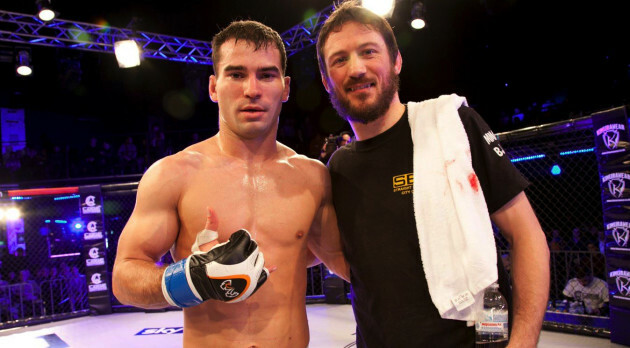 Dolly Clew Artem Lobov and John Kavanagh. Dolly Clew
As a fighter, Lobov is by no means the finished article. In fact, it's still very much early days in his development. He was 21 when he spotted a poster which was advertising self-defence classes on the Dublin City University campus. At that point, Lobov had never even thought about martial arts, let alone train in it.
Yesterday — 27 November — marked exactly five years since his professional debut; the first of 23 fights in just over four years — hence such a long journey in a short space of time. He was finished twice in his first 10 months, but since then Lobov has been stopped just once — by current Cage Warriors champion Alex Enlund — in 18 outings.
Exclusive Six
Nations Analysis
Get Murray Kinsella's exclusive analysis of Ireland's Six Nations campaign this spring
Become a Member
But 2015 has been geared entirely towards The Ultimate Fighter and Lobov's bid to make his name on the back of his own achievements. While he still has holes in his game which need to be filled in, his TUF experience has illustrated that he's ready for the top tier nevertheless.
Now, Lobov is eager to for the chance to prove that while being protective of your record may be a successful approach in the short-term, you'll eventually be exposed when the time comes to compete on the biggest stage in the world. Conversely, he's adamant that having been faced with a high calibre of opponents throughout his career, the transition from one level to the next becomes seamless.
"I want to open up the eyes of the fans because ultimately they're the ones who dictate how it should be. Right now, the UFC will let anyone with a good record in, no matter how padded that record is," Lobov said.
"But if the fans realise what's going on and what's happening, then I think the UFC will have no choice but to respect the opinions of the fans. It's going to be my job to educate the fans on what is actually happening in the sport of mixed martial arts, and what is happening with all this padding of records."
Assessing Lobov's pair of victories on The Ultimate Fighter, it's difficult to argue with his point. James Jenkins and Chris Gruetzemacher are 8-1 and 12-1 respectively, but their pursuit of a place in the UFC was derailed by a man who is just as familiar with the bitterness of defeat as he is the sweet taste of victory.
Lobov: "That shows that the numbers on the records don't always tell the full story. You have to look beyond the numbers. When I'm in the UFC, I'm going to introduce 'real records'.
"What I'm doing to do with some of the guys who get into the UFC is remove all their fake wins — fights that they took just to boost their numbers — and I'll leave their real fights. I've done that for fun before and then the records look very, very different. You find that a guy who's 12-2 suddenly becomes 2-2. That'll show people who the genuine fighters are."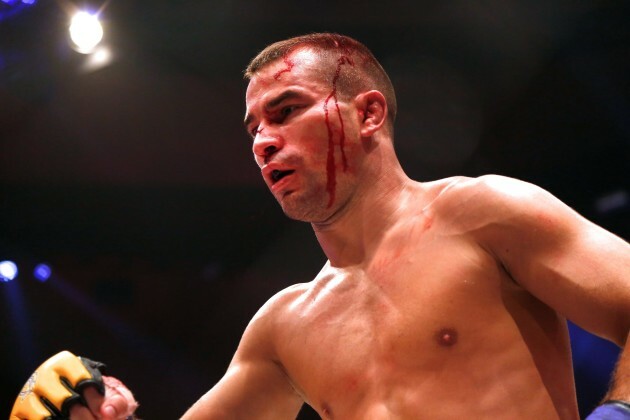 Dolly Clew Artem Lobov Dolly Clew
Of course, Lobov wouldn't have made it this far without a significant stroke of good fortune. He lost his opening bout on The Ultimate Fighter — by a very close decision, as usual — but wasn't eliminated after UFC president Dana White amended the rules to allow each coach to retain one defeated fighter. Unsurprisingly, Team Europe coach Conor McGregor handed the wildcard spot to Lobov.
But when Lobov's admirable approach to his career is taken into account, that helpful boost was perhaps no more than he deserved. He has certainly capitalised on the opportunity too, proving that he belongs in the latter stages of the competition and becoming a fan-favourite on this season of the long-running reality TV show.
If and when Lobov makes it to the UFC — and you'd be brave to bet against him doing so at this stage — sometimes he'll win, sometimes he'll lose, but every time he'll give the viewers value for money.
And in an organisation where an athlete's ability to entertain eclipses all other requirements, that characterisitc could ensure that Lobov's journey is only just beginning.