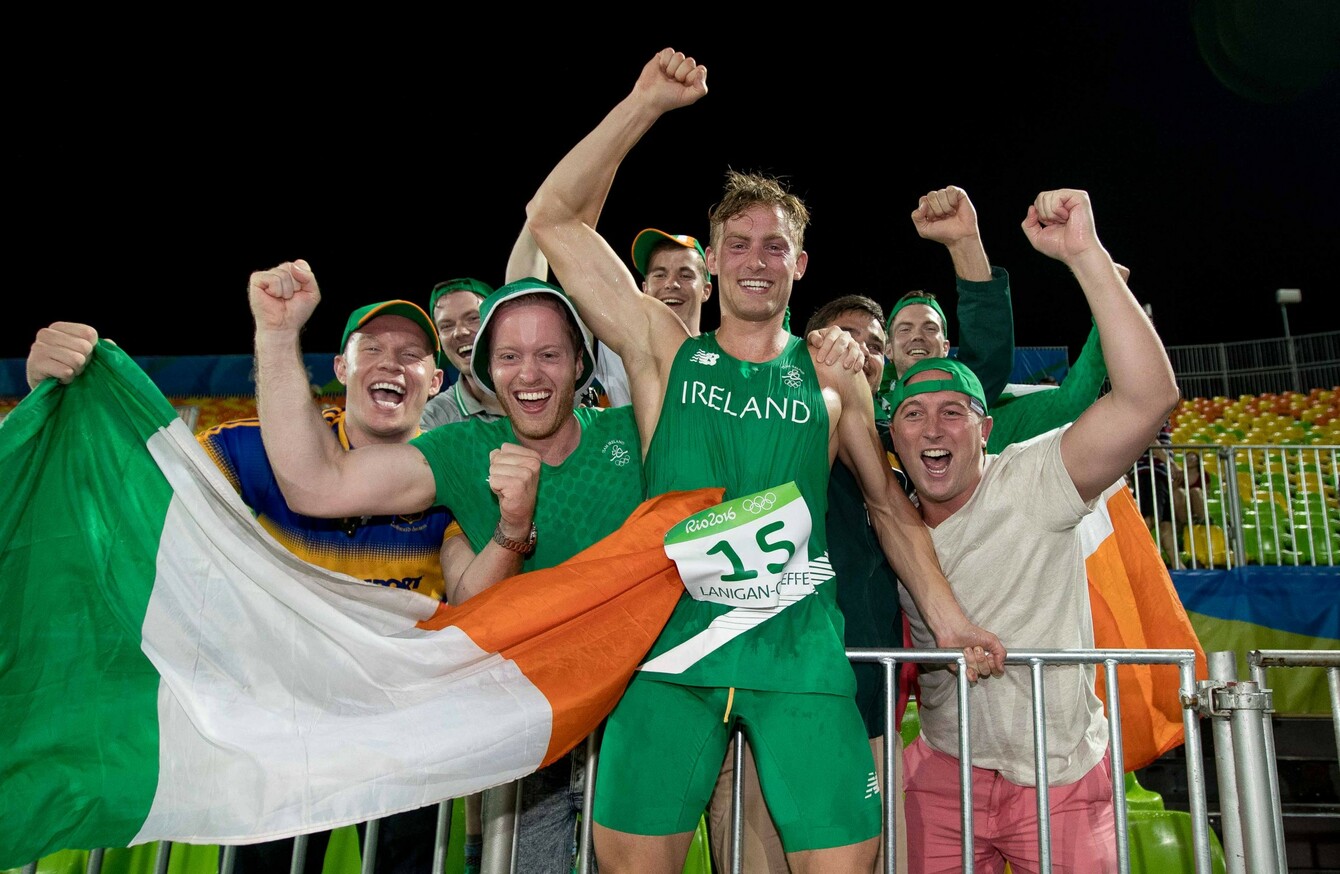 Ireland's Arthur Lanigan-O'Keeffe celebrates his eighth-placed finish with supporters.
Ireland's Arthur Lanigan-O'Keeffe celebrates his eighth-placed finish with supporters.
IT WAS THE London Olympic Games in 2012 when Arthur Lanigan-O'Keeffe first came on the radar of most Irish sports fans, and the modern pentathlete admits now that he was somewhat ill-prepared for the experience.
Just 20 at the time, Lanigan-O'Keeffe only learned of his qualification at the last minute, after it emerged that Poland's Lukaz Klekot had tested positive for methylhexanamine, a banned substance.
Lanigan-O'Keeffe's lack of time to get ready as well as his inexperience meant London 2012 was always going to be an uphill task. Yet he finished 25th out of 36 competitors — a respectable performance given the circumstances.
The experience gave him plenty of confidence, but on reflection, Lanigan-O'Keeffe feels he should have done things differently thereafter.
The last time I finished the Olympics, I thought: 'God, this is great,'" he tells The42. "Then I went to the Junior Worlds and got a medal and thought 'I'm going to train even harder' and my motivation levels went through the moon.
"But then I got to the end of that year and was burnt out emotionally. The media go away and suddenly, you realise you've got three long hard years before you do it again.
I had a moment where I was considering walking away from sport."
After getting over his post-London 2012 "blues," Lanigan-O'Keeffe was ready to go again.
And by the time Rio 2016 came around, he was no longer happy just to be at the Olympics. In fact, in the lead up to the Games, he made no secret of his belief that a gold medal was possible.
Last May, the Kilkenny-born athlete experienced what he describes as one of his two highlights of 2016 — winning World Cup gold with fellow Irish star Natalya Coyle, with the duo receiving the ideal confidence boost ahead of the main event the following August.
Yet in one instant, the feel-good factor swiftly diminished, as disaster struck. A poor performance in his first event at Rio 2016, the fencing, left Lanigan-O'Keeffe reeling.
Having competed in the fencing on the Thursday, the other four activities (swimming, bonus-round fencing, riding and combined running/shooting) did not take place until the Saturday. The many painstaking hours in this interlude were the longest of Lanigan-O'Keeffe's sporting life.
When I finished the fencing event, I knew — because I was 70 seconds off the leader — that my chances of a medal were gone.
"I needed to readjust my goals from first place and was thinking it might be possible to get 10th. These guys were strong though, so I didn't know.
I spent two days afterwards trying to control my emotions and saying 'it's not over yet'. Obviously, I was crushed by the fact that it wasn't what I believed I could have done.
"So that waiting period was really difficult for me. Then, when I got going the next day, I didn't swim as well as I wanted. I was thinking: 'Oh god, I've got this wrong.' I thought: 'This isn't going well.' I dropped down to 26th and thought: 'Jeez, what's going on here?' But something happened and my training started to pay off."
So did the early failure take the pressure off to a degree, given that he arguably had nothing to lose anymore?
In my head, it put a lot more pressure on me. It wasn't: 'Oh yeah, you're going to finish well.' It was: 'Jesus, you really need to perform now to make it even respectable.'"
Having begun in such underwhelming fashion, Lanigan-O'Keeffe produced a gutsy display to come eighth in Rio ultimately. Buoyed by a crowd that featured a number of his friends and family, the 24-year-old star finished on a high and recovered from his nightmare opening.
When I went into the combined 15th, I had all my friends around," he recalls. "I was passing people and passing people. Me and the guy who won in London were battling it out.
"Then it started to become Rio, because I remember watching back the videos of London, looking at this guy, (Czech athlete) David Svoboda, and idolising him. I was miles behind this guy last time. And then you fast forward four years — I caught him and passed him out in the combined, and then finished higher than I ever thought I would have.
I turned around the corner and saw all the guys finishing for the medals. I thought: 'If I can do this on a bad day…' It was a special moment when I crossed the line. It was a good result to turn around from and look at my family."
Pictures from the event's climax show a smiling Lanigan-O'Keeffe celebrating with Irish fans. On reflection, however, there remains a sense of regret about his opening-day performance, prompting the Irish star to describe the eventual outcome as "bittersweet".
Despite finishing ahead of four of the top-five ranked modern pentathletes in the world, and notwithstanding the fact that he out-performed the Olympic champion in every event bar the fencing, there is a lingering sense of frustration evident in Lanigan-O'Keeffe's recollections of Rio.
I wasn't there to come eighth, I was there to win," he says. "I'm not going to be delighted with it, but I'm still proud of what I achieved.
"I state with pride when people ask me where I finished. But it wasn't my ultimate goal and I'm going back to achieve that (in the Tokyo 2020 Games)."
Naturally, Lanigan-O'Keeffe will be devoting a considerable portion of his time over the next four years to the final "piece to the puzzle," fencing, as he bids to improve in this area of the sport.
Lanigan-O'Keeffe has also learned from his mistakes post-London 2012. Having taken a year off, the Irish Olympian intends to finish his college degree (Sports and Exercise management in UCD) over the next 12 months, thereby giving himself three full years subsequently to focus solely on training for the 2020 Olympics.
It fits in with the whole plan of the four years — that I take a little bit of a down year this year and then progress on," he explains.
"It's almost forcing me to not go crazy into training. Because if I had nothing else to do, I'd definitely do that.
It's a way of ensuring that I don't make the same mistakes I made last time."
What are they
really like?
Rare insights on sport's biggest names from the writers who know them best. Listen to Behind the Lines podcast.
Become a Member
Speaking to The42 a few days before Christmas, he describes how he will allow himself some leeway this year in terms of relaxation, without intending to take his foot off the pedal entirely
Now that I'm finished loads of exam work, all I want to do is get out and train. I've already finished three sessions today and I'll probably see if I can do another one.
"(Competing is) for enjoyment now. I feel like I've had my mental time as a break. It won't be as crazy as it was last year. I'll be having dessert with Christmas dinner — that sounds so bleak — and a few glasses of wine, whereas last time, it was mad focus mode."
And while 2017 is as close as it is possible to get to a year off for a top-level athlete such as Lanigan-O'Keeffe, there are still competitions to be won, including the World Cup in May, and the Worlds and Europeans later in the summer.
I'm going over with the aim to be competitive. But I'm just going to go into the competitions knowing that I probably won't be one of the best in the world this year.
"If I come away with a medal or two, that'd be great. But I'm not going to beat myself up over it if I don't come back with one, because I'll know that I haven't put in the work required in order to be at the very top level.
I suppose this year is a year that a lot of (rivals) do that as well, so it might end up that I do come in with a chance of winning a medal, because a lot of people take the same approach post-Olympics.
"It'll really be the people who didn't qualify for the Olympics who are pushing on this year to take advantage of the fact that it's a slightly easier year in the grand scheme of things."
As our conversation draws to a close, Lanigan-O'Keeffe returns to the subject that he has undoubtedly spent many hours obsessing over — his "lowest moment of 2016," the fencing debacle in Rio. Yet in contrast with the disillusioned, mentally-drained individual of around this time four years ago, O'Keeffe is now "in a good place" and seemingly at peace with the mistakes of his past — a state of mind he attributes, more than anything else, to his loyal band of supporters.
In that short space of time (after the opening day of fencing), I had to re-set goals that I had for years to something else, and just be okay with that and stay motivated.
"I was trying to make sure that I didn't give up and got a few really cool messages from people, which lifted me.
If it wasn't for everyone's support during those few days, it could have gone the other way. That period was quite dark but the light side way outweighs those tough periods, and those tough periods are only going to help define what happens in future. So I'm glad they happened, because I'll be stronger for them."

The42 is on Instagram! Tap the button below on your phone to follow us!