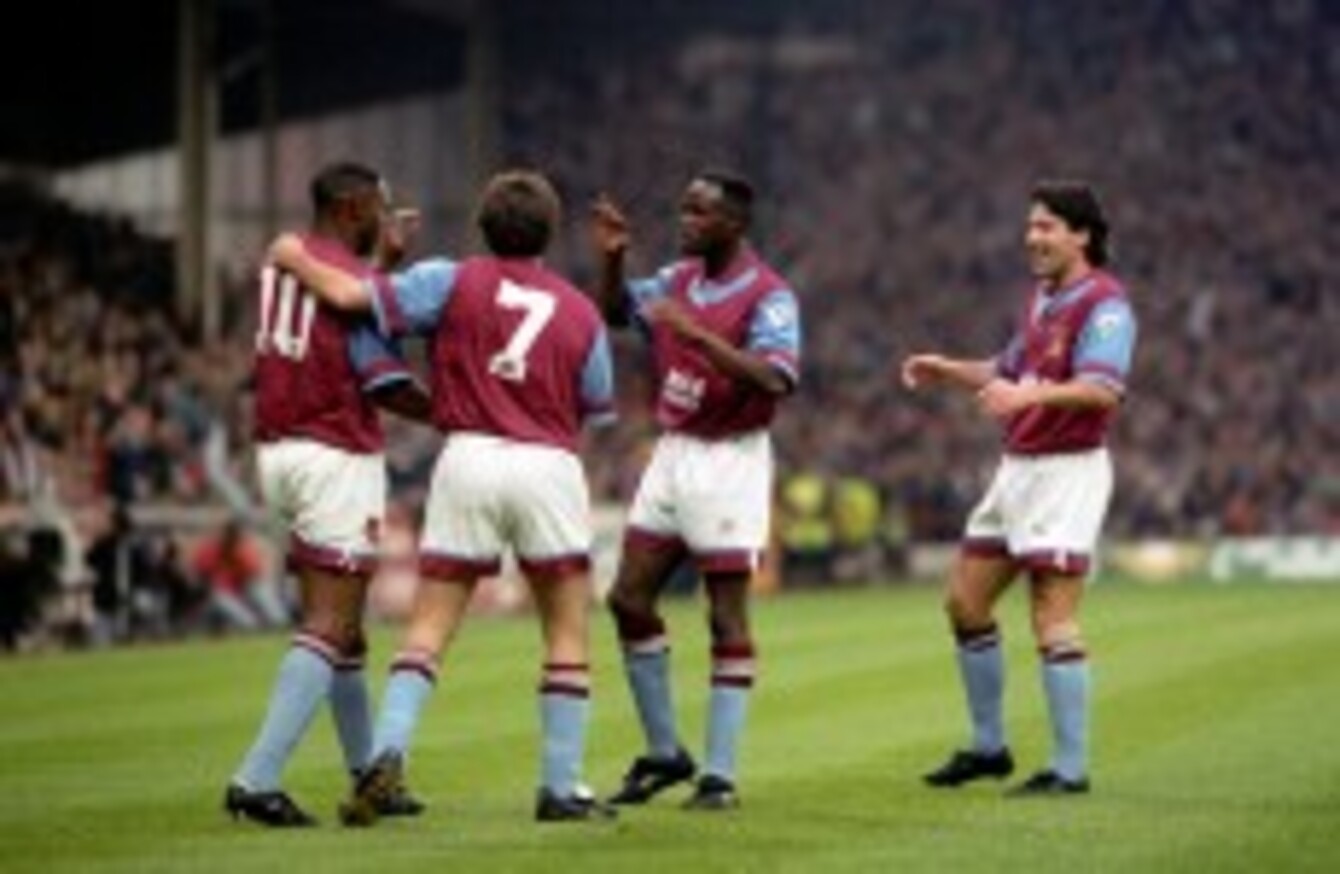 Image: Graham Chadwick/EMPICS Sport
Image: Graham Chadwick/EMPICS Sport
This article was originally published on 15th August 2015
AS THE 1993 run-in reached its crescendo, Aston Villa boss Ron Atkinson questioned whether title rivals Manchester United had the 'bottle' to challenge for the championship.
Twelve months before, he argued, they failed when it mattered most and allowed Leeds United win the First Division.
Now, in a three-way battle for the crown, Atkinson was predicting another United collapse.
Inevitably, the mind games failed miserably.
In the end, United won the title without even kicking a ball.
And it all had started so brightly for the Midlands club.
"If he hadn't got injured I think we would have won the league."
The previous season, Atkinson steered Villa to a seventh-placed finish in his first as manager – a huge improvement on the bleakness of Jozef Venglos' final days. And when Villa signed Dean Saunders from Liverpool in September 1992 and partnered him with Dalian Atkinson, the side exploded to life.
Dalian was an interesting case. He had played for his namesake boss before – at Sheffield Wednesday – before being shipped off to Spain and Real Sociedad in 1990, where he was a team-mate of John Aldridge and Kevin Richardson. All three returned to England in the summer of 1991 with Atkinson and Richardson both signing for Villa.
But if Atkinson's debut campaign was disappointing (just one goal in fourteen appearances), he more than made up for it second time around.
In Villa's first three Premier League games, Atkinson scored three times but it was Saunders' arrival on 9th September that really signalled the start of the club's purple patch.
Villa spent a club record of £2.5m on the Welshman when they signed him from Liverpool and he didn't disappoint.
10 days after arriving, he scored twice against his former employers at Villa Park in a resounding 4-2 win with Atkinson also on the score-sheet (in a game that featured that inexplicable and infamous miss from Ronny Rosenthal). The pair gelled instantly and remarkably.
The following week, against Middlesbrough, they repeated the trick. Saunders grabbed another brace and Atkinson scored too in a 3-2 victory. Seven days later, there was an away tie with Wimbledon. Saunders netted twice inside the first half an hour but it was Atkinson that stole the headlines with an audacious strike.
Source: eljaygee82/YouTube
Picking up the ball in his own half, he beat two players (the same player twice) as he rampaged towards goal. Saunders pulled wide in support but as he neared the edge of the area, he delicately and effortlessly sent a subtle, delightful chip over the despairing dive of Hans Segers. For a physically imposing figure, the finish was completely unexpected. A sure sign of a player riding a tidal wave of confidence.
Speaking years later, Ron Atkinson spoke in exalted terms about the goal.
He scored spectacular goals. He didn't get many tap-ins. I think that one against Wimbledon is the one everybody remembers him for, though. If that goal had been scored at the Emirates or Old Trafford they would start every sports programme with it. It it up there with the top 10 Premier League goals ever scored."
In the first eighteen games of the season, Atkinson scored eleven times. Eight of those came after Saunders was signed. Saunders himself wasn't doing badly either and was close to double-figures with Christmas approaching.
There was a 1-0 win over Manchester United with Atkinson netting the winner, expertly taking a pass into his stride and tucking it neatly to the bottom corner. The, after a brief stumble against title pretenders Norwich, Atkinson grabbed two against Sheffield Wednesday.
And then, Atkinson picked up a stomach injury and Villa's season began to slowly unravel.
"He picked up a muscle injury it kept him out for two-and-a-half to three months", said his former manager.
If he hadn't got injured I think we would have won the league because him and Dean were the best strikeforce in the Premier League."
For a while though, it was business as usual and Villa kept winning. There was a humbling 3-0 loss to Coventry on Boxing Day but then a superb run of four straight wins.
Saunders grabbed the winner at home to Arsenal before returning to Anfield and doing likewise in a 2-1 come-from-behind win. Villa were showing character and grinding out a litany of impressive results.
In the following two fixtures, they racked up an aggregate score of 8-2 against Middlesbrough and Sheffield United respectively but, unsurprisingly, they eventually began to struggle in front of goal. Saunders had carried the side for a long time and when he began to suffer, those around him couldn't step up consistently. Between the first week of February and middle of April, he managed just two goals.
And, most annoyingly of all, despite their solid form, Manchester United and Norwich were alongside them as the final straight approached.
In mid-March, the teams faced each other at Old Trafford and it was billed as the championship decider. After a scoreless first half, Steve Staunton stepped up shortly after the restart and scored with a delicious left-foot curler.
Source: Counce79/YouTube
But United hit back instantly with Mark Hughes sending a powerful close-range header past Mark Bosnich after Eric Cantona teed him up and the game finished 1-1.
'Big fat Ron, big fat Ron – is it true your bottle's gone?' 
But Villa were dropping points. The United result felt like a defeat, especially considering they had been held scoreless by Spurs the week before.
Next, they lost a crucial clash with Norwich a fortnight later at Carrow Road with John Polston breaking Villa hearts by netting the winner with ten minutes to go.
Still, they stumbled towards the finish line but there was no momentum. And no goals. The peerless Paul McGrath, who would finish the season as the PFA Player of the Year, grabbed the game-winner against Nottingham Forest.
The following evening though, United obliterated Norwich 3-1 at Carrow Road, scoring all three goals inside a thrilling opening 21 minutes. It was a firm statement of intent. They were pulling away. This time, they had the bottle.
And soon, the United fans gleefully began to sing.
"Big fat Ron, big fat Ron – is it true your bottle's gone?"
A week later, Villa were held by Coventry. That was the afternoon when Steve Bruce scored in the 86th and 96th minute to give United a 2-1 win against Sheffield Wednesday. The win put them top and they remained there.
To rub salt in the wounds, United were declared champions when Villa lost at home to Oldham in the penultimate game of the season.
The following year, there was some silverware and revenge for Atkinson and his team when they beat United in the League Cup final at Wembley, destroying their treble dreams in the process.
Fittingly, Saunders scored twice while Atkinson was also on the score-sheet. As good as it was to win a trophy, there was plenty of regret too about the league title that got away.