AT THE HEART of Athlone Town's historic Women's FAI Cup success lies an American dream team.
Dana Scheriff, Madie Gibson, Jesi Rossman and Lauren Karabin all played central roles for the Midlanders in Sunday's dramatic decider win over Shelbourne.
Golden Boot winner Scheriff opened the scoring in the 33rd minute, with Gibson a constant threat. Rossman scored the winning penalty in the shootout, while fellow mid-season arrival Karabin also boosted Ciarán Kilduff's charges in the XI.
The quartet all played together at New Jersey's Monmouth University, with Scheriff the first to land in Ireland's Midlands. She joined The Town in 2021, with the help of an agent, after balancing football with her studies in England and Iceland.
Gibson soon followed suit. "Dana was basically the reason why I came over here," she explained amidst the celebrations.
"I'm super happy that she thought of me when she was looking for another forward to come and play on the team. I'm delighted that me and her get to play again together – and now we've won a cup!
"We won four Conference Championships in college together so we wanted to win one together here. Me, her, Jesi and Lauren all play so well together because we played in college. That's definitely a plus that we have on the team right now."
Rossman, who hails from Florida, joined during the summer as new manager Kilduff bolstered his squad. Her parents, brother and uncle were present at Tallaght Stadium on Sunday amidst a flying visit, as the versatile defender lined out in her biggest game yet.
"I've never played in front of this many people! It was such a fun environment to be in. This doesn't compare [to college football]. We had games with a lot of fans and a lot of people in the stands but nothing in a stadium like this.
"It's nice to be back with Madi, Dana and Lauren. We have a good chemistry, it's been fun to play with them again."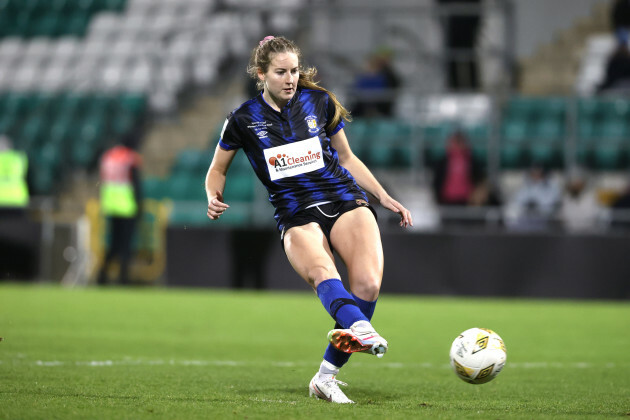 Bryan Keane / INPHO Jessi Rosman scoring her penalty. Bryan Keane / INPHO / INPHO
The US influence is something captain Laurie Ryan has waxed lyrical about time and time again. Their impact really has been central to Athlone's rise, and she was keen to highlight that once again in the wake of their cup final glory.
"It's funny, they're over from America, but I consider them locals because they live in Athlone! Whenever I want to go for a coffee, they're the ones that I get on to. They're immersed in the club, they're there full-time. They're always floating around. All their families have come over and visited.
"Dana probably is the prime example of someone who stuck with the club after being injured all last year, sitting on the sidelines watching on. For her to come back and do what she's done this year is really special.
"I think the fact that they have that bond from college, the four girls played together previous. That's massive and that's really special for them. It has been great and it can only strengthen the league."
The influx of overseas players to the Women's Premier Division has been striking this season. As well as Athlone, there are sizeable cohorts at Shelbourne and Treaty United, in particular.
Maggie Pierce and Christie Gray were in the Shels XI yesterday, and they're but two other examples. Goalkeeper Anne-Marie Ulliac is one of several Canadians at Treaty United, and she explained to The 42 why so many North American players are coming to Ireland to play football earlier this year.
For Ryan and Athlone, it's a welcome trend.
"The quality of player that we have in those Americans is top-class," the skipper concluded.
"It's not like we're bringing over people just to make up numbers. It probably suits Athlone because we're a little bit outside the capital. Getting girls to travel isn't always easy. We're trying to utilise what we have. Between that and the college, we're looking to make the most of it."