IS 2015 GOING to be the year where you go on some completely different, random, challenging and inspiring adventure?
Are you tired of the Park Runs and the five and 10ks on flat roads that are over all too quickly?
Why don't you think a little more outside the box, way outside the box, in fact, and try something utterly crazy? Like the Absa Cape Epic in South Africa?
1. Rovaniemi 150 Arctic Winter Race
When: 20-22 ebruary 2015
The best adventures can often be the ones we're studied the least and know next to nothing about. Hands up those of you who have heard of this 150-kilometre race through Lapland that takes place every February?
You can complete it on foot, by bike or by ski but you must complete it within the allotted time frame of 42 hours. Given it takes place in the Finnish winter temperatures will be well below freezing but that's just one of your concerns.
Others, in no particular order, include; where will you sleep? What do you need to take with you? What will you eat? How many hours of brightness are there?
You can fly London Stansted to Finland for around €80 return that weekend and the race's base is two and a half hours away (by train) up towards the north of the country.
Entry is €250, you cannot defecate on the trail – you must go as far off it as possible (do this at your peril) and the best bit?? First prize is "a little souvenir and a free entry for the next time you compete".
Sure, what's the worst that can happen?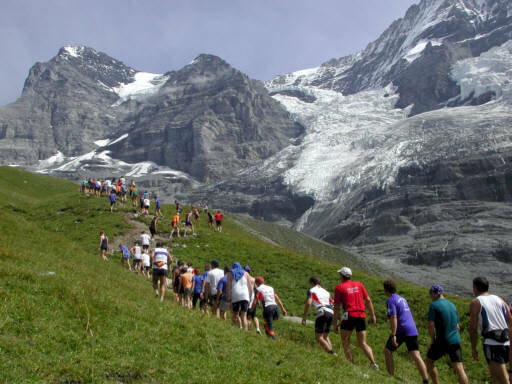 2) The Jungfrau Mountain Marathon in Switzerland
When: 11-12 September 2015
You know it's going to be fairly serious stuff when there's a fine incurred by those who get lost and require assistance in being found.  It's a marathon, yes, but with a difference, namely the altitude and the terrain.
After the start (in Interlaken) the course goes along by a lake (Breinz) for 10 flat kiloemtres. But then the climbing starts and well, hardly stops for the remaining 32 kilometres. The course goes further into a valley and flanks 400 metre high cliffs and a whopping 72 waterfalls. From there you'll climb 1,274 metres above sea level but there are still 12 kilometres and an altitude and difference of 1,000 metres to go…
Vegetation will become scarce and the impressive mountains Eiger, Mönch and Jungfrau get nearer and nearer. You'll reach 1600 metres by kilometre 40 but the good news is the last kilometre to the finish at Kleine Scheidegg falls. As will you, most likely….
Direct flights from Dublin to Basel for €72 return. Basel is 90 minutes' drive from the startline…
3. Absa Cape Epic
When: 15-22 March, 2015
Loving the bike and searching for a new overseas adventure? Well why not join the growing legion of Irish people who rock up to South Africa every March for this beast of a race?
The Absa Cape Epic is as demanding as it is exhilarating and during the 700 or so kilometres you'll race (with a partner) you'll complete eight stages, racing against elite professional mountain bikers from around the world.
You need to be in mean shape to complete this event – we should add.
A few things before you book those flights.
The race course changes every year, riders have been attacked by animals in the past, competitors have had BAD crashes and spent weeks in hospital recovering, dehydration is a real threat and so is tiredness. But that's part of the appeal, isn't it?
Exclusive Six
Nations Analysis
Get Murray Kinsella's exclusive analysis of Ireland's Six Nations campaign this spring
Become a Member
Oh and to qualify for a finish, teams have to stay together for the duration of the race. So no fighting with your teammate, okay?
4. Himalayan 100-mile stage race
Pa images Pa images
When: 30 October to 5 November, 2015
Taking place over five days in the foothills of the Himalayas in the eastern corner of India, on or near (depending on the stage) the border of Nepal this race will be in its 14th year in 2015.
During the race, views of Mt. Everest, Lhotse, Makalu, and Kanchenjunga (4 of 5 of the world's highest peaks) are visible and regardless of your level of you can run at your own pace. There are no age limits or stage cut-off times but be aware that the five daily stages are 24, 20, 26, 13 and 17 miles long.
Each night you sleep in unheated huts and, eat communally with participants who come from all parts of the world.
Bring your own food if you don't like the sound of yak milk….
When: 28 June – 4 July
With adventure racing exploding in Ireland, why not test yourself on the continent against the world's best with a week racing your mountain bike across the Pyrenees?
Held over seven stages and covering over 500 miles it's not for the feint-hearted. Oh, and you'll climb 60,000 feet too – 17 times the height of Ireland's highest point, so better do some training.
The race course avoids roads as much as possible, incorporates savagely tough climbs, technical sections, and small local roads when necessary. And though all the medical assistance in the world is included in the €745 registration fee should you require it, accommodation isn't.
But the memories will be priceless, won't they?