THE FIRST THING that strikes you when you chat to Barry Venison is how, after almost 14 years of living in California, his accent remains as thick as ever.
It's that unmistakable, infectious Geordie lilt.
"I am who I am so the accent stays the same", he says.
"I don't think you're allowed back in the north-east if you lose it – they'd never forgive me".
Venison is a cult Premier League figure, best-known for his exuberant, hair-metal blonde mullet that he still proudly rocked well into the heavy fringe Britpop heyday of the mid-1990s.
But, he's much more than a haircut.
An England underage international while at Sunderland, he captained the club in the 1985 League Cup final against Norwich when he was just 20 years old. The following season, Kenny Dalglish rated him so highly that he brought him to Anfield, where Venison enjoyed unprecedented success over a six-year spell.
"It's a cliche but it doesn't feel that long ago", he says.
"It's nice to look back on and reflect. First time walking through the door, first training session – I remember all of that. Coming into the dressing room for the first time – as prepared as I was to go in – it was full of internationals. Alan Hansen, Mark Lawrensen, Ronnie Whelan, Bruce Grobbelaar, Ian Rush, Gary Gillespie. It took me a while to acclimatise to that and to the quality you're playing with.
They had just won the Double when I arrived. My first pre-season was in Scandinavia and every game was a sell-out. Packed. I was playing with guys who had ridiculous ability and great attitude. So I had six or seven weeks of that – giving me a taste of what was to come. My first real game was the Charity Shield at Wembley against Everton with a full house of 90,000 there. So in a short space of time, every level had been raised. I started at a much lower level but it was sink or swim. You had to earn respect. You'd fight to prove yourself in every training session and in every game. I was lucky enough to start in that team and you're desperate to stay in the team. With so many internationals, there were a lot of players who'd regularly play through injury because they didn't want to be out of the side. They knew if they were out of the side for a game or two, they just might not get back in".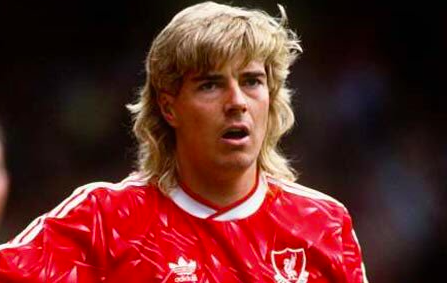 Venison was a league champion in 1988 and 1990 – with an FA Cup triumph against Everton in between. But that trip to Wembley was bittersweet. It came at the end of a harrowing season – punctuated so bleakly by the Hillsborough tragedy.
Occasionally, his voice cracks when he remembers the days, weeks and months that followed. His words come out more slowly. A meticulously eloquent conversationalist, it's startling to hear him lose himself in the memories. Every now and then, he lets out a pained sigh. More than once he admits it's difficult to put everything into neat sentences and descriptions. Time and distance is irrelevant. The subject still remains raw and unforgiving.
"The person who led the way from the club side and who handled himself with so much empathy and dignity was Kenny Dalglish and his wife, Marina", Venison says.
It was a very strange situation. Nobody knew what to do or how to handle themselves. We were going day-to-day. We were in a blur, in a fog. Imagine what the families must have been like? We'd go to a funeral or two every day for a while. But Kenny and Marina were the ones right in the middle of it and everyone followed their lead. The people of Liverpool came together really strongly and that's still there. I admire the way the families handled it and everyone at the club handled it.
The players wanted the season to be memorable for other reasons other than the loss of innocent lives. There was a weight being carried but it wasn't a burden. We were humbled, actually. We were in a position where we could possibly give temporary relief and escape to the families who'd lost their loved ones. We did our best to do that".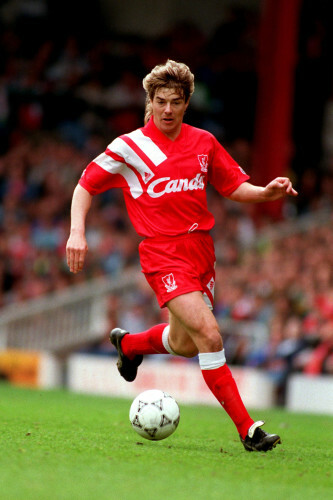 Neal Simpson Neal Simpson
Venison, who was born and raised in the north-east and who would play for the two biggest clubs in the area, speaks passionately and fondly about his time on Merseyside. When he mentions the team, the players, the coach, the success, it's hard not to get pulled along. There was something special there. A magic. The nostalgia attached to the era probably helps with the rose-tinted recollections but Venison doesn't really do mawkish sentimentality. He makes the point that the seeds for success were sewn in the dressing-room by the players themselves – it was that simple.
"There was a unity, a togetherness, a spirit to the side", he says.
"The friendships the players had were welded together. It was a real family atmosphere. A real earthy, grounded, workmanlike quality. It was about rolling the sleeves up. You rarely heard Liverpool shout about winning. We wouldn't beat our chests. We'd just get on with it and win games. There was a real resilience and that was down to the dressing-room".
Phil O'Brien Phil O'Brien
Talking about the spirit in the team leads to an inevitable conversation about Liverpool's infamous fancy-dress Christmas party in 1990. The one where Grobbelaar went as The Joker and, perhaps most memorably, David Burrows was Hitler.
Venison laughs at the memory.
"It was a different era", he says.
"I was there for six years – that's six Christmas parties. I remember one year when Barnesy went as Tina Turner. You couldn't do it now. It was full-on. There was plenty of alcohol flowing. It wasn't just fancy-dress parties sometimes…"
His voice trails off just as things are about to get interesting.
Venison left Liverpool in 1992 and returned to Tyneside. Kevin Keegan wanted to make him an integral part of his Newcastle team. Despite the offer of a three-year contract from the Anfield top brass, he felt it was time to move on.
"The decision wasn't difficult because it was the right thing to do", he says.
John Giles John Giles
"I had been there for six years. I'd won two championships but had a bad run with injuries – three Achilles operations. It kept me out for a while and it's a dark hole you go down when you've got a long-term injury – it's horrible.
Everything in Newcastle was down to Keegan. He'd get average players to play like really good players. He'd get really good players to play like top-class internationals. That was the gift he had and we all benefitted from that.There was a buzz in the city, a collective spirit, an atmosphere. We worked hard – a bit like Liverpool. But we never worked on anything defensively. It was high-tempo 5-a-side, 8-a-side, attacking play. I went there as a right-back but played centre-half and midfield. I was one of the few with a defensive mind who could plug a gap. Kevin was just interested in attack. We had phenomenal players to do that: Peter Beardsley, Rob Lee, Scott Sellars, Andy Cole. There was a fluidity to that team. Those years at Newcastle were unique. We backed each other. We used to tell the young lads – 'It's not like this normally so enjoy every minute, every game'".
In his first season at St. James' Park, Venison was crowned a league champion and Newcastle were back in the top-flight. And they played some thrilling, exhilarating football upon their return with Andy Cole hitting 34 Premier League goals. The team finished third, with Venison wearing the captain's armband.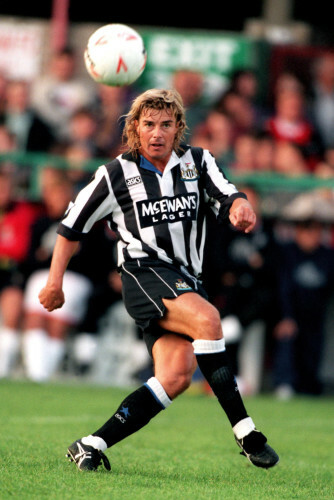 Neal Simpson Neal Simpson
Venison's form was so good and Newcastle's performance so eye-catching that he was called up to the senior England setup by Terry Venables and made his debut in a friendly with, ironically enough, the United States in September, 1994. He was called up again the following March for a game against Uruguay at Wembley.
By that stage, Cole had been sold to Manchester United but Newcastle still finished in the top-six at the end of the campaign.
And then, Venison fell out with Keegan. He doesn't go into details, only admitting that he's 'never really spoken about it'.
Tony Marshall Tony Marshall
So, while Newcastle – buoyed by the expensive additions of Les Ferdinand and David Ginola – seemed set to win a Premier League title, Venison was in Istanbul – persuaded to join Galatasaray by his old boss Graeme Souness.
It didn't work out and Venison was back in England after five months.
"I was inflexible in Istanbul", he admits.
"I wasn't open or willing enough to appreciate how Turkish players did things. For me, they weren't playing football the right way. I found the environment challenging but it had nothing to do with the city or language barrier – I enjoyed the cultural differences. What I wasn't able to bridge was the cultural difference and attitude towards football. Going from Liverpool and Newcastle where everything was based on a team-first mentality, it was different in Turkey and I wasn't mature enough to accept it as being part of their football culture".
After a brief stint with Southampton, injury forced Venison to retire at just 32. But he seemed set for a cushy career in TV punditry as ITV signed him to a long-term deal.
"So much goes into TV – in front of the camera, behind it, the preparation, the studios, the stadiums – so it was exciting", he says.
"And it was like that for about two or three years when it started to feel more like a job".
That's when Venison decided on a new challenge. The family had been holidaying in the US for quite a few years so it was a natural fit to make America their new home. It was a careful process. It was planned and discussed in depth.
When I retired I started doing yoga quite heavily and meditation too and I looked into different religions and philosophies. I'm not saying I found God or anything as dramatic as that that but I took time for reflection. So when we came to California, I knew I wasn't running away from anything and that it wasn't about escaping. I was embracing something bigger: a challenge. I came over here and hardly knew anyone. But it was an adventure I wanted to grasp to see how I handled it as a person".
You see, Venison is much more than a haircut. He always has been.
In his six years at Liverpool, he and his wife bought and sold six houses – long before it became a common past-time. Involved with real estate for the majority of his football career, it was another passion – something running parallel to training and matches. Upon arrival in the US, it became his everyday. Football, with the exception of a 5-a-side once in a while, was largely ignored and forgotten about.
"The reason I was able to thrive in real estate is because it's a passion and I love it. It's one of those things where you go to sleep and you dream about design and structure and architectural shape. I was fortunate enough to enjoy the things I was passionate about. For some people, it could've been music. It could've been something negative like gambling".
In the US, Venison carved out a new career entirely based on his professionalism and ability. In the US, he wasn't 'Former Premier League footballer Barry Venison'. The anonymity ensured the challenge remained big and intimidating. He was anonymous and starting from scratch. He wasn't using his name and past career as a way of getting deals done – something that would've been inevitable back home.
"I wasn't a high-profile player but when you're on TV for five or six years after playing, there's a familiarity and a degree of fame. And also people have an opinion of you based on what they see on TV so it's never going to be right. When I came over here, the relationships I made were down to me – not my career. To be able to walk down any street or to have me arse hanging out of me shorts on the beach – no one cared. Relationships I made in the business world were based on me, my integrity and an ability to do the job".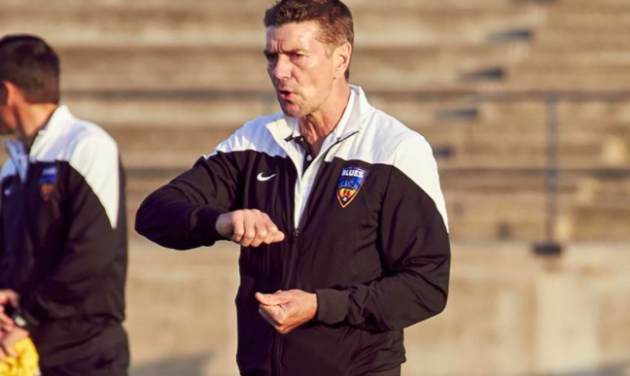 Venison on the training pitch with Orange County Blues.
In recent years, though, football has begun to take up more of Venison's time. He's been involved with USL (United Soccer League – the third tier in the US football pyramid) side Orange County Blues for the last number of seasons as Technical Director and then enjoyed a short-term coaching role with them earlier this term before stepping away from the club.
He hints at being involved elsewhere come next season.
"Three or four years ago, I started to watch football again and you quickly realise that the drug never really leaves your system. It just takes a little taste to get you hooked again", he says.
"I'm in the fortunate position of being able to choose what I want to do. For me, it's about the environment. MLS? USL? If it's a club with an environment where everyone's on the same page, it's football people, they want to team to win and the players to develop and evolve then that's where I'll go. If the invitation doesn't come along from that particular type of club, that's fine too. But I'd be very surprised if I'm not involved in football next season".
I can't let Venison go without asking him about two things. Firstly, his wedding suit.
"We decided to get married in the Seychelles so you can't get married there with a top hat and tails", he says.
"We decided we were going to do something different. Miami Vice was big at the time so I went for the Don Johnson look. In one of the hottest places in the world, I wore a pink suede suit with a white t-shirt and ended up sweating like an idiot. Funnily enough, it was another pretty awful decision regarding the things I put on my back".
And does he know where that suit ended up?
"It's about 30 yards away from me in my closet. I can't give that up".
And, finally, the mullet.
"The mullet stayed with me for God knows how long", he says.
"I have a really good friend of mine – Phil Smith who used to cut Sting and Trudie Styler's hair. I got introduced to him and he'd say to me 'You can't continue your life with that hair'. And I remember saying 'Fuck you! This is me!' But he came over to the house and convinced me to sit down and took the scissors out and did it. So Phil Smith is to blame for that – he's the person who made me look half-sensible".