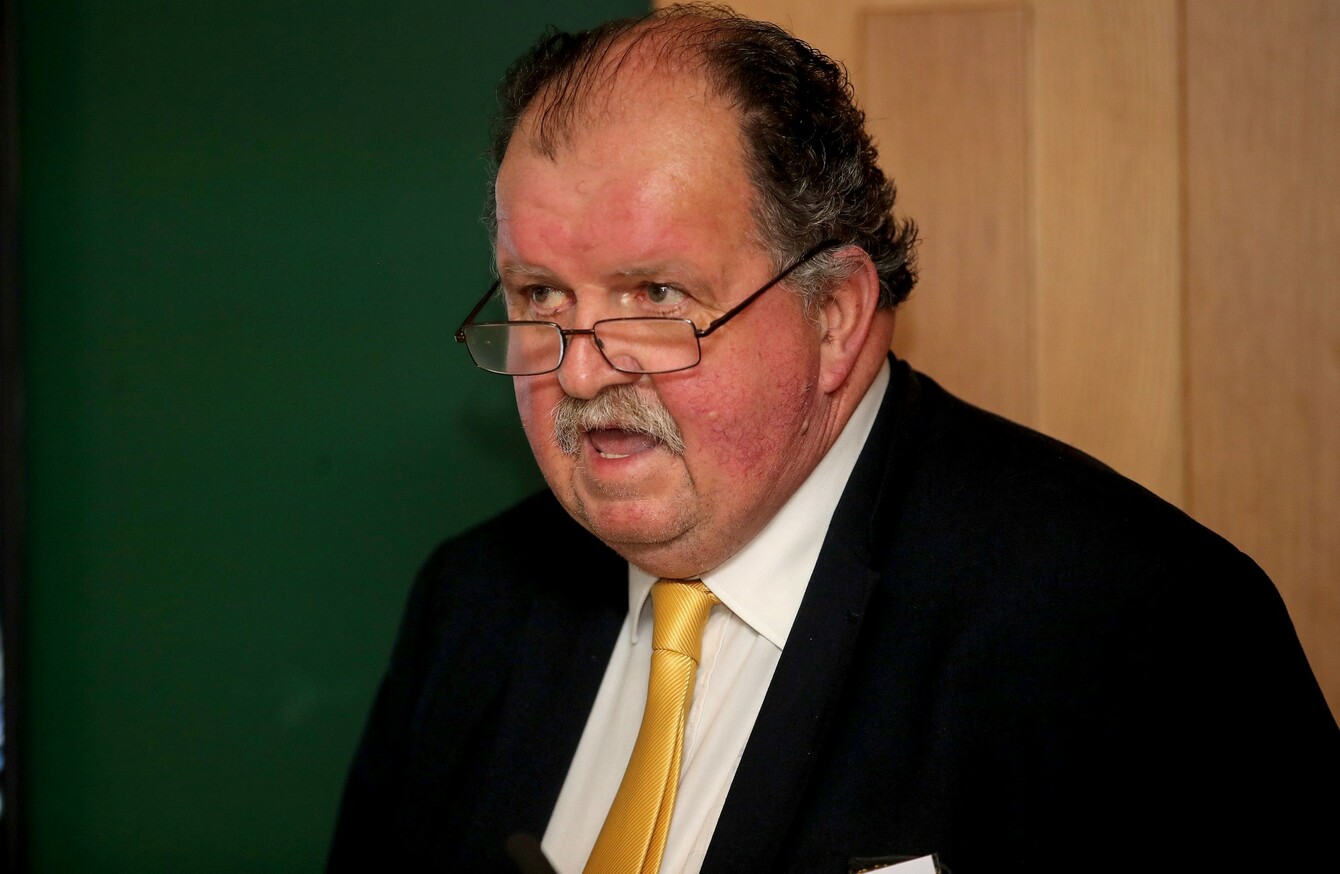 Basketball Ireland Secretary General, Bernard O'Byrne.
Image: Bryan Keane/INPHO
Basketball Ireland Secretary General, Bernard O'Byrne.
Image: Bryan Keane/INPHO
Updated Feb 4th 2020, 12:40 PM
THE BOARD OF Basketball Ireland feel the Football Association of Ireland (FAI) were granted a 'get-out-of-jail-free card' as they accused the Government of 'double standards' for signing off on a rescue package worth €30 million for the beleaguered organisation last week.
Citing their own financial difficulties in 2008, when they were fined for unexpected debts of €1.5m, Basketball Ireland chiefs have lashed out at the lack of State support during what they described as their 'darkest time'.
Bernard O'Byrne, General Secretary of Basketball Ireland and a former FAI chief executive, feels his previous employers have committed 'far greater sins' than the ones Basketball Ireland were punished for a decade ago.
They were forced to suspend their international programmes as they sought to reduce their debt, while half of their employees were made redundant and a levy placed on members to help get out of the red.
Basketball Ireland was also deemed ineligible for the Capital Sports Programme for five years until this had been achieved, a requirement not sought of the FAI and O'Byrne revealed that they had been trying to arrange a meeting with Minister for Sport Shane Ross for the last 18 months to press their case for fresh investment.
"This is nothing personal for me or anyone on the board," O'Byrne told The42. "We felt it was important to get the feelings of our grassroots across.
We made a mistake 10 years ago and received very little sympathy, we were told to go off and sort it out ourselves. And that is what we did. It's in marked contrast to a much bigger organisation whose sins are far greater than ours.
"The FAI have effectively received a get-out-of-jail-free card so we felt obliged to speak out.
"What's the point in staying quiet and pretending as if everything is rosy when that is not the case? We have to shout, we have to get our point across because we make ourselves out to be a great sporting country but there are double standards here.
"We have a good relationship with Sport Ireland, we receive €750,000 from them each year but that is still less than what we got 10 years ago. It was €900,000 then and our membership has grown by 65% in that time.
We have been trying to arrange a meeting with the Minister [Shane Ross] for the last 18 months but we haven't been able to get one. We obviously were not important enough for him and what we need now is a game-changer to help us and open peoples' eyes to the good basketball is doing in this country.
"That's what we want to do when the next government is in place, we don't want silly promises before an election, we just want to get in a room and lay out our case."
SEE SPORT
DIFFERENTLY
Get closer to the stories that matter with exclusive analysis, insight and debate in The42 Membership.
Become a Member
Basketball Ireland had expressed their frustrations in a general statement earlier in the day, adding: 
 "The basketball community in Ireland has been following with interest the announcement surrounding another major sports body, which has benefited from a funding agreement in recent days to allow it time and resources to recover from financial difficulties.
While we wish those involved in that sport the very best in navigating their way through what will undoubtedly be a difficult few years to come, the Board wishes to express the frustration of many basketball enthusiasts in our 300,000+ strong community, as it would appear that double standards may be at play for sports that fall outside what are considered the popular sports."
It continued: "In 2008, when Basketball Ireland ran into financial difficulties, we found ourselves with an unexpected black hole of debt and financial penalties totalling €1.5 million. At our darkest time, a similar agreement to that which was awarded last week would have considerably changed the trajectory of Basketball Ireland, and would have proven to be a lifeline.
"Instead, the organisation entered a difficult period with no financial assistance and was forced to call an immediate halt to our international team programmes, thus damaging the career prospects of a large number of underage players.
The government imposed a significant fine on us, which served to worsen our financial position. A significant grant, which had been approved for the refurbishment of the National Basketball Arena, was abruptly withdrawn and never reinstated."
Pointing to the progress that they have made since, Basketball Ireland added: "The Board  calls upon all political parties and candidates currently looking for support from the large basketball community around Ireland to commit to meeting with our representatives as soon as a new government is formed, in order to listen to our case for a fresh look at our funding to help us administer and promote our sport to help it progress even further."
The42 is on Instagram! Tap the button below on your phone to follow us!