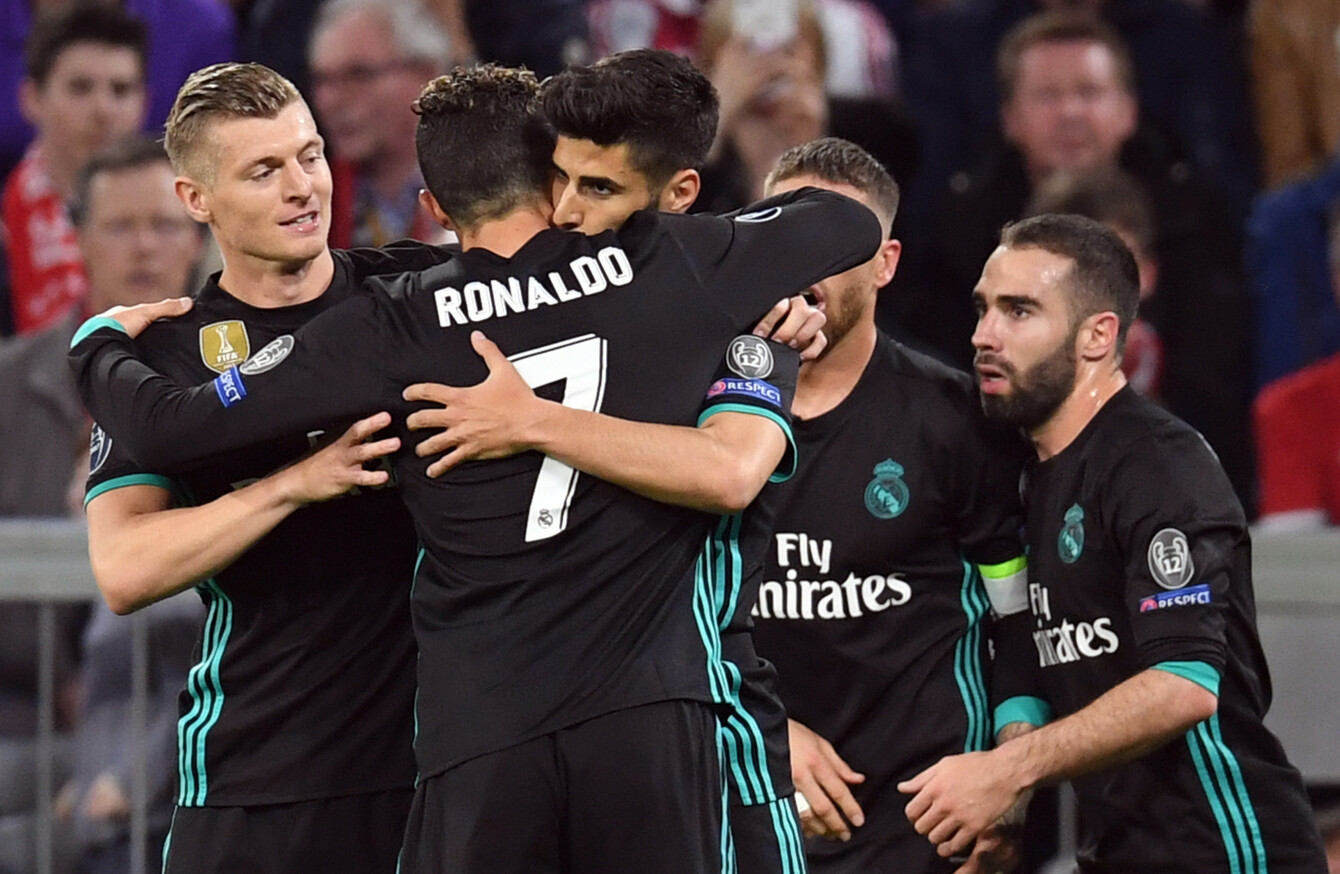 Real Madrid players celebrate.
Image: DPA/PA Images
Real Madrid players celebrate.
Image: DPA/PA Images
1. Real Madrid reminiscent of Fergie-era United at their best
IN 2011, BARCELONA won the Champions League by playing some of the most beautiful football the game has seen, highlighting their class with a 3-1 win over Manchester United in the final.
Though they have continued to win titles and also won another Champions League trophy, that year arguably represented the Catalan side's absolute aesthetic peak.
While Barca have continued to be a dominant force domestically, their bitter rivals Real Madrid have become the top side in the Champions League in recent years.
Los Blancos have triumphed in Europe's premier club competition in three of the past four seasons. The team have never come close to matching the beauty of Barcelona at their best, but Madrid are special for another reason.
Particularly since Zinedine Zidane took charge, Real have become one of the most ruthlessly efficient sides the game has seen.
There is a parallel with Alex Ferguson's Man United at their best — the Spaniards rarely dominate games against the best sides in the way Barca sometimes still do, but they always do enough to just get themselves over the line.
Tonight was a prime example of that quality, with Bayern dominating possession and territory, but Real capitalising on their opponents' errors to snatch a victory without ever really approaching top gear.
It is a recurring theme as far as the illustrious Spanish outfit are concerned — think back to their first final Champions League triumph of the magnificent recent run against Atletico Madrid, where they underperformed for large sections of the match and needed a last-minute Sergio Ramos goal to bring the game to extra-time.
Similarly, in the quarter-final second leg this year, they collapsed against a resurgent Juventus side, before a last-minute Ronaldo penalty got them out of jail.
In many ways, they are becoming the antithesis of the Galacticos of the 2000s.
Zidane has made Real a relatively solid team that are hard-to-beat and who are often reliant on a bit of magic from their star man Ronaldo to rescue them from difficult situations.
Tonight, the former French superstar reinforced the view of the collective being more important than individual talent, leaving star names like Gareth Bale and Karim Benzema on the bench, as his team dug out an impressive result, which makes them strong favourites to progress to next month's final in Kiev.
2. Bayern underwhelm again against familiar foes
A look at the four Champions League semi-finalists' domestic form provides an interesting insight into how the competition is not necessarily being dominated by the best sides in their respective countries.
Bayern have already been crowned Bundesliga champions and are 22 points ahead of second-place Schalke. Yet the German side are the anomaly of the teams left in the competition.
Liverpool are currently third in the Premier League, while Real Madrid are in the same position in La Liga, as are Roma in Serie A. The latter are not even assured of a place in next year's Champions League, with fifth-place Inter trailing them by a single point as it stands.
With all this in mind, some people strongly fancied Bayern to prevail this year, given their formidable domestic form.
Yet tonight, they were sloppy and sluggish for much of the 90 minutes, with Real delivering a classic away performance to clinch a deserved victory — their sixth consecutive win against Bayern.
Particularly after the second goal was scored, in front of the home support, Bayern's reaction was remarkably tepid.
At times, they looked an ageing team, reliant on a number of players over 30, such as Franck Ribery, Rafinha and Arjen Robben (who went off injured early on), while perhaps tellingly, their brightest moment was provided by 23-year-old Joshua Kimmich, comfortably the youngest player in their starting XI.
The decision to appoint Jupp Heynckes to replace Carlo Ancelotti early on in the season was clearly made with the hope that it might galvanise the team to re-create past glories under the boss who guided them to the treble in 2013.
Yet on the basis of tonight, Bayern — who were admittedly missing a couple of important players such as Kingsley Coman, Arturo Vidal and David Alaba — looked a side too reliant on the reputation of past greats in a performance that lacked the energy and vigor that is needed to succeed at the highest level.
They have dominated the Bundesliga by outspending their struggling rivals and they have reached this far in Europe by overcoming ordinary enough teams such as Anderlecht, Celtic, Besiktas and Sevilla (granted, they also won one and lost one against PSG in the group stages), but at the very elite level, Bayern so often seem to fall short.
If they fail to recover from tonight's setback next week, it will be their fourth Champions League semi-final exit in the past five seasons.
Robben and Ribery have been offered new contracts, which suggest the club are still clinging to the past, instead of having the ambition to get to the next level by trying a new and more adventurous approach.
3. Even on a quiet night, Ronaldo makes history
Not a bad one for the CV.

Cristiano Ronaldo has won more #UCL games than anyone else 👏#FCBRMA pic.twitter.com/HkFI4E6X0n

— Match of the Day (@BBCMOTD) April 25, 2018
It was an unusually quiet night for Cristiano Ronaldo, though it mattered little, as Real Madrid got the result they needed regardless.
The Portuguese superstar had a frustrating evening and was predominantly a peripheral figure, with his side soaking up pressure for much of the match, before striking two killer blows either side of half-time.
Yet it was typical of Ronaldo that even on a night where he did little of note on the pitch, he managed to make headlines.
The Portuguese star has now won more games than any other player in Champions League history, moving one ahead of former Real Madrid stopper Iker Casillas — another reminder of what an incredible once-in-a-generation talent he is.
The42 is on Instagram! Tap the button below on your phone to follow us!