PERHAPS THE BIGGEST hurdle for Bellator in their bid to expand on this side of the Atlantic had been their lack of a live TV footprint.
They took a significant step towards remedying that recently by agreeing a deal with the UK's Channel 5, which can be accessed in the Republic of Ireland if you know how to navigate a Sky box.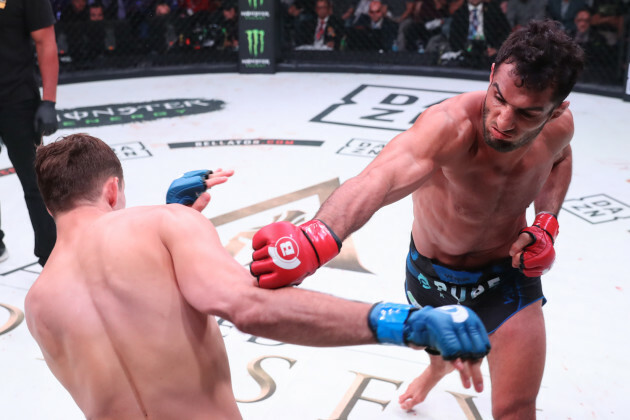 Lucas Noonan Gegard Mousasi en route to victory over Rory MacDonald at Bellator 206. Lucas Noonan
However, things got off to a pretty shaky start for Bellator on the station last night. The organisation hosted Bellator 206 in San Jose, which was headlined by one of the most significant fights they've ever put together.
Middleweight champion Gegard Mousasi put his belt on the line against welterweight title-holder Rory MacDonald. The pair, both of whom were top contenders in the UFC, left MMA's leading organisation inside the past two years to sign deals with their nearest rival.
Mousasi emerged victorious from his first title defence, stopping MacDonald via TKO in the second round.
Plenty of MMA fans from this neck of the woods stayed up through the night to see the fight live, but ultimately they were left disappointed — unless they happened to be fans of Peppa Pig.
Due to the Bellator broadcast dragging on for longer than usual, Channel 5 viewers were treated to a children's cartoon instead of MMA by the time Mousasi and MacDonald entered the cage.
"It's a government regulation that at 6am the content was not suitable so they had to switch to children's programming," Bellator official Dave Schwartz explained at the post-event press conference. "Peppa Pig, yes." 
I didn't stay up for bellator last night but if anyone missed the main event i have peppa pig on demand

— chris fields (@chrisfieldsmma) September 30, 2018
I stayed up until 6am to watch Bellator and they cut away from the broadcast during Rory's walkout to put on Peppa Pig hahahahahaha I'm about to put my head through a wall

— Nate (@NateGuildea) September 30, 2018
Stay up to 6am for peppa pig to replace the main event. Thanks @channel5_tv #Bellator206 pic.twitter.com/mL1YGG8Ij2

— . (@ReeceUTLR) September 30, 2018
@channel5_tv Have you really just switched off the bellator main event for Peppa Pig! This has to be a sick joke

— Michael Penhaligon (@MPenhaligon) September 30, 2018
Bellator president Scott Coker said: "That's a hiccup. We'll definitely fix that going forward."
Elsewhere on last night's main card, Quinton 'Rampage' Jackson recorded a second-round TKO win against Wanderlei Silva in a battle of two legendary veterans.
Douglas Lima submitted Andrey Koreshkov in the fifth round of their welterweight grand prix quarter-final.
Bellator 206 results
Gegard Mousasi def. Rory MacDonald via second-round TKO (3:23)
Rampage Jackson def. Wanderlei Silva via second-round TKO (4:32)
Douglas Lima def. Andrey Koreshkov via fifth-round submission (rear-naked choke) (3:04)
Aaron Pico def. Leandro Higo via first-round TKO (3:19)
Keri Melendez def. Dakota Zimmerman via split decision (28-29, 29-28, 29-28)
Gaston Bolanos def. Ysidro Gutierrez via second-round TKO (1:37)
Adam Piccolotti def. James Terry via unanimous decision (29-28, 30-27, 30-27)
Jeremiah Labiano def. Justin Smitley via first-round TKO (3:28)
Arlene Blencowe def. Amber Leibrock via third-round TKO (1:23)
Josh San Diego def. Joe Neal via split decision (28-29, 30-27, 29-28)
Cass Bell def. Ty Costa via second-round submission (armbar) (3:06)
Chuck Campbell def. Joseph Ramirez via unanimous decision (30-27, 30-27, 30-27)
Anthony Figueroa Jr. def. Samuel Romero via unanimous decision (29-27, 28-26, 29-26)
The42 is on Instagram! Tap the button below on your phone to follow us!