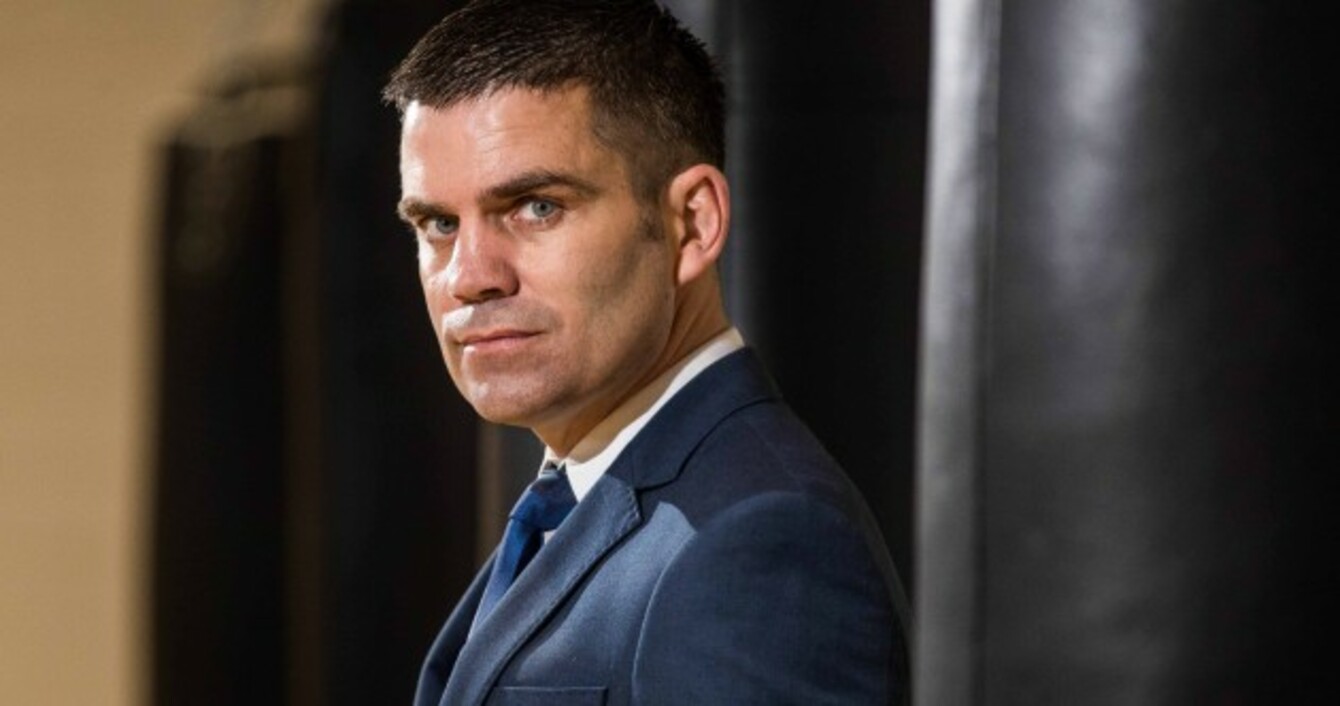 Dunne has been tasked with reviving Irish boxing's fortunes.
Image: Ryan Byrne/INPHO
Dunne has been tasked with reviving Irish boxing's fortunes.
Image: Ryan Byrne/INPHO
ONLY TIME WILL tell if we'll look back on yesterday and reflect on the historic day it's been trumpeted as, but certainly the appointment of Bernard Dunne as the Irish Amateur Boxing Association's (IABA) high performance director is a significant one.
By the time the former World and European champion was introduced to the role by IABA CEO Fergal Carruth on Thursday morning, it was widely known that he was the man for the job.
And, despite a rigorous recruitment process which involved interviewing a number of high-profile applicants from both Ireland and abroad, Dunne emerged as the obvious candidate.
He knows this game. He has been through the system, knows what it takes to win and has done so at both amateur and professional level. A real boxing man, as Katie Taylor described him.
Furthermore, Dunne, a 13-time national champion, offers the IABA the best of both worlds; vast experience, knowledge and an undiluted passion for boxing but also the insight which comes from working within another high performance unit for the last number of years.
The 37-year-old's role as performance and lifestyle coach with the Dublin senior footballers 'stood out' for the IABA and certainly it adds another string to his bow.
Carruth admitted they were open to bringing in someone from another sport — Eddie O'Sullivan was one name reportedly among the applications — and the prospect of a fresh pair of eyes may have been appealing, but ultimately Dunne's stature and drive saw him come out as the 'unanimous winner.'
It's an appointment which makes sense, and certainly appears to be one the athletes have welcomed. Dunne spoke briefly with the high performance squad before yesterday's press conference, reiterating that he is there to work for them.
When Dunne settles formally into the position over the course of the next few weeks, it will be the first time since the departure of Gary Keegan after the 2008 Olympics that a high performance director will be in place. That in itself makes yesterday significant.
"My primary focus is to make sure I do what I can to facilitate the growth of these athletes," he said. "Both male and female. Making sure they have the best access to the best facilities and the best structures.
"I know what it's like to be that boxer who's hungry and who wants to learn. Who wants to grow. A big part of my job is facilitating that growth."
Last month's 'Rio Review' into the performances and failings of the 2016 Olympics set out 30 recommendations for the IABA, one of the key ones being the appointment of a high performance director.
As soon as the position was advertised as part of the IABA's strategic plan for 2017-2020 last December, Dunne knew it was something he'd be interested in and, more importantly, knew he could bring something to.
"I've been involved in the high performance department for the last 20 years of my life," the Dubliner continued.
"It's something that I'm used to being around. I've been on a GAA team for the last three and a half years, that's been a big learning curve for me. I saw the role being advertised and thought 'that's a role I'd like to have.' So I prepared and applied for it. Here we are, I got it.
"It wasn't about convincing anyone. I think it was about presenting my vision. I did a full breakdown of where I saw we were doing really well.
"I identified opportunities and I wanted to share that vision with them in the interview. I wanted to share it with Zaur Antia which I have. He's shared his. We cross over so often, I'm so looking forward to working with the man. It's going to be a great journey.
"My vision is achieving excellence. To inspire our athletes to achieve excellence on a consistent basis. That's what I want to do.
What are they
really like?
Rare insights on sport's biggest names from the writers who know them best. Listen to Behind the Lines podcast.
Become a Member
"I do that by exposing them to the best in coaching support staff and facilities. When you seek excellence, along with that comes continued medal success on the international stage.
"Ultimately that's what we as a unit will be judged on and myself as the high performance director."
On his role with Dublin and the lessons he can take from that dressing room into his new position, Dunne added: "It's an environment where individuals are seeking excellence.
"You can't help but learn and to be exposed to that environment was a great learning curve. It's a credit to Jim and his team what they've achieved over the last four and a half years. It was a great learning curve for me so to bring that knowledge and the knowledge of working in a high performance environment myself with my own boxing career, combining both of those I'd like to think I can add value and knowledge to this set up.
"Dublin has been a big part of my life for the last four and a half years but it wouldn't be feasible [to do both jobs] given the time constraints they took. I'm always there to help Jim and the team in any way I can but this is my primary and sole focus going forward.
"They're like family to me now. They've all wished me well, my phone has been hopping since I've come in here. A lot of messages from the guys."
Dunne is fully aware of the challenges that now lie ahead.
Sport Ireland's Olympics review was particularly damning of the high performance programme, saying Irish boxing is potentially 'at a crossroads' and found the failure to medal in Rio was a result of 'underlying failings in the system.'
Add to that the Billy Walsh saga, Michael O'Reilly doping scandal and the resultant cut of funding of €200,000, the IABA has come through troubled waters over the last two years.
"My main focus now is that we're concentrating on performance rather than outcomes," Dunne explains.
"Let's look at the processes that are going on here, we're in the high performance unit and let's see if they can be developed and improved. There's always potential for change in any environment, even when you're winning.
"I think there is potential for change but what that is I couldn't tell you until I fully immerse myself in the team — but we're producing medals, we're producing young athletes, both female and male, and boxing in this country is strong. It's about harnessing that now and bringing it to the top.
"It's going to be a great journey."
The42 is on Instagram! Tap the button below on your phone to follow us!