EDITOR'S NOTE: Bill O'Herlihy passed away suddenly on 25 May this year to the great shock of, not just Irish football fans, but the entire country. That day Eoin O'Callaghan recalled his dealings with a kind, professional man and it's reprinted here now: 
ONE SATURDAY IN the autumn of 2005, I sat in the main reception area of RTÉ.
I was about to start my first day as a football researcher and I was overcome with nerves. The memories are vivid. I worried about everything. For instance, I had thought long and hard about what I should wear. I settled on a relatively fancy shirt and my cleanest pair of jeans. To be safe, I threw on a black v-neck sweater too.
And as I sat there, waiting for a producer to come downstairs and meet me, I worried about working with the high-profile names.
I had been told that my main responsibility would be finding and feeding relevant information to RTÉ's soccer presenters and analysts. That meant working alongside Bill O'Herlihy, John Giles, Eamon Dunphy, Liam Brady and an assortment of other names. I was nineteen. Despite having just landed my dream job, I was anxious.
Within a few minutes, I was summoned. I got up, tried desperately to wipe my sweaty palms before shaking hands and strode forward. After introductions, the producer brought me up the steps, swiped his electronic pass and some doors opened. Another world, I thought.
I walked through.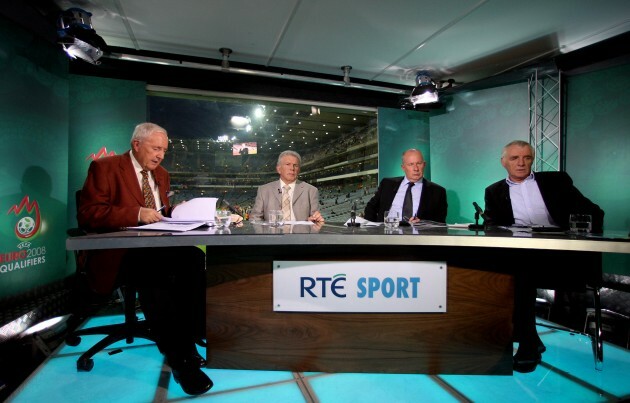 Donall Farmer / INPHO Donall Farmer / INPHO / INPHO
It was the middle of the following week when I met Bill for the first time. It was a Champions League night and that meant the show ran from 7pm until 10 or after. Because of so much chat time, Bill needed plenty of material from which to draw upon.
Nestled in a small production office at the back of the main RTÉ building, I would spend a few hours piecing together a pre-match dossier for him. I had full editorial control but there was one stipulation: because his eyesight wasn't the best, the font size needed to be big.
I always set about the task with great gusto. It was a challenge and on Tuesdays and Wednesdays, I couldn't wait to leave college and head for Donnybrook. Looking back, I probably just wanted to impress Bill with something I'd dug up about that night's particular European fixture.
The dossier was pretty consistent from week to week. There was a game preview with generic info about both teams and the key players – but not too much. Bill's thinking was that if he was confused by a statistic, the audience would be too. He used them rarely. When he did drop one into a live broadcast, he did so in a certain way. Excitedly, he'd lean back in his chair and point his pen at Giles, Dunphy et al as he delivered a killer stat. He seemed to enjoy countering their posturing with cold, hard, concrete fact.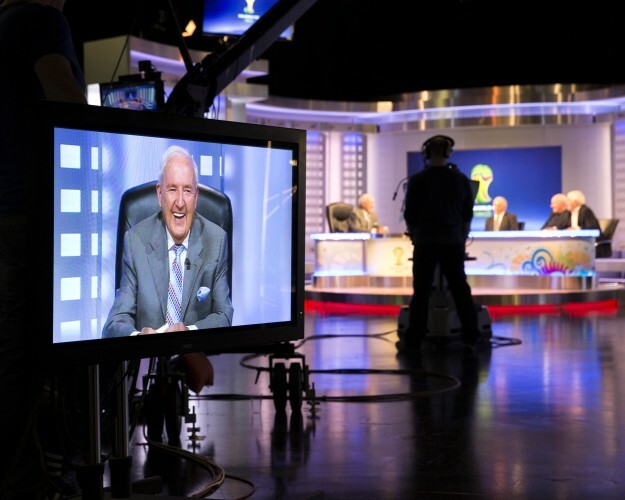 Steve Langan / INPHO Steve Langan / INPHO / INPHO
Bill loved a quote. It was the most critical part of the brief I'd prepare for him. He wanted to know what the managers said in their pre-game press conferences and the context of their comments. It was part of his regular routine in studio, particularly in the sober moments after full-time, when the inquest into a particular result began. It became a neat trick for Bill, using managers' opinions (i.e, not his own) as a way of getting a certain reaction from those alongside him in studio.
A usual brief ran to 10-12 pages. Once it was complete, I'd print off a couple of copies and walk across to the TV Sport department. It was always a nervy few minutes. I'd check and double-check the info I'd included. I didn't want to feel under-prepared. Especially in front of Bill.
Normally, there was an editorial meeting at about 6pm, when production staff would go through the entire show with Bill and the analysts. So, I'd try and grab a few minutes with him at 5.30 and take him through my carefully-prepared research. Bill would be seated at a desk, buried underneath what seemed like every conceivable newspaper, scanning them for anything related to that night's game. As much as I'd spend hours dedicating myself to producing an in-depth document, Bill's main source of inspiration was always the back pages of broadsheets and red-tops respectively.
Still, I'd get my moment.
My biggest memory of the tiny amount of time we shared was the lack of interruption. Bill always allowed me explain everything before offering any comments. He listened carefully and intently, never interjecting with his thoughts until I wrapped up. Essentially, for a few minutes, I got to perform. I got to give my take on soccer stories with Bill as my audience.
Exclusive Six
Nations Analysis
Get Murray Kinsella's exclusive analysis of Ireland's Six Nations campaign this spring
Become a Member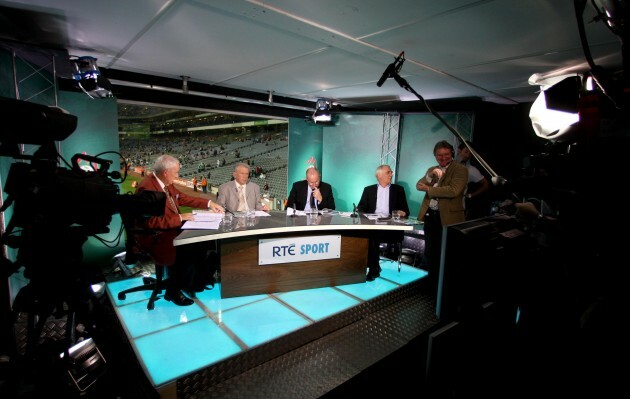 Donall Farmer / INPHO Donall Farmer / INPHO / INPHO
As kick-off neared, the official lineups would be released. I'd race down to the control room and liaise with our graphics team to input the formations correctly and ensure the players' names and numbers were all correct. Next, I'd push through a grey door and onto the gantry overlooking the studio. A tiny staircase would lead me to the floor and I'd go through the team-sheets with Bill and the panel. If there was a surprise selection or a late change, I'd have some extra information with me and, once again, Bill would listen intently as I'd go through it.
After turning to walk away, I'd hear a 'Thank you, Eoin' and get a chill.
If everything was under control, sometimes I'd make sure to be on the studio floor when the broadcast commenced. Lurking in the shadows, behind the cameras, it was genuinely thrilling to watch from close-in. Under the imposing lights, it was a different world. A world I desperately wanted to be part of.
Within a year, I had moved away from researching and my time with Bill gradually came to an end. But by 2010, I was in a TV studio presenting a soccer show on the other side of the world. Sometimes, completely irrationally, I'd wonder if he'd ever be in America, head for a jar somewhere and catch a glimpse of me on a screen.
I'm not sure what influence or impact Bill had on me or my career. There was never a seminal, cinematic moment when he sat me down and inspired me with a deep conversation.
But, he did enough to compel me to write these words. And that says plenty.
Thank you, Bill.