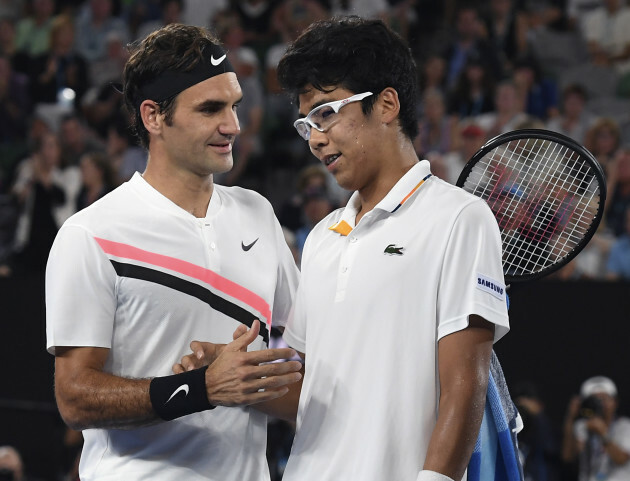 Andy Brownbill Andy Brownbill
DEFENDING CHAMPION ROGER Federer strolled into the Australian Open final in a bittersweet win after Chung Hyeon retired injured in their semi-final this morning.
The Swiss star was leading 6-1, 5-2 when the South Korean called it quits with foot blisters and will now face Marin Cilic in Sunday's final.
Chung, the first South Korean man or woman to play in a grand slam semi-final, was treated in a medical timeout for the left foot problem two games earlier. But it came as a big surprise when the 21-year-old walked to the net at 30-30 and trailing 2-5 after 1hr 02mins in the second set to concede defeat.
It put Federer into his seventh Australian final — and 30th grand slam decider in total — as he chases his sixth Melbourne title and 20th grand slam victory. Federer leads 2014 US Open champion Cilic 8-1 in their meetings.
The Swiss maestro now has a 30-13 win-loss record in grand slam semi-finals and has yet to drop a set in this year's Australian Open.
"You couldn't tell until the end," he said of Chung's injury problems. "That's probably why a lot of people are stunned (he retired). I could tell something was wrong before he took the injury timeout, but he has a great composure.
"I think he is already a great player, but we are talking next level excellence and I think he will achieve that. We will see much more of him. Top 10 for sure. The rest we will see."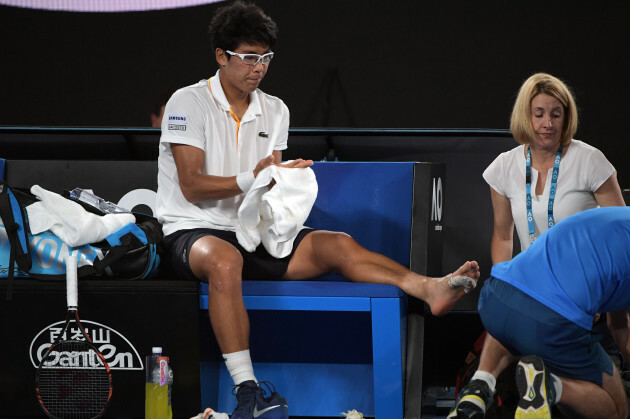 AAP / PA Images AAP / PA Images / PA Images
It was a muted semi-final with the Rod Laver Arena retractable roof closed for rain, further improving Federer's chances given his indoor record. He broke Chung's opening service and twice more to romp away with the first set in just 33 minutes as the Korean made a flurry of errors.
It got no better in the second set with Federer again breaking in the fourth game before the trainer was called on to the court to treat Chung for his foot blisters. Chung only lasted a bit more than two games before pulling out to a stunned silence.
"In the second set I felt he was starting to get a bit slower, fighting with a blister," Federer said. "I've played with blisters in the past a lot, and it hurts a lot, and at one point it is just too much and you can't take it anymore.
"That's when you realise there is no way you can come back and you make things really worse, it is better to stop. That's why this feels bittersweet. Obviously I'm incredibly happy to be in the finals, but not like this."
Federer broke Chung's serve four times off 11 break points and only had one break point on his own service. The Swiss second seed hit 24 winners while Chung made 17 unforced errors in 14 games, eight of them off his normally potent forehand.