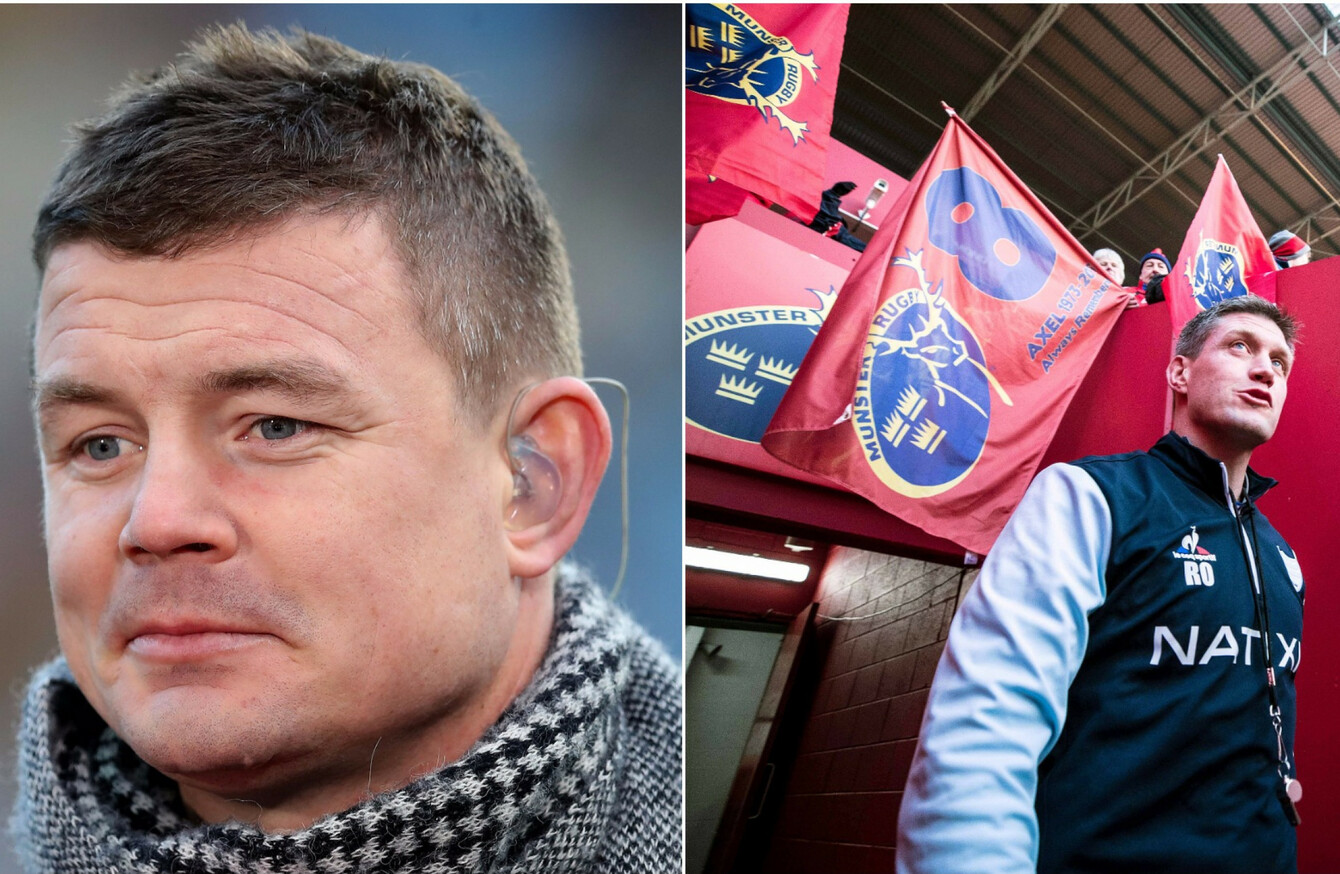 Updated Sep 7th 2017, 8:18 PM
AS MUNSTER'S SEARCH for a successor to Rassie Erasmus continues with Erasmus still at the helm, Brian O'Driscoll is hardly pushing the boat out in suggesting the southern province are beginning the new season in far-from-ideal circumstances.
O'Driscoll, however, doesn't believe Munster's players will fail to perform due their feeling betrayed by their departing Director of Rugby, who had albeit hesitantly iterated that he would at least see out his Munster contract towards the end of last season.
Instead, the former Ireland captain and current BT Sport pundit is concerned that the sheer disorganisation and accompanying uncertainty of Munster seeking a replacement, all the while cognizant that Erasmus is heading back to South Africa on a tight deadline, might take its toll on the men in red as the season progresses.
"There is a danger," O'Driscoll said, speaking at the Eir Sport Season Launch. "You will have one eye on who's coming in. It's strange circumstances to have a head coach leaving halfway through the season. I'm sure they're working on a contingency. I don't know who they have lined up. There's lots of speculation about potential successors but it's not an ideal situation to find yourself in, having done four rounds of Europe and half of your Pro14 season.
And then a new voice comes in and they have to continue with the same style of play – you can't change that mid-season. It's definitely not a perfect situation they find themselves in. All their talk is that it'll be seamless; I struggle to see how it will be seamless if you're listening to one voice for six months and someone else for the next five.
"I don't know why there's this six-month period [where Erasmus remains in charge]," O'Driscoll continued. "You look at what happened with Leinster, that's all worked out well, but Leo [Cullen] probably found himself in that role before his time, partly because there weren't a huge number of other candidates that were willing to up sticks and move family and everything in a very short period of time.
"You need a lead-in time for planning, and perhaps they felt this was the better of the two options – letting Rassie see it through to Christmas and give them an opportunity to develop someone, or bring someone in that would be able to pick up the reins where Rassie left off."
Erasmus himself stated last month that "There must be some supporters there that really don't like me now," but O'Driscoll is of the opinion that, even should that dislike extend to Munster players who might feel let down by his dragged-out departure, that alone won't be sufficient cause to derail their season.
A former provincial captain himself, the Leinsterman is convinced that Munster's core leaders will take the reins in an unofficial capacity and ensure that no player is found to be sulking.
"You have to remember that these are professional players, and it's not just about playing for a coach – no more so for them! They're playing for the jersey, and they want to.
"Their coach comes along and facilitates them to put their best foot forward, so I don't think that's going to be an issue. I just think that continuity is the potential issue. They look as though they've got a good enough culture that any of that disappointment behind the scenes, or any of that potential giving out behind the scenes wouldn't be listened to.
I think a good team is one who self-police. CJ [Stander] and Pete [Peter O'Mahony] will come in and stamp their authority, and they'll drive this forward for the remainder of the season after Rassie leaves.
His old chum Ronan O'Gara has naturally been linked with the soon-to-be-vacant position as his ROG-and-Rachel affair with Munster continues to capture the public's imagination, but O'Driscoll isn't convinced the Racing coach is the right man for the job at present, though purely based on O'Gara's own musings.
Like the vast majority of onlookers he reckons we'll see O'Gara take to the Thomond throne eventually, but warned his former partner-in-crime that he should be wary of taking his 'dream job' too soon not only in his career, but his life.
"He's the one that says he doesn't feel that the timing is right," O'Driscoll said, "and he knows that best. He's not maybe what they're looking for. I think the time will eventually come where he will go back and eventually coach Munster. I think that will happen.
He has to be careful about how quickly you find yourself back in your dream role. Beyond Guy Noves, there's not too many coaches that stay beyond four or five seasons with their preferred club. There's a finite period of time in most coaching roles where you have to move on. You get there too early, in your early 40s, where do you go from there?
What are they
really like?
Rare insights on sport's biggest names from the writers who know them best. Listen to Behind the Lines podcast.
Become a Member
"Potentially for the Irish job," O'Driscoll continues, thinking aloud. "I think he's playing it smart and learning his trade elsewhere away from the glare of all of us, and just going about his business.
"[He's] learning new skills and coaching some pretty impressive players, and I'm sure he's learning a lot from them. I would be intrigued to see how ROG got on."
Subscribe to The42 podcasts here: