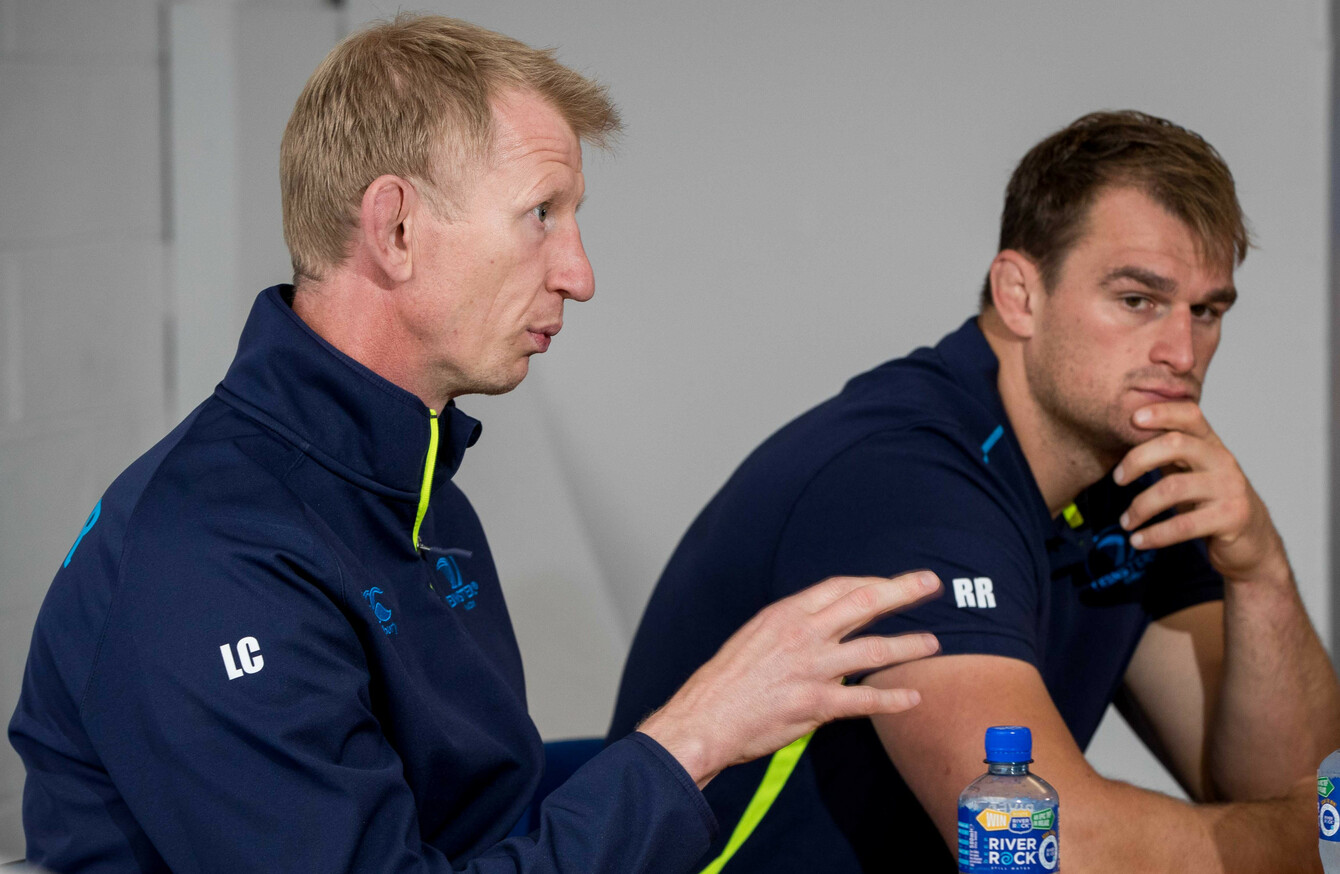 Image: Morgan Treacy/INPHO
Image: Morgan Treacy/INPHO
LEINSTER HEAD COACH Leo Cullen has confirmed that Garry Ringrose and Leinster's five Lions tourists will be unavailable for their fixtures versus the Kings and the Cheetahs when his side travels to South Africa next week.
Following their impressive 39-16 victory over the Dragons at Rodney Parade during the Pro14′s opening weekend, Leinster have spent the week preparing for their first home encounter of the season as the Blues visit the RDS, but will become the first Irish province to tour South Africa in the revamped Pro14 when they depart from Dublin airport next Tuesday.
Cullen's immediate concern, of course, is tomorrow night's fixture with the Blues, who provided a stern test for his men on two separate occasions last season.
"We look back at our two games against them last year, and they were two really, really close games," Cullen said at his press conference. "Saw a bit of their game against Exeter in pre-season, just a week before their opener, and they had a really impressive win and performance in that game.
"They're a well coached team with Danny Wilson, who's done a good job there I think. They have a lot of threats across their team; a lot of very, very dangerous, good attackers. We tried to prepare as best as we possibly could. They've obviously got a bit of an advantage in that they had an extra day's recovery from last week, an extra day's preparation.
"It's been a pretty short week."
Jordi Murphy, ruled out of Leinster's opener and excluded from this weekend's squad, is "back in the mix" having visited a specialist according to his head coach, and took part in yesterday's team run.
The 26-year-old jarred his knee last Tuesday but will be included in Leinster's extended squad as cover for the matchday 23 tomorrow night. All going well, he should be on the plane to South Africa next week for a trip which provided his head coach with plenty of logistical challenges.
"The South Africa trip," Cullen laughs, "has been this thing in the background where it does take up a lot of your time. There's always the potential that it can be a distraction, as well. Using 23 players in a match week, we're going to bring 28 to South Africa, but it still does leave a number of guys, and what we do with them back here, so…
"Anyway, we'll announce to the group on Monday just the 28, we'll leave on Tuesday, and off we go: we're in South Africa for the guts of two weeks, and then we come back, and a number of players will come back into the selection frame for the game against Edinburgh which is on the Friday night, so again, it's a short turnaround.
"A bit of logistical issues in terms of actually getting out of South Africa, so we'll be in a couple of parties as well there. We'll cross that bridge next week.
There's been a few challenges, as you can imagine, trying to move 40 people quite late in the day. There's a lot more positives than negatives about the new format of the tournament. There's going to be a couple of issues, of course, that we're going to have to overcome, but come Monday when the squad is announced, I think everyone will be excited about a trip to South Africa for a couple of weeks.
Freed of these administrative duties, the returning Rhys Ruddock, who joined Cullen at his press conference, was more forthcoming in his excitement at the prospect of such an undertaking.
"That's because the players just have to show up!" is Cullen's smiling retort as Ruddock prepares to offer his own perception of the two-week trip.
The 26-year-old back row laughs: "When Leo was explaining all that, I was like, 'That's all news to me!'"
"Fair play, all, organising that. But for the players, obviously from when we heard about the new format, and the opportunity to go to South Africa, everyone was excited about that. But I suppose because a lot of us are coming back to our first game [vs Cardiff], it's hard to look past that.
"But yeah, it's definitely an exciting prospect, and having played over there before, it's a great place to tour with Ireland and to play rugby as well – they're mad about it. So it's exciting for the players and, I suppose, the fact there's only 28 people going, hopefully I'll get the nod."
Cullen confirmed that none of Leinster's Lions tourists will be returning to the southern hemisphere next week, but that all five – Johnny Sexton, Robbie Henshaw, Tadgh Furlong, Seán O'Brien and Jack McGrath – will be in contention when Edinburgh visit the RDS the Friday after Leinster return.
Garry Ringrose, however, will be out a while longer after undergoing shoulder surgery following Ireland's tour of America.
The players that were away with the Lions: Robbie had surgery, Tadgh Furlong had a procedure done on his thumb, Johnny's hand is in a splint – issue with his ankle as well. Those guys are Round 5. Seán O'Brien the same, and Jack McGrath. They'll be back in Round 5, so they won't be in the frame for South Africa.
"Garry is making steady progress. [He's] one of the guys who's had surgery over the course of the summer. He's probably the one who's going to come back last. Of the guys that were away on tour, Garry will be the last to come back in, I imagine."