IF YOU CAN'T get yourself suitably geed up, motivated, and mentally as well as physically psyched for this game, then there's really no point at all and you might as well hang up your boots, throw in the towel and call it a day.
Those were the sentiments of Shamrock Rovers captain Ronan Finn speaking this past week, as his side prepare to make one of the great pilgrimages in Irish football later tonight.
A trip to Dalymount Park is only half an hour on the M50 from Tallaght, followed by a quick drive down the Navan Road deep into Dublin 7. But two very different football clubs stand opposite one another, divided north and south by the River Liffey, which stands between them.
Rovers take on Bohemians in Phibsborough tonight in what will be another explosive and chaotic Dublin derby to kick off the 2018 SSE Airtricity League in fantastic style.
Over 100 years of intense rivalry has taken place since the clubs first met on a cold January afternoon in 1915, with 28 league titles shared between them in the intervening years.
The fact that the very first ball kicked in the new League of Ireland season will feature the sides facing off in front of a sold-out crowd at the Home of Irish Football in front of RTÉ's television cameras is fantastic, for both sets of supporters and neutrals alike.
Donall Farmer / INPHO Donall Farmer / INPHO / INPHO
There are simply no two ways about it: this is the biggest game in Irish football — or at least so say those who have been privileged to play a part in it. There is the Super Bowl in the US, the Tour de France, the FA Cup at Wembley, Six Nations at Twickenham and All-Ireland final day.
The Dublin derby is not comparable in any universe with these events in terms of wider, national or global appeal, television ratings or even attendance figures. But by some unrecoverable metric determining the average significance to a single passionate fan who watches on in giddy, irrational expectation — it stands equal to every single one.
League of Ireland football makes little sense to those on the outside. Journalist Eoghan Rice, who wrote an oral history of the Hoops with his book 'We are Rovers' hammered home that exact point earlier this week.
No other sporting competition occupies such a curious place in Irish culture as our domestic football league," he said. "It inspires blind devotion in some, utter contempt in others."
These contrasting emotions will also be witnessed tonight as just under 3,500 supporters make their way into Dalymount for the curtain raiser of what promises to be another exciting campaign in domestic Irish football.
Tickets sold out for the game over a fortnight ago, with Friday's derby the first time Bohemians and Shamrock Rovers will meet on the opening night of the season in 13 years.
"What a game to get up for," Hoops captain Finn says with a wry smile.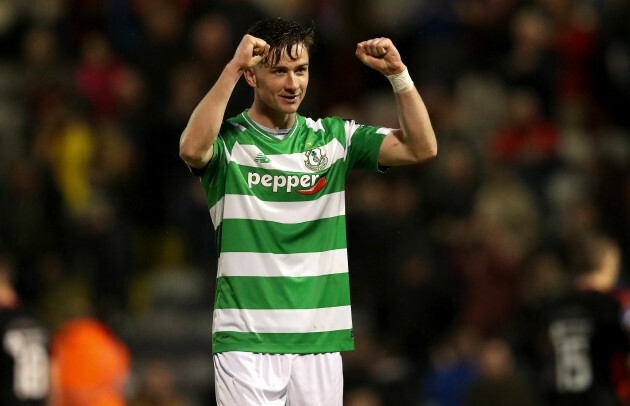 Ryan Byrne / INPHO Captain Ronan Finn. Ryan Byrne / INPHO / INPHO
"It's a perfect game to start from my point of view — a proper game of football. It won't be one-paced, it'll be hectic, the start of the match will be frantic and everybody will want to leave their mark on the game.
"I think once you get in and press well early, your quality will come out as the game wears on. I believe that on our day we have more quality than anyone else in the league and we'll be looking to showcase that on Friday."
Unlike in years gone by, it is no longer a match that pits the League of Ireland's two premier clubs against one another. That fixture took place last weekend at a snow-covered Oriel Park, where league and cup winners Cork City handed Dundalk a 4-2 President's Cup defeat in front of their own supporters.
COPA90 / YouTube
Rather, this will be a game that sees two giants who have slightly lost their way in recent years and had to settle for a place just behind the perch of title challengers. Rovers' last Premier Division title came in 2011, Bohemians' two years earlier in 2009.
Regardless, the tie has lost none of its passion, edge and competitiveness, which has been its hallmark for so many decades.
When you look at where both clubs are at the moment, Rovers finishing third last season and Bohs fifth — it'll be an interesting game," says St Pat's manager Liam Buckley.
A prolific striker in years gone by, Buckley played in countless Dublin derbies and was a key figure in the rivalry as Rovers claimed four league titles in succession from 1984 to 1987, before later going on to manage the club in the early 2000s.
Buckley recalls packed stadiums, chorus' of abuse from opposition fans, memorable goals and, above all else, the unforgettable buzz of playing in Dalymount Park.
Andrew Paton / INPHO Liam Buckley played for and later managed Shamrock Rovers. Andrew Paton / INPHO / INPHO
"As a Rovers player in my day and even later as a manager, you used to love going to Dalymount," he says.
"It is a special occasion for both clubs and in the context of Irish football, because it is a local derby. It's a great, great tie to win, if you do, and thankfully in my time we had quite a few occasions where we did.
"I'd have great memories of scoring in Dalymount and in particular the travelling Rovers supporters were always fantastic — it would always be jammed packed in the away end.
It was always a great atmosphere and it's one of the biggest fixtures in Irish football. It's a game no one wants to lose, because whoever comes out on top earns the bragging rights."
Current Hoops manager Stephen Bradley has also played in enough derbies to know the significance of the fixture, both in terms of those bragging rights, and in particular this season with setting down a marker for the rest of the campaign.
A big opening weekend win against your old foes is the perfect marker to set down in a season where his side must close the gap on Cork and Dundalk at the top of the table.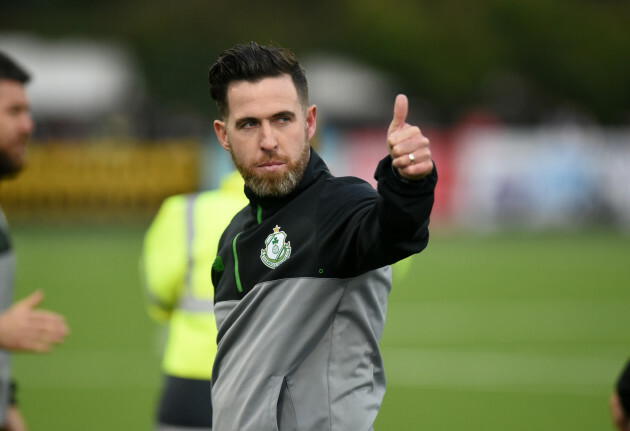 Ciaran Culligan / INPHO Hoops boss Stephen Bradley played for the club Ciaran Culligan / INPHO / INPHO
"I think it's perfect," says Bradley. "Other than Bohs at home in Tallaght, it doesn't come much bigger for us.
"It's a great game in its own right, it's a sell-out too, it's on TV and it's going to be rough and ready. It mightn't be a great spectacle, but we know what kind of a game it's going to be and we'll be ready for that.
"I think we just need to show progression again this year and hopefully try and close the gap on the top two. We all know Cork and Dundalk have been the top sides in the Premier Division and it's up to the rest of us to try and catch them. That's what we need to do on Friday.
It's just one of those games. You can't prepare to play a certain way, because it starts and it's completely different. I've played in enough derbies and been around enough of them to know that you just have to be ready for whatever the game throws up.
"Any other night you have a game plan of how the opposition's going to play and how you're going to play, but with these games, it can all go out the window.
"It's about that rivalry of 'us against them'. You get out there and it's tense and it's hostile… it's a strange one, but any derby is like that.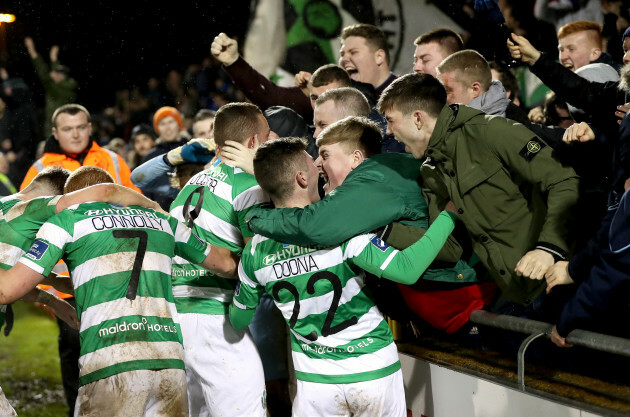 Ryan Byrne / INPHO Rovers are aiming to bridge the gap between themselves and the top two in 2018. Ryan Byrne / INPHO / INPHO
"You watch them all around the world and it's the same; very rarely are they pretty to look at, but that's what derbies are about — it's all about going in and coming out the other end with a result.
"It'll be a great atmosphere, obviously it's a sell-out and we always bring a good crowd. So yeah, really looking forward to it."
Rivalries are one of the most curious aspects of sport due to the contrasting psychological dynamics at play. You convince yourself that you despise the opposition, and while it is often true, you couldn't imagine a season without the other team, and in many ways harbour a strange respect for them, although you'd never admit it — you never could.
But that's the beauty of derbies. And in addition to the geographical context, they sometimes happen to involve two of a nation's most successful teams, which is certainly true of Bohs and Rovers.
Even when the sides weren't battling each other to claim the title, there have been countless unforgettable occasions that any supporter donning black and red or green and white could rattle off at a moment's notice.
They are the games and the occasions that have forged the great tapestry which makes this clash so unforgettable and unlike any other derby in the League of Ireland.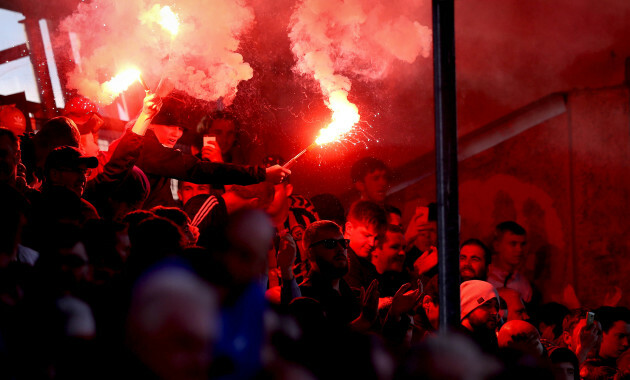 Ryan Byrne / INPHO Bohemians supporters set flares alight. Ryan Byrne / INPHO / INPHO
There is the Louth derby of Dundalk and Drogheda, Munster derbies of Cork against Limerick and Waterford, the Northwest derby of Finn Harps and Derry City and the Connacht derby of Sligo Rovers and Galway United.
There are also a host of other Dublin derbies too: Bohs-Shelbourne, St Pat's-Bohs, Shamrock Rovers-Pat's and Pat's-Shelbourne. But none of them seem to emulate the level of contempt, hostility and pure raging malice of Bohs and Rovers.
"There seems to be more of a hatred between the two sets of fans at Bohs and Rovers than there is with derbies involving other fans in Dublin," says current Shelbourne manager and former Bohemians captain Owen Heary.
"Obviously, you can see it with the fighting and things like that which have happened over the years — thankfully stuff like that hasn't happened in a long time — but that's what adds to the rivalry visually.
For players, all Dublin derbies are great to play in, but that atmosphere, which comes with a Bohs versus Rovers night, with the flares, the fans hating each other, the pigs heads being thrown on the pitch — all that brings the occasion to a different level completely.
"One thing that really brings it home to me is the fact that people always mention that 6-4 game between Bohs and Rovers in Santry back in 2001. I was at Shels at that time and we ended up beating Bohs 6-4 in a different game around the same time — but it doesn't get mentioned half as many times.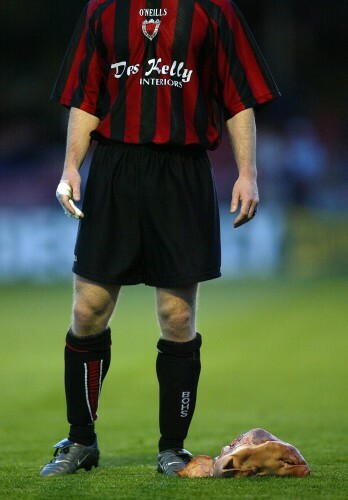 INPHO A pig's head was thrown onto the pitch during a 2004 meeting. INPHO
"That just shows you that these big nights and big results between Bohs and Rovers seem to stick out in people's heads a lot more than any other derby."
Never say never, but it can be hard to imagine a meeting of the pair causing as much heart-stopping drama as that of the 6-4 win for the Gypsies 17 years ago, which Heary alludes to.
Led by Damien Richardson, Rovers secured a 4-1 lead at the break at Morton Stadium. Bohemians manager Roddy Collins urged his side, as every manager has done in such a circumstance, to play with pride after the interval, imagine it's 0-0 again and win the second half.
Five goals without reply, two from club legend Glen Crowe on a muddy, wet and miserable pitch turned the game on its head and delivered one of the most improbable results in the history of domestic Irish football.
Exclusive Six
Nations Analysis
Get Murray Kinsella's exclusive analysis of Ireland's Six Nations campaign this spring
Become a Member
It's right up there with all the other big ones — the 2004 meeting, which saw not only a gigantic pig's head thrown onto the pitch in response to two Bohemians players switching allegiances and transferring to their rivals (Tony Grant and James Keddy), but also the animal's feet too.
There was Gary Twigg's brace in the dying stages of the game back in May 2009, which broke away fans' hearts, turning a 1-0 deficit into a 2-1 win at Tallaght Stadium, and also Bohemians' 4-0 thrashing of the Hoops in 2012, a personal favourite of defender Heary, who captained his side to victory that day.
Donall Farmer / INPHO Gary Twigg scored a late brace to win the derby in May 2009. Donall Farmer / INPHO / INPHO
"I think it's the entire build-up to it," Heary says, when asked what makes the derby so special.
"The whole week leading up to the game, the back and forth between the fans, all the papers talking about it, the start of the week, where you're nice and calm and then as it gets to the night itself, there's a nervousness that creeps in.
"Then you hear it's on TV and people are raving about it, everyone you speak to is going to it. You picture in your head 4,000-5,000 people at the game and that's when it all becomes real to you.
But then the moment comes when you're walking out onto that pitch in Dalymount, leading your club out and you hear the roar from the Jodi Stand — you listen and it just makes the hairs on the back of your neck stand up.
"After all that, you're just ready for action, you're ready for the battle that's about to come. You hear the Rovers fans slaughtering you and hammering you from the away end, and you just think to yourself: 'this is incredible, this is why we play football.'"
There are more than enough talking points for Friday's fixture to make it another one to remember.
Donall Farmer / INPHO Shelbourne manager Owen Heary captained Bohemians. Donall Farmer / INPHO / INPHO
Battling it out in midfield, Rovers skipper Finn will face off against Keith Buckley — a player who captured the imagination of the Jodi Stand during six seasons before spending last year away at Bray Wanderers.
The player, who scored on his derby debut aged just 18, has made an immediate return to Bohs and, as well as trying to shackle Finn, will also likely face former Bohemians captain Roberto Lopes, who swapped sides 12 months ago in a transfer that upset many Gypsies supporters.
Under the management of Keith Long and ex-Rovers boss Trevor Croly, Bohemians have played above themselves season after season, exceeding expectations to secure two fifth-place finishes in their last three campaigns on a shoestring budget.
Rovers, meanwhile, enjoyed a successful first full campaign under 33-year-old manager Bradley, getting through a round in Europa League qualification, reaching both domestic cup semi-finals and finishing in third spot. However, the club's ambitions have and always will be to compete for titles — something they must edge closer to in 2018.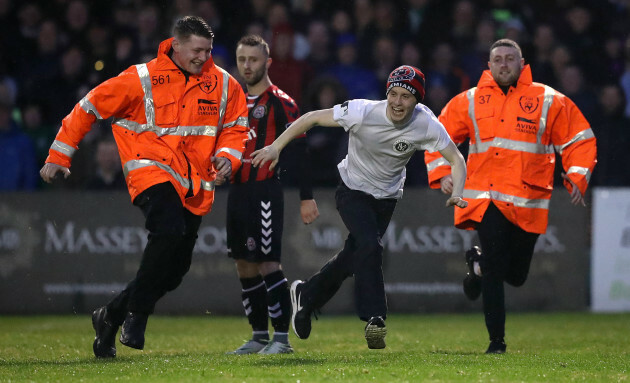 Ryan Byrne / INPHO A pitch invader evades stewards at a recent derby at Dalymount Park. Ryan Byrne / INPHO / INPHO
Neither side has claimed a Premier Division title in seven years, but tonight presents a clean slate and the opportunity to start the season as they mean to go on.
It's a derby full of history and one which, despite being unable to match the popularity of other games with higher attendances and greater media coverage, remains an important part of Irish sport.
Speaking to those who know what it's about and who have the bruises to prove it, each and every one states with absolute certainty that a derby involving Bohs and Rovers, just like Barcelona against Madrid, City against United or Boca against River Plate — all starts with the very first tackle.
Let your marker know he's there, buff your chest out and above everything else, make the opposition get the message that this will be your derby day, and not theirs, to savour.
James Crombie Keith Buckley (right) makes a long-awaited return to Bohemians tonight. James Crombie
"That very first tackle sets the tone," says Heary. "It's only when you stop playing in them that you think to yourself: 'What I'd give to be playing in just one more.'
When I see the players not giving it their all, not putting it all in during a tackle, you feel like grabbing them and punching the head off them to show them how much it really means.
"You're there watching either in person or screaming at the telly and you really do just become a part of it.
"You feel that passion in your heart and you remember all those great times when you were the one out there on the pitch playing in these special derby days.
"Nothing beats it."
The 42 is on Instagram! Tap the button below on your phone to follow us!