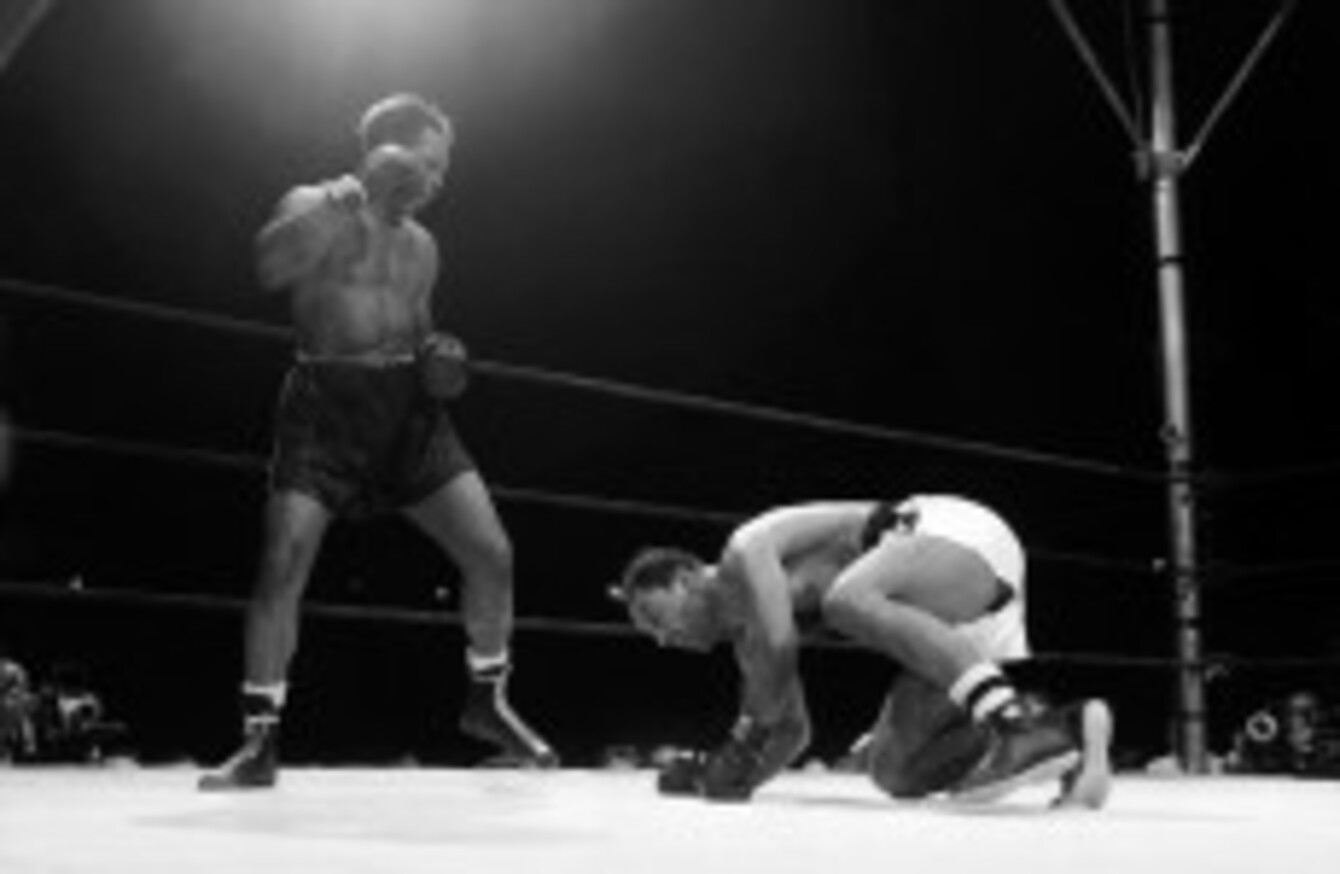 Challenger Archie Moore stands over world heavyweight champ Rocky Marciano.
Image: AP Photo/Marty Zimmerman
Challenger Archie Moore stands over world heavyweight champ Rocky Marciano.
Image: AP Photo/Marty Zimmerman
LAST YEAR DAVID Remnick of The New Yorker edited a collection of the magazines finest sports writing. It is something to be treasured.
Such seminal gems from the likes of John Updike transport you to places like Fenway Park in the 1960s, misty-eyed at Gods who don't return letters.
In amongst this collection is an epic centred on the ring. A.J Liebling invokes Ahab and The White Whale while writing on the heavyweight championship fight between Rocky Marciano and Archie Moore.
We are on his shoulders watching the two touch gloves "When the principals shook hands, I could see Mr Moore's eyebrows rising like storm clouds over the Sea of Azov. His whiskers bristled and his eyes glowed like dark coals as he scrunched his eyebrows down again and enveloped the Whale with the Look, which was intended to dominate his willpower.
"I was sitting behind Marciano's corner, and as the champion came back I observed his expression, to determine what effect the Look had upon him. More than ever, he resembled a Great Dane who had heard the word bone."
Any writer would struggle to capture a moment of tension like that today but the problem would not be for lack of poetry. More lack of personality between the combatants. Boxing more than ever needs a fight to rekindle the wider publics interest in the sweet science.
There is only one that would be worthy of Liebling's prose.
As Manny Pacquaio continued slicing through the weight divisions, reducing each step up to that of a step ladder, fight fans have yearned for him to clash with Floyd Mayweather. They are complete opposites in style and personality. Humble and brash.
A perpetual machine against the minister of defence. It is a fight that would render any other sporting event this year to the undercard but can it happen?
The answer is maybe.  It has been long and often tiresome saga between the two. Claim and counter claim have jabbed from each side. Money, venue and blood tests proved the initial obstacles but they have given way to severe legal problems for Mayweather stemming from assault allegations against him from his ex-girlfriend and a security guard.
If proven guilty of these charges the undefeated star could face up to 30 years in jail.
It is almost impossible to see Mayweather fight in the first half of this year because of this. Pacquaio is scheduled to meet Shane Mosley on May 7 in a fight that has drawn criticism from some boxing commentators. Mosley is 39 and is far from the force he was but promoter Bob Arum had little to choose in picking an opponent for the Pac-man.
The feeling in some quarters is Pacquaio's camp are trying to draw Mayweather out particularly as they have been highlighting the Mosley punch that nearly floored Mayweather in May of last year. "Pretty Boy" eventually won the bout with a unanimous decision. But if Pacquaio knocks out Mosley, he can claim with some justification he would do the same to Mayweather.
This would-be fight has already gulped a sea of ink and we haven't even re-negotiated yet. If somehow, those choppy waters are navigated then the most mega of fights can take place. The destination would be worth the trek. The cerebral  Mayweather ducking and diving waiting to pounce. The bullish Pacquaio, a whirl of fists, built for submission.
If it happens, it will be the biggest, but it could be the greatest of them all.
Fight fans, I don't care where you are, here's to our dreams.