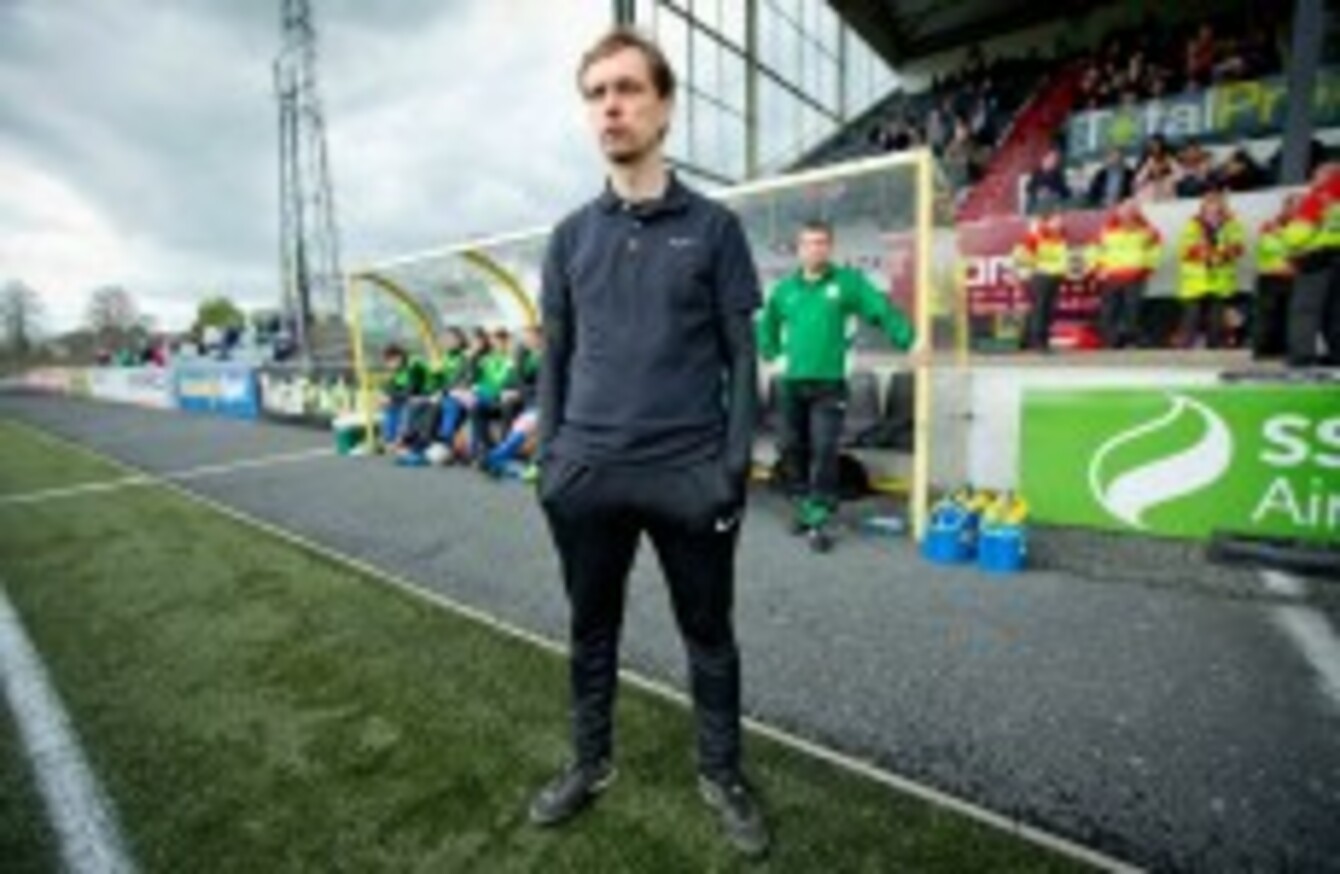 Tarnogrodzki took over as caretaker boss at the beginning of April.
Image: Morgan Treacy/INPHO
Tarnogrodzki took over as caretaker boss at the beginning of April.
Image: Morgan Treacy/INPHO
Updated at 21.30
BRAY WANDERERS CARETAKER manager Maciej Tarnogrodzki has stepped down a month after taking the role.
The Polish coach was brought in as a temporary replacement for Alan Mathews after he and his backroom staff resigned at the beginning of April.
The Seagulls sat bottom of the SSE Airtricity League table at the time with zero points and no goals from the opening five matches of the 2015 season.
He appeared to have an immediate impact as Bray recorded a 3-1 win over Sligo in his first game before going on to thump Limerick 4-0 and earn a 0-0 draw away to Derry City.
However, the Wicklow outfit has been heavily beaten in their last three matches — by Shamrock Rovers, Galway United and Dundalk — and shipped 16 goals along the way.
This afternoon, the club has released a statement thanking Tarnogrodzki and revealing that he has asked to leave "for time out to reflect".
"The Club wish to sincerely thank Maciej Tarnogrodzki for taking on the responsibility of Caretaker First team manager from April 1st," the statement reads.
"He took on the role at a moment's notice and with his backroom team of Thomas O'Connor and James Quinn steered the team to its first goals and points of the season. Indeed when the season ends the 7 points he earned may well prove to be invaluable.
"Maciej was reluctant to take on the role and initially only agreed to 3 matches or 4 at maximum. The process of getting a new Manager in place took longer than expected and the Club prevailed on Maciej and his team to continue indefinitely. This he agreed to but pointed out the risks involved in the post and that Caretaker Managers have in reality a very short life span.
"That recent results did not go his way are far from a reflection on Maciej – rather a reflection on us in not getting a new Manager in place. However, Maciej does not apportion blame – he just wants the Club to be successful.
Throughout this process he has been an excellent Ambassador for the club. He has carried out his duties in a professional manner at all times.
"Maciej has asked for time out to reflect – and of course he has earned that. We hope to have him back in action with the Club in the near future."
"Apart from his time with our U-19 Squad we will always remember Maciej for taking on this assignment – and he will always be part of the good history of Bray Wanderers FC."
It is unclear who will step in to take charge of the team ahead of Friday's away trip to Drogheda United.