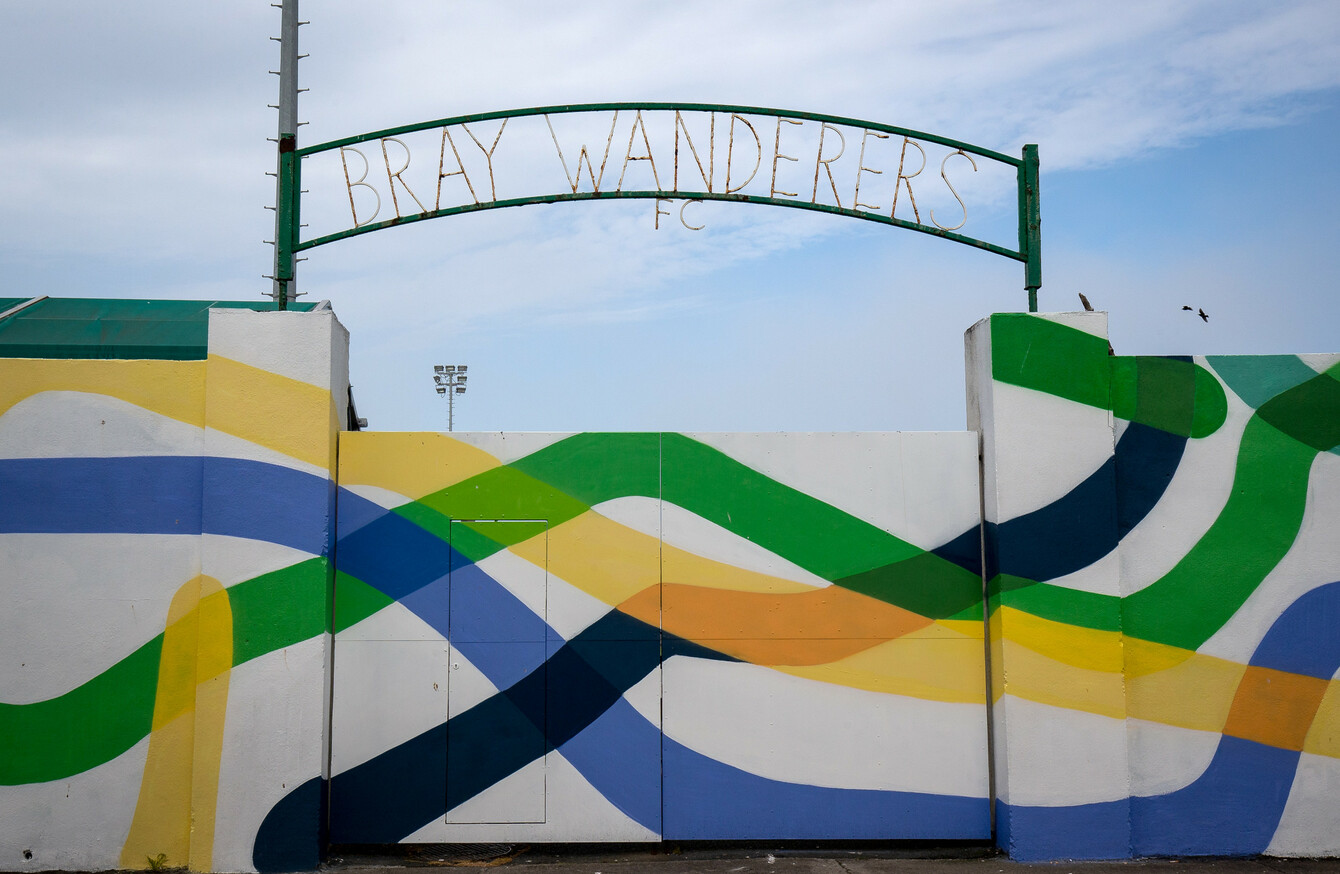 Bray's Carlisle Grounds.
Image: Laszlo Geczo/INPHO
Bray's Carlisle Grounds.
Image: Laszlo Geczo/INPHO
Updated Jul 16th 2018, 9:51 PM
THE FAI HAS announced that sanctions will be imposed on Bray Wanderers for failing to meet an agreed deadline of paying wages owed to players.
In a statement released on Monday, the FAI says that they have removed Bray Wanderers FC from participating in the IRN-BRU Scottish Challenge Cup and that 'the club will not be permitted to register any new players for the remainder of the 2018 SSE Airtricity League season.'
Earlier on Monday, the Professional Footballers' Association of Ireland (PFAI) said that Bray players were not paid before the 5pm deadline.
We can confirm at 5pm today none of our members in Bray Wanderers were paid outstanding monies owed.

— PFA Ireland (@PFAIOfficial) July 16, 2018
Bray players voted in favour of strike action last week as a result of the non-payment of wages going back to 25 May. They are still waiting on the most recent payment, which is owed since 29 June. Their intention to strike is expected to be communicated to the club on Tuesday.
Additionally, FAI director of competitions Fran Gavin told RTÉ's Saturday Sport over the weekend that he had been given "commitments" from Bray Wanderers officials, saying they would pay their players by Monday afternoon.
He also said that they would begin a process of imposing sanctions on the club if wages were not paid, which the FAI has since said will be carried out 'with immediate effect.'
The statement in full reads:
"The Football Association of Ireland confirms that sanctions will be imposed on Bray Wanderers FC with immediate effect following the club's failure to meet an agreed deadline of settling monies owed to players.
"FAI officials were engaged with the club over the weekend in an effort to resolve the issue of outstanding monies owed to players and another meeting took place today (Monday, July 16) ahead of the agreed deadline of 17:00.
"While the club insist that they are moving closer to a resolution, the FAI have imposed sanctions on the club following their failure to transfer monies owed to players by the set deadline.
"As a result, the FAI have removed Bray Wanderers FC from participating in the 2018-19 IRN-BRU Scottish Challenge Cup and the club will not be permitted to register any new players for the remainder of the 2018 SSE Airtricity League season.
"The FAI will meet again with the club on Tuesday morning in the hope that a resolution can be found to ensure that all monies owed to players are paid in full.
"A meeting between FAI officials and Limerick FC will take place this evening (Monday). A separate statement on that will be released in due course."
PFAI general secretary Stephen McGuinness confirms Bray players were not paid by the 5pm deadline, and hits out at the FAI and Bray officials for not communicating with their representatives. pic.twitter.com/zUDFLnsT1J

— RTÉ Soccer (@RTEsoccer) July 16, 2018
The PFAI general secretary Stephen McGuinness has expressed his disappointment that players have not been paid before the deadline, and indicated that strike action is likely to ahead for Bray Wanderers' game against Cork City later this month.
Speaking to RTÉ Sport, he also said that he was unable to get in contact with Bray Wanderers chairman Gerry Mulvey and Fran Gavin about the matter.
"It's disappointing today after the weekend where the FAI said they had commitments from the club that we are today at 5 o'clock with no money in the players' accounts, and facing into another week without wages, which is eight weeks unpaid.
"That is hugely disappointing for everybody.
We've been in contact with Gerry Mulvey, who is the chairman of the club. I tried to contact Gerry today myself but unfortunately I couldn't contact him.
"The contact with the FAI has been spoken a bit at the weekend. We'd requested seven meetings with them and unfortunately none came to fruition until last Thursday when I personally met Fran Gavin.
On a night when players fight for creditability for our league on a European stage players at Bray fight to be paid. They have gone without wages since May 25th. Not good enough time for change. pic.twitter.com/kqzT1QTAsm

— PFA Ireland (@PFAIOfficial) July 12, 2018
"We requested a meeting today at 5 o'clock to look for an update for either us to supply the information that the players had been paid and what was in place to make sure they were paid for the rest of the season [or that they had not been paid].
But unfortunately Fran was too busy to meet today.
Referring to Gavin's interview with Saturday Sport, McGuinness said that it was disappointing for the players to hear about Bray's commitments to paying wages via a radio interview.
"Even the interview at the weekend with Joanne Cantwell [on Saturday Sport], the players were disappointed that they heard through a radio interview that commitments had been given from the club.
"You would think that the communication would be better and that the communication would come to the players through their representative or the players directly themselves. That was disappointing but I suppose the history over the last couple of weeks will tell you that I shouldn't be too surprised by that."
It was then put to him that this is affecting other League of Ireland clubs and is therefore not a new development.
"No and I think if people look at the history of the league, I think probably over the last 13 or 14 years, every single club  bar UCD has hit financial problems. This isn't something new to the players in the league.
I think the players have had enough. We have a meeting with the players in Limerick tomorrow to discuss the situation down there which also looks worrying.
The Bray players released a statement last week through the PFAI, in which they said they have recently been forced to pay for their own medical treatment. The statement also criticised the FAI and its licensing department after similar problems arose last season.
"I think licensing has come under scrutiny over the weekend," McGuinness continued, "and I think from the players' union point of view, it has been a tool to get our players  paid and we have said that publicly.
"It has assisted but there are gaps and problems and this has obviously highlighted problems.
"But if we want to make this better, people have to come out and acknowledge there is a problem. You can't fix a problem unless you acknowledge you've got one. I think it has to be acknowledged there is issues with licencing. I think it has been a good tool, but I think we see gaps now and I think they have to be closed off.
"When we get through this, there needs to serious discussions with the players' representatives, the clubs and with the FAI to ensure we don't ever find ourselves in the position again."
McGuinness finished up by saying:
"We would like to see communication with the FAI on what the sanctions are going to be. From the club, [we'd like to know] what they're doing to satisfy the commitments that they gave to the FAI — what were those commitments?
From our point of view, nobody wants to see a strike against Cork City on 27 July, but that will go ahead if the commitments that were given over the weekend aren't adhered to.
"All we want, and all the players want is to be paid. We just want to start talking about football again and stop talking about issues like this.
"We want to have football in Bray, the club is around since the mid 80′s, has a good history. We want as many clubs in the league that can offer professional contracts to our members. We do hope there's a solution, we were disappointed that it took the FAI this long to get engaged in it and put commitments on the club after seven weeks.
"We would have liked to have seen that a hell of a lot earlier. But it's in place now and we'll just have to see over the next couple of days how this rolls out."
The42 is on Instagram! Tap the button below on your phone to follow us!