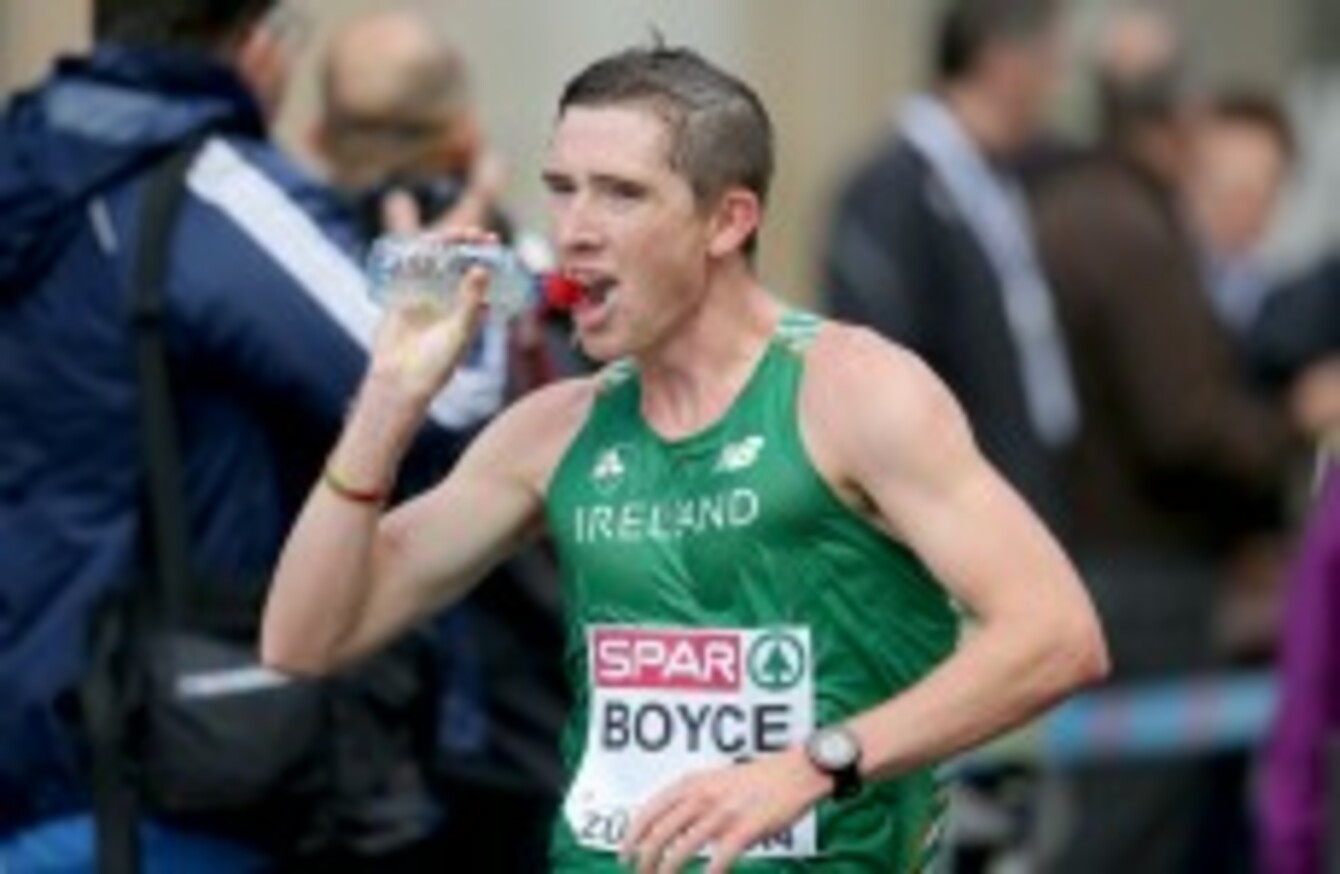 Brendan Boyce is focusing on faster times now he has Olympic qualification secured.
Image: Morgan Treacy/INPHO
Brendan Boyce is focusing on faster times now he has Olympic qualification secured.
Image: Morgan Treacy/INPHO
IN JANUARY 2015, five Russian race-walkers — including three Olympic champions — were banned by the Russian Anti-Doping Agency for irregularities relating to their biological passports.
The bans ranged in severity, but the one handed to London Olympic gold medallist Sergey Kirdyapkin was one of the strangest.
The ban only included periods from July 2009 to June 2012 then again from October 2012 on which effectively suggests he was clean during the London games but doping the rest of the time.
Finishing some 28 places behind Kirdyapkin that day — in a new personal best — was Letterkenny's Brendan Boyce. However, despite the revelations that have since emerged about the Russian and, indeed, other high-profile race walkers, Boyce insists doping is not something he spends too much time thinking about, having seen proof that you can post fast times while competing cleanly.
"It's very disappointing that this is happening in my event but I know you can achieve those kind of times without having to take drugs," Boyce told The42 this week.
"It's clear in my mind that I know what I can achieve and that you can compete cleanly.
"I don't believe Yohann Diniz [of France] was on drugs when he set the world record last year and it's very possible to consistently post quick times with the right set-up, right build-up and right recovery.
"So I don't spend too much time thinking about it because that produces a negative mindset and you can't go out there thinking everyone's on drugs.
"I'll leave catching them out to the proper authorities."
From Letterkenny, Boyce was born into athletics and the youngest of seven children has been competing at national level since the age of six.
"Athletics was the biggest influence in the house even though we all would have played Gaelic football and soccer too. But athletics was very big in the early 90s in this part of the world and, after my brother won a national title, I was even more motivated to get better myself."
It wasn't until Boyce turned 12 that the race walking bug bit though.
"I did my first competition at 12.  I was kind of running around doing every event I could find at a local Community Games event and I just jumped into the walk and didn't think too much about it.
"I finished second to a girl and, being a 12-year old boy, I wasn't too pleased about that.
"I did other events and played other sports but I kind of focused on the walk from the age of around 14. I trained specifically for the event for a year and thought I'd win the nationals and then find a new sport and concentrate on that.
SEE SPORT
DIFFERENTLY
Get closer to the stories that matter with exclusive analysis, insight and debate in The42 Membership.
Become a Member
"However, I was disqualified while leading with only 80 metres to go so, like coming second at the Community Games, that DQ pushed me to go at it for another year and I just stuck with it."
And it appears that it was the correct decision as the 28-year old continues to improve and set a new personal best — securing qualification for Rio 2016 in the process — in Slovakia last weekend.
However, unlike some of the world's best, Boyce is having to do a lot of it on his own having parted company with coach Rob Heffernan in late 2014 with the 2013 World Champion turning his attention to competing again.
"I've been coaching myself since November because Rob is focusing on being an athlete so I'm looking after myself and it has been more difficult because I don't have the support on the ground.
"I've had to adapt my training. It has been harder, there's no doubt but, hopefully moving forward with qualification for the Olympics secured I can work with Athletics Ireland to have more support in the ground and my training can be more specific.
"I don't do any work outside of training as the event and the training doesn't lend itself to being active in any other kind for role. I train and rest, train and rest, train and rest.
"You have to remember you're competing against guys who are basically living in Olympic style villages almost the entire year round but here you have to maximise your own programme."
And while 2016 and Rio is obviously on Boyce's mind, 2015 and the World Athletics Championships will bring their own challenges, not least of which is making the move from competing for personal bests to competing for top ten finishes.
"By qualifying so early, it just gets the pressure off for Beijing and means I'll have no other thoughts in my mind except attacking the race.
"Previously, my level was such that I knew I couldn't compete for a medal. But I posted a new PB (3:48:55) last week and felt I'd a lot more to give.
"Coming off that race I'm now ranked ninth in the world and I've got an opportunity at a global stage. I've no doubt I can go much quicker and while conditions in Beijing might not lend themselves to fast times I'll be looking at at least a top ten."