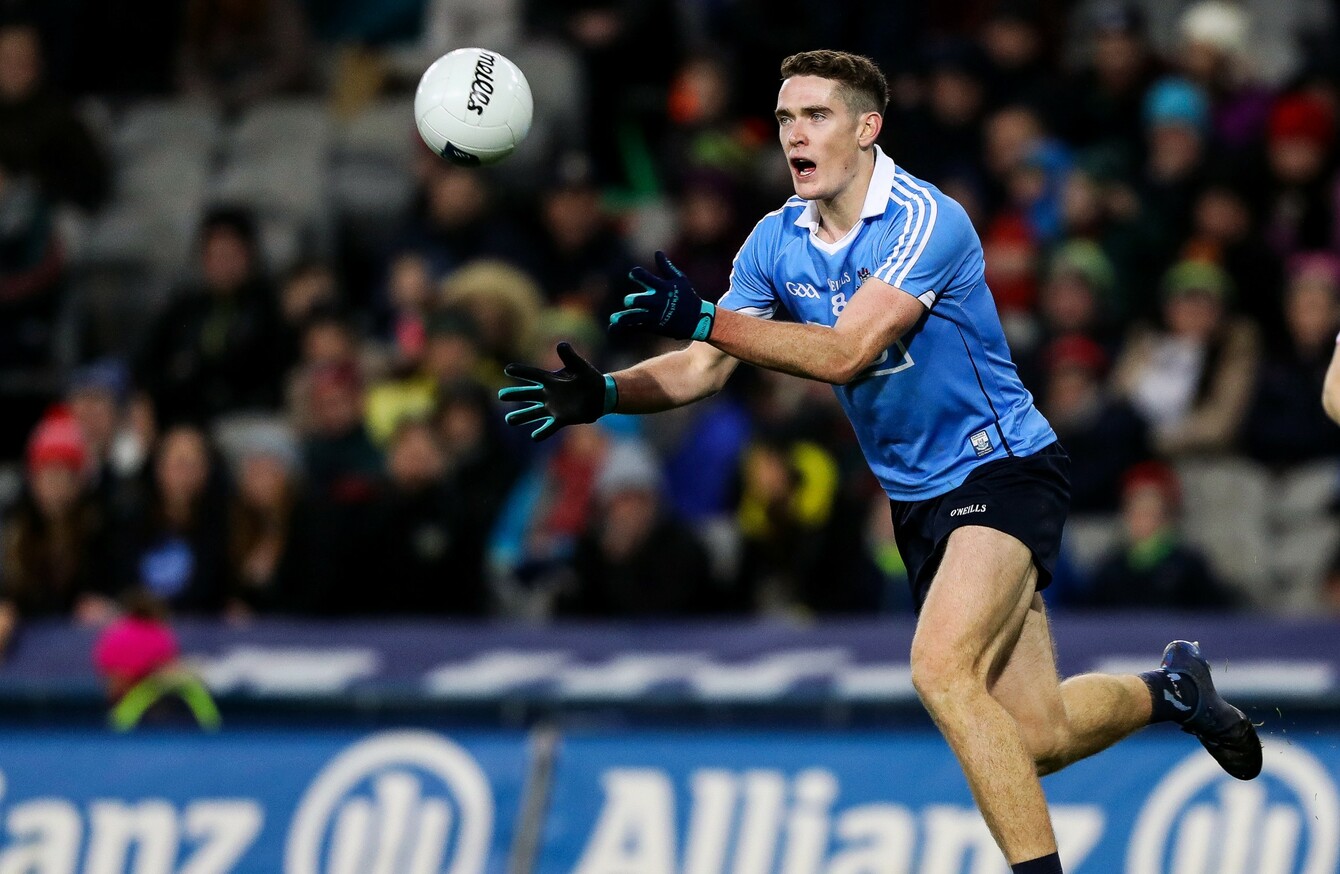 Image: Tommy Dickson/INPHO
Image: Tommy Dickson/INPHO
IT'S HARD TO believe that Brian Fenton is only on the scene since 2015.
The towering Raheny midfielder only made his senior debut for Dublin two and a half years ago, but since then he's gone on to establish himself as one of the elite midfielders in the country.
Fenton has won an All-Ireland and All-Star in both of his seasons playing with Dublin seniors, and his presence in the middle third gave another outlet for Stephen Cluxton to find with his arrowed kickouts.
At just 24, he's already a household name having established himself as a key figure in the most dominant team of recent vintage.
It took him 36 games to lose a competitive game that he started for Dublin, with the defeat coming to Kerry in this year's league final.
It was against Kerry were he came in for some special attention from Jack Barry, who managed to shut down Fenton's probing runs from midfield.
Fenton's club-mate Ciaran Whelan, who was one of the greatest ever midfielders to play for Dublin, says it's only natural he's receiving some extra attention given his performances since his breakthrough.
"The evolution of a Dublin county players is, he broke into the scene, he is man of the match in the All-Ireland final. Year two can be difficult and I think he handled it superbly and he moved up another notch and unlucky not to be player of the year, but now his influence is obviously noticed by the opposition teams and he is targeted, to stop his influence and I think that's his biggest challenge this year.
"He's at that level now where he's recognised as probably the top midfielder in the country and that's his challenge this year to deal with that, to be able to deal with being the target of the opposition that they are going to try and nullify his influence.
"It is a new challenge for him. I think how he's handled himself so far has been fantastic. He's still only 24 years of age. He has seven or eight years ahead of him at this level and he'll be well able to cope. He has the smarts to do that.
"He just has to focus on his own game and he can't get distracted by it and still set his own goals on what he has to do."
Whelan admits he was targeted during his own career, but says it's something Fenton needs to learn to handle himself.
"Yeah, of course you were (targeted). That became the nature of it. Of course you were targeted.
"You have to handle it. You have to be able to control it. Sometimes it will work. It's very easy as a midfielder – I could go out, you know, could have gone out on any given day and stopped the influence of another midfielder. It is a very different role to get in the middle of the park. You are sacrificing your game to stop an opposition player.
"The game has changed because at that time there was lot more kick outs and you are just trying to break it up and keep a guy out of the game. It's a lot more difficult now with the role that midfielders have. Brian Fenton is a 21 to 21 player, he's up and down the field. It's very, very different to the old day, but listen that's something he's just going to have to get used to."
Whelan believes the Dublin squad is continuing to evolve, with younger players taking up leadership roles. As the likes of Bernard Brogan, Paul Flynn and Diarmuid Connolly edge into their 30s, a new core are emerging to take up the mantle.
The modern game has also decreased the value of inside forwards, with runners from deep having a greater importance.
Since 2012, James O'Donoghue is the only forward to have won Footballer of the Year, with wing-backs picking up the accolade on three occasions.
"The night of the national league final we said it, it is these young players, these are the guys that are influencing Dublin," continued Whelan. "These are the new leaders.
"It's a new stage for them going into their careers, and that's how it evolves. These guys, the Ciaran Kilkennys, who was in my opinion has been really influential when Dublin have been under pressure.
"It's the Brian Fentons, the Jack McCaffreys, the James McCarthys, these are the guys that are making Dublin tick at the moment, It's cutting off Dublin where the supply comes from essentially.
"I think teams have tried to do that and you can see it has reduced the impact of their forward line that they are not getting the same amount of ball or possession in there, because teams are putting more pressure on the mid sector."
The42 is on Instagram! Tap the button below on your phone to follow us!