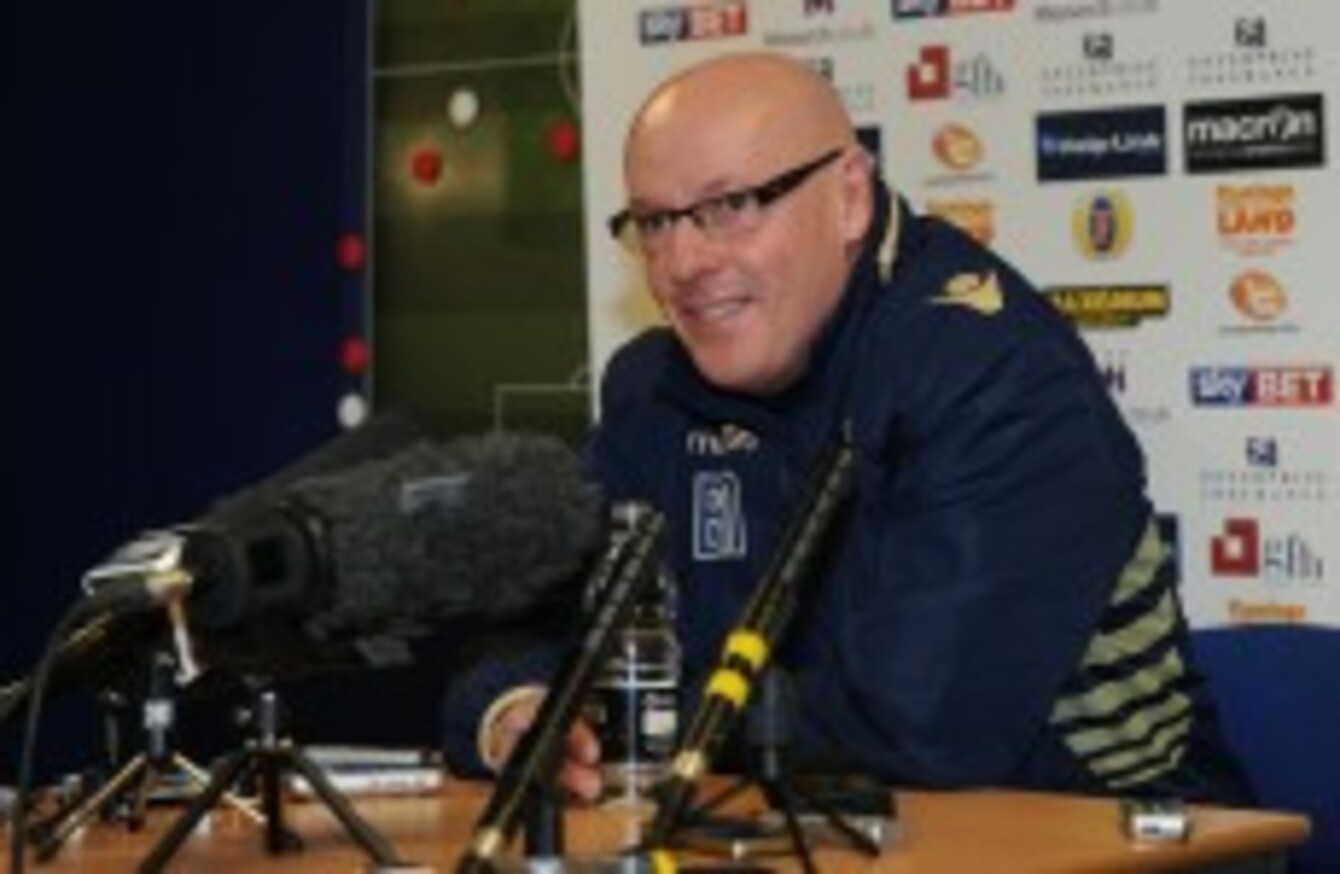 McDermott at today's press conference.
Image: Anna Gowthorpe/PA Wire/Press Association Images
McDermott at today's press conference.
Image: Anna Gowthorpe/PA Wire/Press Association Images
BRIAN MCDERMOTT has revealed he could not "walk away" from his position as Leeds United manager, despite a turbulent weekend at Elland Road.
Widespread reports suggested McDermott had been removed from his role last Friday by Italian Massimo Cellino, who is reported to have agreed to buy a 75 per cent controlling stake in the club with owners GFH.
Confusingly, McDermott was absent from his side's 5-1 Championship victory over Huddersfield Town on Saturday, after the club had released a statement claiming the boss had not been dismissed in the first place, but was back to take training on Monday.
"I got a phone call Friday night from the football club, from (lawyer) Chris Farnell, to say I'd been relieved of my duties and a letter was on its way," he said.
"On Saturday morning I got another phone call from GFH to say that wasn't the case, a couple of statements came out and I've been speaking to the LMA, so we've now got to this stage where I'm sitting here again.
"The reason I'm sitting here is because I've been reinstated. "I'm Leeds United manager and I want to be Leeds United manager.
It's been difficult, very, very difficult. For me personally it's been difficult. For the players and staff it's been difficult. But the performance on Saturday tells you everything you need to know.
"The fans proved they are a class act. It's their football club whoever takes this club on has to have their interests in mind."
Speaking of the moment he learned he had been reinstated, McDermott added: "I saw for the first time on my iPad. That was interesting."
Fans show their support for McDermott on Saturday. Credit: Richard Sellers/PA Wire/Press Association Images
Despite having his job back, McDermott admits the future at Elland Road remains uncertain. "We don't know who the new owners will be yet," he continued.
"I don't know, certainly, and all I'd be doing is speculating. There's been enough of that. Whatever happens, we need some calm.
"As far as I'm concerned I spoke to GFH, who are the owners of the football club, and I've had certain reassurances about my future and that the running of the football club is down to me.
It would have been very easy for me to walk away – that was the advice I had but there was no way I was going to. All it has done is to give me more drive. The only thing I was thinking of on Friday night was to get a result.
"Some big people in the game have said don't go back. But how can I not go back? There is no way I would leave the group of staff I have here and the supporters."
The former Reading manager added that he hoped no other manager would have to go through what he has over the weekend. "It would be easy to sit here and say I'm let down and start blaming people," he remarked.
"This situation should never happen to a football manager or staff. It's not right and let's hope it never happens again. "
I've got assurances written down and that's the most important thing. I needed that."
McDermott also stated that there had been an Italian player he did not know in training on Monday, likely to be loan signing Andrea Tabanelli, but insisted he would be treated with the "utmost respect" should his signing be ratified by the Football League.