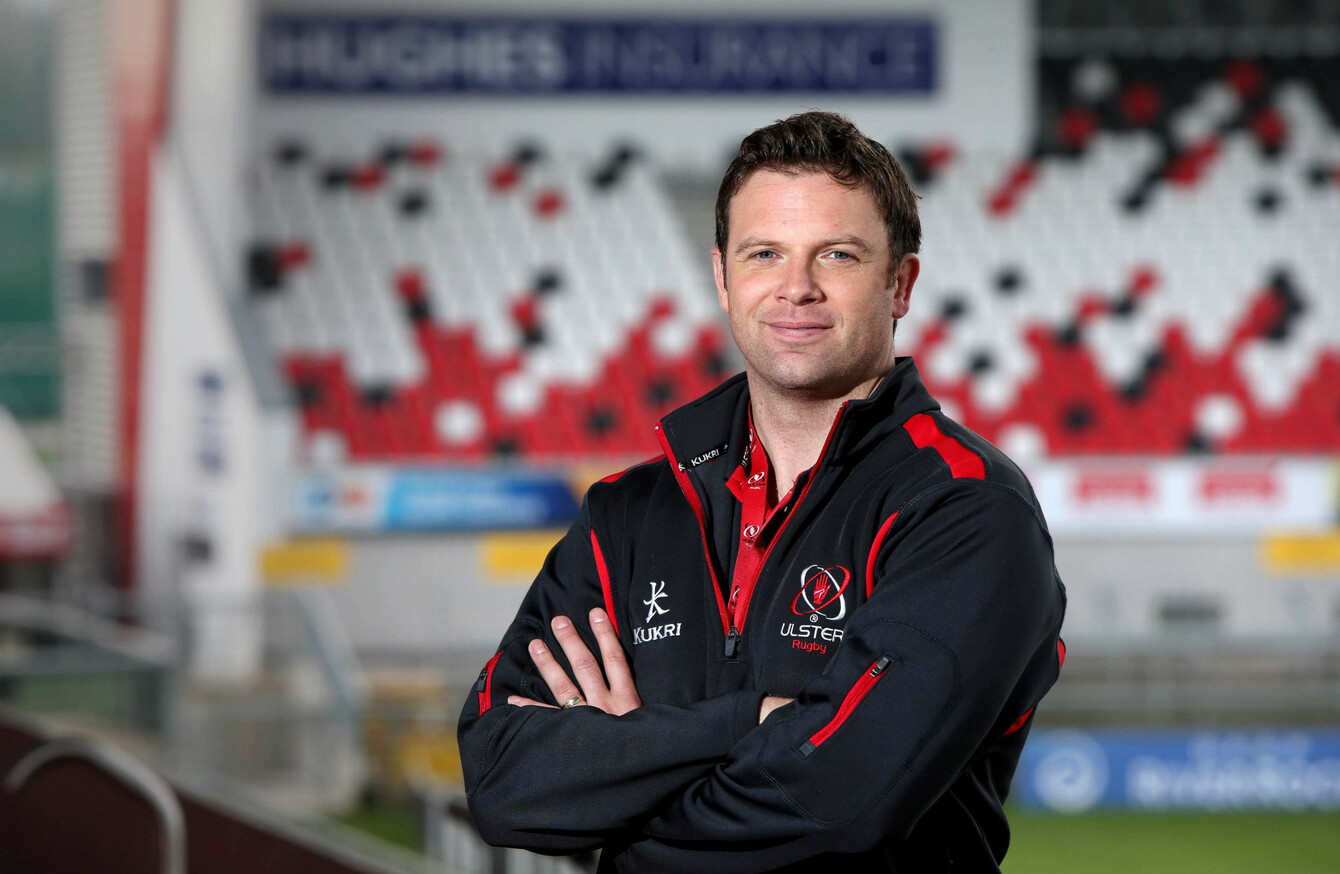 New Ulster team manager Bryn Cunningham.
Image: Matt Mackey/Press Eye
New Ulster team manager Bryn Cunningham.
Image: Matt Mackey/Press Eye
WHILE DONALD TRUMP was giving his State of the Union Address to the United States Congress, it seems like Ulster Rugby's Operations Manager Bryn Cunningham was writing one of his own.
On Tuesday, he delivered it, a no-holds-barred-lay-your-cards-on-the-table assessment of where Ulster are at right now, after going out of Europe and axing their Director of Rugby — by mutual decision, don't forget.
Put simply, there's a lot of work to be done. But, rather than be downbeat, the former full-back is optimistic moving forward.
"There is a change now, and as far as we are concerned, it is an opportunity, I think, is the way we are looking at it. To almost start from the foundations again and build back up again," Cunningham explains.
"It is an opportunity to kind of look at our traditions, our history and what is important to Ulster Rugby, what is important for supporters and stakeholders to see on the pitch.
We have got to start trying to deliver a level of consistency week in and week out. We have shown that we can play particularly well in patches but sometimes our performances have really let ourselves down.
"It is making sure we get those fundamental things in place and the type of characteristics we had to see in players, that competitiveness, that energy, enthusiasm and with that comes with performances. That is what we are really focusing on moving forward."
Rumours swelled after the win over the Southern Kings in South Africa — ironically they are the opponents again this weekend — that Kiss was on borrowed time and last week's announcement only confirmed the inevitable.
A dire festive period, which saw Ulster thoroughly outplayed for two and a half games, and the exit from the Champions Cup without so much as a whimper at Wasps, sped the process along to the extent that Kiss was gone before the Six Nations began.
The questions had already begun long before that, but they were only intensified in the wake of the Australian's departure — how had an esteemed coach that Ireland so desperately wanted to keep when he left fallen so far short of the mark?
A stark and honest review will pick apart the shortcomings of Kiss's tenure, after which a new system will be put in place, with Bryn headlining off-field matters and Jono Gibbes put in charge of the on-field side.
"I'm definitely not David Humphreys!" Cunningham laughs, when asked if he'll be taking on a similar role to when his European Cup-winning colleague was part of Ulster's backroom staff.
His job, however, will likely be extremely similar.
"I suppose in some ways, yes, the structure will normally fall more like that, and will allow Jono the opportunity to focus on the rugby, and I think that is important. I think that is where we are right now at this moment. It is important he does not have to worry about a lot of other off field things.
We are going through a change at the moment off the pitch in terms of the strategy of the organisation. We have probably come to a natural end there. We are in the process over the last few months of looking at our strategy for the next three to five years, which is a really exciting thing now to be a part of.
"I know that certainly externally it is all a bit doom and gloom and things have not been going as well as we would have hoped, and obviously with the off-field audit at present as well Ulster are in the spotlight for not the right reasons.
"But I see this as a fantastic opportunity for us to really develop a strategy more than anything, which is organisation wide.
"It is just not the pro game, we are an organisation, we are a club where clubs, schools, domestic rugby, volunteers, our supporters, our stakeholders, we have got to try and find something which everyone feels a part of and buys into, and hopefully we can build something going forwards which is really strong."
There are pragmatic solutions among Cunningham's rhetoric, some immediate and some not.
For instance, Ulster are not in the market for a coach right now, however they may dip in for a defence coach if necessary. Jared Payne is helping out in that regard as someone who possesses a strong rugby intellect.
The Academy, which has over the last few years failed to deliver anywhere near enough home-grown talent, will have to step up its production levels substantially.
Most importantly, there will be a redress of where Ulster are as a squad.
"I came into our [current] strategy then a couple of years into it and it was largely based around a group of players which was very strong," Cunningham says. "Some home-based players were going into retirement and a couple of foreign players, who had had huge impact, were going.
"That strategy was placed around being the world's best. That was put across and I think you've got to have a lot of ambition, and with that it can occasionally be misinterpreted that we need to be literally the best club side in the world and that's not really what that was about, it was about being the best in every facet of the game both on and off the field.
"I think now we've had a chance to sit back and look at what's important now and where are we and let's take stock and almost have a bit of realism about exactly where we are.
We've got to be optimistic and positive about moving forward but also appreciate where we are and the restrictions we have and the player pull that we've got in comparison to a Leinster for example.
"We've got to not necessarily mark ourselves against Leinster but mark ourselves about where we are right now and what we need to do going forward and that's taking a bird's eye view of the whole place and not just about the pro team and what's not right there.
"It's about looking at how we can get more school players of a high enough quality through into the academy and develop the academy to make them even better. But we have to realise our player pull isn't as great as Leinster and we will have to dip in occasionally into the Leinster academy or further afield through Irish qualified players."
For now, all that can be done is to focus on getting through the rest of the season on the right side of European qualification while putting in place the building blocks that will set them up going forward.
When the review is complete, then the work can begin moving into the next few seasons at all levels, not just on the senior side of the game that is on public display.
Cunningham will be heavily involved, of that there will be no doubt, but this will be a provincial wide project and will draw in the opinions of many different voices throughout the club. No expense will be spared.
"It would take long to go through all the various people (involved), but I think there will one or two people leading it," he reveals.
It's not one or two people getting everyone to fall into line it's about taking guidance from a variety and wide-ranging number of people both internally and externally at the schools, the volunteers, the professional game board, the senior management, CEO, professional team and generate as much information as they can and what it is we want to create here.
"Hopefully we get it together, refine into something very tangible that everyone feels a part of it and that is the key thing.
"We have an understanding of what the expectation is of everybody moving forward. Every single person in the organisation, be it staff members or players. Everyone needs to buy into it, it's a culture that we are going to have start developing that whenever people come into this organisation, be it a player or a coach, they understand exactly what they are stepping into, what is expected of them.
"It's just developing a strong culture. Maybe there is an argument that over the last couple of years we have started to lose our identity a little bit and I think it is important that we started to work hard to get it back."
It's a long road for Ulster to get back on. The on-field product hasn't been good enough and the off-field product has been scrutinised as a result, leaving the province in a state of disarray. It's a low base to be starting from.
Bryn's toughest assignment begins now.
The 42 is on Instagram! Tap the button below on your phone to follow us!