TWO-TIME MASTERS champion Bubba Watson, considering retirement last year over an undisclosed health issue, suddenly has two triumphs in six weeks and is a hot contender again at Augusta National.
"Life's in the right spot and golf's in the right spot," Watson said Monday. "Golf is really easy when you free it up. It's very difficult when you're not thinking properly."
The 39-year-old American left-hander was in free fall last year, having lost 30 pounds (13.6kg) and seen his formidable golf game wither. Watson said he couldn't have dreamed to be on the form he now enjoys.
"Seven months ago I did not believe it," Watson said.
But citing the support of his wife, agents, caddie Ted Scott and "father figure" and clubmaker Ping president John Solheim, Watson said he overcame his setbacks.
"They have cheered me on," Watson said. "And they have helped me come out of a dark place."
Watson offers no more details on his issues, except to note that life's major private moments — family births and deaths, moving homes and marrying — impact the golf game people watch.
"There are things that we don't ever talk about that causes somebody not to play good or somebody to play great," Watson said.
There are things behind closed doors that people don't know about that we don't talk about that can cause you to be in a good or bad frame of mind. I've never been in a bad frame of mind and still beat everybody else."
Watson ended a two-year win drought in February at Riviera and added the WGC Match Play crown last month in his final Masters tuneup, after which he took off a week to relax with family.
"I had last week off and a little vacation, a little rest," Watson said. "So hopefully get the energy going, get the nerves out and get ready to play some golf and just focus on quality shots. Hopefully on the weekend I have a chance to fight and try to put on a (green) jacket."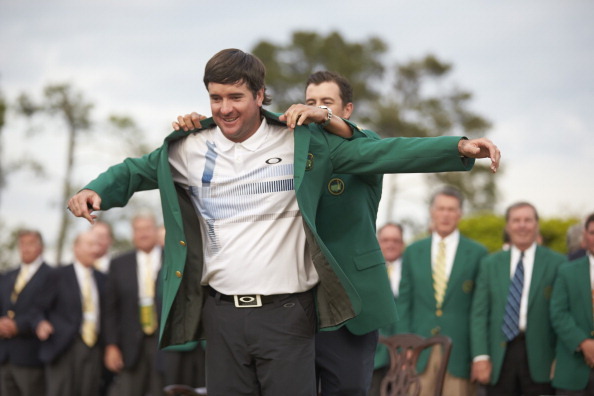 Sports Illustrated / Getty Images Receiving his green jacket from Adam Scott in 2014. Sports Illustrated / Getty Images / Getty Images
Watson won green jackets in 2012 and 2014, the former coming in a play-off when he hooked an astonishing approach from the right trees to land 15 feet from the cup.
Watson saves energy for the tournament by playing only nine holes in practice rounds Monday and Tuesday and the par-3 contest Wednesday.
"I can sit back and only play nine holes a day," Watson said. "It has just changed that way of trying to just save some energy and mental preparation. That's what I did different the two times I won."
As much as resting his body is crucial for the Masters, Watson says the mental game is vital.
"You've got to be mentally prepared," Watson said. "The mental part of it is what drains you around this place.So you've got to be mentally prepared and focused on every shot and committed."
The42 is on Instagram! Tap the button below on your phone to follow us!