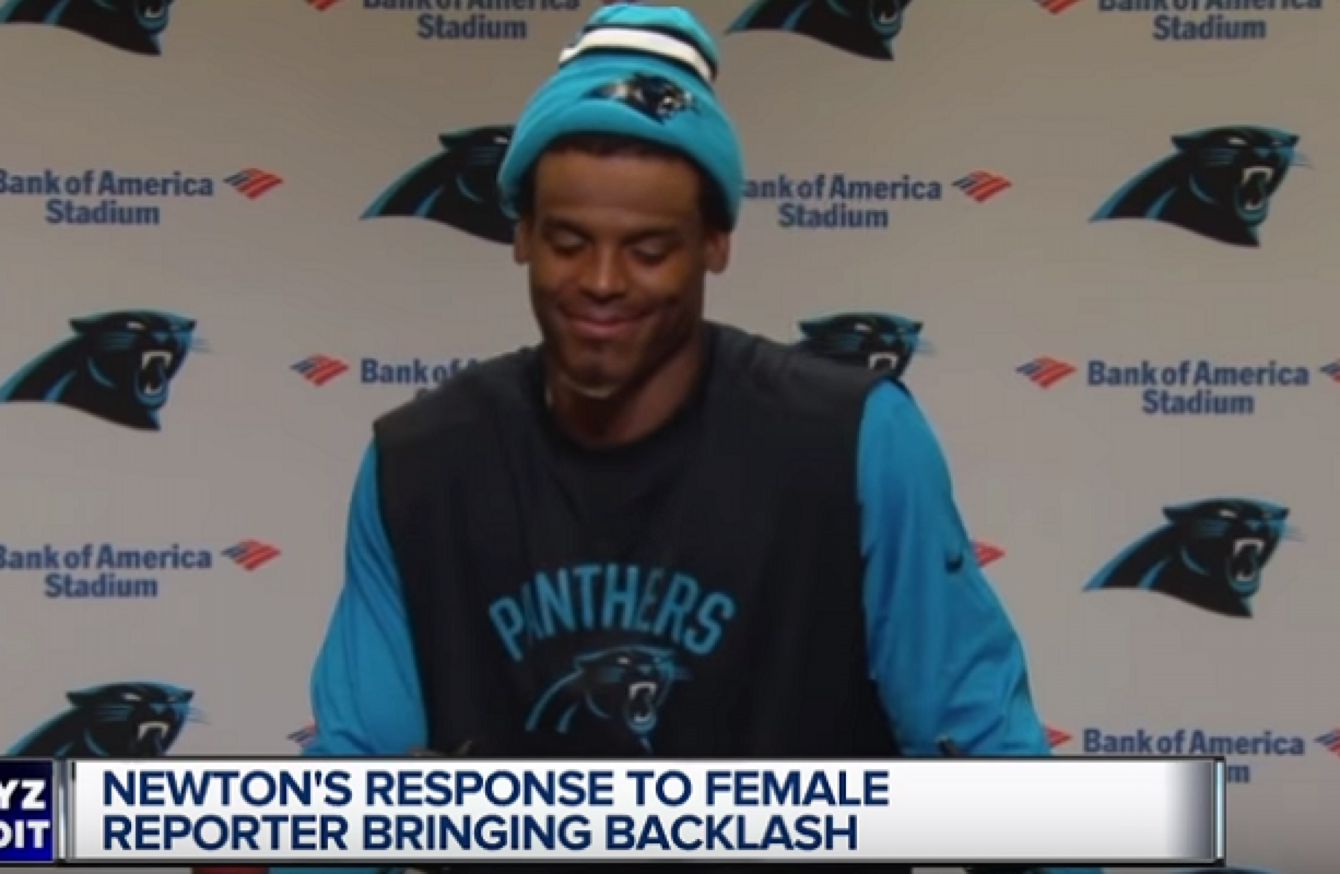 Cam Newton responding to a question from reporter Jourdan Rodrigue.
Cam Newton responding to a question from reporter Jourdan Rodrigue.
CAROLINA PANTHERS QUARTERBACK Cam Newton faced mounting criticism on Wednesday after making a sexist comment to a female reporter during a press conference.
Newton landed in hot water after remarking that it was "funny to hear a female" ask a question about route running.
The Panthers star smirked after Jourdan Rodrigue, a reporter for the Charlotte Observer, asked about receiver Devin Funchess's ability to run physically demanding routes.
"It's funny to hear a female talk about routes like — it's funny," the 28-year-old Newton said before discussing Funchess's development with the team.
Rodrigue however criticized Newton's reply in several posts on social media.
"I don't think it's 'funny' to be a female and talk about routes. I think it's my job," Rodrigue wrote on Twitter.
Source: WXYZ-TV Detroit | Channel 7/YouTube
Rodrigue also revealed that she spoke with Newton in private after the press conference and was unhappy with his response.
"I spoke with him after and it was worse," she wrote. "I chose not to share, because I have an actual job to do today and one he will not keep me from."
The Panthers promptly issued a statement clarifying Newton's remarks.
"I have spoken with Jourdan and Cam and I know they had a conversation where he expressed regret for using those words," a spokesman said.
"We strive as a department to make the environment for media comfortable for everyone covering the team."
Rodrigue however, claims that Newton did not issue her an apology when she tried to find him.
Newton's comments were skewered by other female journalists on Twitter.
USA Today's award-winning sports columnist Christine Brennan, the first president of the Association for Women in Sports Media, remarked: "This was commonplace in the 1980s, unfortunately. To hear it now, from a young man, is reprehensible."
Additional reporting by Sinéad Farrell.
Subscribe to The42 podcasts here: