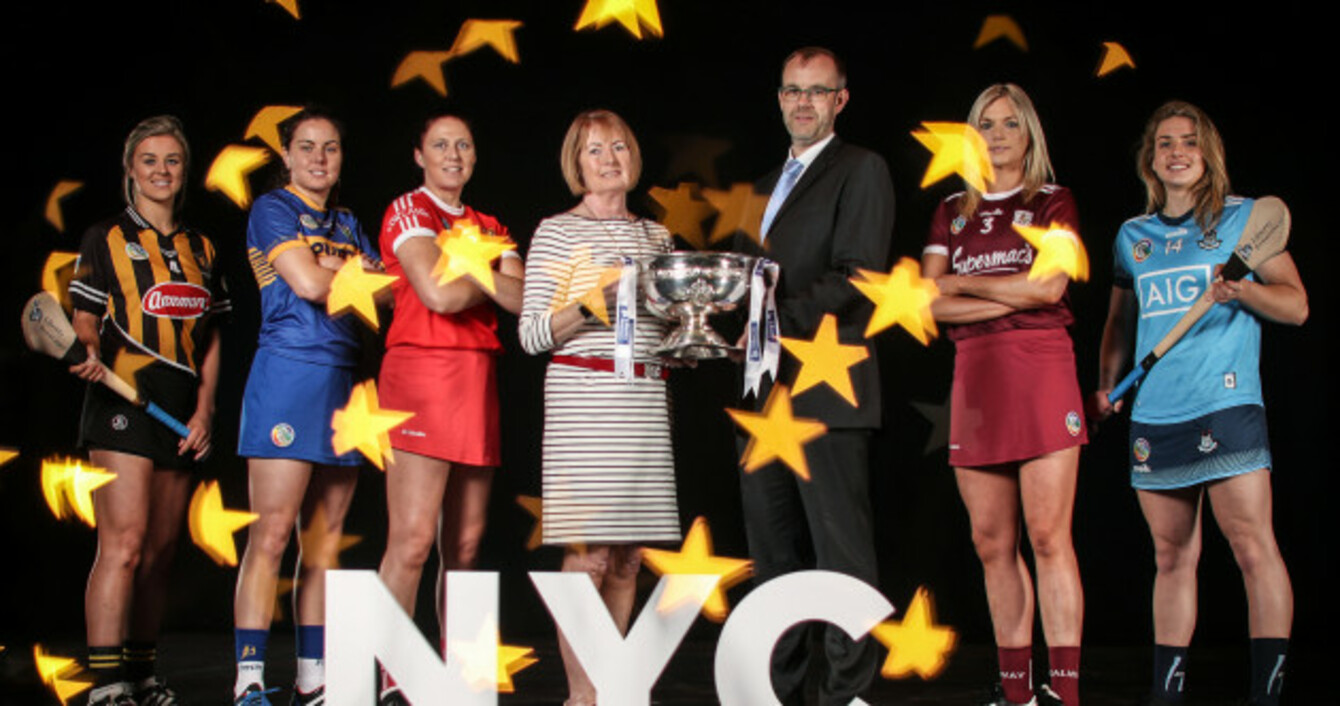 Top camogie stars with Kathleen Woods, President of The Camogie Association and Sean Brett, Head of Strategic Marketing at Liberty Insurance.
Top camogie stars with Kathleen Woods, President of The Camogie Association and Sean Brett, Head of Strategic Marketing at Liberty Insurance.
IT'S A TOPIC that has dominated the headlines week in, week out in terms of camogie since last September's All-Ireland.
Player after player has called for change, delivered passionate arguments for adjustments across the board. The outdated, archaic rules are the main thing they take issue with. The game has evolved through the years, after all. 
While yesterday was all about the launch of the 2019 All-Ireland championships and the positive announcements about the All-Star Tour and live-streaming that went hand-in-hand with it, there were, of course, a few inevitable mentions of the above here and there. 
Each and every player laughed nervously when the rules and the need for change came up, and each reporter braced themselves for the same regurgitated, repeated responses time and time again, as has been the way over the past few months.
But there was more to it than that.
What was not expected, perhaps, was for Camogie Assoiciation President Kathleen Woods to touch on it in her formalities.
That's a story for another day, she mumbled — well something along those lines — after she brought the situation up of her own accord.
She noted that players are "going through an evolutionary period", doing "the exercises of a professional athlete in an amateur world and we all recognise that".
And the main, and lasting, remark:
Árd Comhairle are not afraid of change and we're not afraid of the challenges. Our most important step is the creation of the playing rules review working group.
Important and positive comments, reflecting the work that has happened over the past few weeks and months.
The Camogie Association had already indicated that they were open to change, or working things out, it seemed. But Woods' words yesterday cemented that. 
At Congress in early April, Rule 20.4. re: introduction of ability to trial playing rules passed with a majority of 67%, while they hosted a successful feedback forum later that month for players and managers.
A development from there was that the Experimental Rules Committee, as proposed at Congress, was to be be established.
SEE SPORT
DIFFERENTLY
Get closer to the stories that matter with exclusive analysis, insight and debate in The42 Membership.
Become a Member
Just three days before that forum, results of a Women's Gaelic Players Association (WGPA) survey were published, showing that 82% of players were in favour of trialling new rules. 70% stated the rules on physical contact very much need a change. 
A steering group of players had been formed, with the WGPA proposing that the group take action through communication with the Association and development from there rather than bemoan the current state of the game.
Dublin star Aisling Maher is one member of such, and was eager to explain its workings yesterday.
"The steering group that was put together by the WGPA was very much us trying to come together as a group and acknowledge that maybe the perception of our game that has come across from an All-Ireland final isn't what the players have in their minds and that the Association probably have in their mind," she said.
"We're just looking to put together constructive steps as to how we can get closer to that and how we can improve our game.
Like everything, camogie is going to evolve and change and it's just important that we as an Association keep up with those changes and make any adaptations that need to be made to get our game to the best place that it could possibly be in.
"Our aim was to put together how, as players, we felt. We don't have all the answers but if we all work together on trying to achieve it, we're much more likely to end up in a better place.
She added: "It's frustrating for the likes of Cork and Kilkenny. They put a massive amount of time and effort into getting to All-Ireland finals, competing in them and winning them, and the only thing spoken about afterwards is a decision by a referee or a free here and there and that's not fair on anybody.
"The reports should be about the quality of the game being played, the quality of the hurlers and the physical conditioning of the players and all the rest. From a player's perspective and from an Association's perspective, hopefully we can continue to drive on.
The rules review committee that's been brought in now that's going to bring in trial rules in the league next year is a really positive step in the right direction. We're looking forward to see what way they go about doing that and hopefully it can only be a positive thing for camogie.
Cork captain Gemma O'Connor is another strong voice in that group. 
"Things are slow but I think they're finally starting to move," she smiled, when asked about her 18-season inter-county career, the differences, the recent backlash and the calls for change.
"They're setting up the rules review group which hopefully will start sooner rather than later.
"Liberty Insurance, with the All-Star trip and the streaming of games is moving it in the right direction. We just hope that it's moving a bit quicker and it continues to move in that direction.
With the rules, more than likely I won't be there to play with those rules but it's for the future players, to make the game that bit better. And we have the product to make it an unbelievable sport.
"What we want is a bit more flow to the game."
That was the general consensus, and has been over the past few months.
Games need to be more free-flowing, no one wants to watch a free-taking contest like last September's decider.
Players' physicality has outgrown the rule book, and the game has changed and evolved. Camogie referees tend to clamp down more and more on physical exchanges, slowing the game down drastically as it turns into one free after another, and this obviously greatly frustrates players. 
"Players are training harder, you're going to the gym, you've pre-season conditioning," O'Connor continued. "The game has to reflect what players are doing off the pitch as well.
We're in a situation where we've a great opportunity for the game to evolve so hopefully we can get a nice bit of progression over the years.
"We're not being negative about it. We're all in it together to make sure it's a great game. Ourselves and Kilkenny last year, we don't want to be in the process where it's stop-start and we don't want that to be the talking point.
We want the talking point that camogie is a great sport; that the hurling is fantastic, it's fast, it's physical. That's what attracts viewership. We don't want to go backwards, we want to move forward.
Maher also wished to set the record straight on one thing.
"I think there's a common perception that everyone wants shouldering in and I don't think necessarily that's the case," she said, when asked of any specific improvements she'd wish for.
"I would like to see a slight change in the definition in the tackle. I feel like at the moment it's a little ambiguous. It's very difficult for referees to implement and it's very difficult as a player to know how a referee is going to implement it game to game.
"It's very difficult to spend all this time on strength and conditioning, and then tackle a player and not give away a free, because any kind of physical contact seems to be falling on the wrong side more often than not." 
She's done it before, and she'll undoubtedly do it again but Kilkenny defender Grace Walsh also weighed in with her opinion, echoing her inter-county peers' sentiments.
"I would just like the rules to be tweaked a little bit and let the game flow," the Tullaroan ace offered.
Let girls show the skill-base they have, show the quality, show the pace (camogie) can be played at, the way it's played at training. I think that will bring the game forward and get more people to come to the games because they want to watch it, because they think it's going to be an exciting game.
"I think it's brilliant they've brought the livestreaming on board. If someone looks at Kilkenny and Galway's game on the 15th and it's a really, really good, exciting game to watch they might say, 'I might go to the next game now because it'll be something good to look at.'"
Finish on a positive, and look to build on that going forward.
Onwards and upwards for all involved, please God. 
The42 is on Instagram! Tap the button below on your phone to follow us!