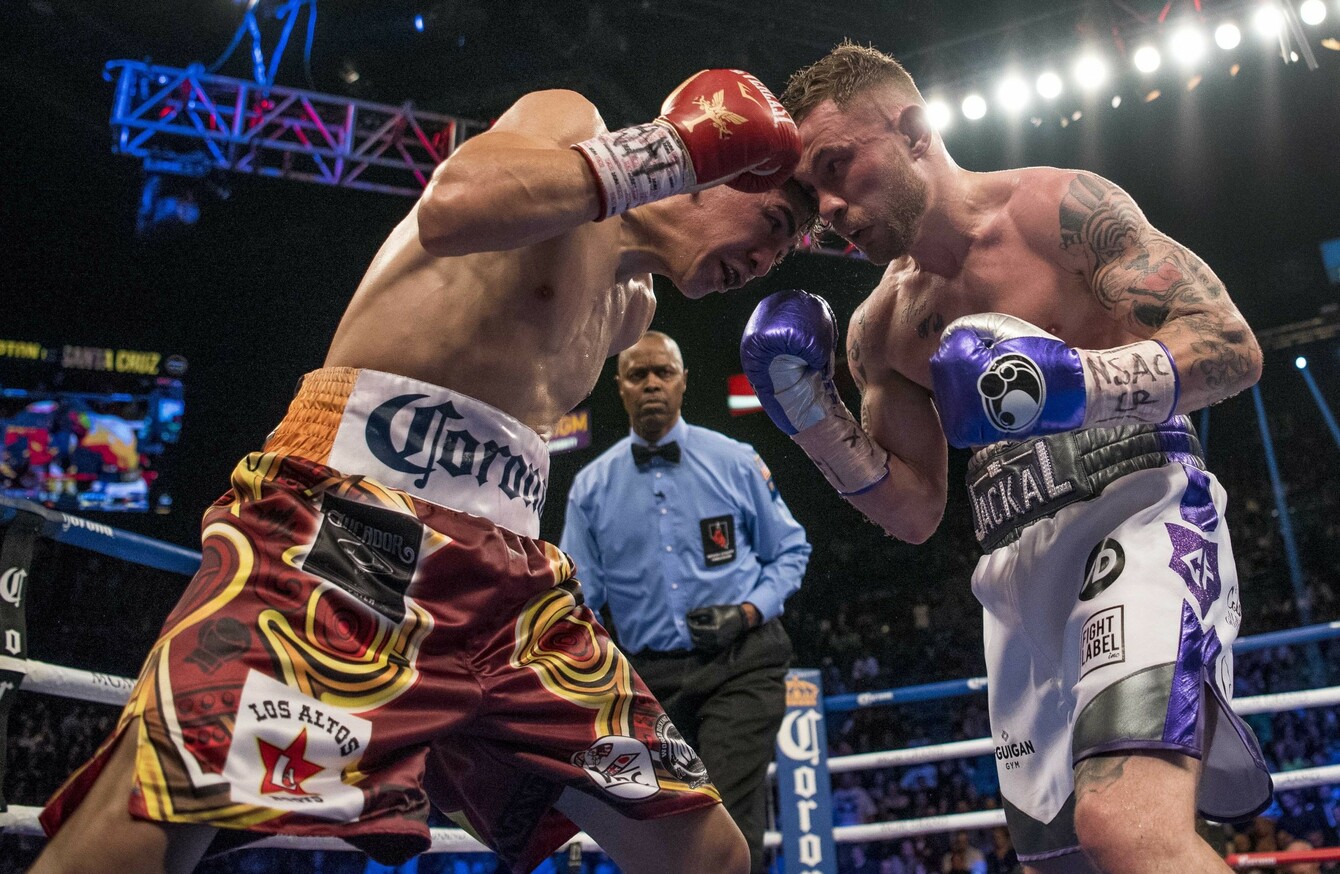 Image: SIPA USA/PA Images
Image: SIPA USA/PA Images
FORMER TWO-WEIGHT WORLD champion Carl Frampton won't quite get the homecoming he was hoping for next month, but he'll be boxing on Belfast soil nonetheless.
Opponent Andres Gutierrez [35-1-1, 25KOs] brings with him a solid record and considerable arsenal to the Odyssey Arena on 29 July, but he's not Leo Santa Cruz. In the end, an immediate shot at redemption escaped 'The Jackal', after the Mexican sensation edged him in their rematch back in January.
Santa Cruz's camp had a number of concerns with regards to travelling to Belfast for a rubber match, most pressingly Frampton's sizeable hometown advantage and the effect a raucous Belfast audience might have on the judges' scorecards. Frampton, however, is disappointed that his pugilistic soulmate won't return the favour in journeying to the belly of the beast, having lost his strap to the Mexican-Californian in Las Vegas at the start of the year.
Speaking on At Home With Colin Murray on BBC Radio 5 Live (transcribed by Irish-boxing.com), the 30-year-old Tiger's Bay man revealed he and Santa Cruz had rather candidly discussed a potential third fight in Direct Messages on Twitter.
"It was weird, I sent him a message on the Sunday after the [second] fight, a direct message on Twitter and said 'are you around Leo? I'd like to have a drink with you' but he was already away home.
"Then, out of the blue, he sent me a message, like six weeks later, replying to the last message I sent him: 'I want to get this fight on, man.'
"I think he was drunk!"
Frampton revealed that Santa Cruz had relayed to him personally his concerns about conceding hometown advantage, a seemingly insurmountable stumbling block in the attempts to get the fight off the ground.
"We were talking to each other and I said 'hopefully we can get the offer to make you come over, it would be great.' He was saying stuff like 'I would come there but I know I wouldn't have much support.'
"So I was telling him 'all the [Scott] Quigg fans would support you, don't worry about that, you'd have a bit!'"
The former champion also explained that in spite of the lack of financial clout on behalf of Cyclone Promotions relative to larger promotional outfits, a huge offer was indeed made to Santa Cruz.
"I know the money he is on, it's pay-per-view money. There wasn't a pay-per-view platform available to make him an offer, but there was an offer made and it was more than what he got to fight in Las Vegas – and he said no.
"We've a decent relationship, me and him, and there was a small hope that he might've came but, to be honest, when he said no and it was ruled out it didn't surprise me. I was a bit pissed off.
"New York was a neutral venue but I, as champion, went to Las Vegas – it's hard to turn down topping in Las Vegas at the MGM, and the money was good, it's hard to turn down. But I was the champion and I went to his backyard – you can drive from LA to Vegas in three hours – and they're trying to call Vegas a neutral venue. Come on, man."
Frampton then conceded that it's unlikely Santa Cruz will ever fight him in Ireland. As to whether or not they trade leather for a third time anywhere in the world remains to be seen, but one suspects the trilogy will be boxed off before the end of 2018.
The42 is on Instagram! Tap the button below on your phone to follow us!