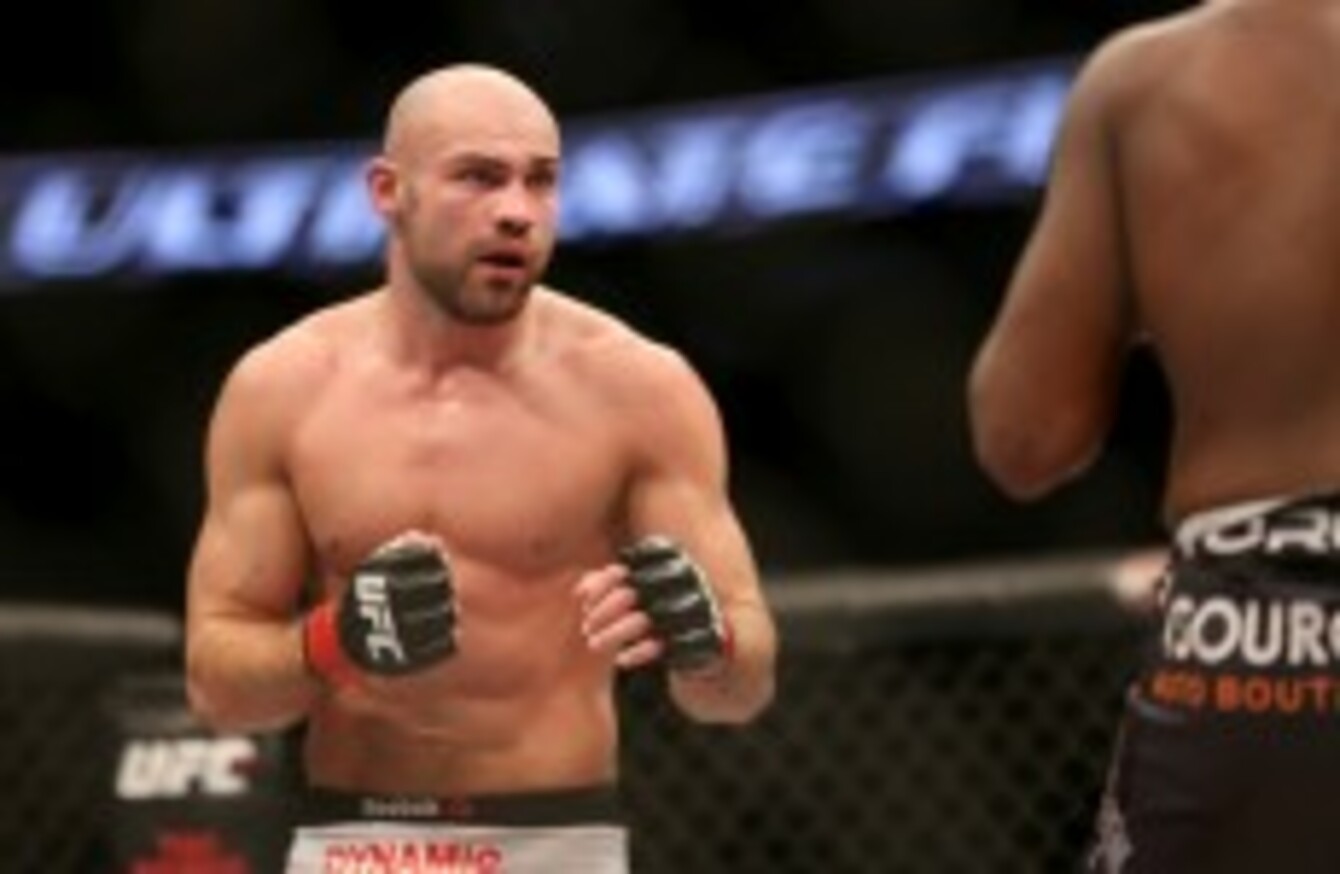 Irish UFC fighter Cathal Pendred.
Image: AP/Press Association Images
Irish UFC fighter Cathal Pendred.
Image: AP/Press Association Images
IRISH MIXED MARTIAL arts star Cathal Pendred is renowned for a strict approach when it comes to his diet.
Pendred competes in the Ultimate Fighting Championship's welterweight division, which means he can weigh no more than 171lbs (170lbs for a championship bout) the day before competing. His weight between fights can fluctuate from 195lbs to a maximum of 205lbs.
Unlike many of his peers, however, Pendred opts to follow a process of gradually bringing his weight down before a fight over an extended period of time. Drastic and unhealthy weight-cutting at the last minute has become common in MMA, but the Dubliner does things differently.
The key to that is being sensible with his nutrition, so the 27-year-old is well-placed to offer advice on how to follow a healthy diet and lifestyle. Discipline is obviously important, he says, but punishing yourself can be detrimental.
"I think the main thing is not to be too strict, certainly right at the beginning if you've decided to change your diet," Pendred says. "Most people will cut carbs out completely, but I think you have to almost wean yourself off them instead of taking them all out in one go.
"Your body kind of freaks out otherwise. I've seen people do that before; they just end up getting grouchy and their body is starving for carbs. That sort of change is something you have to slowly adapt to; putting clean carbs into your diet and taking the bad ones out.
"On top of that, I think the other important thing is preparation. If you know you're going to be out for a few hours, whether it's at work or whatever, prepare a meal beforehand. When you get really hungry is when you tend to say: Okay, screw it, I'm going to eat whatever I can get my hands on. But if you've prepared food and brought it with you then you won't get to that stage."
Pendred's food preparation is made easy thanks to one of his long-term sponsors — a Dublin-based company called Fighter Food — which delivers pre-cooked meals on a weekly basis. The company is also popular with Pendred's SBG team-mates like Conor McGregor and Chris Fields.
Having one 'cheat day' a week is often recommended as a way to ease the transition into a better diet. Pendred doesn't necessarily believe they're best avoided, but he does suggest that there are plenty of healthy alternatives available nowadays to satisfy your cravings throughout the week, rendering cheat days redundant.
What are they
really like?
Rare insights on sport's biggest names from the writers who know them best. Listen to Behind the Lines podcast.
Become a Member
Pendred, who fights Augusto Montano in Mexico on 13 June, said: "I used to do cheat days but now I don't bother. Something I enjoy doing these days is just having a protein bar a couple of days a week.
"You don't want to be having too many of them but they're not that bad in moderation, and they feel like a treat when you're eating clean all the time. I'd nearly enjoy it more than a Snickers or a Yorkie. The only problem is that they're three-times as expensive, but it's worth it when you don't feel like a pig afterwards.
"Clean living is becoming a lot more popular and you always see people sharing recipes on the internet for stuff like paleo cookies, protein pancakes and stuff like that, so there are plenty of other options that you can have as treats but they don't make you feel as guilty."