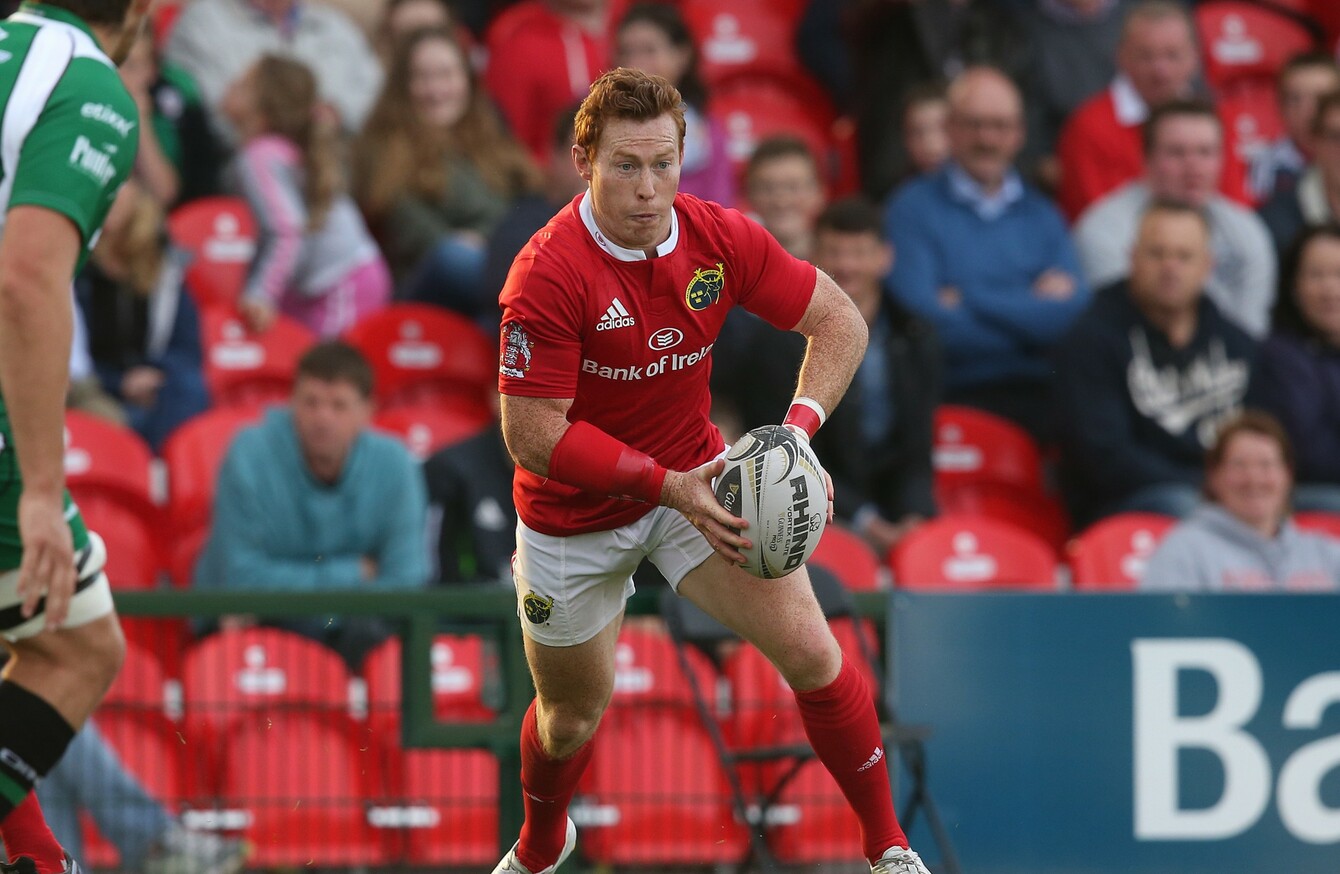 Image: ©INPHO/Billy Stickland
Image: ©INPHO/Billy Stickland
Updated at 12:00
CATHAL SHERIDAN WAS back after the break but something was different this time.
"I was taking a while to adjust", he says.
"I was wondering why things weren't working for me the way they used to. It took me a bit longer to do everything. There was an intense thought process for the automatic things that I do on the pitch now. And that has an effect on your confidence."
The Munster scrum-half had been struggling with his recovery from a second arm fracture suffered in a game against the Ospreys in February 2014. He had just established himself in the squad and made a number of starts, most notably in the stand-out Heineken Cup victory in Perpignan. Suddenly, the steady progress had been disrupted.
The road back was difficult. He struggled. Self-doubt began to creep in.
"You might get back to nearly being on the pitch but you'd realise that something was wrong and you'd get pulled back off it. I was thinking 'I'm useless out there' and you start to create these illusions in your head. 'I'm not going for coffee with the lads afterwards because all we're going to be talking about is training and I was useless at training'. I don't think I've ever gone for coffee with the lads and we've specifically talked about training! We usually talk about things completely unrelated to rugby.
It put me in a bad place. It brought out a lot of feelings in me. Ones that I had put away for a long time."
Sheridan was psychologically vulnerable when he shipped an innocuous knock against the Dragons towards the end of the year. He carried his arm for the next few weeks. It was sore. He couldn't pass a ball. Even running was proving difficult. Still, the x-rays and the scans were all coming back clear. He began to wonder if his mind was playing tricks.
"You start second-guessing yourself. 'Am I injured?' Am I being a hypochondriac?' But it took a while to figure out what the problem was because it was a complicated break. That unsettled me. It took a long time to figure out what the issue was, which was difficult in itself. After the scans, when things weren't getting better, you started asking 'Well, is this going to get better?' 'Am I going to get back at any point?' That worried me for a while. I was wondering if it was as good as it got for me. I wondered if I was going to have to retire."
Sheridan was 26 and faced into more rehab after another arm break. It was, he says, 'the catalyst' for what followed. A period of dark and angry isolation
"That's where the head was", he says.
I'd be going home from training or rehab or physio and I'd be hating what I was doing. I wasn't enjoying it. I'd be on the drive home and the initial feeling would be anger. I was just pissed off with what was going on. Then there was the frustration of not knowing whether I was going to get back playing. And then I'd feel guilty. I'd tell myself 'What do you have to be complaining about?'
I'd have an hour or two after every rehab session where I'd just keep to myself. I'd go home and jump into bed. This was four or five o'clock in the evening. I'd throw on an episode of Game of Thrones and ignore the world. There's nothing wrong with Game of Thrones but it's not a good thing to be doing. It's not an active way to be living. I ended up thinking that was the right way to deal with the situation. I told myself to just ignore it. And I probably over-compensated then."
Sheridan gave little away to anyone around him. Instead, he fine-tuned a facade. He painted on a smile and refused to acknowledge that he was suffering.
"It's a terrible way to approach it. You can't just wake up in the morning and decide 'I'm going to be happy today'. You can do things to influence it but you can't control everything. If you wake up in the morning and you have a burst tyre and then someone spills a coffee on you and then you get a load of work on your desk, you can have a bad day. But everyone has bad days. The message I'm trying to get across is that it's normal. I didn't realise that at the time. It's a very normal thing to feel pissed off or angry, sad and upset. They're emotions. You don't want to have them all the time but if you do, you should address them.
It's the old cliche. If you bury something deep down then they're only going to get worse. When you ignore things, you give them more power and more control over you. The injury wasn't really the issue but how I felt because of it. And then I allowed that to take control over my life for quite a long period. It ended up being a rough year because of my own actions."

Source: Irish Rugby Players/Vimeo
To his team-mates, Sheridan seemed fine. He remained upbeat and positive but, socially, he pulled back. For seven months, he skipped post-training coffee with the other squad members. Instead, he'd hop in his car and drive straight home. He wanted to be on his own. He needed to be on his own. Just so the anger and frustration would build again.
But finally there was a turning point.
"I remember meeting a friend and I hadn't seen him in a couple of years.  He was coming to visit me and I remember telling myself 'Right, I need to be on top form here'. In my head, we had a great time. But he made a couple of throwaway comments. At one stage he said 'You seem a bit off, a bit different'. That was it. He didn't sit me down and make some major points to me. It was just 'You seem like there's something up with you'. And he left it at that. That rang a bell straightaway.
He mentioned something else to me – again it was blunt but brilliant. He said 'When I was at your house I looked in the fridge and it didn't look like the fridge of a professional rugby player'. And it was like a light switch went off. It had been something I'd always prided myself on – my nutrition and taking care of my body. So between that and the other comment I just thought 'There's something seriously wrong here'. I was fortunate that it took someone to say that to me. Hypothetically, it would've got worse and I would've gone through a worse period of time. I was fortunate that I was able to realise what was going on and address it."
Slowly, Sheridan pieced his life back together. He began to see just how bad things had got and how much his everyday life had been affected. After the realisation came the honesty and fronting up his feelings and behaviour.
There was something wrong and I needed to fix it. I took some time, reflected on things and put a process together. That's what I still do today. I'm not going to dig my head in the sand and say that I'm going to wake up smiling every morning and everything is going to be like the best day of my life. It's unrealistic to expect that. For when things do go wrong, I have a process. Get angry, accept it, accept that it's normal and then figure out what I'm going to do to fix it.
Exclusive NZ - IRE
Rugby Analysis
Get Murray Kinsella's match analysis and Garry Doyle's updates from New Zealand exclusive to members
Become a Member
A few days ago, I just had a bad day. I was just fuming. Everything in my head was telling me to just go home and do nothing. But you have to force yourself to go and do something. So, I took the dog out for a walk and threw the ball around with him. I called one of the lads and went for a coffee. We didn't necessarily talk about anything that was bothering me. And then you realise that the fella sitting opposite you is not looking at you the way you're looking at yourself."
There was a continuous battle Sheridan faced between logic and emotion. On one hand, he knew it made little sense to feel unhappy but, even still, there was a heavy pull weighing him down.
"I didn't think it was okay to feel bad. The logic will hammer out the facts: I'm a young man with my health, I'm injured but in a sport I've wanted to play since I'm a young boy. But the emotions can be very different. No matter how much you logically tell yourself to feel better, unless you have a process to get the outcome then you'll never get there."
In the middle of 2015, Sheridan pulled on a red shirt again. It was good to be back. Something but different this time.
"I was definitely more appreciative. I was always very thankful and proud to be involved in rugby but I remember we had a day down in Cork. It was one of my first days back on the pitch. It was pissing down rain, gale-force winds, everything. Before, you'd look at it and say 'Do I really want to go out there?' But I couldn't wait. I ran out and I'm not exactly an overly religious man but I just said 'Thank you'. I still try and do it every time I get out on the pitch. I don't know who I'm saying it to but it's good to be out there. It's like a trigger for me.
When it is coming down cats and dogs, you still go out and make the most of it."
Cathal Sheridan has added his voice to the IRUPA Tackle Your Feelings campaign, which is in partnership with Zurich. 
For more information visit www.tackleyourfeelings.com.
The42 is on Snapchat! Tap the button below on your phone to add!