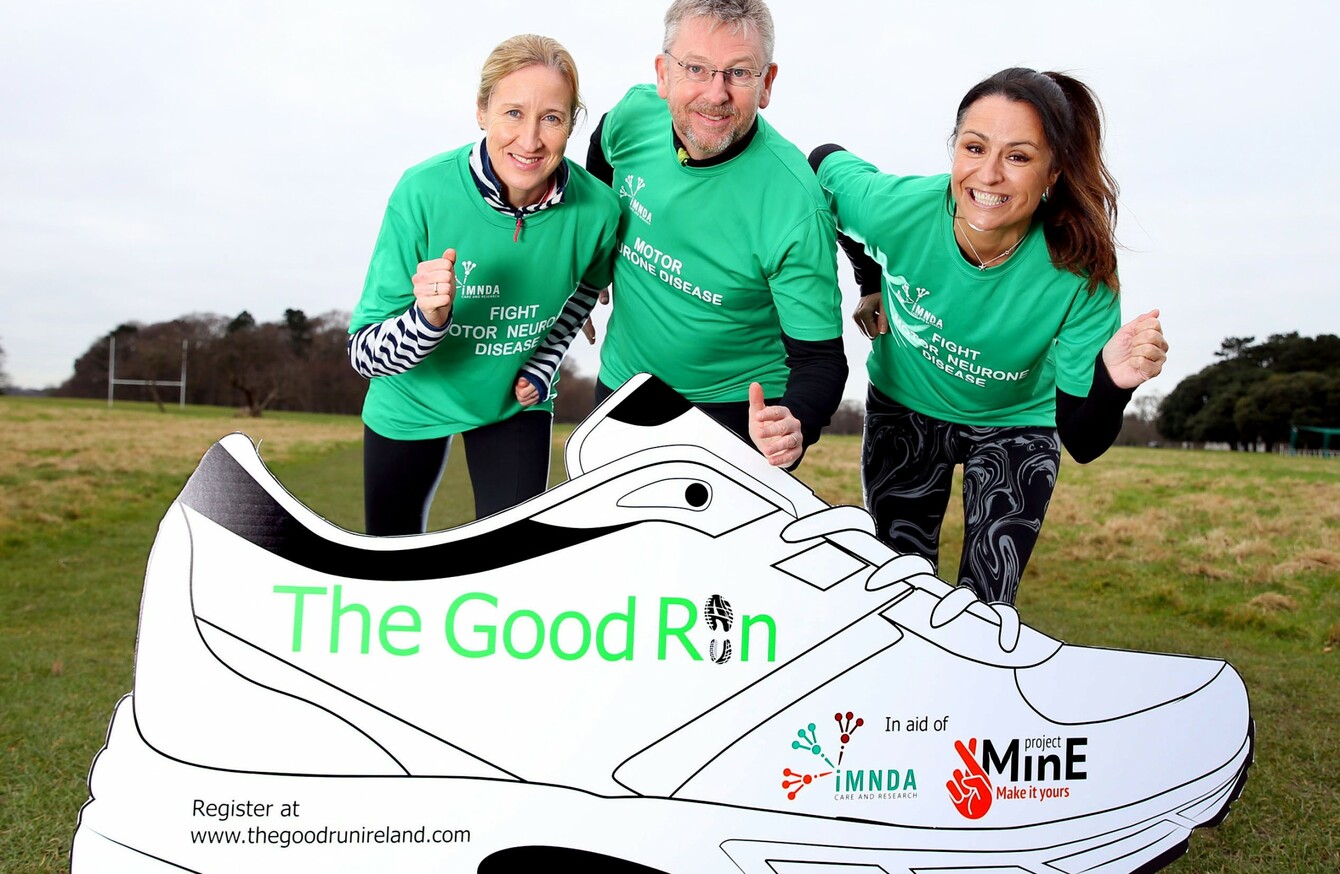 Image: Marc O'Sullivan
Image: Marc O'Sullivan
CATHERINA MCKIERNAN WAS born to run.
Not many Irish athletes can boast a more impressive CV. Between 1992 and 1995, she won four successive silver medals at the World Cross Country Championships. In 1994, she picked up gold in the European Cross Country Championships. In addition to a team bronze in the World Cross Country Championships in 1997, she also triumphed in Berlin with the fastest-ever debut time in a marathon for a woman. A year later, she was the first Irish person to win the London Marathon, while she also became the Irish marathon record holder with a time of two hours, 22 minutes and 23 seconds in Amsterdam.
Although gifted athletes sometimes emerge from painstaking hours of training, often under the relentless gaze of pushy parents, McKiernan paints a far more idyllic and carefree picture of her childhood in Cavan.
I grew up on a farm and ran around the fields at home with no expectations to run races, let alone win them," she tells The42. "I just loved that sense of freedom and confidence that running gave me, even from a young age.
"I had three brothers and three sisters. None of the rest of them used to run around the field.
I'd run around the field maybe twice or three times a day for 15 or 20 minutes. I just loved that feeling."
This ability to breathe and to develop independently is often overlooked in modern times across various sports, when any youngster showing a hint of talent is quickly seized upon by eager coaches hoping for a slice of success, rather than being left to their own devices as a young McKiernan invariably was.
That intense pressure to perform, in fact, barely existed during McKiernan's upbringing. She was still a sports fanatic, however, and discovered an early love for camogie as well as running.
Living in rural Ireland, there wasn't much to do to be honest," she says. "The guys played football, the girls played camogie. I played a lot of camogie with my two other sisters, we had a good team.
"I was committed and dedicated to that as well. I trained a lot and was always hitting the sliotar against the gable of the house. I loved that, and to be honest, it was difficult to give it up. I tried to do both for a while, but then the running took over."
So despite her obvious talent for and love of long-distance running, McKiernan did not actually start competing at a serious level until surprisingly late on.
"It wasn't until my last year at secondary school that there was an athletics club formed," she recalls. "I joined that, and won the All-Ireland schools as a result. I suppose then I realised that I had a talent and a love for competing, not just for running and training, and it took off from there really."
Consequently, the choice between athletics and GAA was not a particularly difficult one for McKiernan ultimately.
"There were more opportunities (in athletics), I liked it more. And I didn't mind the idea of it being a bit isolated — training on my own, that part of it didn't bother me.
I was entering more races and winning more races. I was more successful. So that's what made the decision for me in the end.
"You can only go to All-Ireland level in camogie really, can't you? When you're running you can go to world level. So I would have kept it on (if it were possible), but you can only go to a certain level with camogie."
It was at the age of 22 that McKiernan burst onto the international scene, finishing second in the World Cross Country Championships in Boston, while continuing to earn impressive accolades thereafter.
The first time I was second in the World Cross Country — that was a big breakthrough… That's a memory that stands out in my mind.
"If I was second in the world, I felt I was the best in Europe. I was able to produce the goods on the day and that is satisfying when the pressure is on."
McKiernan also competed in two Olympics — Barcelona '92 and Atlanta '96 — an impressive feat in itself in most people's eyes, but not so much by her own high standards. Despite competing in the 3,000 metres in her first Games and reaching the final of the 10,000 metres four years later, a lingering sense of disappointment and frustration is palpable when the subject is brought up.
I didn't really enjoy the Olympics if I'm honest," she says. "There's a lot of hype beforehand and I wasn't at my best, so that's something that I block out of my mind. I don't think too much about it. I wish we could treat it as just another race and not have so much hype about it beforehand.
"But I suppose, as the saying goes, once an Olympian always an Olympian, and I am one of those.
"I just didn't like all the fuss beforehand and all the hanging around before the races. I also don't like to make excuses, but Barcelona and Atlanta, the two Olympics I competed in, were two of the hottest places in the world, so in the back of my mind, that was always going to be a disadvantage as well."
McKiernan hoped to make up for these previous bad experiences in the 2000 and 2004 Games, but her hopes of competing on both occasions were curtailed by injury problems — a perennial issue in the latter stages of her career.
In the end, her intensity and passion for the sport took its toll, and in hindsight, McKiernan feels she was almost too eager to compete at times.
When you're young and you're winning, you think it's never going to end. If I was to look back at myself, I would probably space things out a little bit more. I ran three very fast marathons in the space of 13 months, so the body can only take so much. I was exhausted mentally and physically. You can't overdo it, you have to take rests and allow the body to recuperate again. That's a mistake I made.
"I was going well and I just kept going until I got exhausted. You need to monitor the training properly, so that you can get the most out of yourself over a longer period of time.
But an athlete's career is short enough. If you can get a good 10 years out of it, that is a long career if you're at the top for that time. You just need to be sensible in the planning of racing and training."
In 2004, the wear and tear and the passing of time finally got the better of the Irish star, and McKienan announced her retirement from competitive running.
That said, the Cavan native is still an avid runner and retains an unbridled love for competing at the age of 47, even if she can no longer do it at the highest level.
I suppose, looking back, an athlete or runner never retires. It's a kind of addiction, you always want to do it. At the time (of my retirement), it wasn't, because I was exhausted both physically and mentally.
"And then I had the two children — they were foremost in my mind. I enjoyed looking after them and I enjoyed the different stages as they grew up.
"With the children that little bit older and more independent now, I'm starting to do more races — 5ks and 10ks. I still enjoy doing that and mixing with people, getting a little bit of a buzz the way I used to when I was competing at the top. You kind of want to hold onto it. It's hard to let it go. But it's the same with every sports person, you want to be able to do what you used to do, but realistically, you can't do that."
A year after officially retiring from athletics, McKiernan became Ireland's first Chi Running instructor, a practice that the Cavan native found extremely helpful during her struggles with injury and which she now teaches to others. Her website describes it as "the world's leader in teaching safe and efficient, natural running technique to reduce injury and improve personal performance".
Meanwhile, since the golden age of figures such as McKiernan and Sonia O'Sullivan, Irish athletics has never quite been the same. Although there were positives at the last Olympics, particularly with the incredible performance of Thomas Barr, there is an overriding sense that interest levels in the sport are dwindling on these shores.
A recent piece on Buzz.ie by Kieran Cunningham claimed Irish athletics was "becoming an invisible sport," noting in relation to the recent World Cross-Country Championships: "Ireland don't have a single athlete in Kampala.
Indeed, no Irish runner has competed in the event since 2013 in the Polish city of Bydgoszcz.
"Rewind to the start of this month and the European Indoor Championships in Belgrade.
"It's traditionally been fertile hunting ground for Irish athletes with 21 medals over the years, including eight golds.
"But the Irish team came home without a medal, and without a single top eight finish."
McKiernan sympathises with modern Irish athletes to a degree, adding that "we're up against a lot of drug cheats".
Other issues such as the lack of full-time coaches and inadequate resources have been well documented, though the new indoor arena in Abbotstown and the generally excellent facilities there suggests a move in the right direction.
But perhaps the athletes also need to take a considerable degree of responsibility for recent failures. In a column last summer for the Irish Independent, McKiernan wrote:
You wonder is it a facet of the Celtic Tiger, that kids nowadays are just too soft and not prepared to put in the hard work that is necessary?
"Maybe our distance runners are put off because the Kenyans and Ethiopians dominate those events."
One notable exception to this worrying trend in recent years has been Fionnuala McCormack, who is often compared to McKiernan, and the latter acknowledges "she loves running in the same way that I do and she has to be held back".
Yet rather than lamenting the lack of obvious potential heirs to McKiernan's throne, maybe it is worth celebrating the fact that such a remarkable athlete and individual flourished in the first place. The pure and insatiable love she has for running is rare, but this obsession has brought her far in life.
In recent years though, McKiernan has experienced "dark days," having gone through a separation from her husband in 2014.
I used running to help me overcome that," she says. "I would say to other people (who go through similar difficulties) to get out and exercise. Life never stays the same. It's easy when you look back, but just to surround yourself with good people and good friends, get out and do a little bit of exercise, be good to yourself.
"I'm a great advocate of exercise, because I know it settles me and makes me feel good in myself. I know not everybody can run but you can (still) go out and do a good brisk walk. It's about consistency as well. Getting out every day and doing a little, that'll keep you on the straight and narrow."
And as for the future, there are no prizes for guessing what it revolves around for McKiernan.
I like the classes that I do, helping people with their running. I get a lot of satisfaction out of that.
"When you're at the top of your game, when you're a professional athlete, it is a challenge. But the aftermath is something that you have to live with. I would still love to be able to do what I was doing — coming first in the London marathon. The buzz of that. Nothing matches it in life. It's something that I have to live with. I would still love to experience that buzz.
I've compared it to an alcoholic in that, once an alcoholic, always an alcoholic. You're kind of on the edge to a certain extent. And it's the same with a professional athlete. Even when you get older, you always want to experience that buzz. You have to work with what you get and for me, to get out and run a few miles every day, I enjoy that and I'm very thankful to be able to do that.
"When I go into a race and put on a number, even if it's only a fun run, I do push myself. Again that's just something that's in me. My mind knows what to do but my body doesn't really want to do it. But I can still push myself beyond what I'm able to do.
I know it was always (the case) during my career as well, and I would say that to myself at the start line, that I would push myself as hard as I possibly can and get the most out of myself. It's still the same in these (post-retirement) races regardless.
"I think that's good for up-and-coming athletes as well when you get to the start line, just say to yourself that you're going to give it all that you can today. When you do that, you're satisfied with yourself and you know that you couldn't have run a step faster. Then you're not disappointed as regards times, because it's all that you could do on the day.
Running is a total addiction and I think it always will be — just that feeling and that confidence running gives me. It was a big driving force — that's why I did it from a very young age. It's my identity. It's something that I could do well. That's one of the things that kept me pursuing and kept me pushing forward."
Catherina McKiernan was on hand to help launch The Good Run 2017 in aid of Motor Neurone Disease. Registration for this 5km event in St Anne's Park on Good Friday, 14 April is open at www.thegoodrunireland.com 
The42 is on Instagram! Tap the button below on your phone to follow us!